Show User Social Media
Hide User Social Media
Joined

Sep 8, 2006
Messages

17,421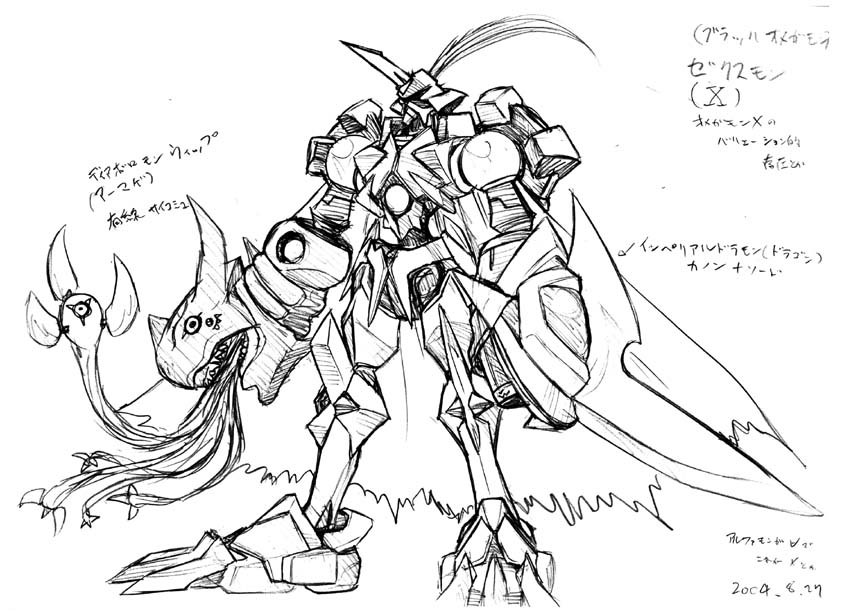 Earlier today, longtime Digimon designer
Soh Moriyama
posted an early attempt of his at making an 'enemy' counterpart for Omegamon.
This was uncommissioned work done on his own, so it was never quite planned as a potential official Digimon, but is still an interesting look at one of the ideas that was being designed by one of the primary designers of the franchise over many years.
The Digimon itself he gave the name Zexmon, and it was designed as an 'Omegamon style' type design using Armagemon and Imperialdramon, and looks to have been the inspiration for Chaosmon later on.
The tweets date the design back to 2004, as he was finishing up (or had just finished) Digimon Chronicle, the mini comic that was included with the Pendulum X V-Pets (Chronicle was adapted into X-Evolution, and the Chronicle X story acts as a sequel to Chronicle.)
Tweet 1
:
A Digimon of my creation (discarded idea?)
I came up with the rough drawing without being commissioned, as the next strong character to appear after the end of Chronicle. The concept I had back then was BlackOmegamon/ the enemy version of Omegamon X/ the strongest chaotic character, and the tentative springboard for the birth of Chaosmon.
Text on the artwork itself:
(BlackOmegamon) Zexmon (X) (a variation of Omegamon X)
Diaboromon whip (katakana looks like "armored" and "cabled"-something)
Imperialdramon (Dragon) cannon and sword
Alphamon is ∀ and this guy is X
Tweet 2
:
This design was back in 2004. There weren't any Omegamon variations back then, right?
Also the direction for Chaosmon went astray, and I drew many rough drafts that ended up being trashed. Personally, I felt there were many ideas then that deserved better.
Tweet 3
:
Sorry, "Zexmon" is not an official Digimon.
Nothing quite official, but a very interesting design and what if.
Thanks to onkei for the translations.