Show User Social Media
Hide User Social Media
Joined

Sep 8, 2006
Messages

17,404
A few card updates!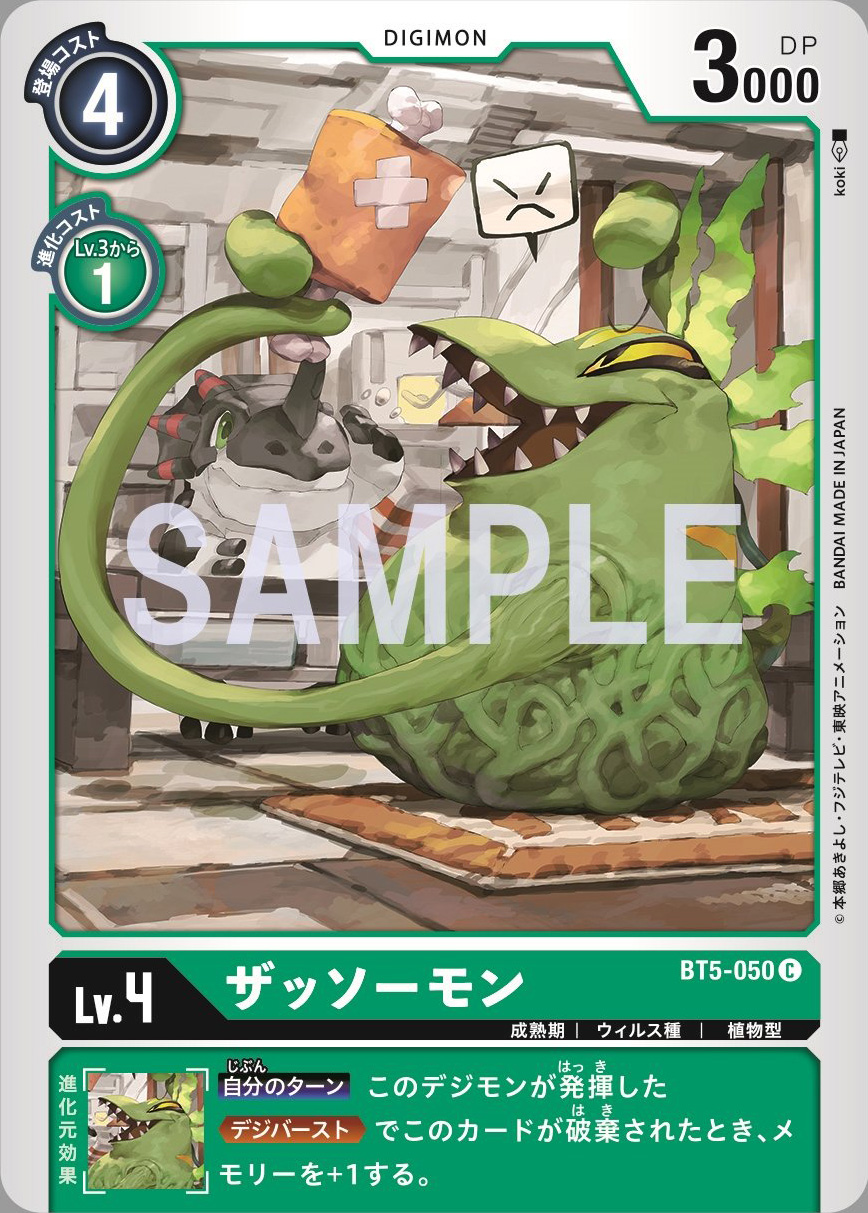 The Digimon Card Game Twitter
has updated with a card preview from Booster Set 5 Battle of Omega. This time we get Zassoumon.
Zassoumon features him eating, while a bit upset, while a Monochromon looks on.
Plus a bit more...
​
The layout looks to be Card Gamer magazine, and while the source watermarks cover quit a bit, there is still a decent amount of info we can make out.
We knew the evolution cup was getting a parallel card of Omegamon, but they show off another card for the tournament event, a new parallel card of Agumon (ST1-03).
Next up, the 4th Tamer's Battle Pack, which is planned for events in February (Card Game events have been temporarily cancelled due to safety reasons, so we will see if that gets pushed back.) The parallel cards this time will be:
Sirenmon (BT1-057)
AeroV-dramon (BT2-028)
Andromon (BT2-061)
Chimeramon (BT2-077)
Another variant of Chimeramon (BT2-077) will be the winner's card for the same events.
On the second spread we get to see cards for Booster Set 5:
RhodoKnightmon
WarGreymon
BlackWarGreymon
CrysPaledramon
Sora & Jou (we knew we'd get at least one dual Tamer card, not sure anyone had Sora and Jou as the guess for the first we'd see.)
Resurrection of Darkness
Fusion to the Combined Ultimate Digimon (iffier translation on this one than the others.)
Digimon Card Game Booster Set 5 Battle of Omega is scheduled to release on February 26th.
Previous card previews for Booster Set 5:
Hexeblaumon Pack packaging, Agumon, & Greymon Gabumon & Garurumon Starmons, ShootingStarmon, & SuperStarmon ChaosDukemon Terriermon Joshu & Fake Agumon Hakase & 1st Look at MetalGreymon: Alterous Mode & WereGarurumon: Sagittarius Mode Takumi Nokia WaruMonzaemon Guilmon & BlackGrowmon V-Jump- Omegamon Zwart, Shoutmon DX, Sakuyamon, MetalGarurumon, and Algomon (Ultimate) ZekeGreymon MoriShellmon MetalGarurumon (Black) Option Card Hot & Fierce Metal Storm, Omegamon, & Omegamon Zwart (Normal & Parallel) Megidramon Koromon & Tsunomon Battle of Omega High-Res Promo Poster Shoutmon BlackMegaloGrowmon BanchoLilymon Blucomon Omegamon
We have clean card images for Booster Set 4 Great Legend.
We also have begun to get
details about Booster Set 5 Battle of Omega
, including
our first look at art via DigiNavi!
We also just got our first details & images for
Booster Set 6 Double Diamond & the Dukemon & ULForceV-dramon starter decks and pre-orders are u
p!
Plus we have the first details
for the 1 year anniversary of the card game, including a number of fun things!
And images from previous Digimon Card Game releases:
Starter Decks 1, 2, and 3, and first 10 promo cards
Booster Set 1 New Evolution
Booster Set 2 Ultimate Power
V-Tamer Promo Cards
Purple/Black Promo Set
Tamer Battle Pack 1 and Tamer Battle Winner's Card
Booster Set 3 Union Impact
Starter Decks 4, 5, & 6, plus Tamer Battle Pack 2 & winner's Card 2, & 1st 2 scene vote cards