Show User Social Media
Hide User Social Media
Joined

Sep 8, 2006
Messages

16,928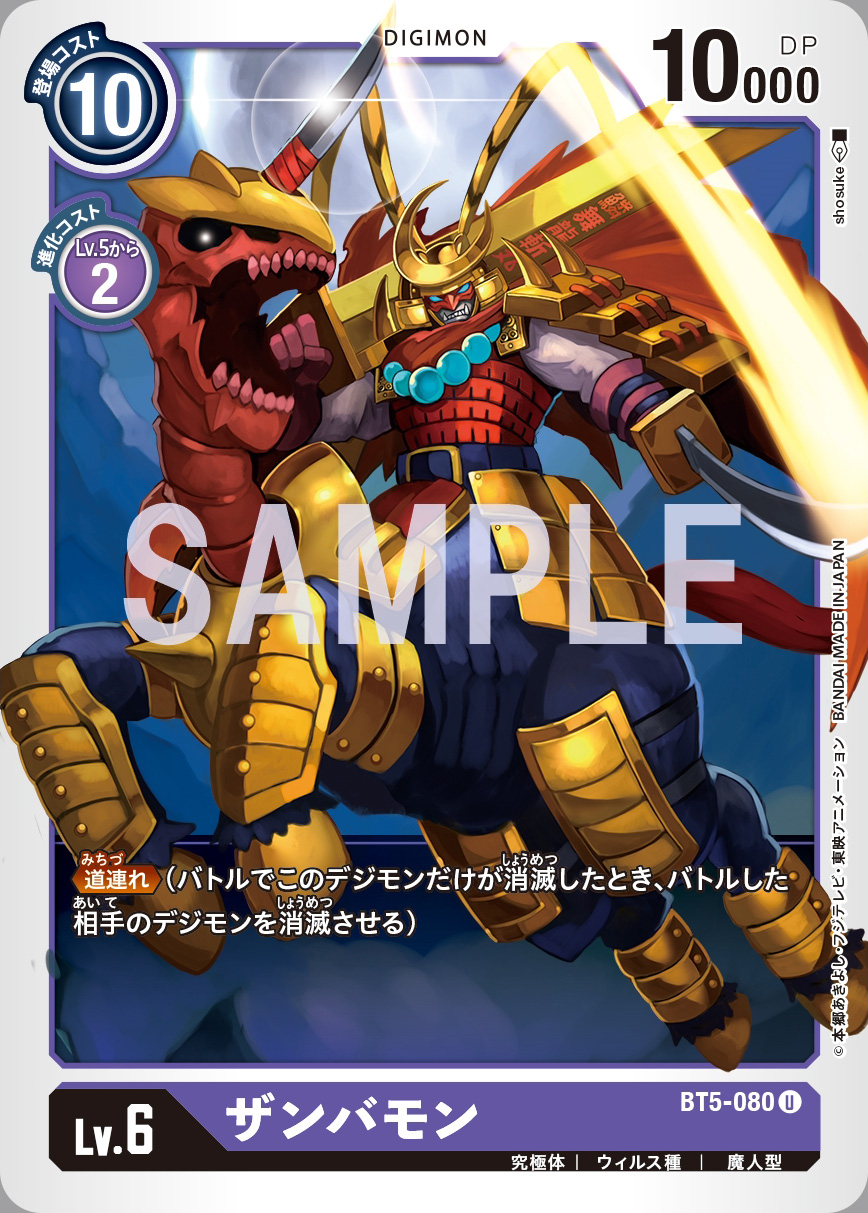 The Digimon Card Game Twitter
has updated with a card preview from Booster Set 5 Battle of Omega. This time we get Zanbamon.
Zanbamon certainly isn't someone who shows up a lot nowadays, so getting some really nice cartoon styled art of him that shows him off nicely should make fans of more eclectic Digimon happy.
And on top of that...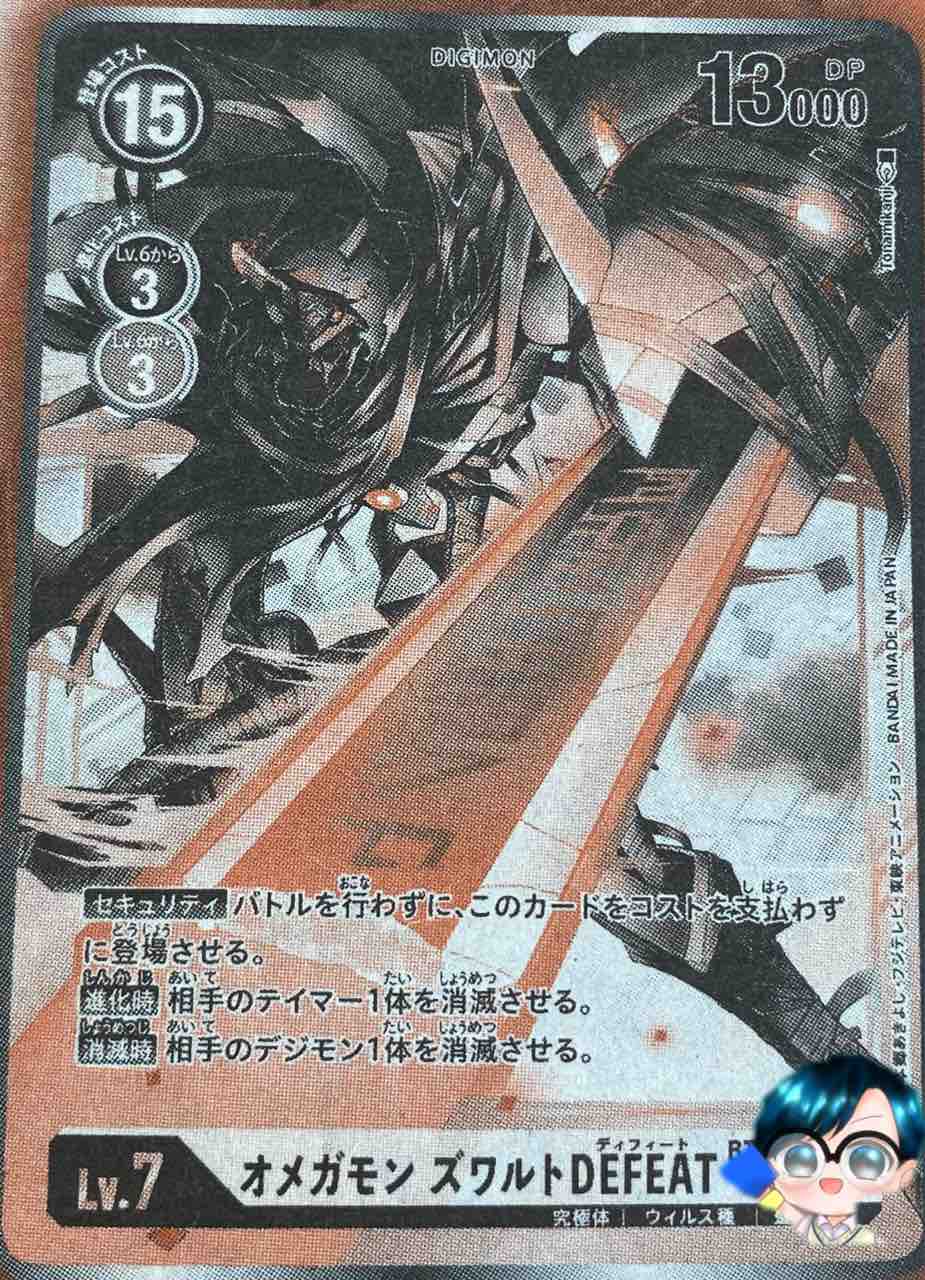 From Shonen Jump we get a low color preview of Omegamon Zwart Defeat, also from Booster Set 5!
We knew Defeat would show up in the set, as he was in the initial promo art we saw, but this is the first we've seen of him on a card (and not using that promo art.)
Thanks to
Digimon TCG Blog
for the image.
Digimon Card Game Booster Set 5 Battle of Omega is scheduled to release on February 26th.
Previous card previews for Booster Set 5:
Hexeblaumon Pack packaging, Agumon, & Greymon Gabumon & Garurumon Starmons, ShootingStarmon, & SuperStarmon ChaosDukemon Terriermon Joshu & Fake Agumon Hakase & 1st Look at MetalGreymon: Alterous Mode & WereGarurumon: Sagittarius Mode Takumi Nokia WaruMonzaemon Guilmon & BlackGrowmon V-Jump- Omegamon Zwart, Shoutmon DX, Sakuyamon, MetalGarurumon, and Algomon (Ultimate) ZekeGreymon MoriShellmon MetalGarurumon (Black) Option Card Hot & Fierce Metal Storm, Omegamon, & Omegamon Zwart (Normal & Parallel) Megidramon Koromon & Tsunomon Battle of Omega High-Res Promo Poster Shoutmon BlackMegaloGrowmon BanchoLilymon Blucomon Omegamon Zassoumon & Magazine Previews OmegaShoutmon, Absolute Blast, Tactimon, Taichi & Yamato, MetalGreymon: Alterous Mode, WereGarurumon: Sagittarius Mode, & Rafflesimon Shademon & Omegamon Zwart Koushiro & Mimi Wisselen Jijimon Knightmon Ichi-no-tachi plus Magazine Previews of Arata, Keramon, Chrysalimon, Infermon, Diablomon, & Armagemon Piccolomon Monochromon & Triceramon Palmon Catastrophe Cannon Pyocomon Gigimon Paledramon
We have clean card images for Booster Set 4 Great Legend.
We also have begun to get
details about Booster Set 5 Battle of Omega
, including
our first look at art via DigiNavi!
We also just got our first details & images for
Booster Set 6 Double Diamond & the Dukemon & ULForceV-dramon starter decks and pre-orders are u
p!
Plus we have the first details
for the 1 year anniversary of the card game, including a number of fun things!
The Parallel Card Vote has already begun
!
And images from previous Digimon Card Game releases:
Starter Decks 1, 2, and 3, and first 10 promo cards
Booster Set 1 New Evolution
Booster Set 2 Ultimate Power
V-Tamer Promo Cards
Purple/Black Promo Set
Tamer Battle Pack 1 and Tamer Battle Winner's Card
Booster Set 3 Union Impact
Starter Decks 4, 5, & 6, plus Tamer Battle Pack 2 & winner's Card 2, & 1st 2 scene vote cards