Show User Social Media
Hide User Social Media
Joined

Dec 5, 2021
Messages

38
For context: Werewolf Tale is one of two books I've written and published that involves a newly bitten werewolf and what he goes through before the bite and the first months after. This five part story, which is a 'what if' that comes a month after the end of the second book, was posted on DeviantART and FurAffinity months ago. It was worked on further during the recent NaNoWriMo (National Novel Writing Month) in November; more parts will be posted if there's interest.
========================================================================
S-Dec. 9th 2011 = 20:36 Fri. // M-Dec. 10th 2011 = 14:36 Sat. // H-Dec. 10th 2011 = 20:36 Sat. // R-Dec. 11th 2011 = 8:36 Sun.
- Part 1 -
Friday, December 9th, 2011
Time Until The Shift = Up
Alex Stryker's previously calm breathing quickened as his phone alarm went off. The taste of blood came next as his canines lengthened to fangs, and the numbness in his hands as they reshaped into clawed paws. Each step and change that followed he waited for and reacted to, the snapping and reshaping of his bones signaling the end of the shift. He laid in his bed for several minutes after, the currents from the air conditioning sweeping his fur and helping relieve his trapped body heat. This made it his seventh time changing forms, and the only thing getting easier was the routine. Sore joints, pain and the like always came with the event.
He took a few more minutes to adjust after sitting up, his phone signaling the receipt of a message as he did so. His father in this case.
Dad
: You okay, Son?
Alex S.: Yeah. It's done.​
Dad
: Good to hear. Stay safe, and we love you.
Alex S.: You guys too.​
Nathan then texted as Alex slid off his bed.
Nathan T.
: Hey, man.
Alex S.: Hey. The you-know-what is over.​
Nathan T.
: You feeling up for some DOOM II
deathmatch, then?
Alex S.: Think I'll have to take a raincheck there.

Getting hungry, and a bit tired, already.​
Nathan T.
: Alright. Tomorrow, then?
Alex S.: Yeah, sure. I can study over at Shane's

place.​
Alex received no reply to the last text and set his phone aside. Before leaving his room, he finished off the water in the glass on his desk, and once in the kitchen, removed the portions of his coming meal from the fridge. Two thick ham and cheese sandwiches were the main course, the rest he ate as his interest drifted to them. All the while, Bailey kept his usual distance, though Alex could tell he was begging for a scrap. Eventually, he made an attempt to coax him over by dangling a lengthy piece of ham between his claws. The bait was refused until Alex tossed it towards his dog; Bailey snatched it out of the air with ease and waited for more.
Finishing off his meal with a cold soda, Alex made a sweep of the house to make sure every door and window was locked and all the windows were blocked by either blinds or curtains, the outside gate included. The only window he left, if slightly, open was one in his room, to let in the chill December air and let the outside scents mix with those of his room.
While waiting for Bailey to find a spot in the backyard to go, several scents of dead, likely roadkilled, animals reached his olfactory system, as well as others from burning wood logs, cooking meat and...he took two more sniffs to be sure. Someone was using a computer outdoors, probably several. After a second to think, Alex figured it was an open garage LAN party producing the scents, and his thoughts went to the session Nathan had planned for tomorrow.
By the time Bailey was ready to come back in, Alex was feeling the fatigue of the shift to his werewolf form and climbed into bed amidst a mix of scents from inside and out soon after.
Saturday, December 10th, 2011
When Alex awoke, something on the other side of his eyelids was producing a blindingly bright light. Noises akin to active circuitry were accompanying it, as were the scents of warm electronics. His heartrate shot up at the realization, and his eyes opened, only to need shielding with his right paw. The light, and likely everything else, was coming from his desktop and its monitor. His assumption that his computer was frying itself lasted only a few seconds. Nothing was giving off an electrical smoke scent.
Can't take any chances.
Alex thought as he got out of bed, intending to unplug his desktop and monitor from the wall. It was as he drew closer that other things grabbed his attention and slowed his pace. His XBOX's controller connection lights were randomly flashing, and the digital clock on his desk was glitching out.
The hell?
When he reached his desktop's chair, he closed his eyes and moved it aside, reopening them only once he was on his knees and front paws.
A moment later, the plugs for both his desktop and monitor were pulled out, and the blinding light was gone. Breathing a sigh, Alex gave his desktop's chassis a few sniffs and visual inspections. Still no electrical smoke scents, but what had turned it on and made it do such a thing? The LAN cable made him wonder if it was something internet related, and when he looked, his XBOX was still flashing random lights. Another unplug made it stop, leaving just his desk clock, which was now flashing 12:00. Alex went for his phone to get the correct time, and reset the desk clock to 2:17 in turn. A few moments later, the fridge was on his mind. If the electronics in his room were acting this way…
To his relief, the fridge was fine, but as he inspected it, he heard the desktop in the study turn on and the fridge's lights began to blink on and off, as did everything else with a digital readout in the kitchen.
Damnit, not again.
Alex then made his way into the study, intending to shut his father's desktop off, and the house's router as well. What made him stall was the sight of the glowing monitor…bulging, as though a balloon was being inflated behind the screen. His hesitation to move closer was all the time his father's computer monitor needed to begin…producing…something. It moved as it emerged, as though looking left and right, and then leapt fully out of the monitor onto the top of the chair for the hutch, strands of the glowing screen snapping free of its body as it did so.
The once blinding light, and alterations to the monitor, vanished a second later, letting Alex see what had come out. An animal, or what looked like one. Its body was ferret-like in shape, white with gold highlights and black tips on the ears. A gold band was looped around its neck, in its left ear a single earring, and its tail tip was a golden 'bell'. Its tail was also holding what looked like a smartphone, itself white and gold.
The creature then took notice of him and recoiled, almost slipping off the chair if not for its tiny claws. It made no noise, but its posture was enough to signal it was ready to flee. Alex meanwhile was speechless, if glad his werewolf form was enough to frighten whatever this thing was, and the both of them stayed silent.
Then Bailey came into the room from the other side and saw the strange creature, stopping and focusing on it without a sound. When the creature looked behind itself, likely for an escape route, and met Bailey's gaze, Bailey's head tilted.
"You. Stay."
This time, Alex recoiled.
This thing can talk?!
Bailey didn't listen to the creature's voice, or tone, and came closer instead. When he came too close, the creature leapt from the chair and bolted as soon as it hit the ground. The action, and Bailey's sudden barking, snapped Alex out of his stunned mindset and posture, and he ran through the kitchen to cut the creature off. As the living room came into view, it was clear the creature was losing pace against Bailey, until it slipped under the table and then under the couch. Bailey in turn dug his muzzle under the couch, hoping to catch the strange creature. Alex only intervened when his dog's claws began tearing at the carpet, his presence being enough to make him back off, but keep growling.
"Bailey, no. Quiet down." Bailey kept growling, if lightly. "No, boy. I said stop." Bailey refused. "Fine. Just stay there." Now Alex had his chance to look under the couch. The second he did, the creature bolted again, this time into the dining room and then kitchen. Bailey heard its claws clicking on the tile and growled again, but listened to the 'stay' command Alex gave as he stood up. Alex meanwhile figured the creature was hiding in the pantry, and after turning on the lights he needed, was proven right.
"You, stay back," the creature said when Alex found it.
"Or?"
The creature's neck band, earring, and tail bell all glowed in response. "Or I defend myself."
Figuring that to be the response, but still dumbstruck by what this thing was, Alex answered, "Fine, but I'm not going anywhere and neither are you." He closed the door to the pantry behind him in response and after sitting down, leaned against it.
The creature stayed silent instead of making demands, and Alex did the same, hoping it would eventually say something. Instead, he soon heard Bailey approach the other side of the door and sniff at the gaps in the fixed wooden blinds. A few whines and scratches at the door followed.
"Bailey, no," Alex said, to which he heard Bailey get a drink and then lay down nearby.
After several more minutes, the creature spoke. "I would like to not be inconvenienced any longer."
"How am I doing that," Alex asked.
"By making me into a hostage when I have done nothing to you."
"So then why don't you tell me why you're in my house, and what you are."
"You are not privy to that information."
"Who is?" Alex got no reply. "Is it David Stryker or Alex Stryker or Alyssa Stryker?"
"Alex, and my business is with him, not you."
Alex was torn between surprise and amusement at the reply. What did this creature want with him?
"So, Alex then. He's here."
"Then take me to him and let me speak to him. That is all I ask."
Alex felt a grin come on, and repressed it. "You're already talking to him."
"No, I am talking to an obvious monster, not a human."
A dagger-like sensation struck Alex's heart at that, one he'd yet to feel. His response was delayed several seconds in turn. "In that case, your Alex won't be here for a while."
"And why is that?"
"Because currently he's not the one you have in your head."
The creature took a few moments to process the reply. "You are not the one I seek."
"Regardless, I am the only one here for the next several days."
"Am I to assume you did something to the owners?"
"No, someone did something to me, and this is it."
"Made you a monster?"
"Werewolf, yes," Alex said as the image of Shane's blood-stained muzzle returned.
"So how long will it be until the one I need to speak to returns?"
"Better question: what's that your tail is holding?"
"That is not your concern, werewolf."
"It is actually."
"This device was not meant for one like you."
"Really? Why?"
"Because you are clearly not human."
"Right now, and how would some electronics know that anyway?"
"That is beyond my range of understanding."
"So, far as you know, it can't tell forms apart?"
"Humans have only one 'form'."
"Werewolves have two, human being one."
The creature again took a few moments to reply. "Then show me your human 'form', werewolf."
"Can't," Alex replied. "It's the full moon. I'm stuck like this for a while."
"I see no reason to repeat myself, then."
Alex sighed out his nose. "Would it help if I told you my parents are David and Alyssa Stryker, or that I broke my leg when I was ten?"
"Information that anyone can discover and claim. It means nothing."
The response Alex wanted to give never left his muzzle. Instead, both he and the creature stayed quiet, giving him the time needed to think of something.
"Tell you what: you let me hold that device for one minute and I'll get out of your way."
"No, this device is too important."
"One minute, that's all. Just that and I'll leave you be."
The creature gave no response, and Alex sat back. If he happened to fall asleep again, his mass would ensure the door remained closed and the strange creature trapped with him.
Instead, after several minutes, the creature spoke up. "One minute, and I will not let it out of my sight until then." It then willingly came forward, albeit with its earring, tail bell, and neck band glowing, and held its tail in a way to let Alex take the device.
It was no larger than his current smartphone, though felt a bit heavier and the construction was solid with no seams to indicate manufacturing. Ten seconds passed, then twenty, with no reaction from the device, even when he pressed the only button on it.
How could this thing even tell who I am anyway?
Alex received his answer a moment later.
Without warning, the device powered on with a strangely triumphant jingle and sounds of electronic tweeps. Afterwards, it displayed a barely lit screen and then upon the screen, and out of the speakers, came the words:
USER RECOGNIZED​
​
TAMER: ALEX STRYKER​
PARTNER: KUDAMON​
The room was silent for a time, at last broken by Kudamon, his face aghast and eyes wide, saying, "You have my most sincere apologies, Alex."
"It's fine, Kudamon."
Just glad this at least is settled.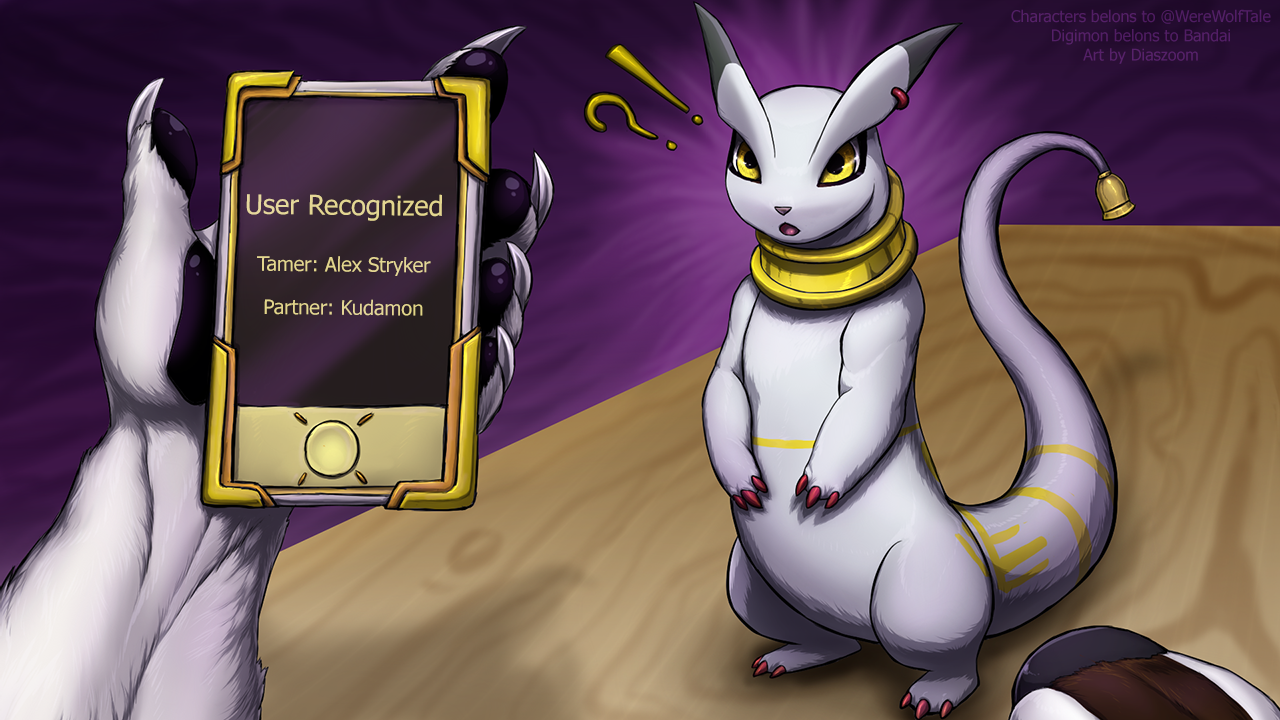 Last edited: