Show User Social Media
Hide User Social Media
Joined

Sep 8, 2006
Messages

15,593
WarGreymon Promo Statue, Lotto for 20th V-Pets & 15th D-Arks, Tamers BD-Box Updates
A few smaller but interesting items...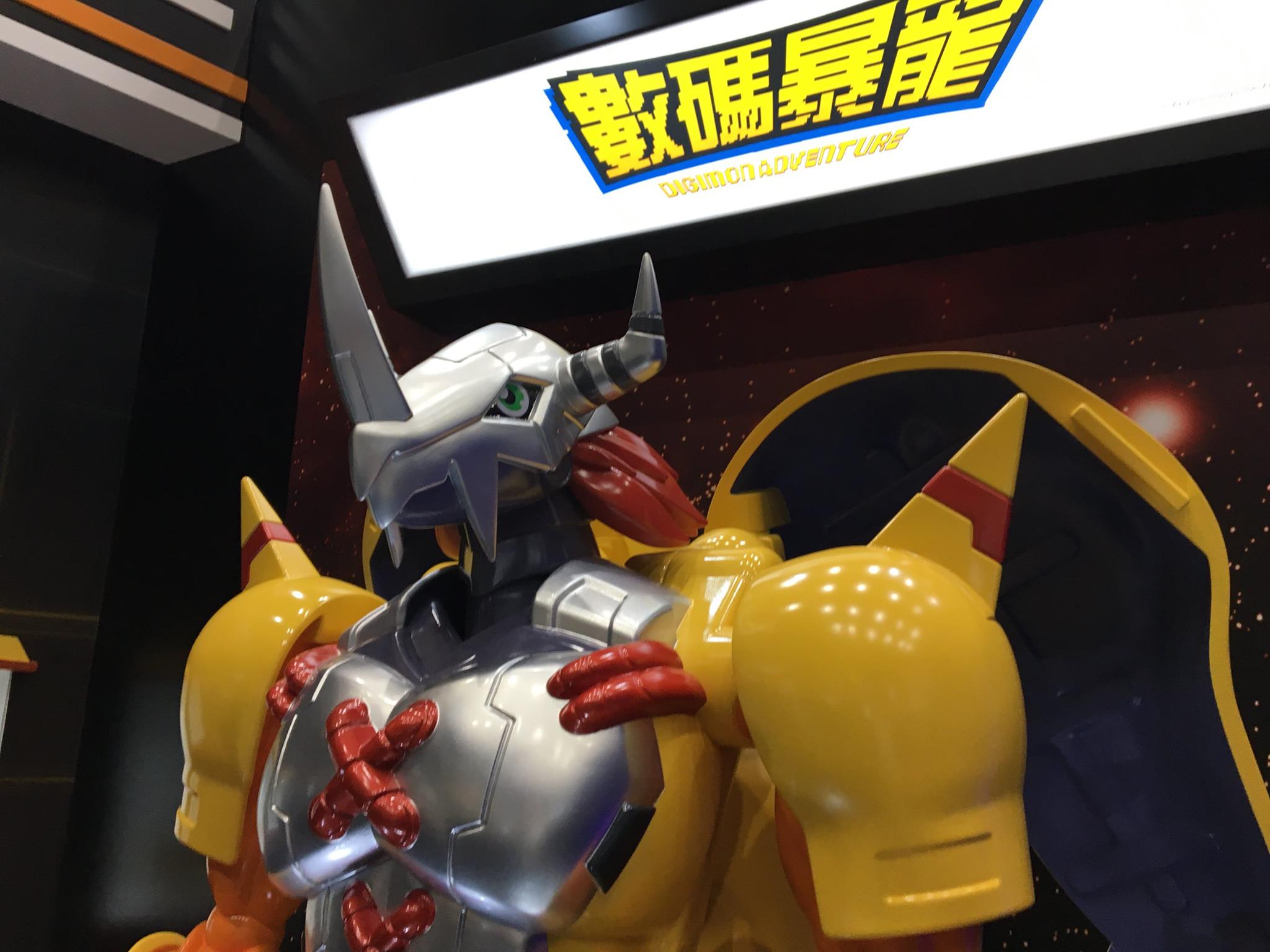 Happening right now in Hong Kong is the Toy Soul 2017 toy show. At Bandai's booth they have on display a giant promotional WarGreymon statue.
The statue is roughly 5.25 feet tall and is designed to resemble the Digivolving Spirits WarGreymon figure.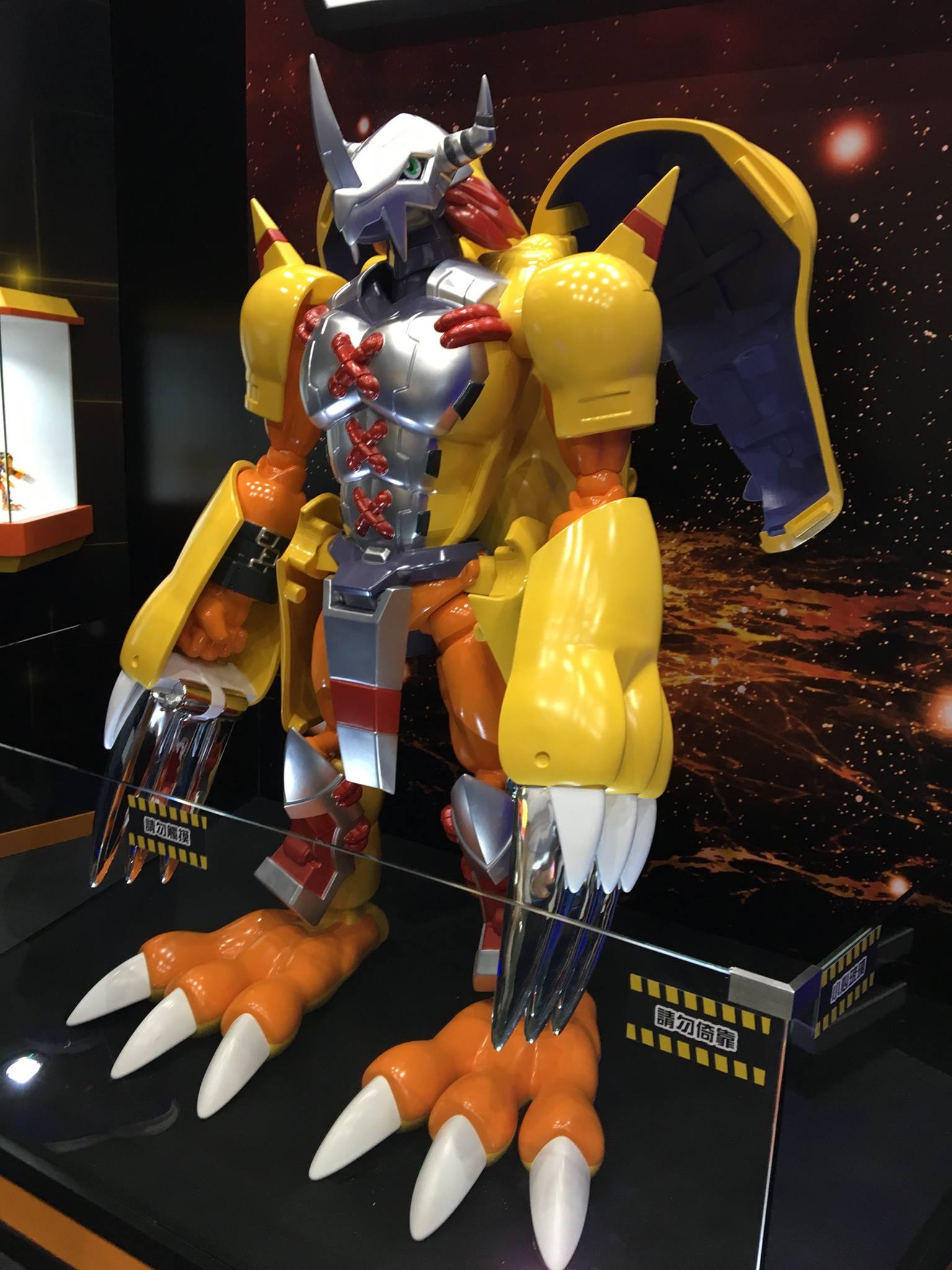 There's some good detail work on the statue. I'd really like to see the Agumon head split into the shield on his back though to see the detail work on that.
Really neat way to promote the line and I expect we will see it show up at future toy shows.
Various figures in the line are available to order...
#01 WarGreymon (Affiliate links):
Digivolving Spirits WarGreymon at Amazon USA
Digivolving Spirits WarGreymon at CDJapan
(sold out, leaving link in case they get more)
#02 MetalGarurumon (Affiliate links):
Digivolving Spirits MetalGarurumon at Amazon USA
Digivolving Spirits MetalGarurumon at CDJapan
(pre-orders sold out, leaving link in case they get more)
#03 Diablomon (Affiliate link):
Digivolving Spirits #03 Diablomon at CDJapan
(pre-orders sold out, leaving link in case they get more)
#04 Angewomon (Affiliate link):
Digivolving Spirits #04 Angewomon
(almost sold out of pre-orders)
Then we have a small bit of Digimon Tamers news...
Digimon Tamers episode 43, " Connected Hearts, The Revival of Beelzebumon" will air on Tokyo MX on January 4th at 10:30pm (Japan time) in it's upscaled form as a preview for the upcoming Blu-ray box. It won the fan vote on Twitter as the most popular Tamers episode.
And a bit more Tamers BD-Box news, we have an image of the fine board being included with the Amazon Edition...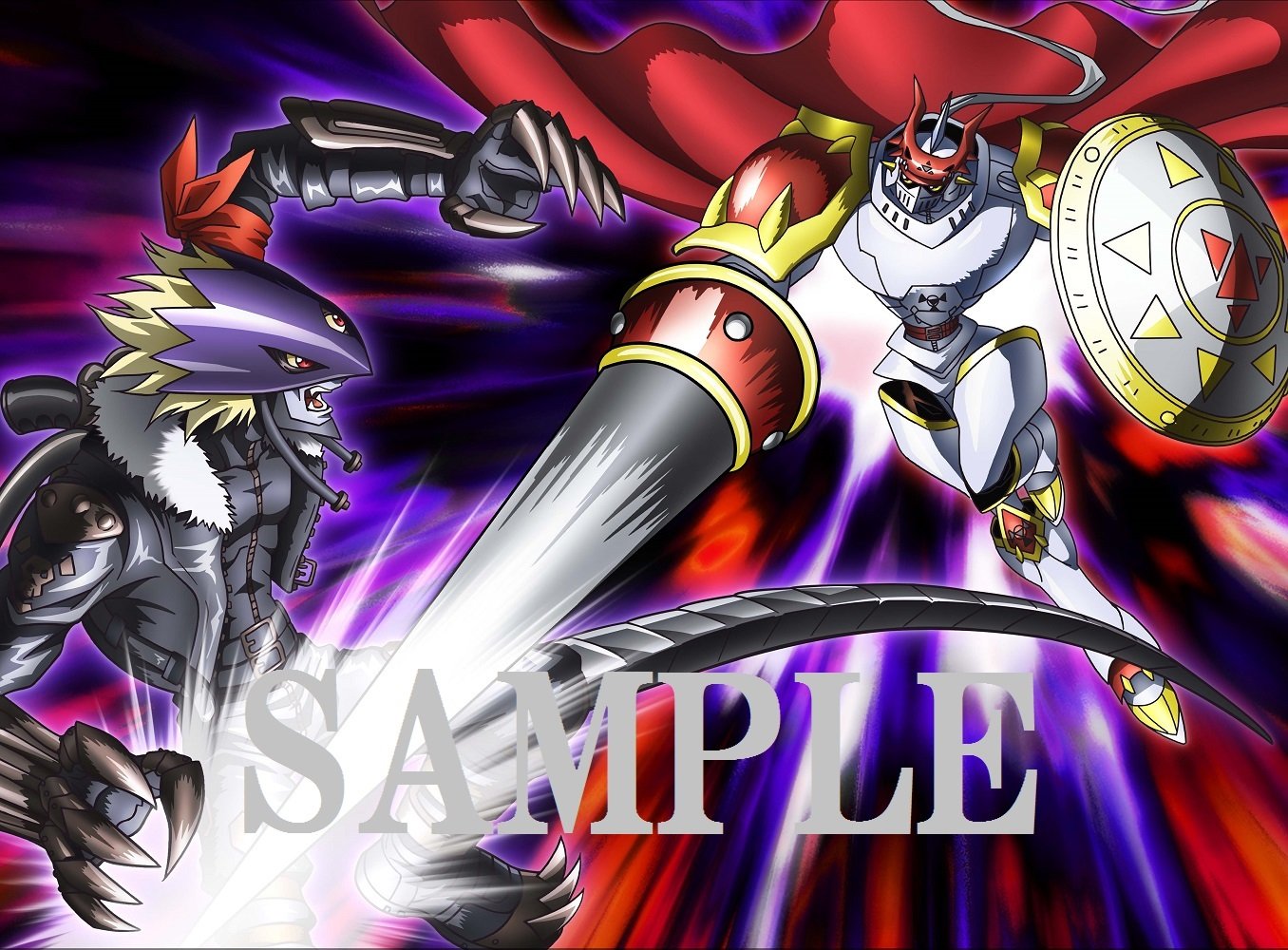 A very nice shot of Dukemon fighting Beelzebumon!
The Blu-ray box will be available April 3rd, 2018 for 53,800 yen. Early copies of the box will include the new Tamers audio drama.
Pre-orders are currently available:
Digimon Tamers BD-Box
(CDJapan affiliate link)
Digimon Tamers BD-Box Amazon Edition (includes F4 size (8.27 x 12.99 inches) fine board.)
Back to product news.
In addition, with Jump Festa starting shortly and it being around the end of the year, Premium Bandai is running one of their stock lotteries.
They're going to have limited stock of 2 dozen items to celebrate and 2 of them are Digimon items! These are most likely extra stock that was made in case of issues that would require replacements or simply extras they decided to hold onto for whatever reason that they've decided is time to sell off.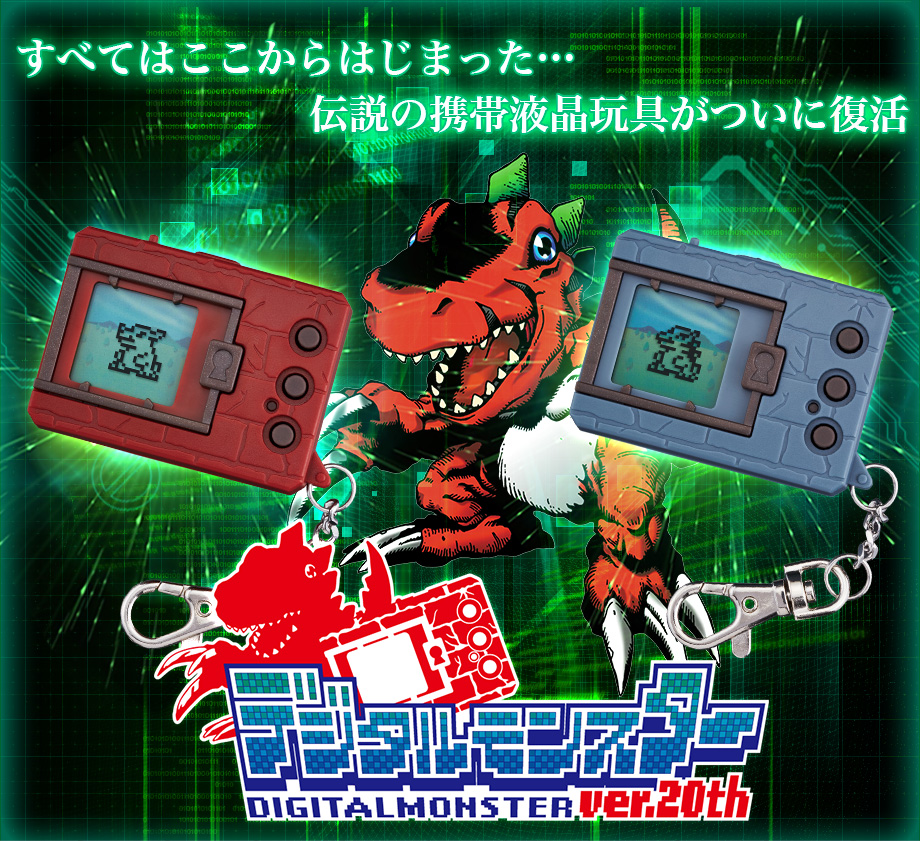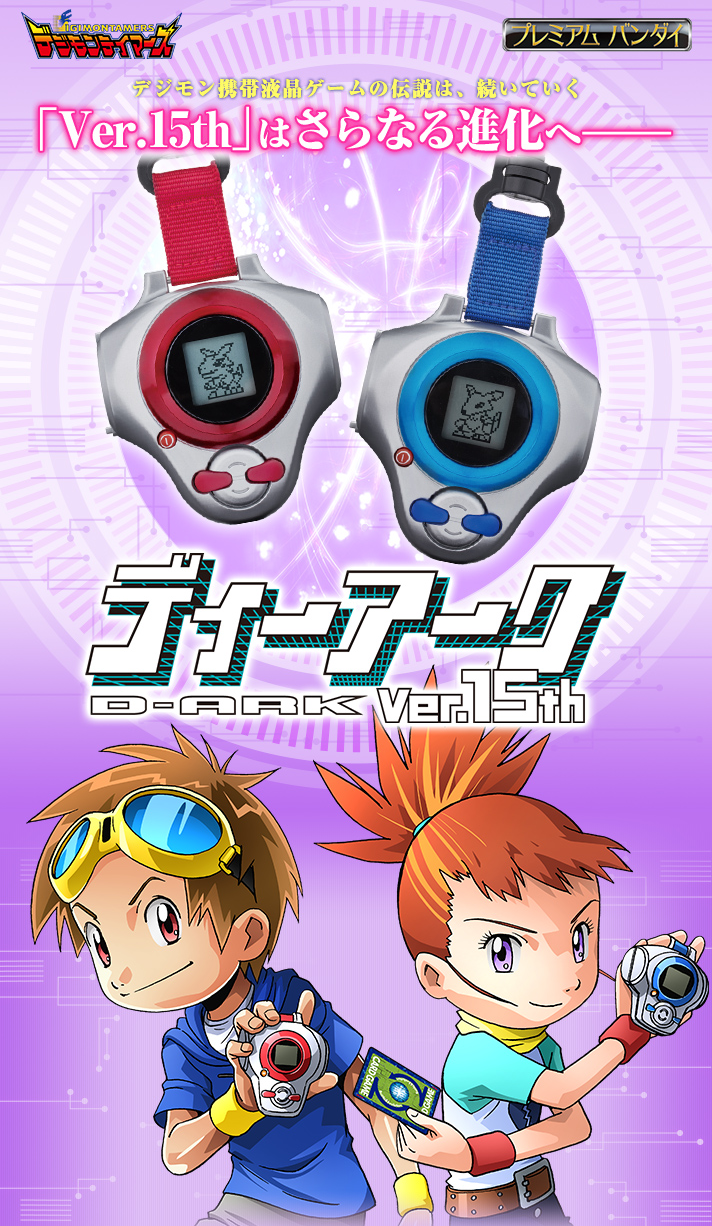 These items won't be gotten by any of us, but it's nice to see them back in a limited fashion.
The items are:
The
20th Anniversary V-Pets
in the original release colors of brown and gray for 3,780 yen each.
The
Tamers 15th Anniversary D-Arks
. Both the Takato and Ruki versions will be available for 9,990 yen each.
The lottery can be entered by people in Japan by clicking the big orange button towards the bottom of each items product page.
The lottery for each item ends on February 2nd with winners announced on February 6th. Winners will be allowed to purchase the item they entered the lotto for.
The 20th Anniversary V-Pet was made available earlier this year as part of the 20th Anniversary of the franchise and the 15th Anniversary D-Ark shipped early this year, but had it's pre-order period in 2016.
I don't expect any intermediaries will want to try dealing with a lotto, but if you want to try...
You'll want to contact an intermediary to get these items sent to you. WtW is not affiliated with any, but here are a selection of intermediaries that have worked well for various WtWers and their friends in the past:
From Japan
Rider Proxy
Nippon-Yasan
The Bandai Premium store has also chosen to affiliate themselves/recommend a few potential shops to be used as intermediaries for non-Japanese buyers:
Buyee
From Japan
(this From Japan link shows various items that they waive commission fees for.)
Samurai Buyer
DEJapan
You'll want to provide your chosen intermediary with the link to the item. Just copy paste the link to the product pages for what you want and send them a message about it and they'll take care of it after they discuss pricing and their policies with you. The links embedded in the news article for the products are exactly what you'll need to send them.
Some of the intermediaries have a full storefront and may have the item listed, so you may want to check that first.
Thanks to
Toy Soul
for the statue images and our friends at
DimensaoDigimon
for the heads up about it.