Show User Social Media
Hide User Social Media
Joined

Sep 8, 2006
Messages

16,129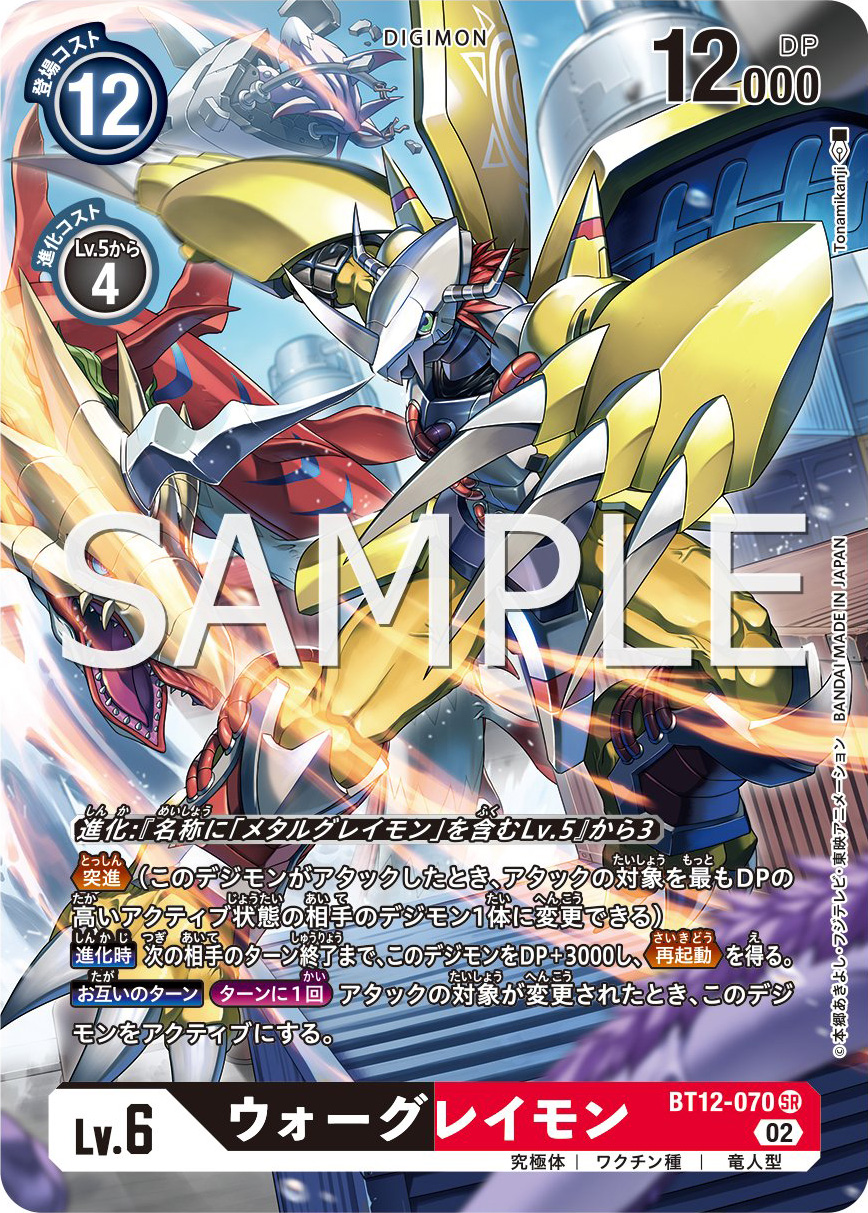 The Digimon Card Game Twitter
has updated with a card preview from Booster Set 12 Across Time. This time it's WarGreymon .
This time we get to see a parallel card of WarGreymon. WarGreymon gets some really nice anime plus style art of it mowing through foes.
Previous previews for Booster Set 12 Dimensional Phase:
Chaosdramon X & Super Genocide Attack Dobermon & Jokermon Sales Sheet Monimon & JetMervamon Clean Packaging Ekakimon Gokuwmon & Sagomon Kozenimon & Zenimon Ganemon Footmon Yakiimon & Jyagamon MetallifeKuwagamon & GranKuwagamon Otamamon & Gekomon TonosamaGekomon ULForceV-dramon X Mercuremon & Sephirothmon Wisemon, AncientWisemon, & Demon of Laplace V-Jump Previews Gumdramon & Arresterdramon Tagiru & Overflowing Power Arresterdramon: Superior Mode Swimmon Ranamon & Calamaramon TorikaraBallmon & Burgamon EbiBurgamon & Potamon Agumon & Taichi Greymon & MetalGreymon Shoutmon King Version WarGreymon Version Chibimon & V-mon XV-mon & X-Laser Daisuke & Paildramon Imperialdramon: Dragon Mode Imperialdramon: Fighter Mode Wormmon & DinoBeemon Stingmon & Spiking Finish Gigimon & Guilmon Growmon & MegaloGrowmon Dukemon & Takato Betsumon Flamon & Takuya Agnimon, Vritramon, & Aldamon KaiserGreymon & Kuzuryujin Opossummon Airu ChoHakkaimon & Kyoushin Home Run Impmon X, Wizarmon X, & Baalmon X Beelzebumon X & Seventh Full Cluster Koromon & Agumon GeoGreymon Masaru, RizeGreymon, ShineGreymon & Shining Blast Dracumon & Yaksamon Ren Clockmon Old Clock Shop Man DarknessBagramon Pillomon & Mikemon Lampmon Mermaimon AncientMermaimon & Great Maelstrom Psychemon & Ryouma Astamon Quartzmon & Gypt Particle Cannon Yuu Tyutyumon, Damemon, & Tuwarmon Shoutmon Shoutmon King Version, Taiki, Shoutmon x7: Superior Mode, & Final Xros Blade ULForceV-dramon X Parallel
Booster Set 12 Across Time is out November 25th, 2022.
We have early detailed for
Booster Set RB-01 Rising Wind
.
We have early details for
Booster Set EX-04 Alternative Being.
We have early details for
Booster Set 12 Across Time
.
We have early details for
Starter Deck 14 Advanced Deck Beelzebumon
.
We have clean card images from
Booster Set 11 Dimensional Phase, Battle Pack 14, & Special Promotion Pack 2022 Version 3.0
.
And images from previous Digimon Card Game releases:
Starter Decks 1, 2, and 3, and first 10 promo cards
Booster Set 1 New Evolution
Booster Set 2 Ultimate Power
V-Tamer Promo Cards
Purple/Black Promo Set
Tamer Battle Pack 1 and Tamer Battle Winner's Card
Booster Set 3 Union Impact
Starter Decks 4, 5, & 6, plus Tamer Battle Pack 2 & winner's Card 2, & 1st 2 scene vote cards
Booster Set 4 Great Legend, Tamer Battle Pack 3, 3rd Scene Vote, Dark Digimon Promo Pack, & Apparel Cards
Booster Set 5 Battle of Omega, plus Tamer Battle Pack 4, 4th Scene Vote, & Vital Bracelet Pack-In Cards
Starter Decks 7 & 8, plus Delay Promos, Tamers Battle Pack 5, 1st Anniversary Promos, & Pulsemon
Booster Set 6 Double Diamond Cards, the 1st Anniversary Adventure Pack, and more
Booster Set EX-01 Classic Collection, plus Tamer Battle Pack 6 & 7, Tyranomon & dual Zeromaru Promo Cards
Booster Set 7 Next Adventure, Campaign Cards, & Tamers 20th Promo Cards
Starter Decks 9 & 10, plus Tamers Battle Pack 8, Ghost Game Promos, Online Promos, Tamers Evolution Box 1, & Amazon Starter Promos
Booster Set 8 New Hero, Starter Deck 11, plus Tamer Battle Pack 9 & Event Cards
Booster Set 9 X Record, plus Battle Pack 10, Special Promo Pack 2022, Update Pack, & Evolution Box 2
Starter Decks 12 & 13, Luxury Finished Tamers, plus Battle Pack 11
Booster Set 10 Xros Encounter, plus Battle Pack 12, Special Promo Pack 2022 v2, & Evolution Cup Cards
Booster Set EX-03 Dragon's Roar and Survive, DC-1, Memorial, Battle Pack 13, Illustration, & Espimon Promo Cards