Show User Social Media
Hide User Social Media
Joined

Sep 8, 2006
Messages

17,396
Some Vital Hero updates.
An
official website
and Youtube are open.
The Youtube currently has 2 videos...
The first is a basic promo.
The second is a how to, explaining how to get the Vital Hero setup for usage, etc.
Aspects of this are also covered in a how to page on
the site
.
A few other things of interest from the site...
The manual for the Vital Hero is up in PDF form
. This also mentions Dims locking to a device after 1 use.
​
Clean images of the Wolf Howl and Dinosaur Roar Dim Cards and the plastic frames.
Also, to add a bit of confusion, or clarity... or both...
Early marketing has suggested that 'every' Vital Hero Dim Card would be unique from the Japanese equivalent, but they show off an evolution chart for Pulse City, the Hero equivalent of Impulse City, and the chart features the same Digimon.
So, it may be a case of marketing people getting the 'new' Dim Cards confused for 'all', but we'll see later we suppose.
A few final things of interest, also to those who have the Vital Bracelet...
Things refer to the Vital Hero App, while also using the image logo for the Vital Bracelet Lab app, so the basic app itself is seemingly just using the existing app, but we will see if there is a rebrand later.
And more excting for fans...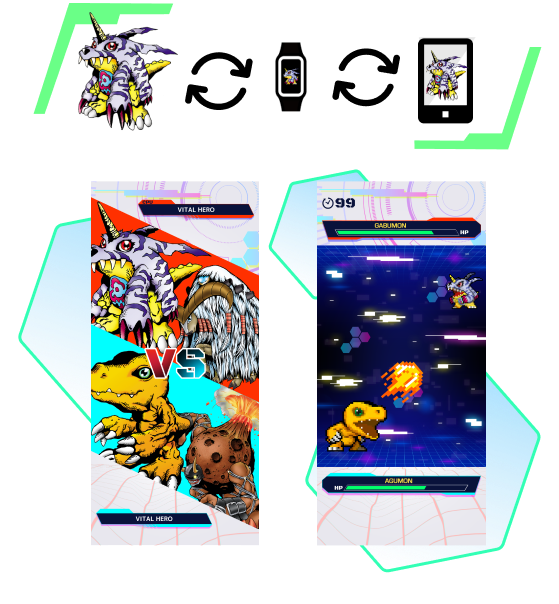 A few early looks at the PvP app, which has been teased on and off for months, including in the recent Vital Bracelet BE annoucements.
They refer to the 'Battle App' coming Fall 2022, and give a list of features:
Battle App Coming Fall 2022
Onlien battles
Player vs Player
Worldwide Ranking Battles
Strategic Online Tag battles
Vital Hero pre-orders are currently open for the other items: (affiliate links)
Vital Hero Black
Vital Hero Blue
Dim Card Set v01- Volcanic Beat and Blizzard Fang
Dim Card Set v02- Infinite Tide & Titan of Dust
Dim Card Set v03- Hermit in the Jungle & Nu Metal Empire
The Vital Hero Red has a
standby page up at Wal-mart
, where it will be exclusive.