Show User Social Media
Hide User Social Media
Joined

Sep 8, 2006
Messages

16,654
After a big chunk of teasers, t
he VB Series has been formally announced
.
The expansion of the Vital Bracelet will include multiple things, so plenty go over...
​
There are now 3 devices in the Vital Bracelet line.
The original Vital Bracelet Digital Monster is sticking around as is (although we later expect it to get a rolling change to some of the updates the Digivice V has).
The new Vital Bracelet is the Digivice V from the new anime.
The Vital Bracelet Characters is added to the lineup for
Kamen Rider
and
Ultraman
.
The Vital Bracelet Digital Monster page
has been updated to feature both Digimon devices.
The Vital Bracelet Characters (VBC for short after this) introduces Kamen Rider and Ultraman into the VB system, although it has some programming changes.
The first VBMs (The character equivalent of a DIM) is Kamen Rider Kuuga and Ultraman Tiga, some of the more well loved characters for those franchises.
Coverage of the VBC and VBMs will be minimal, but we're doing the introduction because there is some relevance later...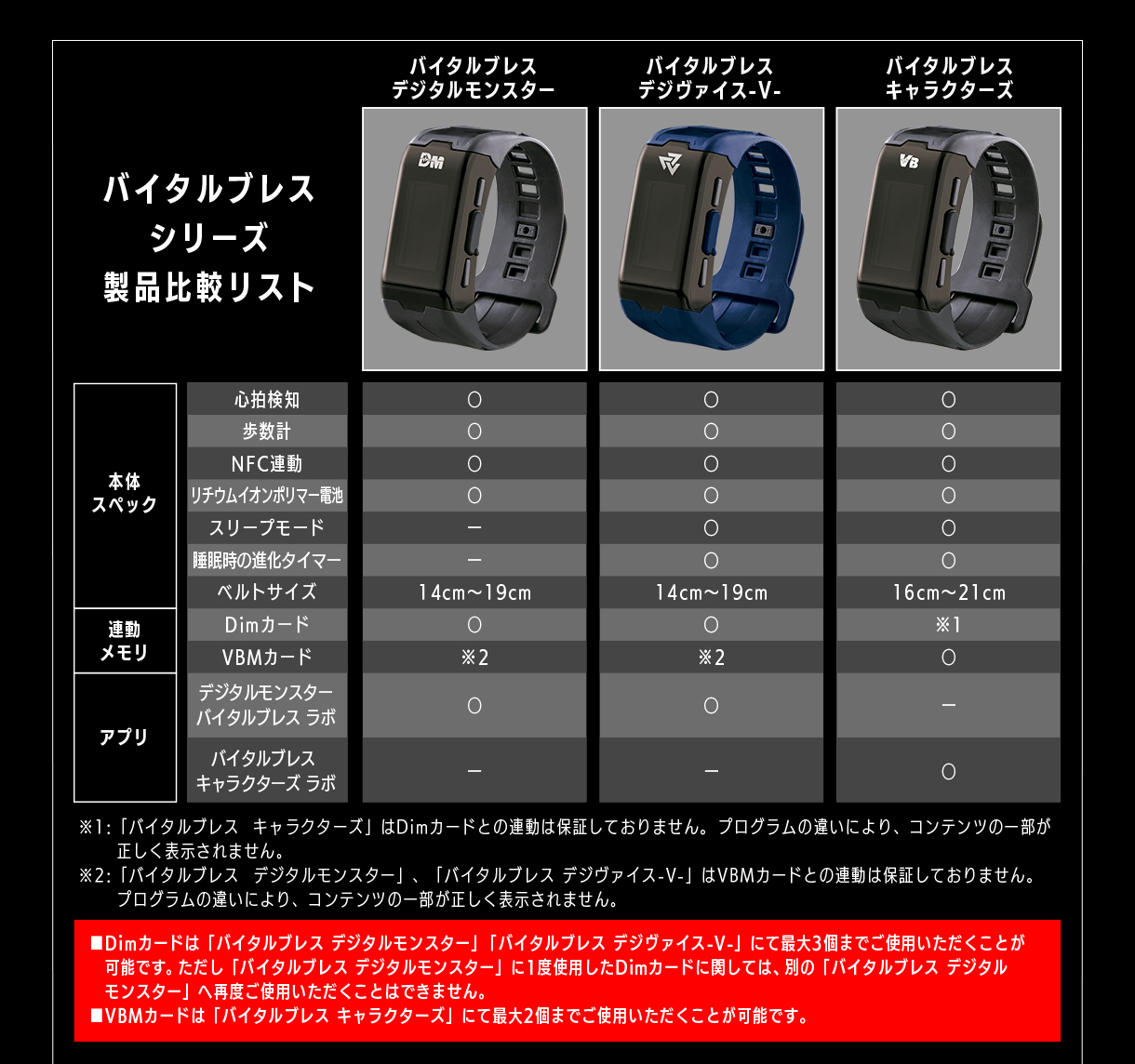 A chart showing the differences between the 3 devices.
The main relevant items for us are:
The original VB has no sleep mode, or evo timer during sleep.
The VBC has a slightly larger band.
Then, an important detail...
They aren't locking out Digimon Dim Cards on the DBC, nor VBM on the original Vital Bracelet or the Digivice V, HOWEVER... there are programming differences, so there may be some things that don't display properly if you use them on the 'opposite' device, and no compatibility is guarenteed.
VBM will have it's own app called the Character's Lab.
Vital Bracelet and Digivice V can each have 3 Dim Cards in use. It notes once a Dim Card has been used on the Vital Bracelet Digital Monster it can't be used on another VB.
A VB locked Dim can still be activated on a Digivice V, and then becomes newly locked.
And then some large art of the packaging and Dims...
Pre-orders should be opening any time, and we will update when they are.
Update- Pre-orders are open and details are
here
.
In general we will not be covering the non-Digimon content from here on out for the Vital Bracelet. There will likely be exceptions to that based on what shows up of course.

Press information also mentions they've sold 200k Vital Bracelets since launch, and aim to hit 500k.
Thanks to
A_n_ochan
for this press detail.
Last edited: