Show User Social Media
Hide User Social Media
Joined

Sep 8, 2006
Messages

16,887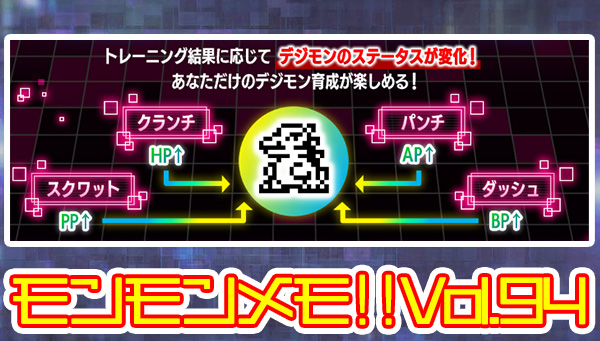 Time for a new MonMon Memo!
MonMon Memo 94
is a preview of training and the Adventure mode in the Vital Bracelet BE.
The translation is the provided one from Digimon Web, with very minor touch-ups at best otherwise.
They also put up a short BE promo video on Twitter.
Digimon fans! Hello!
"VITAL BRACELET BE DIGITAL MONSTER 25th Anniversary set" is currently UP TO pre-order on Premium Bandai! It is a memorial item suitable for the 25th anniversary, where you can enjoy the latest raising toy with nostalgic black and white dot Digimon!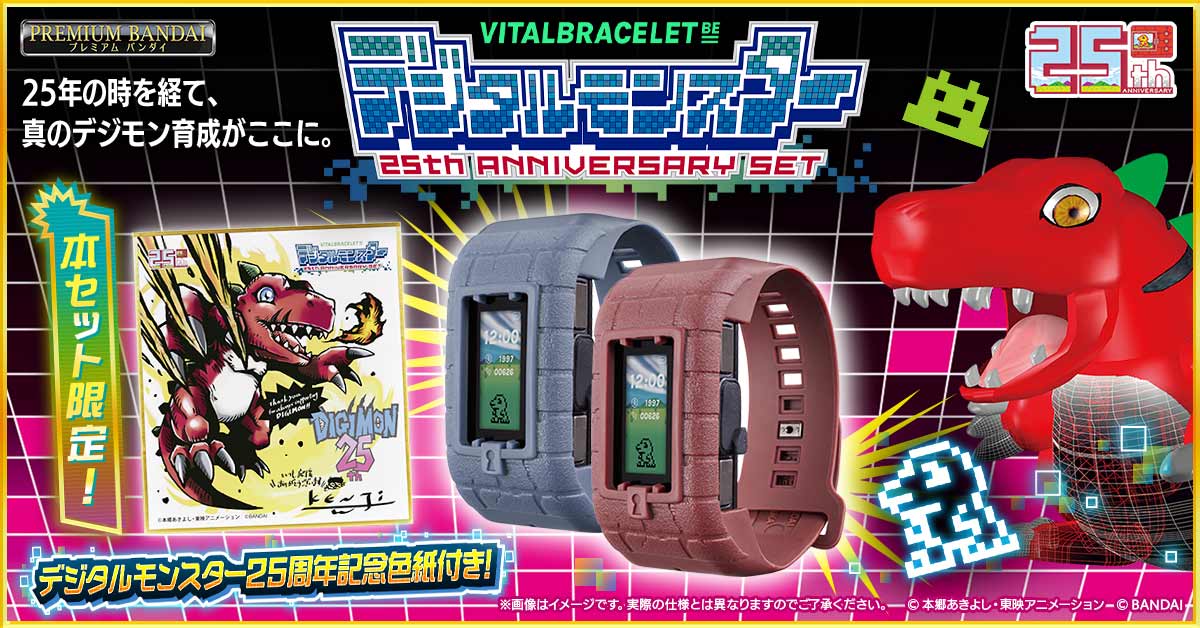 And in this issue of Monmon Memo!!, we will introduce VITAL BRACELET BE's TRAINING and ADVENTURE using the "VITAL BRACELET BE DIGITAL MONSTER 25th Anniversary set" as an example!
About TRAINING
You can enjoy 4 trainings like the previous VITALBRACELET.
・ Squat
・ Crunch
・ Punch
・ Dash
In this "VITAL BRACELET BE", the limit on the number of trainings has been removed, and you can try as many trainings as you like, when you want!
Furthermore, the status of Digimon born using BEMEMORY as VITAL BRACELET BE will change according to the training results.
For example ... If you succeed in squat training, you will receive PP (points necessary for Evolution), if you succeed in crunch training, your HP will increase, and if you do your best in training, the Digimon you are training will become stronger!
<About each status>
"PP": Points required for Evolution
"HP": Digimon 's hit points
"AP": Digimon 's attack power
"BP": Points related to hitting and avoiding Digimon's attacks
You can improve your status within 100 hours after the Digimon was born from DigiEgg, so challenge your training strategically in your daily life and grow your own ... the one and only strongest Digimon!
For the Evolution of Digimon, it is necessary to achieve the conditions as with the previous VITAL BRACELET.
[Evolution timer x vital value x win rate x number of battles x PP (trophy elements so far)]
By achieving each of the above conditions, Digimon will Evolution, so please challenge battles and training to achieve the conditions!

Also, when using the DimCard series that has appeared so far for VITAL BRACELET BE,
You can enjoy raising your Digimon as before, but please note that your status will not change due to training.
Instead, Digimon born using a DimCard for VITAL BRACELET BE will be able to get PP (a value equivalent to a trophy so far), one of the elements necessary for Evolution, regardless of which of the four types of training is performed. We now have.
ABOUT ADVENTURE
At ADVENTURE, you can play just by walking with your partner Digimon.
Actually walking aiming for the default number of steps in each chapter! When the specified number of steps is reached, the enemy Digimon of each chapter will appear, and by winning the battle, the Evolution route will be released.
This is an easy-to-play mode that may increase the Evolution routes of Digimon just by walking.

In ADVENTURE, the background will change as you progress through the latter chapters, so you can enjoy the feeling of walking and adventuring with your partner Digimon!
And when you clear the chapter of ADVENTURE ...
The Evolution route of Pulsemon will be released! Black and white dots of course!
This product will be the first to make Pulsemon black and white dots!

With your one and only Digimon that you have strategically trained and strengthened through training, go on an adventure and battle on foot! Enjoy a new Digimon raising that combines fitness and gameplay!
"VITAL BRACELET BE DIGITAL MONSTER 25th Anniversary set" is now pre-order on Premium Bandai! Reservations will be accepted until 23:00 on August 31st!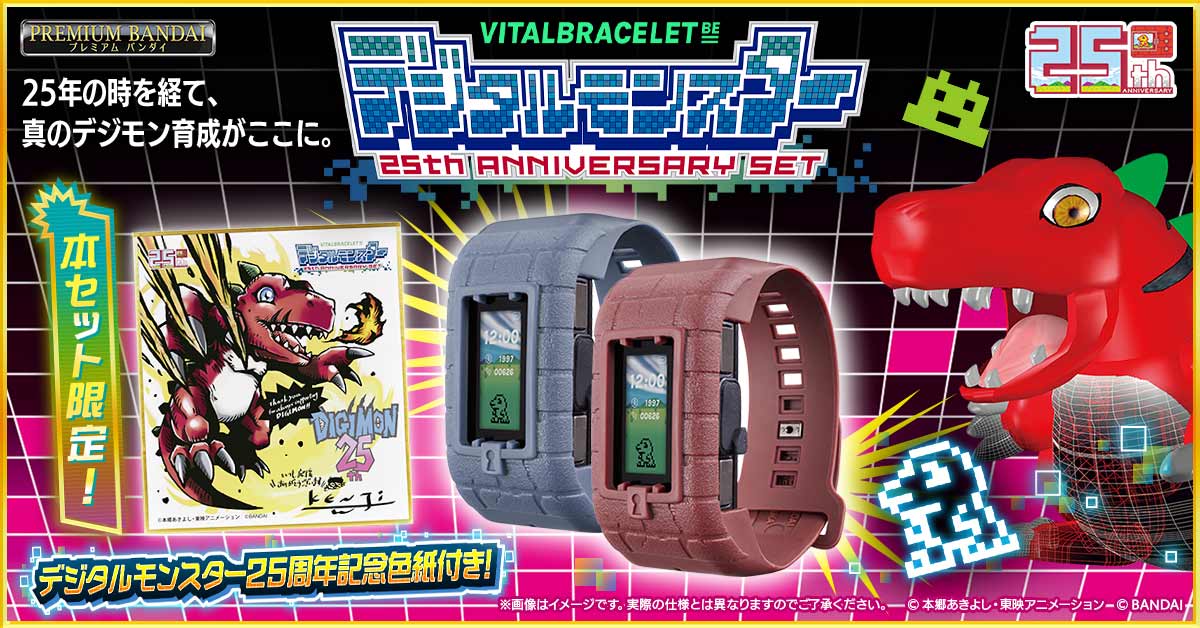 Next time, we plan to introduce the battle of the VITAL BRACELET BE itself!
See you in the next update!
* The "BE MEMORY DIGITAL MONSTER 25th Anniversary Dim" included in the set is scheduled for general sale in the fall of 2022.
*The image is under development. Please note that the actual specifications may differ.
* Product specifications are subject to change without notice.
Previous MonMon Memos have included: