Show User Social Media
Hide User Social Media
Joined

Sep 8, 2006
Messages

17,389
With the Vital Bracelet BE and Digivice VV being out, a number of videos and other promotional things have shown up...
First up, the Bandai Mania crew did one of their product detailing videos. This one details the Digivice VV, and some of the changes, including the new Arena app.
A few preview screenshots...
Second...
A 5 minute video that basically just introduces the Digivice VV and Arena app.
A few preview screenshots...
Next up...
A slightly updated version of a previous promo.
And last up...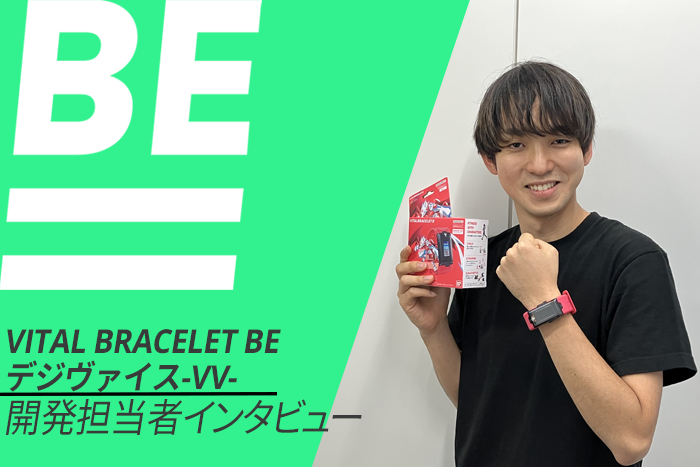 Digimon Partners has done an interview with Muremon
, from the Global Toy Planning Department at Bandai. Muremon was in charge of development of the Vital Bracelet BE and Digivice VV.
The interview is the English translated text from Digimon Partners, with only very minor cleanup.
The product went on sale on November 26, 2012. VITAL BRACELET BE DIGIVICE-VV-" . To commemorate the release of the new DIGIVICE, which appeared prior to the "Digimon Ghost Game" anime currently airing on TV and played an active role in the story, we bring you special interviews with the people involved in the story in Part 1 and Part 2♪.

In this first part of the series, we talked to the person in charge of development about the appeal of this product!

Muremon (Member of Global Toy Planning Department, Bandai Co.

Digimon Partners Staff Digimon lover in his 30s

DP Staff: First of all, please introduce yourself.

Muremon: My name is Muremon and I am in charge of the planning and development of DIGITAL MONSTER's LCD Toy, including "VITAL BRACELET BE". Until last year, I was in charge of handling some of the development work as a sub, such as handling the creation of dot pictures to be included on Dim cards. From this year, I'm in charge of the promotion and planning of "VITAL BRACELET BE" DIGITAL MONSTER. You may know me from the "DIGITAL MONSTER 25th anniversary program" on YouTube (laugh).

DP: I see! I see! How did you first meet Digimon and what made you fall in love with it?

Muremon: It's very common, but I am one of those people who became fascinated with Digimon through "Digimon Adventure" (laughs). I am sure that the reason why I fell in love with Digimon is the same as many other Digimon fans. I believe that the bond and connection between tamers and Digimon is what makes Digimon so great, so I try to create products that let people feel this through the toys!

Digimon training that brings out their individuality.

DP: Now, please tell us about "VITAL BRACELET BE". I think the basic way of playing is the same as " VITAL BRACELET", but what are the points of interest that have evolved with "BE"?

Muremon: The biggest thing is that "Digimon" can have personalities. Until now, if the Digimon being trained were the same, their status was also the same, except for their vital values. So battles in "VS Memory" and apps were largely won or lost by luck. However, in "VITAL BRACELET BE," each Digimon's parameters can be improved through tamer training, so even the same Digimon can differ depending on who raised it.

DP: Specifically, what are the parameters?

Muremons: There are three types of Digimon: AP (attack power), HP (physical strength), and BP (battle points), which are related to hit and evade rates. For example, if you increase only AP, your digimon will become an attack-specialized digimon that deals a large amount of damage per hit; if you increase BP, your digimon will become an evasive digimon that actively avoids opponents' attacks while applying attacks in detail.

DP: So the Digimon's Attribute and vital values are compounded there to determine the winner.

Mullemon: Yes, AP is for punch training, HP is for crunches (sit-ups), and BP is for dash, which can be extended by the user's training, with a judgment of "GOOD" increasing the status by 5 points and "GREAT" by 10 points.

DP: So there's a set period of time there where you can extend your status through training this time.

Muremon: Digitama, The "timer" is set to count down from 100 hours, born from It is within these 100 hours that you can extend your status through training.

(The number in the center is the "timer" and the alphabet below it is the "rank.")

DP: I see. I see, so it's not a growth stage, but rather a fixed period of time for which you can increase the status of one digimon, and if you train closely with the digimon for 100 hours straight, can you increase their status more and more?

Muremon: The maximum for each status is 999. So, if each training session lasts about 30 seconds, and if you clear each training session with "GREAT" all the way through, you can theoretically max out all the statuses if you work hard for about 150 minutes out of 100 timer hours.

DP: It takes a lot of effort...(laughs)! The digimon gets stronger as you make a proper effort, don't they?

Muremon: In addition, from this year, there is a "rank" calculated from the total value of the parameters, and when a certain number is reached, the rank goes up from D, C, B, A, to S. This is an indicator that shows at a glance how hard you have worked to raise your Digimon, so we hope it will help visualize your efforts and give you something to brag about.

(STATUS SCREEN, FROM TOP TO BOTTOM: "TIME", "NUMBER OF BATTLES", "WINNING PERCENTAGE", "PP")

IN ADDITION, "PP (PHASE POINTS)" CAN NOW BE OBTAINED BY DOING "SQUATS" IN TRAINING. THIS IS THE SAME CONTENT AS "TROPHIES" UP TO NOW, AND THE NUMBER EARNED IS ONE OF THE EVOLUTIONARY CONDITIONS.

DP: So the evolution conditions are "time", "vital value", "number of battles", "winning percentage" and "PP"?

Attention to the main body

DP: Yes. As you just mentioned, the content of the game has evolved significantly, but the device itself has also evolved in many ways.

Muremon: In response to many of the comments in our previous customer surveys, we have added a drip-proof function equivalent to IPX4 to withstand everyday use, and extended the length of the band. In addition, the separately sold replacement band is available in a variety of colors, so we hope that the "individuality" that is the theme of "VITAL BRACELET BE" will be expressed in the color of the main unit as well.

DP:Others Do you have any particulars?

Muremon: While maintaining the size of the LCD screen, we have succeeded in making the main unit 10% thinner than the previous " VITAL BRACELET" so that it is easier to use in daily life. We have also added specifications that allow users to return to the HOME screen by pressing and holding the bottom button from any screen, and a function that allows users to check evolutionary conditions within the main unit. These are small changes, but we hope they will reduce stress for our users.

DP: It is very convenient to be able to check the evolution conditions on the unit. Did you encounter any difficulties during development?

Muremon: The color of the body of " DIGIVICE-VV-" was a difficult task. I imagined the body color of Canoweissmon and others, but it was difficult to find a color that I could say, "This! We decided on this color after comparing dozens of samples of slightly different colors received from the factory Standard and comparing them to see which color was best. We also used a special ink color to match the color of the packaging to make it more similar to the image of Canoweissmon.

DP: When I hear you talk about that, I can't get rid of the package (laughs).

An app that expands your play

DP: Can you tell us about your new app, VITAL BRACELET ARENA?

Muremon: The main point of this year's event is that PVP battles will allow people to battle in real time, even those who are far away from each other. We plan to hold periodic ranking-based competitions where players compete for points based on a pre-determined number of battles.

DP: So this time, PVP battles and Digimon management can be done through the app? Will the daily play routine be much different from " VITAL BRACELET"?

Mullemon: Yes. Yes, I agree. However, I think it is a big change to have tamers, people, instead of NPCs, as the opponents to fight with after you have raised them. You will be able to enjoy the battle between the Digimon you raised and the Digimon raised by others, which should make using the app and raising Digimon with toys more meaningful than ever before. You can also transfer Digimon from the VITAL BRACELETlab to the VITAL BRACELET ARENA via VITAL BRACELET. Please bring your memorable Digimon with you.

DP: I'm not sure. Good. I have memories of raising Omegamons with great difficulty, so I would love to take them with me.

Muremon: I, too, have finally cultivated Ragnarordmon recently. I am deeply attached to this product because I was in charge of it.

Dim with new discoveries

Muremon: There are secret digimon that evolve with certain jogresses in "BEMEMORY Gammamon Dim," which will be released at the same time as "VITAL BRACELET BE," so please find them and raise them. Many other new UltimateDigimon are also included, so we hope you will enjoy raising them.

DP: The Dim itself is also more exciting to have more evolutionary routes with ADVENTURE.

Muremon: Also, when you defeat a certain Digimon in Dim, one Digimon is added to your backup and you can raise it. For example, with the Imperialdramon Dim, which is a bonus for purchasing DIGIVICE-VV-, if you defeat a certain Digimon along the way, Leafmon will join you, so you can train him as is and go for the jogress with the V-mon route.

DP: At the time of the release of "VITAL BRACELET BE", there are three types of dims available to play: "BEMEMORY Gammamon Dim", "BEMEMORY DIGITAL MONSTER 25th Anniversary Dim", and "BEMEMORY Imperialdramon Dim". What are your plans for the Dim?

Muremon: The "Dragon-type BEMEMORY" and "Beast-type BEMEMORY" will be released around February 2023, and the ADVENTURE released Digimon will be decided by the "Digimon People Vote" at Result in "Digimon WEB". Voting for the "Beast-type BEMEMORY" is currently underway, and we are looking forward to receiving many votes! We are also planning to release a "BEMEMORY" based on the contents of the "Digimon Ghost Game" anime. Please look forward to this one as well.

DP: Any ambitions for the future, please!

Muremon: We are now able to hold real-time tournaments online using the app. There is also a room match function, so we hope to hold Eventwhere you can share a good time with many people playing "Digimon"! We also want to move forward with various projects that fans can get excited about, so please continue to support us!

DP: ...Thanks Yes, sir!

*Images are for reference only.
A nice selection of things to preview the VItal Bracelet BE and Digivice VV now that they are out, the high point being the interview which goes over a number of things, and the reveal of a Ghost Game anime BEMemory Dim that will be released.
It'll be interesting to see how it differentiates itself from the DIM and BEMemories that are Ghost Game focused already.