Show User Social Media
Hide User Social Media
Joined

Sep 8, 2006
Messages

17,401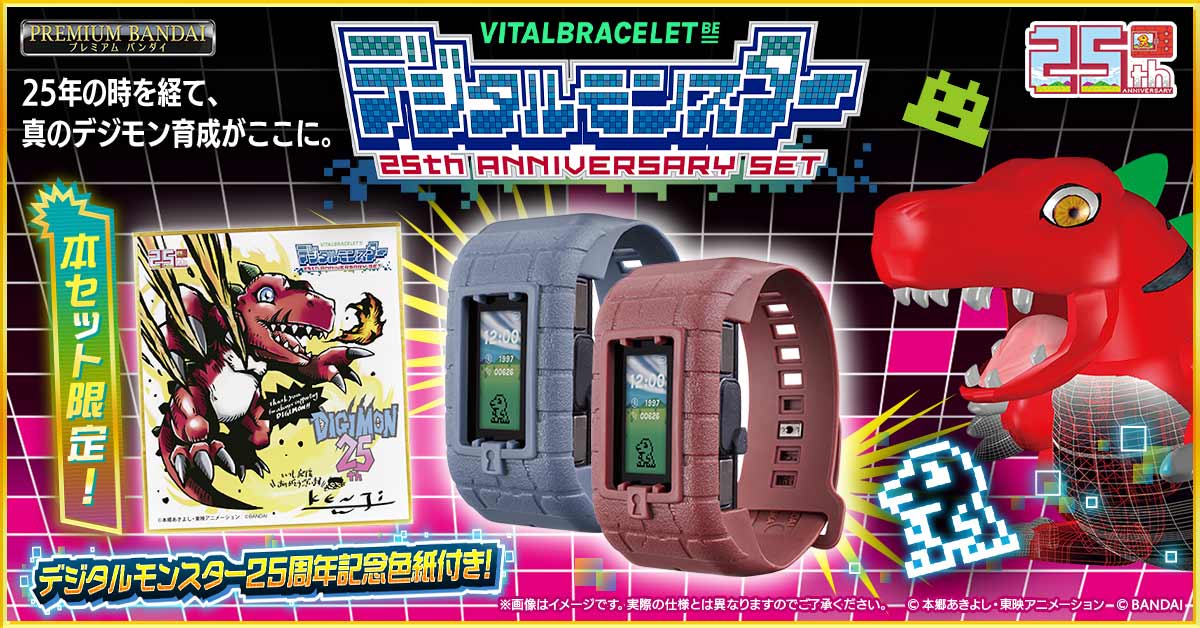 After various teasers we finally have all the details for the Digimon 25th anniversary of the Vital Bracelet BE (before we have some of them for the BE itself in fact.)
A lot of fun to go over, so let's get started...
​
​
First up, another look at the BE that comes with the set in both bands, and it goes over the basic features.
The new BE can use legacy Dim Cards, legacy VBM cards, and the new BEMemory cards.
It has IPX4 water resistance.
The body size of the BE has been reduced by about 10% from the original Vital Bracelet.
Firmware can be updated with a microSD Card.
​
​
The 2 band/covers, themed to look after the original Digimon V-pets, are exclusive to this set, which contains a few different items.
The main body can be used with standard Vital Bracelet BE replacement bands.
​
1- Evolve by training on your adventure with the sprite Digimon!
2- The status of the Digimon will change based on your training!
3- Online real time battles with players around the world will be available. The app will be out in Fall 2022.
Use the classic sprite Digimon against their higher resolution full color cousins.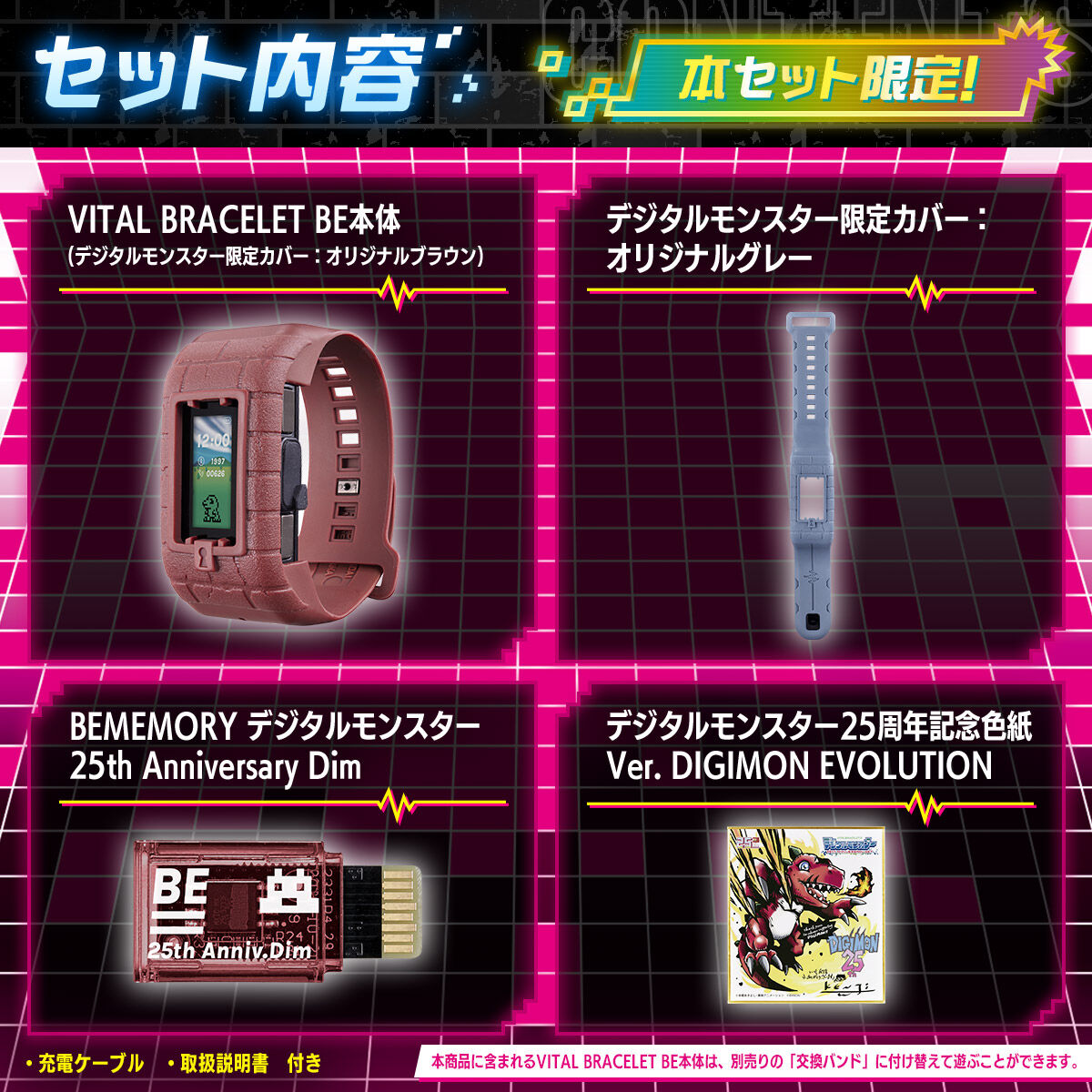 Contents:
Vital Bracelet BE main body, with Limited Edition Original Brown Color Cover (the buttons also have slightly different colors from the standard models.)
Limited Edition Original Gray Color Cover
BEMemory Digital Monster 25th Anniversary Dim
25th anniversary shikishi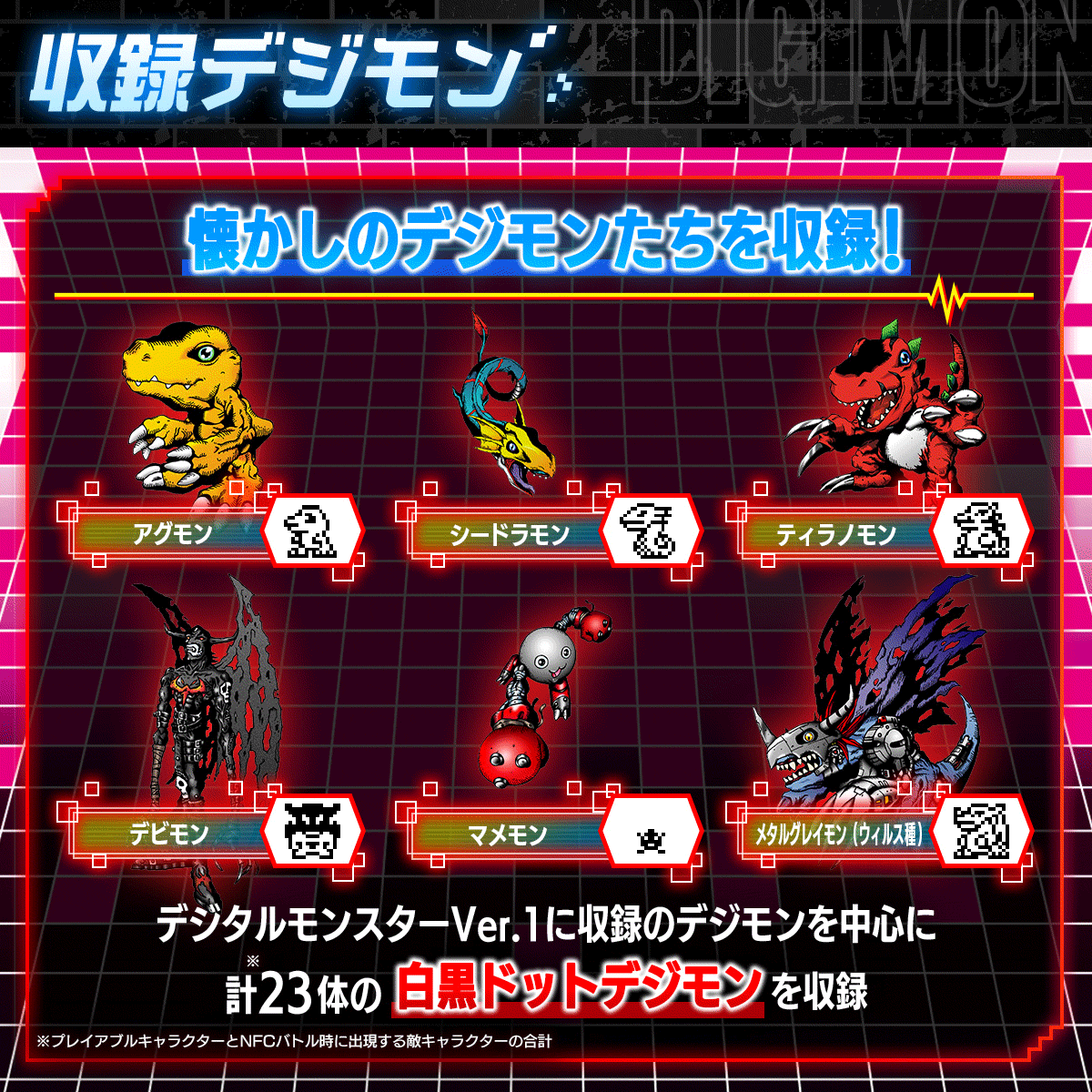 Various nostalgic classic Digimon are included!
The main focus is on Digimon from the Version 1.
23 black and white sprite Digimon total.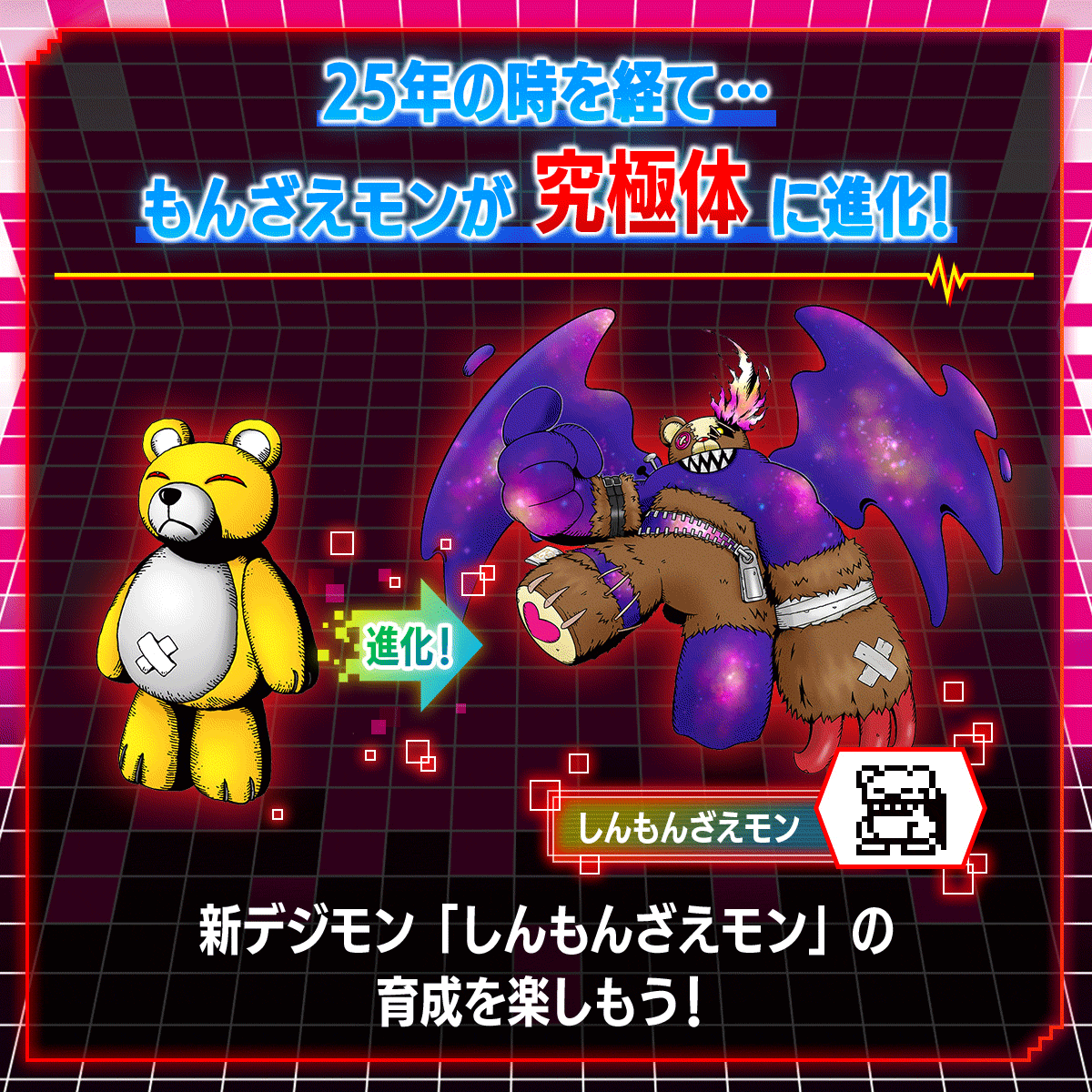 After 25 years... Monzaemon evolves to his Ultimate form!
ShinMonzaemon!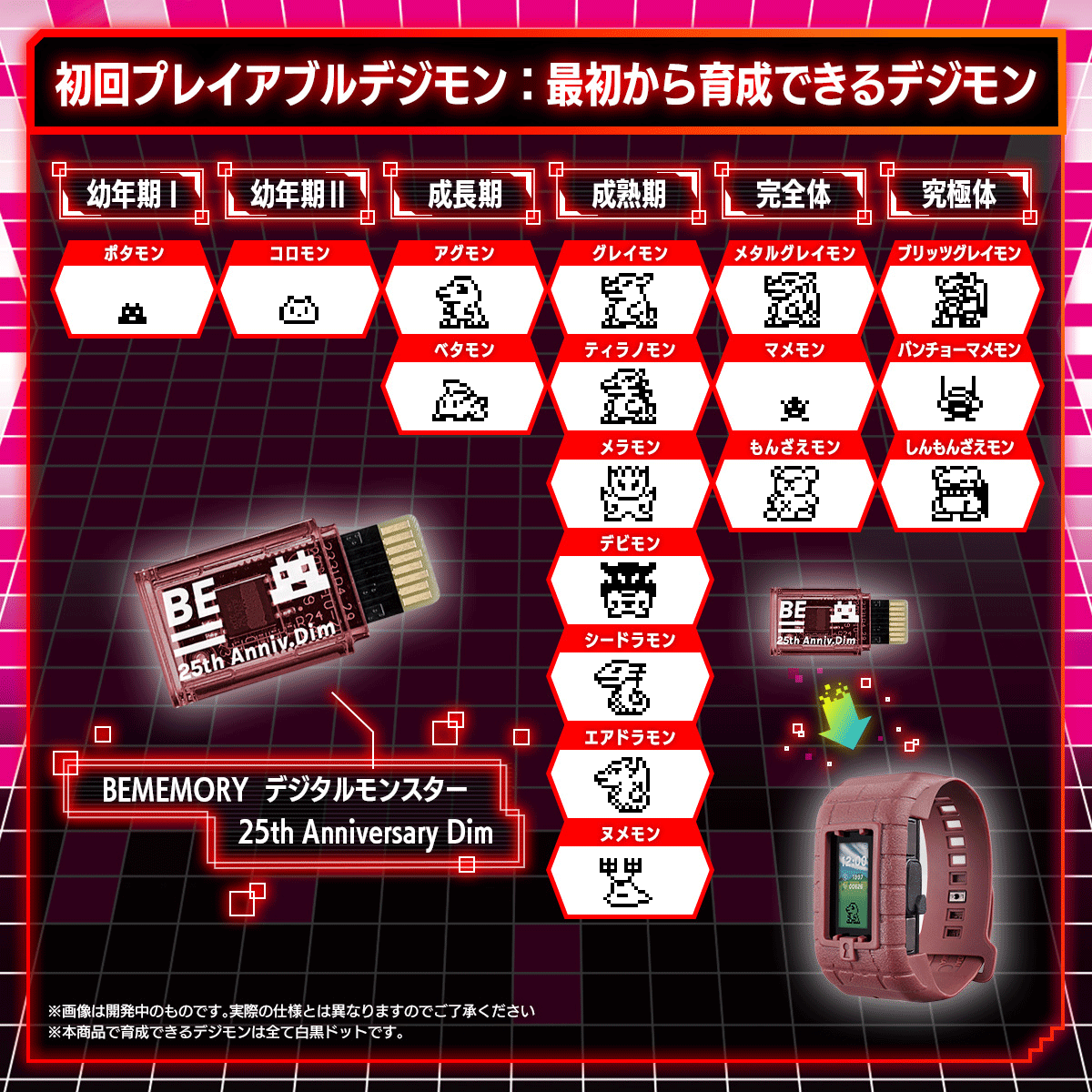 Digimon that can be trained from the start with the 25th Anniversary Dim:
Baby 1- Botamon
Baby 2- Koromon
Child- Agumon, Betamon
Adult- Greymon, Tyranomon, Meramon, Devimon, Seadramon, Airdramon, Numemon
Perfect- MetalGreymon, Mamemon, Monzaemon
Ultimate- BlitzGreymon, BanchoMamemon, ShinMonzaemon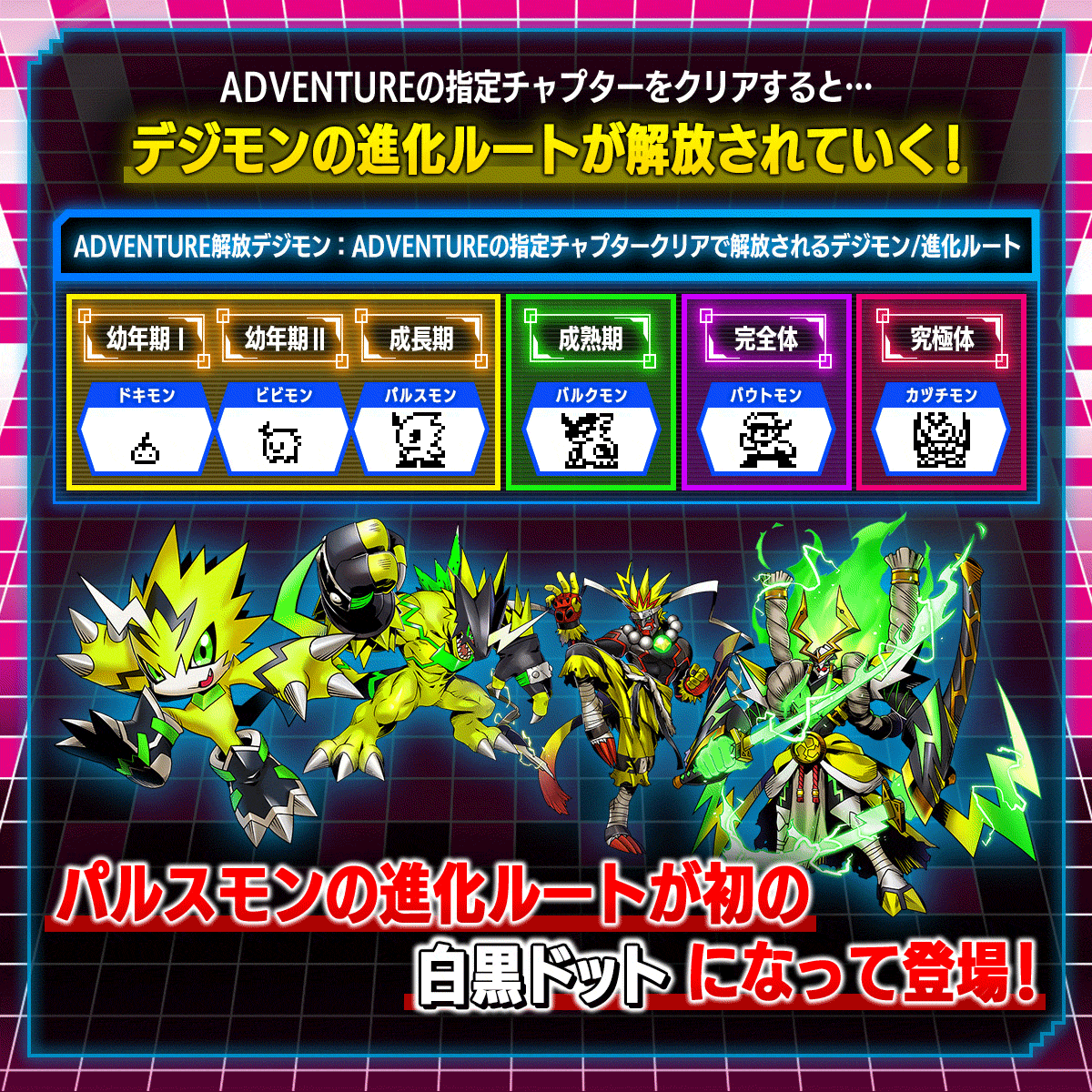 If you clear designed Adventure chapters the evolution route of a well known Digimon will open!
Dokimon, Bibimon, Pulsemon, Bulkmon, Boutmon, Kazuchimon
The first appearance of the Pulsemon evolution family in the black & white classic sprites.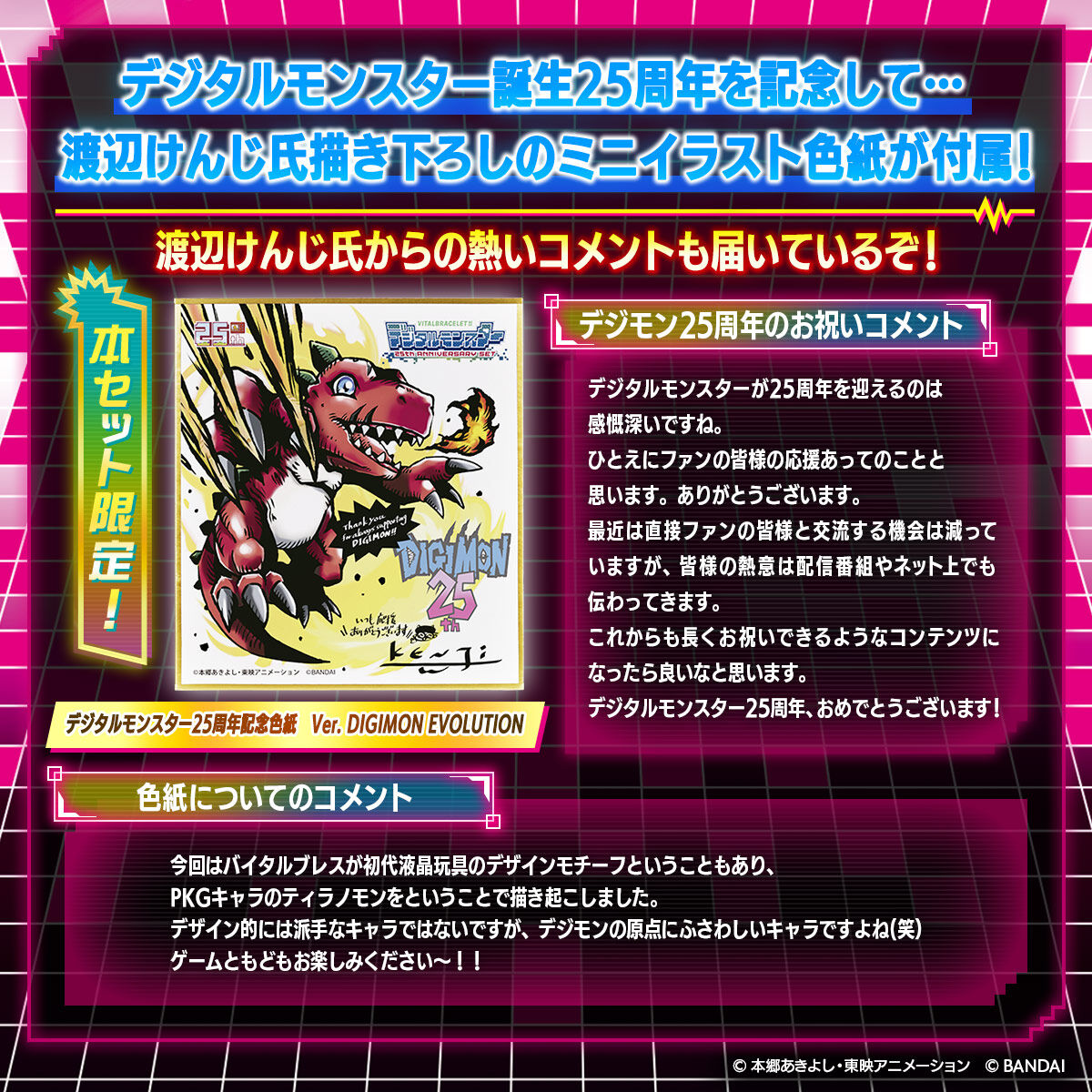 To commemorate the 25th anniversary of the beginning of Digimon, the set includes a new mini shikishi by Kenji Watanabe.
New mini shikishi by Kenji Watanabe
He gave some comments of thanks and regarding the shikishi, we'll translate if there is time later.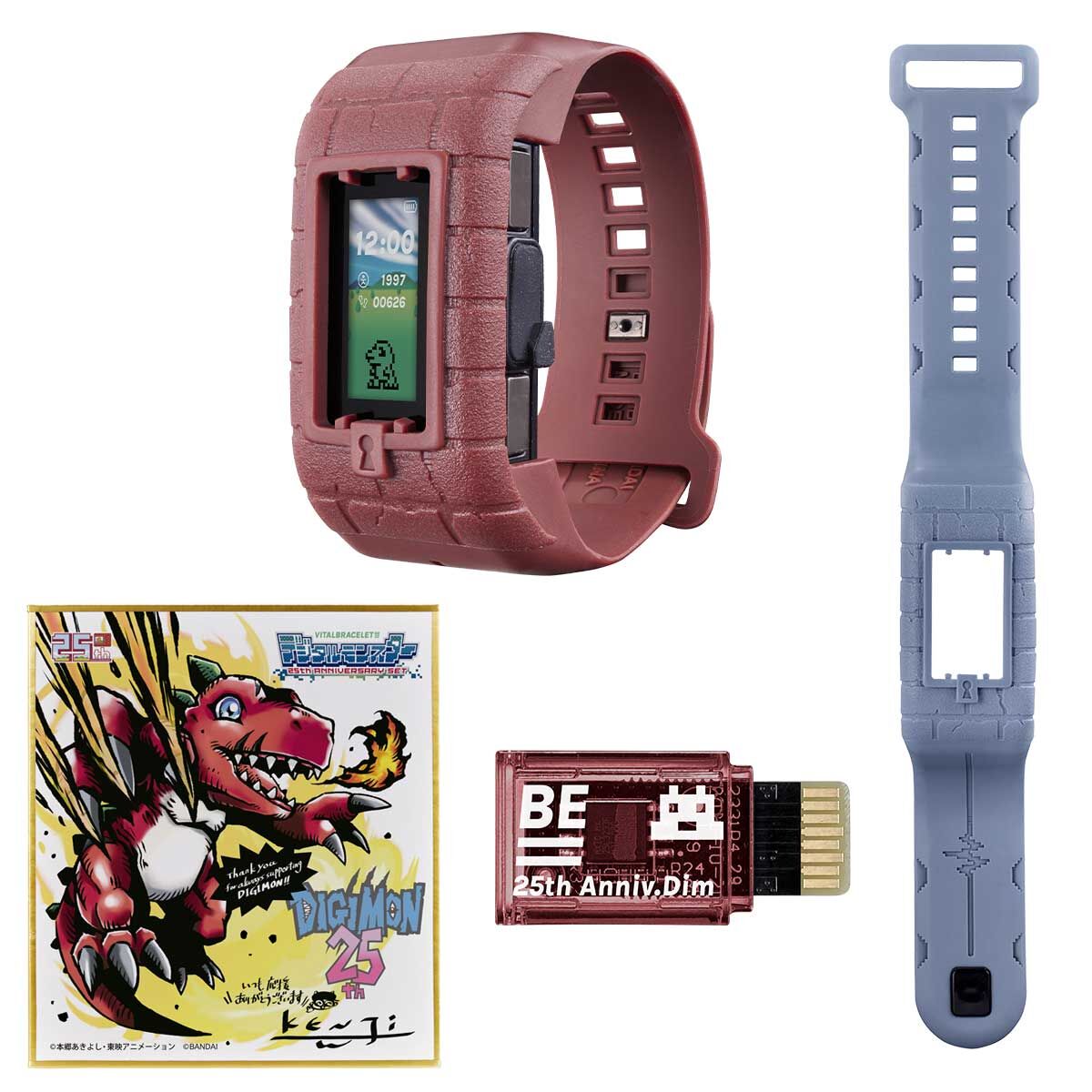 The VITAL BRACELET BE Digital Monster 25th Anniversary set is available to pre-order now at Premium Bandai
for 12,100 yen. Pre-orders close August 31st and they ship in November.
VITAL BRACELET BE デジタルモンスター 25th Anniversary set
As has been previously announced the 25th Anniversary Dim Card 'will' be available separately in the fall. If all you want is the Dim you do not need this set.
The case/bands look neat, combining the classic style with a few new touches.
The Dim Card lineup is pretty nice, combining the 'updated' Version 1 roster from the 20th Anniversary V-Pet, having a Pulsemon line (bringing in a modern decently known Digimon), and adding a new Ultimate to round it out by giving Monzaemon a formal evolution. It's a fun lineup, and it makes you wonder if they may do more like this.
The shikishi is also a nice little bonus.
A few extra bits...
Premium Bandai Japan is currently harder to access, so a bit extra for those who want to pre-order and not wait to see if there is an international release.
Some intermediaries will want not only want the urls of the items above, but may ask for the product name in Japanese as written on the page. Those names are given above, directly below the pre-order links.
If you want to be sure to nab something...
We've currently pared down the list of intermediaries we list due to some places closing and others becoming iffy in their communication, calling into question their reliability. If you have any stories, positive or negative, about any intermediaries, DM me with them so we can figure out who might be worth adding (or re-adding), since these aren't affiliate links or anything, simply suggested ways to make it easier for fans to nab stuff.
You'll want to contact an intermediary to get these items sent to you. WtW is not affiliated with any, but here are a selection of intermediaries that have worked well for various WtWers and their friends in the past:
From Japan
Rider Proxy
You'll want to provide your chosen intermediary with the link to the item. Just copy paste the link to the product pages for what you want and send them a message about it and they'll take care of it after they discuss pricing and their policies with you. The links embedded in the news article for the products are exactly what you'll need to send them.
Some of the intermediaries have a full storefront and may have the item listed, so you may want to check that first.