Show User Social Media
Hide User Social Media
Joined

Sep 8, 2006
Messages

13,779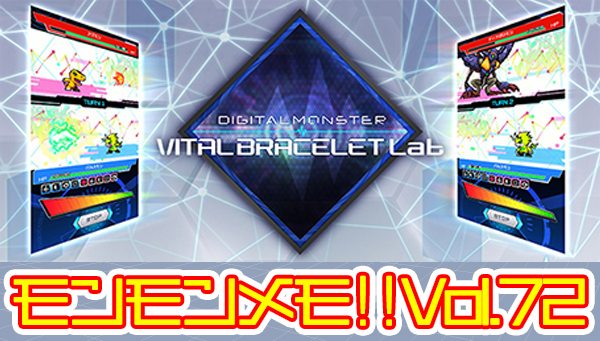 Time for a new MonMon Memo!
MonMon Memo 72
goes over
the new updates to the Vital Bracelet app
, which add a number of new features that fans have been waiting for.
The text below uses the machine translation from the official site due to lack of time. We will see about swapping it out when/if there is time for a proper translation.
I have cleaned up a small handful of terms that translated poorly or swapped terms around, but not otherwise cleaned up grammar, etc.
Some related pages that aren't directly linked to in the MonMon Memo, but cover similar bits of information...
App Update Details
First Raid Boss Details
Digimon fans! Hello!
Today, the VB dedicated app "DIGITAL MONSTER VITAL BRACELET Lab" has finally undergone a major update!
With the update, a new battle mode has been implemented!
The following 3 types of battle modes have been implemented.
[Arena Battle]

You can battle with Digimon cultivated by Tamer nationwide.
The battle is not a real-time battle, but a battle with Digimon data cultivated by Tamer. Since the participation conditions are different for each battle arena, you can enjoy training with the participation conditions in mind.
[Raid Battle]

It is a battle to defeat a large raid boss in cooperation with Tamer
Raid Boss will be updated every period.
The first raid boss is "Diaboromon"! (Implementation period is ~ 6/17 23:59)
[Training battle]

You can have a trial battle Digimon
If you are suddenly Tamer, it is a good idea to practice first!
Please note that each battle mode has notes!
-Although it is common to all Digimon Child or older can participate in the battle.
・ An "Arena Ticket" is required to participate in the Arena Battle.
You can participate in arena battles up to 3 times a day without an "Arena Ticket".
・ A "raid ticket" is required to participate in the raid battle.
You can participate in raid battles up to 3 times a day without a "raid ticket"
In addition, in Arena Battles and Raid Battles you will be rewarded according to your ranking at the end of the period!
Digimon that has been training hard so far, and it has a lot of updates such as arena battle where you can fight Tamer all over the country Tamer / training battle where you can enjoy battles as many times as you want!
And in the future Monmon Memo!!, in addition to the usual articles, I will update the "Battle Mode" strategy article multiple times!
Try to challenge the battle to reach the top of the ranking!
See you in the next update! See You!
Some recent Vital Bracelet updates:
Vital Bracelet App Update- Raid Battles & Arena Battles
Western Vital Bracelet App Plans Announced
English Vital Bracelet Manual Available
English Dim Card Manual Available
Previous MonMon Memos have included: