Show User Social Media
Hide User Social Media
Joined

Sep 8, 2006
Messages

12,564
Lots of little updates (no big news) on a few things from the newest V-Jump (the August issue.)
Some of this is stuff we knew, some isn't, some simply gives new context to things we already knew.
They mention that, at least at the beginning, 'evolution' in Appmon will be via App Fusion (this seemed obvious based on the early promotional stuff, but nice to know it officially.)
They also give general overviews on the App Drive, the Appmon chips (how they get inserted into the Drive and the Applink.)
On to the second page!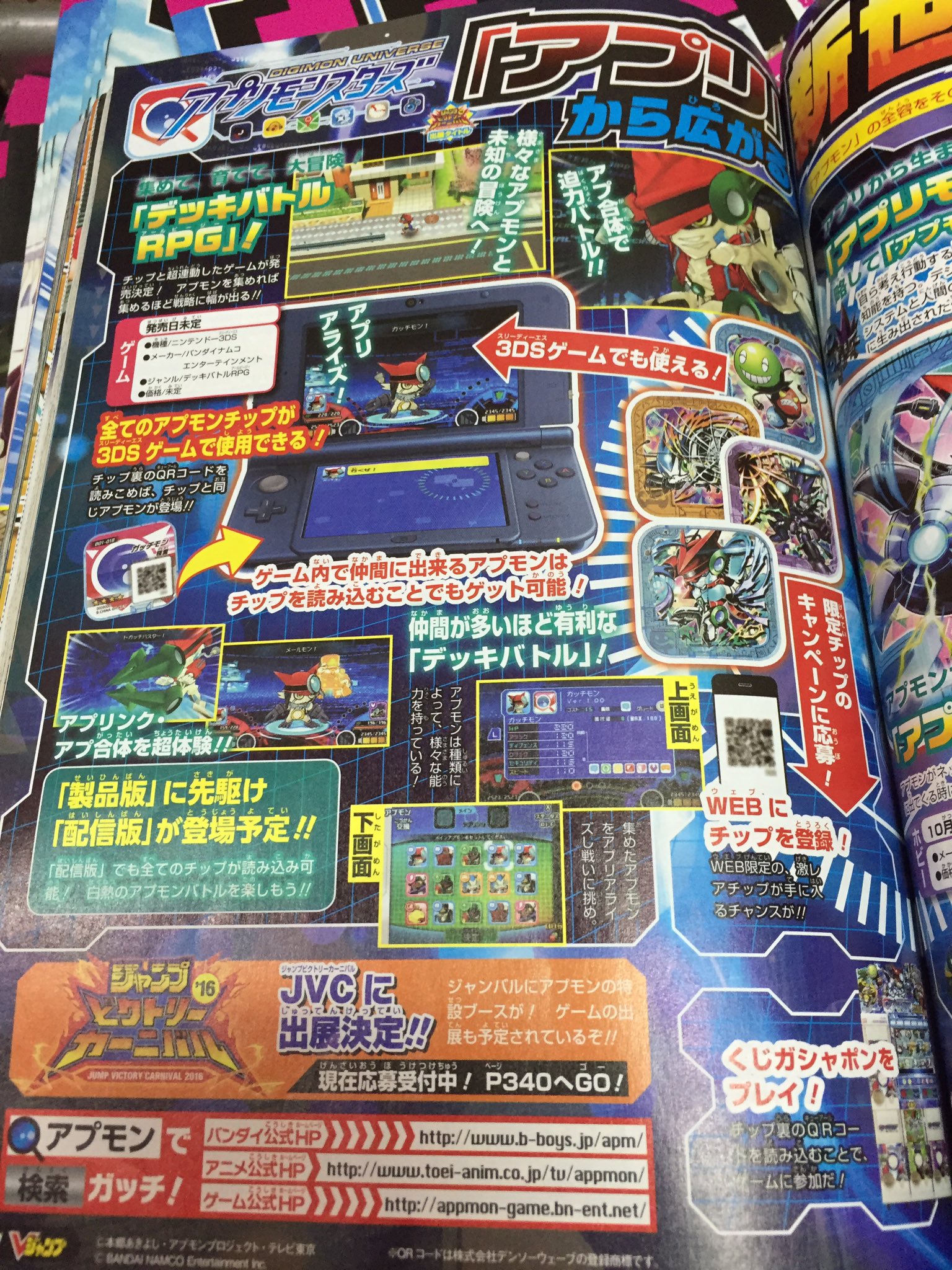 Appmon will have a booth at the Jump Victory Carnival.
The 3DS game will haev a 'Deck Battle RPG', and in the game they specify that 'All' the Appmon Chips will be available.
You will get Appmon Chips in the game by scanning QR codes on various products.
If you register chips (and other products?) you'll have chances to win rare Appmon Chips.
Page 3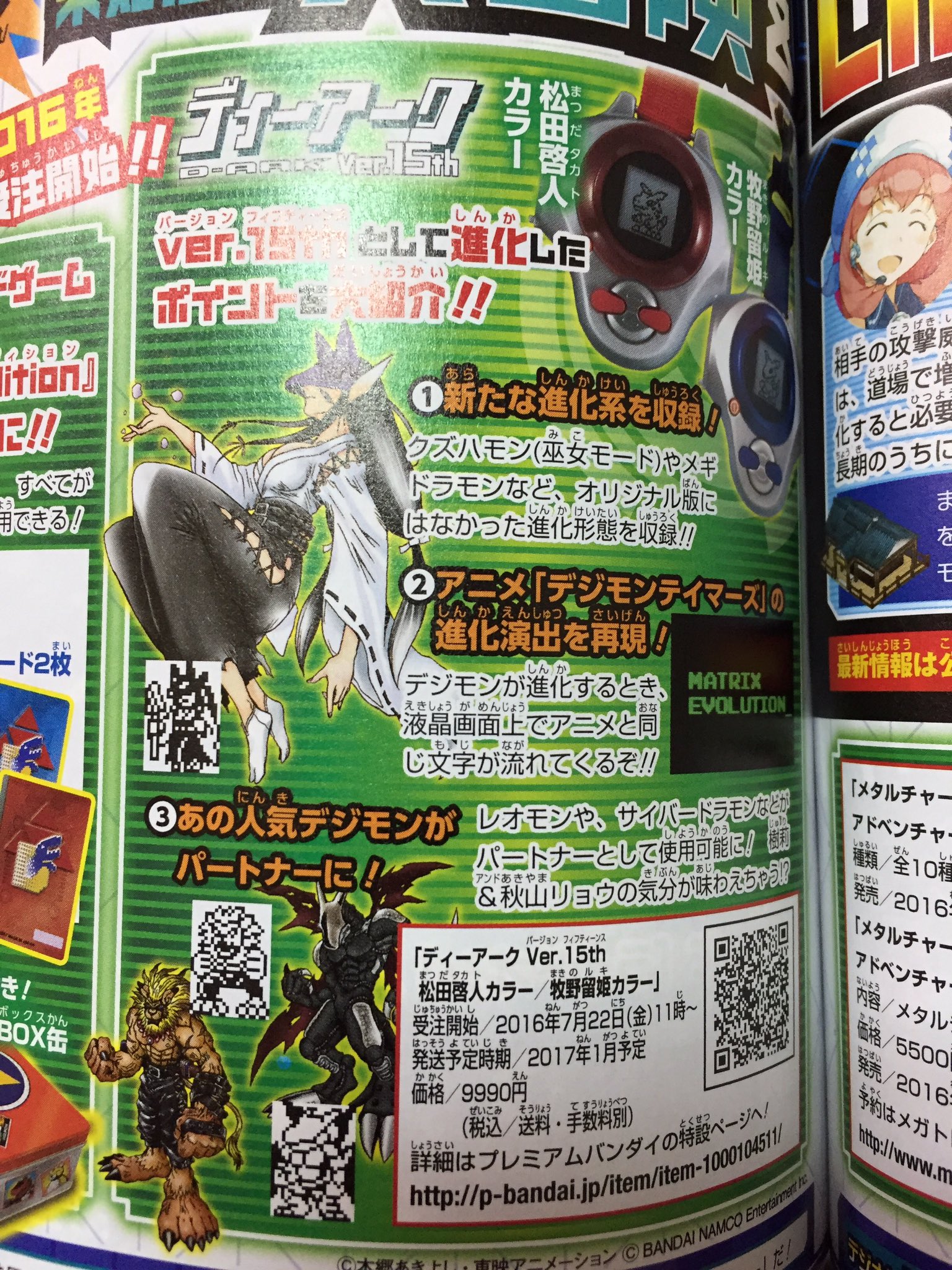 Various details about the 15th D-Ark.
You'll be able to evolve to Kuzuhamon Miko Mode and Megidramon.
When your Digimon evolve, the evolution text from the anime will appear onscreen.
Leomon and Cyberdramon will be available as partners.
They respecify ordering will begin July 22nd.
Page 4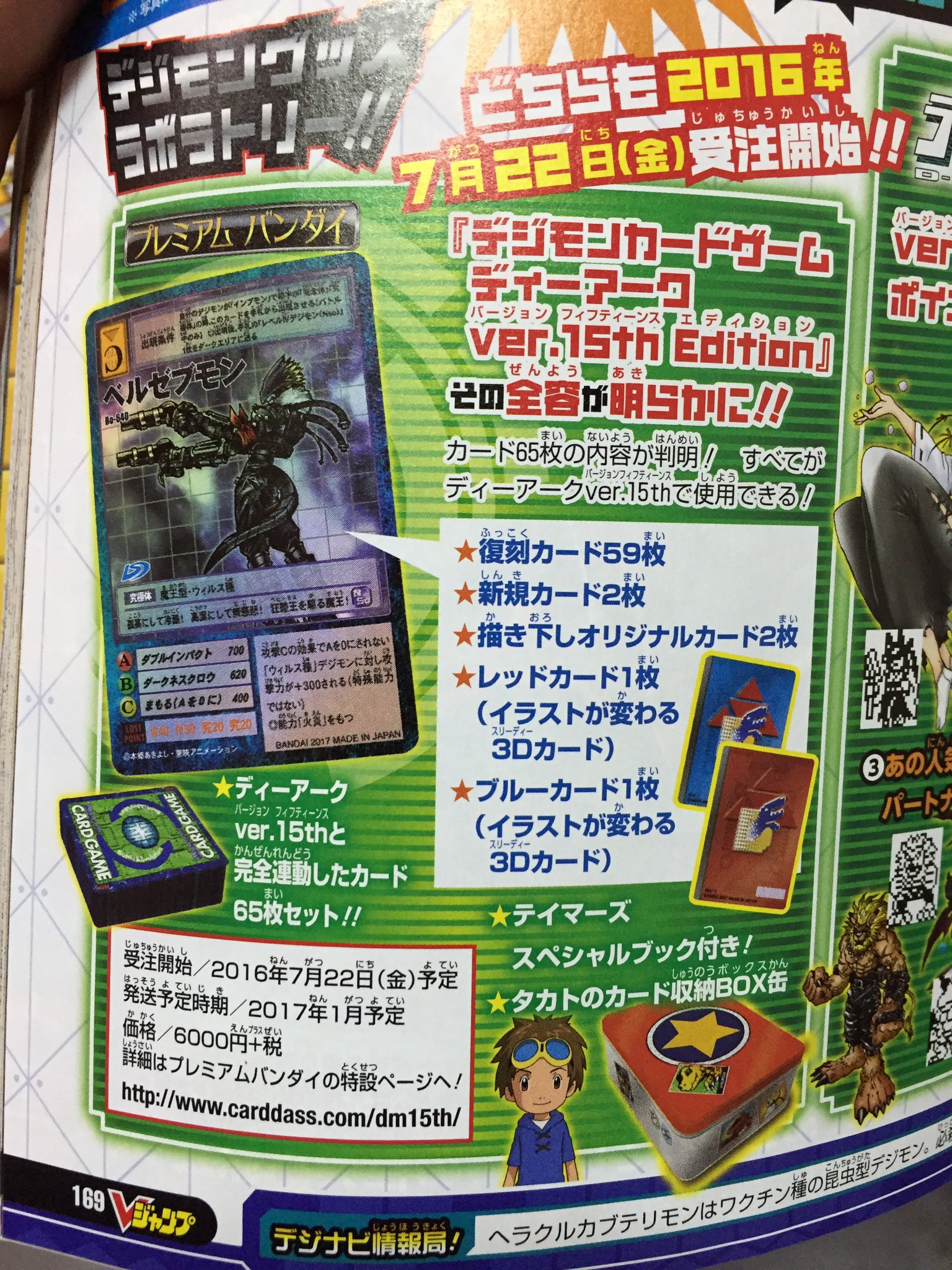 They restate the formation of the 65 cards: 59 cards will be reprints, 2 will be new, 2 will be 'original cards' with 'special illustrations', a red card, and a blue card.
They mention the book and the tin that we knew about and the order date of July 22nd.
Page 5
Much of it is cut off, but it shows off HerculesKabuterimon and has a description about how this is MegaKabuterimon's form when he evolved to an Ultimate level.
There are also some small DigiFes details we already knew and how the latest tri. PV is on the website.
Page 6
This just refers to an event starting on June 24th that will let you get Meicoomon in Linkz.
It also refers to some 'Mega Dungeon Quests' coming soon that'll feature BlackWarGreymon and VenomVamdemon. If you do enough dungeon levels you'll get materials to evolve to them.
Quite a nice spread of Digimon stuff in V-Jump this month.
Thanks to
boku
for sourcing the images,
gaiou_mon
for taking them, and Shin, as always, for translation help.
Nothing big, but lots of fun little things.
Not gonna close the prior threads since this is just a bunch of smaller news, but discuss wherever it makes sense to.