Show User Social Media
Hide User Social Media
Joined

Sep 8, 2006
Messages

12,876
A shopping update...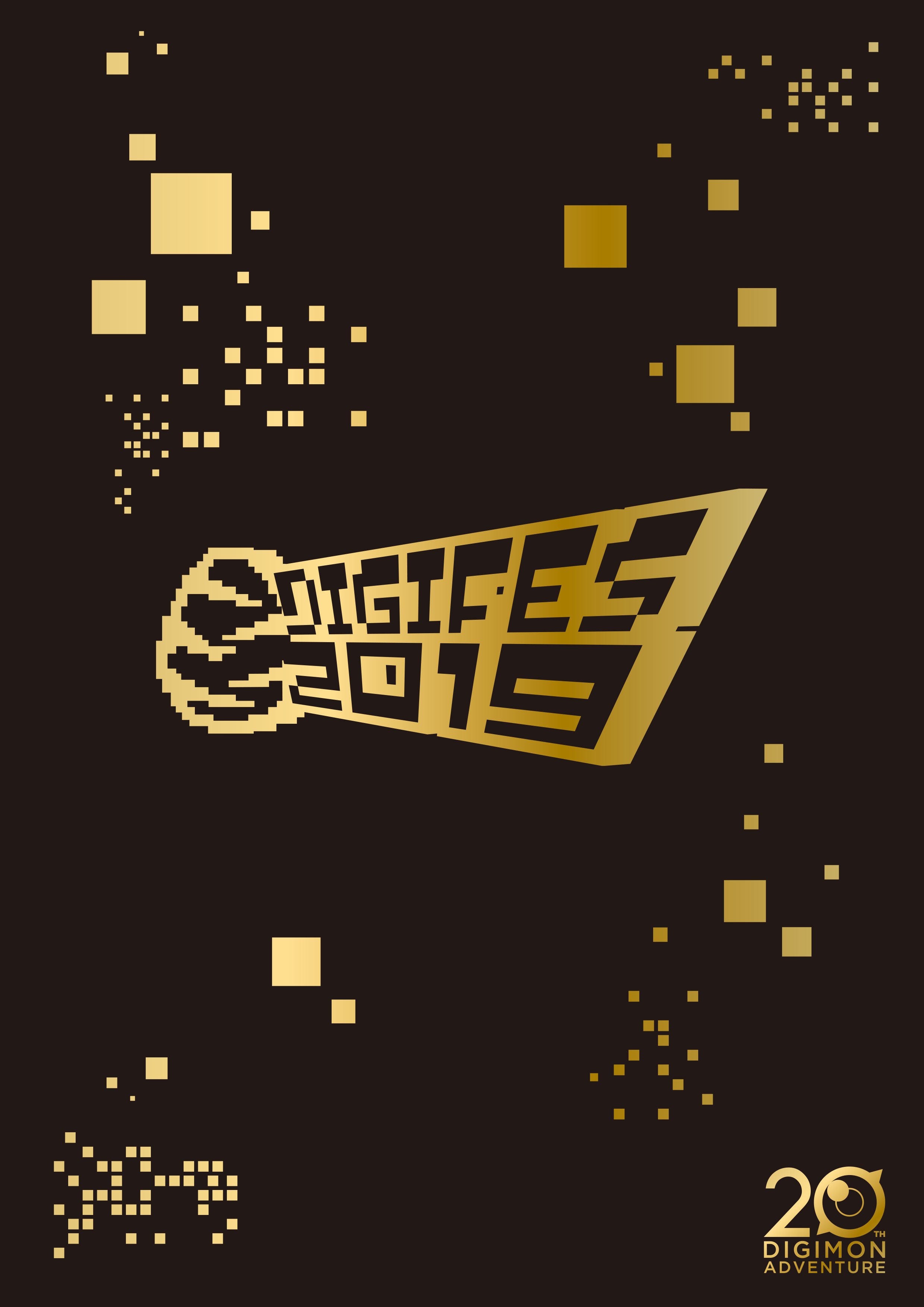 A number of DigiFes 2019 items (plus a few things that appear to have not been on sale at the event, but using designs from DigiFes products) are available at the Toei Store for purchase.
A few of these we've gone over that they went up for sale on the Toei Store elsewhere, but with a bunch of stuff up at once it seemed relevant to go over them all quickly.
Toei Store links are region locked, so there is a decent chance you won't get info from the links. At the bottom is info to try and help you purchase these items if you want them.
DigiFes 2019 20th Anniversary Memorial Brochure
, 2,200 yen. (Image is above)
A memorial brochure celebrating 20 years since the beginning of the broadcast of Digimon Adventure. A4 full color, 32 pages, color foil stamping.
Looking back on 20 years, there are messages from producers and directors of the various series'. There are messages from the DigiFes 2019 performers, and info and a director interview with the staff of Digimon Adventure Last Evolution Kizuna! It is a book worthy of the 20th Anniversary of Digimon now, and the Digimon from now on.
We've gone over what this book includes in more detail in the past.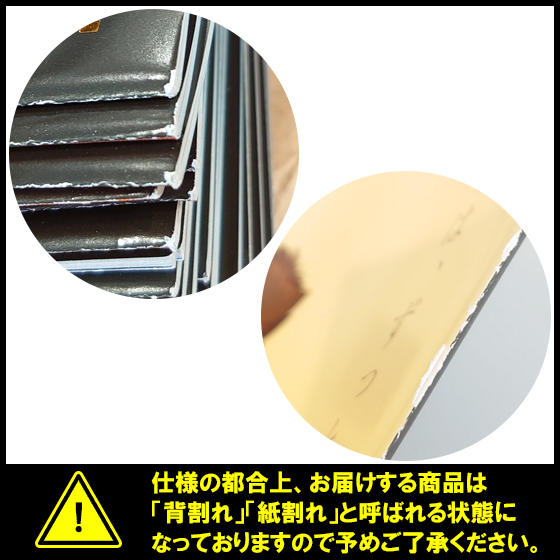 They note that copies being sold at this point may suffer from back/paper crack from transportation and storage.

Canvas totebag
, 1,834 yen. Features a design using the Kizuna movie visual. Unlike orders at DigiFes this will 'not' include a 20th Anniversary logo keychain.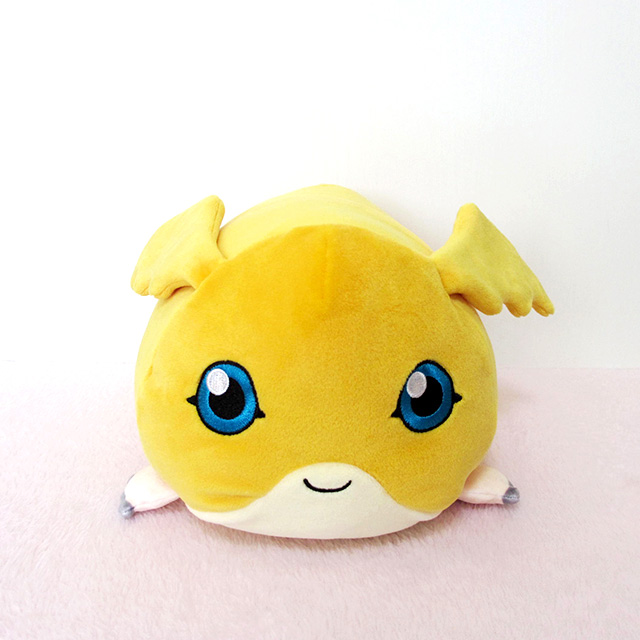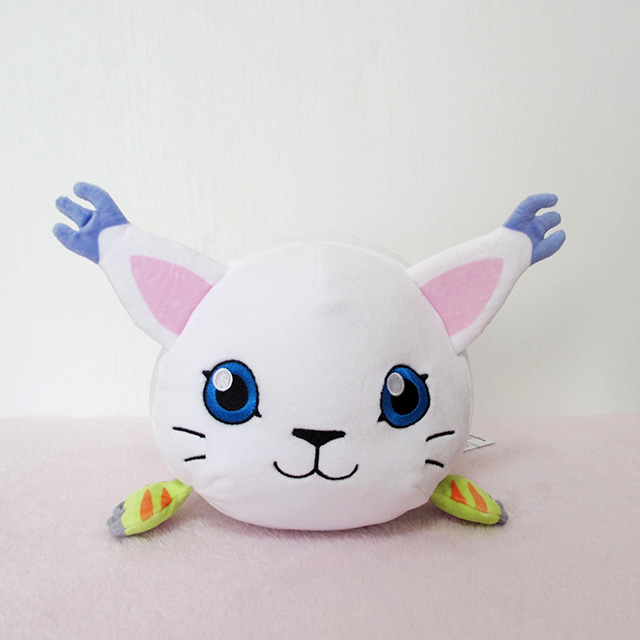 DigiDigiCushions, 1,629 yen each. Available in both
Patamon
and
Tailmon
. Can you give up this cushion once you touch them? Each measures roughly 6.7 x 5.9 x 9.8 in inches.
Super Evolution Item Metal Charms
. 6,600 yen for a box of 10. There are 10 types of charms showcasing the various special items of the franchise.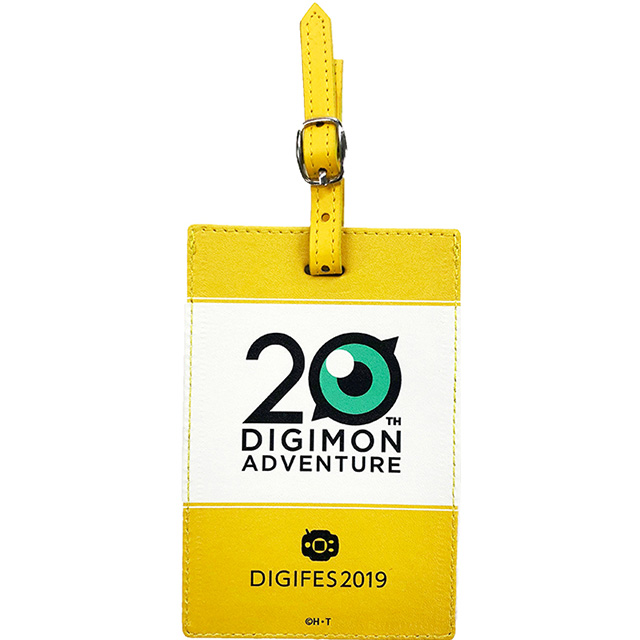 Luggage tag
, 1,528 yen. If you are traveling you can attach this to your traveling luggage.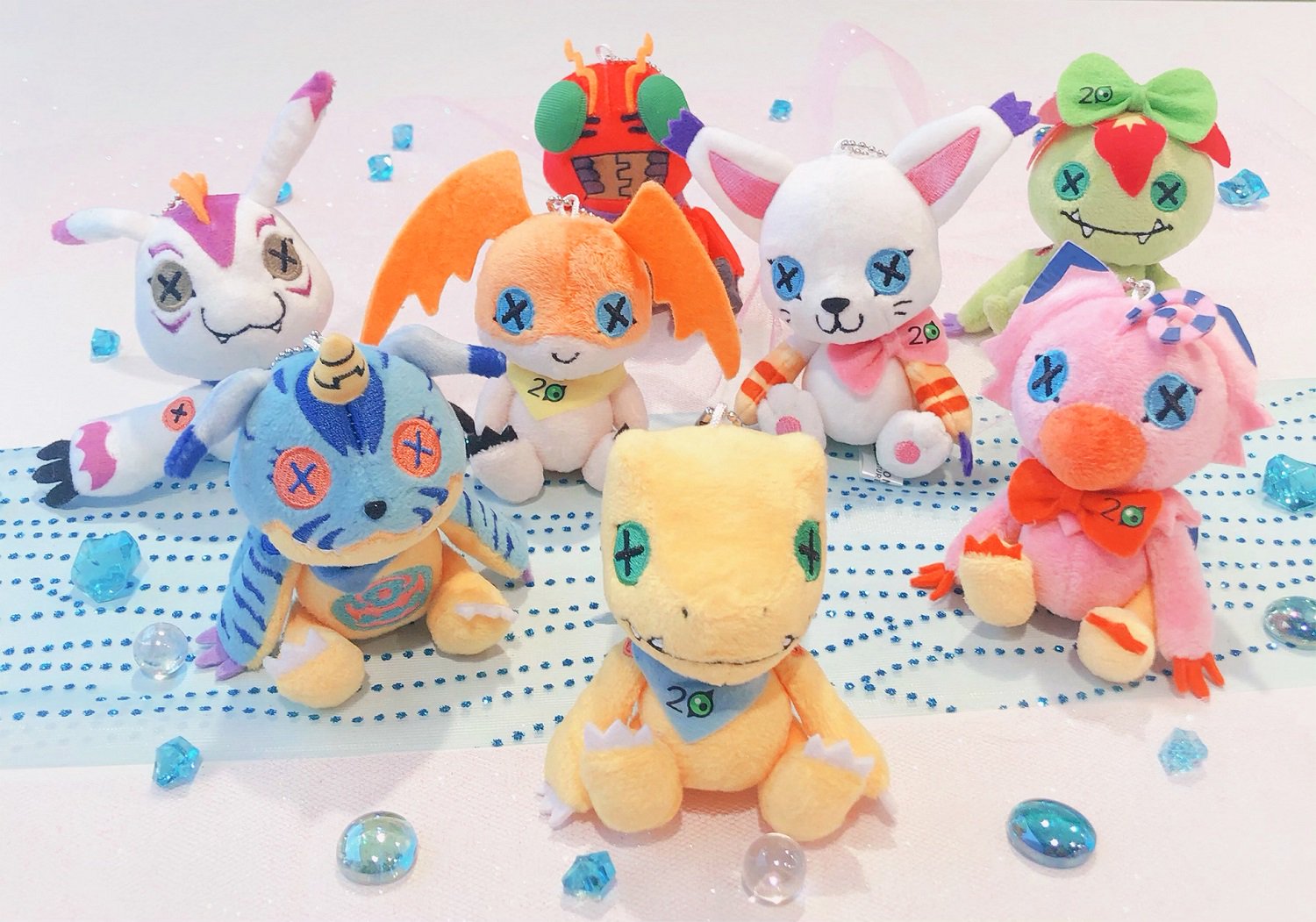 Digimon Stitches Mascots
, 988 yen each. These eight plush Digimon friends became cute stuffed animals. Each is roughly 3.9 inches tall.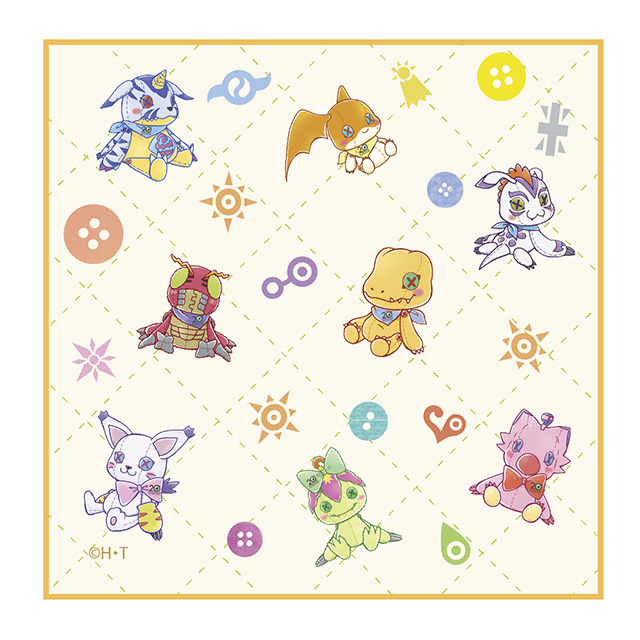 Digimon Stitches Mini Towel
, 815 yen. A cute towel using the Digimon Stitches designs.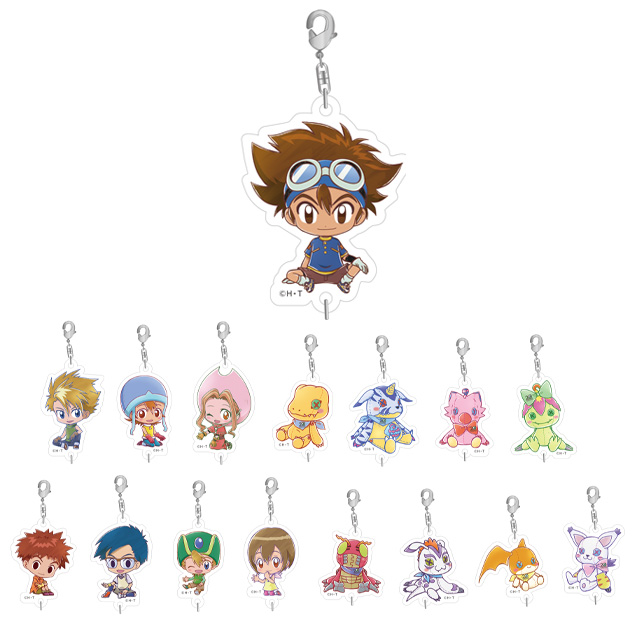 Digimon Stitches Acrylic Charms
, 9,786 yen for a box of 16. There are 16 of these featuring all the kids and Digimon
Digimon Stitches Can Badges
, 6,037 yen for a box of 16. There are 16 of these featuring all the kids and Digimon.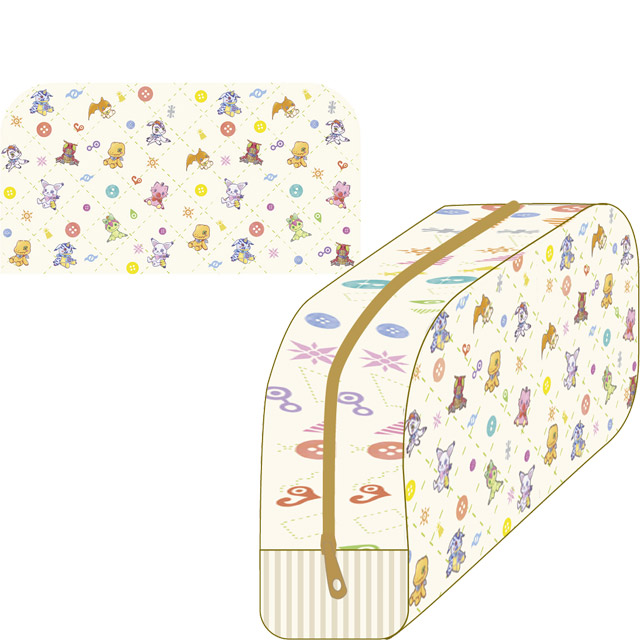 Digimon Stitches Pouch
, 2,138 yen. A pouch featuring the Digimon stuffed toy artwork.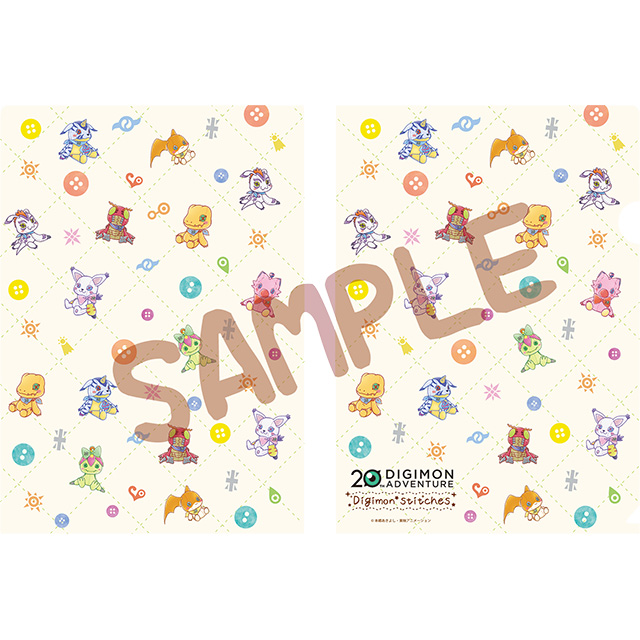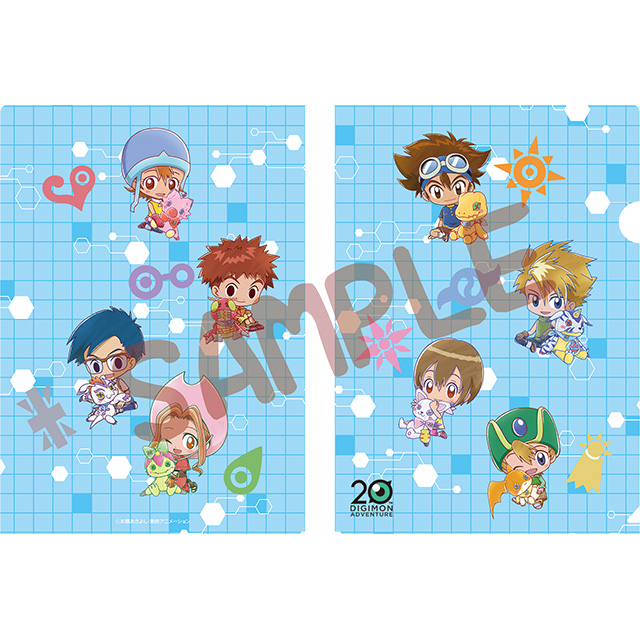 Digimon Stitches Clear Files,
Total
and
Partner
Pattern, 356 yen each. Clear files featuring the Stitches artwork.
Digimon Stitches Washi Tape
, 612 yen. Masking tape featuring the Stitches artwork.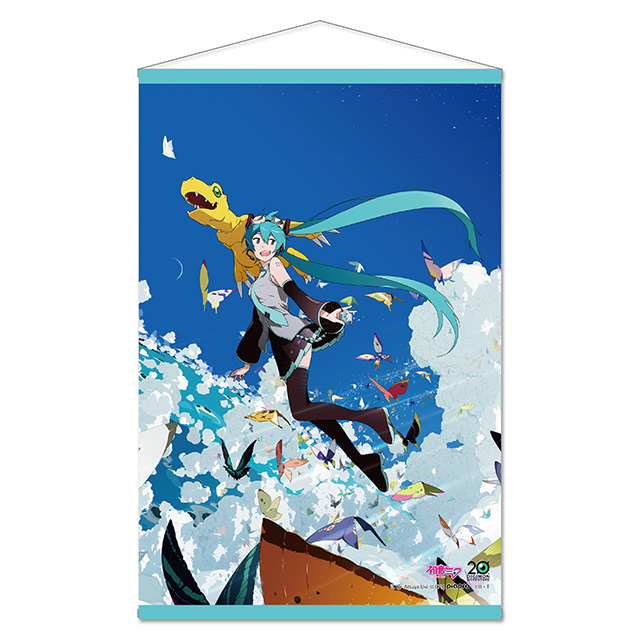 Digimon x Hatsune Miku Tapestry
, 2,138 yen. A B2 size wallscroll featuring the collaboration visual.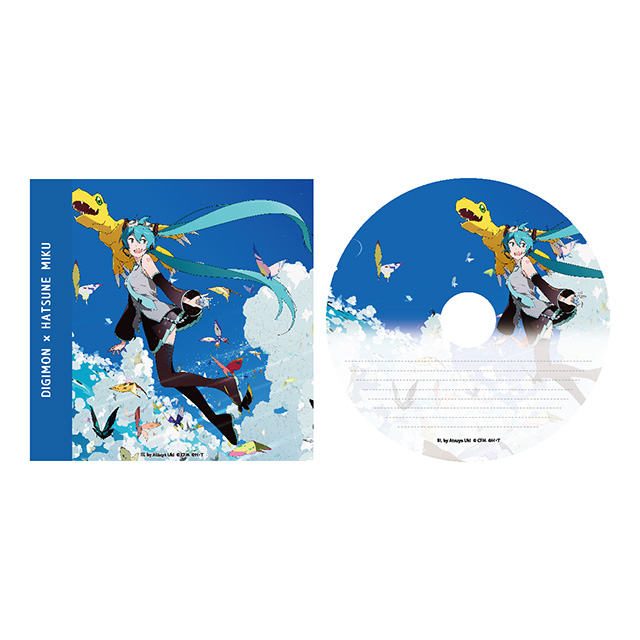 Digimon x Hatsune Miku CD Type Memo
, 998 yen. A CD Memo pad using the collaboration visual. The CD case is a permanent storage version.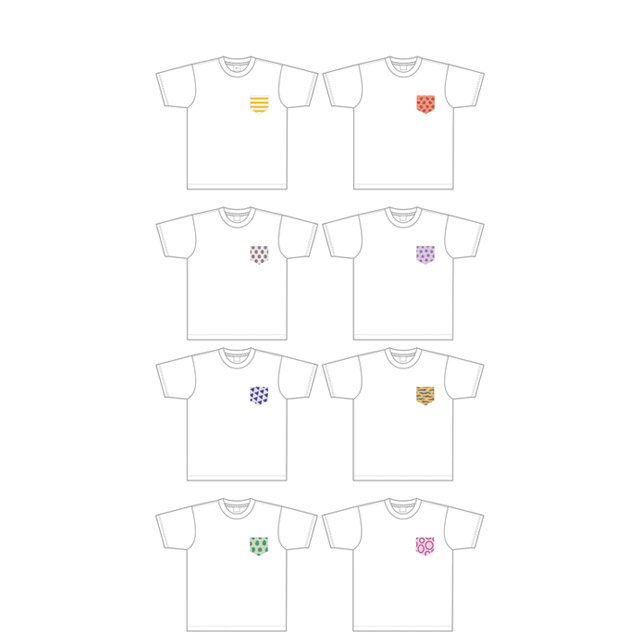 DigiEgg T-shirts, 3,056 yen each. Eight shirts that each feature a chest pocket designed after a partner Digiegg. Choose which Digiegg pocket you want (the shirt names are based on the Digimon's most common form.) The shirts are available in
medium
and
large
.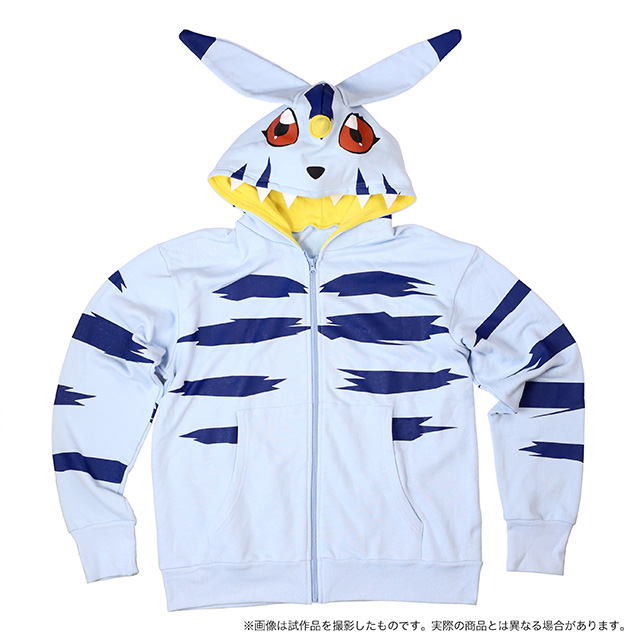 Digimon Partner Hoodies, 11,000 yen each. These hoodies are designed after
Agumon
and
Gabumon
and are labeled freesize. They were first seen last year at Jump Festa and are
based on hoodies worn by Taichi and Yamato in a tri. collaboration
.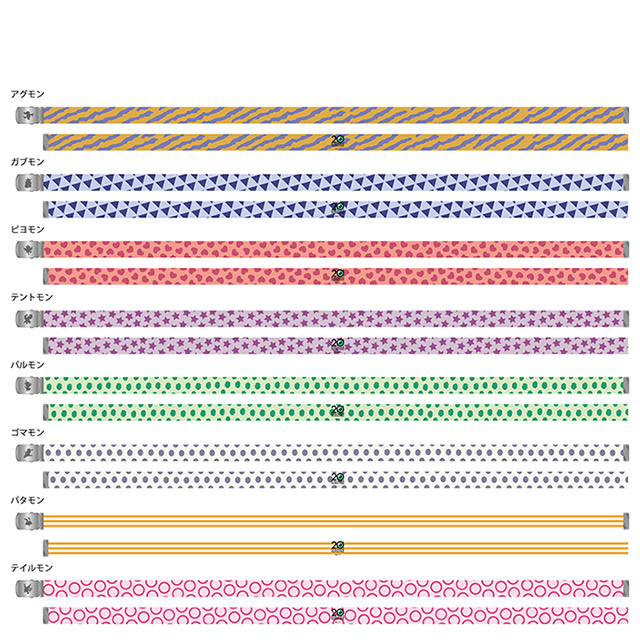 Egg pattern Gacha Belt
, 2,547 yen. Eight belts with digiegg themed designs. The designs are named after the Digimon partner's most common form.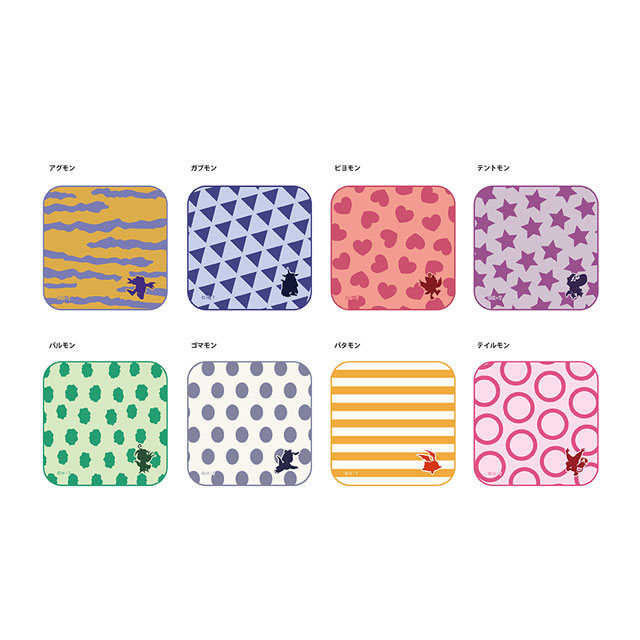 Egg pattern hand towels
, 713 yen. Cute hand towels with egg patterns, eight types available. The designs are named after the Digimon partner's most common form.
There are also 2 items that appear to be new (they use the stitches art, but don't appear to have been on the list of products at DigiFes.)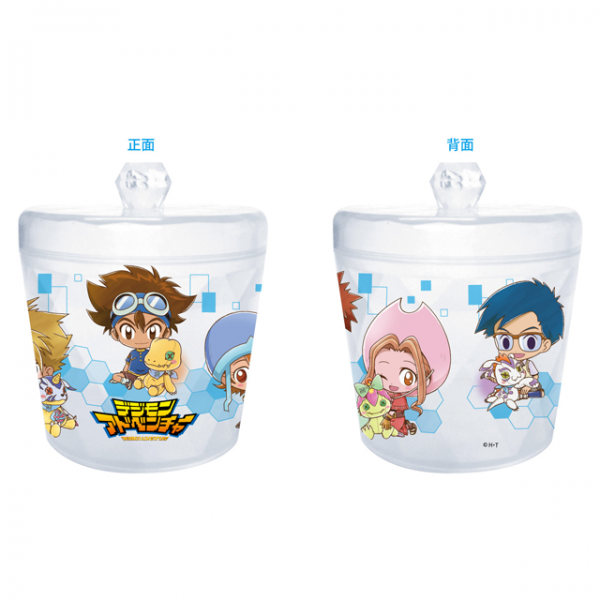 A small canister to hold items
, 990 yen. They note this isn't airtight, isn't meant to hold liquids or ingrediants, etc. It's a basic storage container that is roughly 3.7 inches tall and 4.1 inches tall with the top on. They also mention that while not shown in the images, all the kids and stuffed design Digimon are on it.
A small cup
, 7700 yen. It holds about 1.1 cups of liquid.
Bunch of stuff that hasn't had wide availability if you've been looking for it.
You'll want to contact an intermediary to get it sent to you. WtW is not affiliated with any, but here are a selection of intermediaries that have worked well for various WtWers and their friends in the past:
From Japan
Rider Proxy
Nippon-Yasan
You'll want to provide your chosen intermediary with the link to the item. Just copy paste the link to the product pages for what you want and send them a message about it and they'll take care of it after they discuss pricing and their policies with you. Be aware that some intermediaries won't deal with the Toei Store, as they are apparently not easy to deal with.