Show User Social Media
Hide User Social Media
Joined

Sep 8, 2006
Messages

16,666
We have card previews from the new issue of V-Jump! Most of the focus this month is on Booster Set EX-03, although there is a small bit extra...
First up we have Agumon, Sealsdramon, & Tankdramon. The high point for many here will be an Agumon card that references the moment he met Ryo in the Wonderswan games.
Then we get some cards related to the Four Great Dragons with appearances from Goddramon and Holydramon. Plus an option card of Trial of the Four Great Dragons.
Then last up for Booster Set EX-03...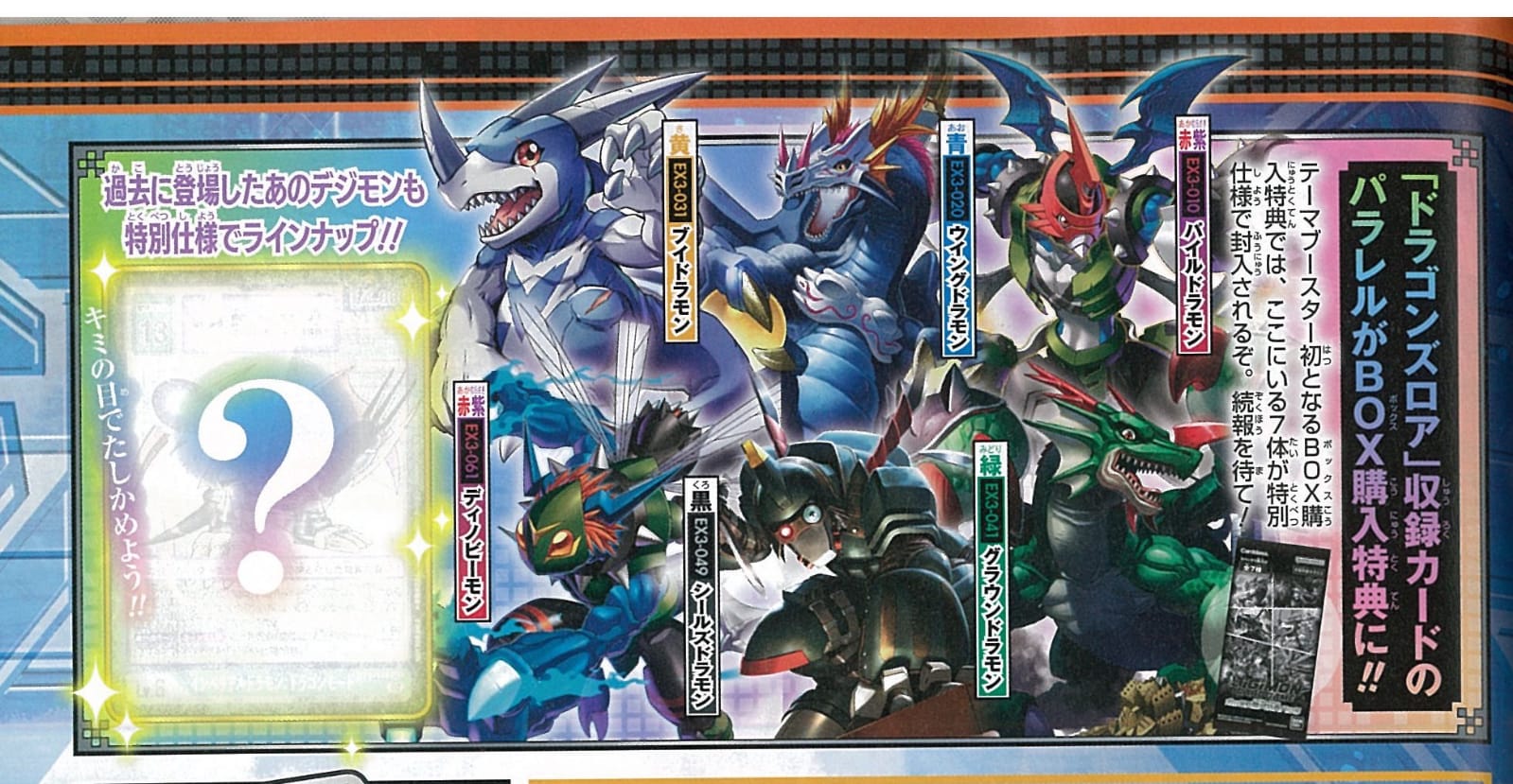 From an earlier announcemen
t, we knew there would be 7 box toppers for EX-03.
The first six were announced as alternate art cards of cards that would be in the set, and we now know the six are: V-dramon, Wingdramon, Paildramon, Dinobeemon, Sealsdramon, & Groundramon.
The 7th they continue the teasing of the card being Imperialdramon (Black), specifically one themed after Hyper Colosseum.
And last up, something not from EX-03...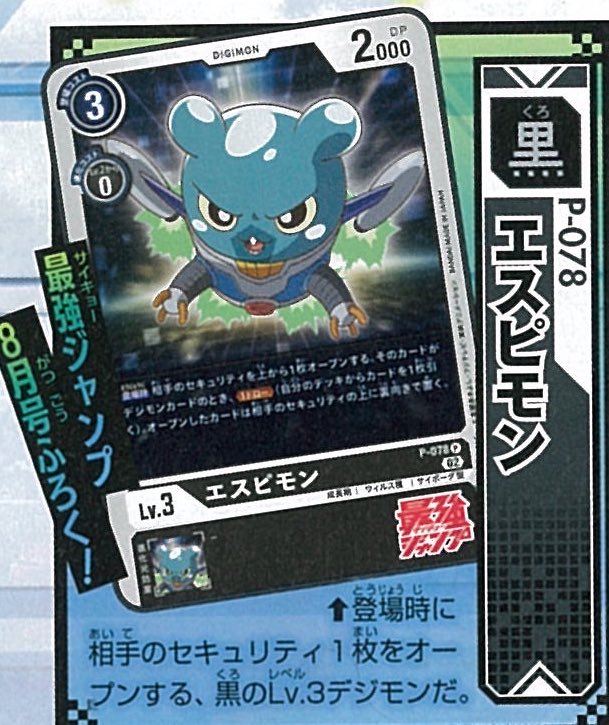 In a few weeks the new issue of Saikyo Jump is out, which has been teased to have a focus on Espimon, including a promo card, which we get a preview of.
It features anime style art of him, along with a Saikyo Jump logo.
As most sets have, EX-03 is looking to have more and more great art, and the Espimon promo card will be a nice bonus for anyone who nabs Saikyo Jump.
Thanks to
digicaplayer
(
2
) (
3
) for the images.
Previous previews for Booster Set EX-03 Dragon's Roar:
Packaging
Cyberdramon
Chaosdramon
Hyper Mugen Cannon
Qinglongmon
Sourai
ExTyranomon
DarkTyranomon
Megidramon & Megiddo Flame
Booster Set EX-03 Dragon's Roar is out July 29th, 2022.
We have clean card images from
Booster Set 10 Xros Encounter, plus Battle Pack 12, Special Promo Pack 2022 v2, & Evolution Cup Cards
.
And images from previous Digimon Card Game releases:
Starter Decks 1, 2, and 3, and first 10 promo cards
Booster Set 1 New Evolution
Booster Set 2 Ultimate Power
V-Tamer Promo Cards
Purple/Black Promo Set
Tamer Battle Pack 1 and Tamer Battle Winner's Card
Booster Set 3 Union Impact
Starter Decks 4, 5, & 6, plus Tamer Battle Pack 2 & winner's Card 2, & 1st 2 scene vote cards
Booster Set 4 Great Legend, Tamer Battle Pack 3, 3rd Scene Vote, Dark Digimon Promo Pack, & Apparel Cards
Booster Set 5 Battle of Omega, plus Tamer Battle Pack 4, 4th Scene Vote, & Vital Bracelet Pack-In Cards
Starter Decks 7 & 8, plus Delay Promos, Tamers Battle Pack 5, 1st Anniversary Promos, & Pulsemon
Booster Set 6 Double Diamond Cards, the 1st Anniversary Adventure Pack, and more
Booster Set EX-01 Classic Collection, plus Tamer Battle Pack 6 & 7, Tyranomon & dual Zeromaru Promo Cards
Booster Set 7 Next Adventure, Campaign Cards, & Tamers 20th Promo Cards
Starter Decks 9 & 10, plus Tamers Battle Pack 8, Ghost Game Promos, Online Promos, Tamers Evolution Box 1, & Amazon Starter Promos
Booster Set 8 New Hero, Starter Deck 11, plus Tamer Battle Pack 9 & Event Cards
Booster Set 9 X Record, plus Battle Pack 10, Special Promo Pack 2022, Update Pack, & Evolution Box 2
Starter Decks 12 & 13, Luxury Finished Tamers, plus Battle Pack 11