Show User Social Media
Hide User Social Media
Joined

Sep 8, 2006
Messages

16,414
USA tri. Part 6 Blu-ray, DVD, & Digital Release- Review, Breakdown, Scans, Screencaps
After a short wait it's time for the finale!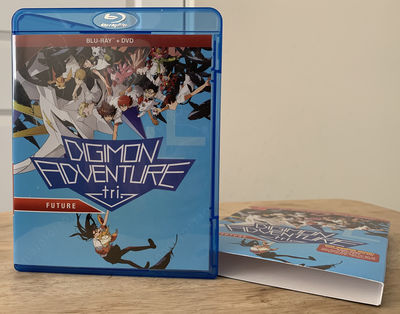 It's been a few months since Part 6 had it's theatrical release (and Part 5 came out on home video) and it's time for the finale of tri. in the US.
The release came out about a week and a half ago, and stores were selling so much it was actually hard to get ahold of, with even some pre-orders showing up late (including mine.)
Very little scanning and editing on the scans in this one, things simply went smoothly.
There may be spoilers for Part 6 given below, just a small warning.
First, a short jump into the story.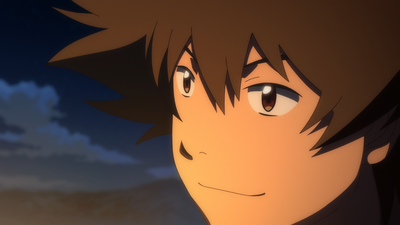 Digimon Adventure tri. Part 6 - Future picks up right where Part 5 ends.
Raguelmon and Ophanimon Falldown Mode have fused into Ordinemon, Taichi and Daigo are gone, and the climax of the story is beginning...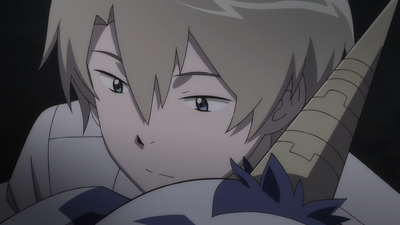 I've discussed Part 6 a number of times before, including on the podcast at least twice:
WtW Podcast Episode 32
, AR, May, and myself discuss tri. Part 6 after it came out in Japan.
WtW Podcast Episode 38
, After seeing the dub in theaters AR and I discuss our thoughts on the dub in detail.
To say a bit here though, tri. Part 6 works well as an ending for tri. It finishes the story, and answers questions, without feeling obligated to tie everything up with a bow. This in itself makes the ending contentious for some people, as not having 'everything' spelled out is sometimes a leap the audience isn't always willing to make.
tri. was willing to do something different with Digimon, and while it wasn't always 100% successful at that, the fact it made the leap rather than going with something mild and fan friendly is something a bit special in and of itself.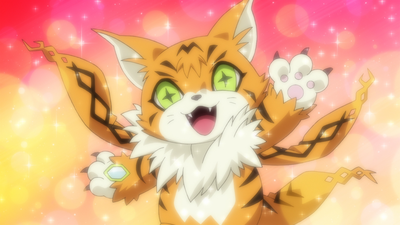 The English dub of tri. Part 6 continues the general theme of the tri. dub, mostly good, even great, but with random issues that are overly noticeable.
The script is reasonably accurate to the Japanese version, as much of tri. has been (with some added jokes and tweaks here and there.)
The main cast returns for Part 6, which is expected.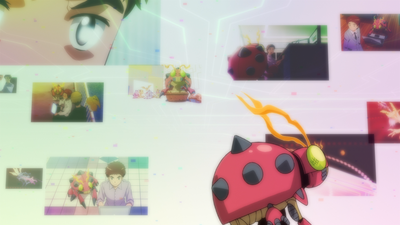 There isn't much to talk about, as the dub has settled in, and while a few smaller roles have changed as tri. has gone on, the dub has continued on relatively strong.
There are a handful of weird moments in the tri. Part 6 dub though, but one of them really stands out...
We get a random yell of 'Digivolve to!' for no apparent reason. It feels like someone accidentally copy pasted dialogue where it didn't belong.
An interesting choice, continued on from one line in Part 5, is The Mysterious Man, when in his guise as the Digimon Emperor in the real world, isn't Jeff Nimoy doing his Gennai voice, but is rather Todd Haberkorn doing a take on Ken. While different than what was done in Japanese, it's an interesting choice. Haberkorn plays the role well.
On top of that, there were various nice touches. From Gomamon's final line, to using a single line from TK to actually FIX a writing mistake from back in Part 1 of the dub, the dub for Part 6 is cleverly done, and if it weren't for a handful of little issues, it'd be perfect.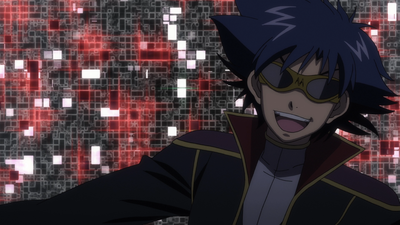 A few small additional notes... (Most of these are the same as we've seen before.)
The ending credits this time appears to be the same length as the Japanese version. Instead of syncing to the shorter footage of prior releases, the credit scroll goes on the whole time with the digital background effect and screenshots from throughout tri.
The logo used in film is the Japanese logo.
Onto the product itself!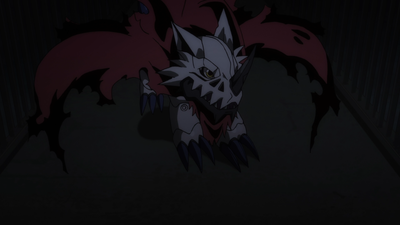 Any screencaps from the Blu-ray, DVD, or digital copies are lossless PNGs.
Most images in the article are smaller copies from our gallery (to keep loading sizes smaller for everyone), but link to the full sized versions when clicked.
Scanning was done at a high quality, and compressed and shrunk to reasonable sizes, along with reasonable quality JPG compression. I've explained my workflow in my personal thread and will answer any questions involving it or the processes used.
First up will be the physical stuff.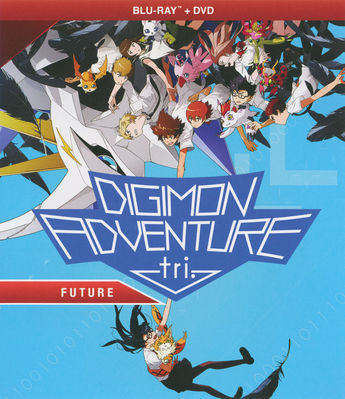 The front cover uses the well known (first) theatrical poster art for tri. Part 6. The logo is the English version of the tri. logo with blue backing so that the text is easier to read. They've also added a small 'slide' to the left of the bottom part of the logo in a reddish color with the title of Part 6, Future (shortened from the Japanese title 'Our Future'.) The top has a reddish colored bar listing Blu-ray and DVD. This being probably the best known piece of artwork specific to Part 6, it makes sense to use for this release.
The logo placement is alright. The more I see it, the more I dislike it. Part of the theme of the poster is the reaching for Meiko and Meicoomon, and the space between them, which doesn't quite feel correct when you not only have the logo covering up the space, but even the primary hands reaching for eachother.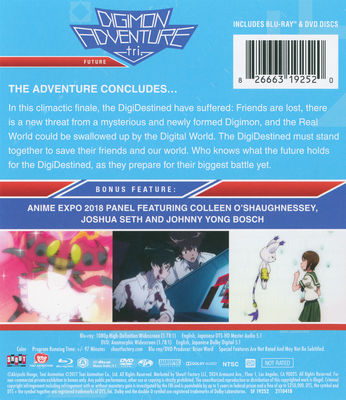 The back cover has a general plot description for Part 6. Nothing major to mention here, as the choices for overall layout works well and there are no oddities at a glance.
They also tell us the extra. We also get a few cropped screenshots, along with a full list of product specs and info at the bottom.
The screenshot choices feel particularly amusing this time, especially with the choice of Tentomon in the apron.

Because I could scan it flat since the entire thing was an insert, we also have the spine of the insert. This uses the English 'straight' tri. logo version nicely, combining the blue and red motif the packaging goes with in a way that looks quite clean, while matching previous releases.
The Blu-ray comes with a slipcover (in an o-card shape) that is made out a nice cardstock. The slipcover front, back, and side are all reasonably the same as the main insert. The main changes are the mention of the digital copy on the front and back. I assume once the digital copy is no longer offered, Shout will simply will stop including the slipcover, and they won't have to revise the packaging any further.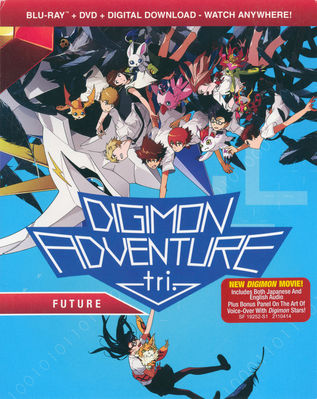 The front has a sticker on it mentioning tri. Part 6 being new, it having both audio tracks, along with a mention of the special feature.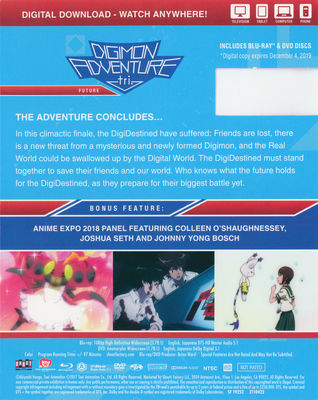 The back has a square cut out of it so the UPC is visible through the slipcover.
The spines on both sides were identical to those on the insert, and since the insert scan was simply better than I could have gotten on the spine of the slipcover, it didn't seem worth scanning those.
The Blu-ray case itself is a relatively standard Blu-ray case, which means that it isn't just colored blue, it's also see thru.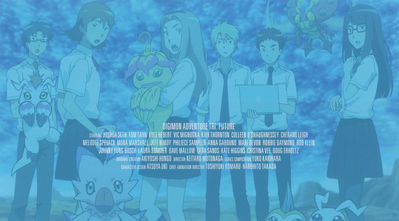 This time the other side of the insert is a wide shot of the kisd and Digimon before they go back to the human world early in Part 6.. The image fits well in the space, and the credits are laid out well. I like what they used even if a few obvious choices are missing, but it's questionable what else may have worked in the space, needing to lay out credits, along with not wanting to spoil much.
The physical Blu-ray and DVD continue the usage of blue.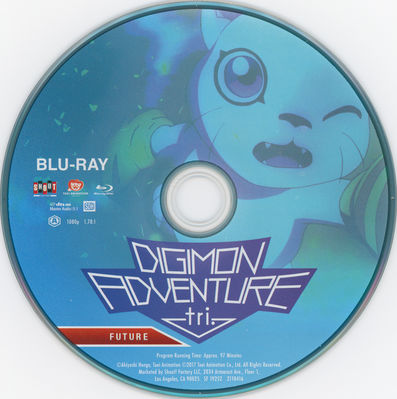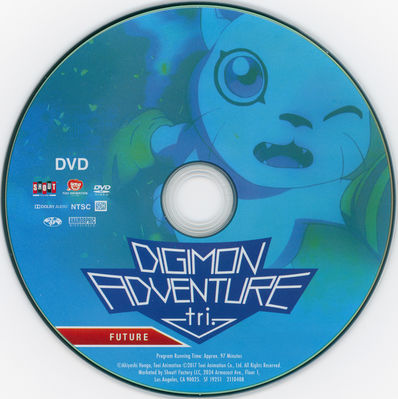 I don't really like the art used on the cover. It's a screenshot of Gatomon from Part 6, but after appearing on the disc for Part 5, it feels like using Gabumon, who had some key moments, and hasn't been on a disc yet, would have been a better choice. The coloring on the DVD appears bluer.
The overall layout is nice, and matches prior discs, it's just a shame that the art doesn't feel like a great choice for the final release.
No physical extras, except the digital copy slip.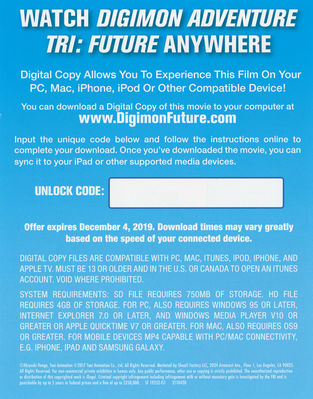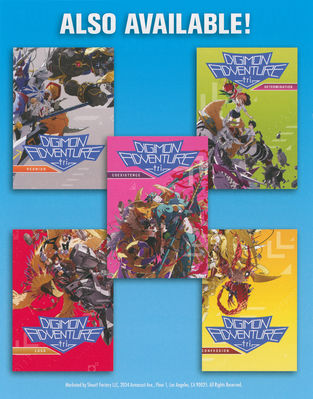 The code has been blanked out. It's a basic redemption information sheet that gives you instructions that are very clear.
The back of the redemption sheet is a simple ad for the prior 5 tri. releases.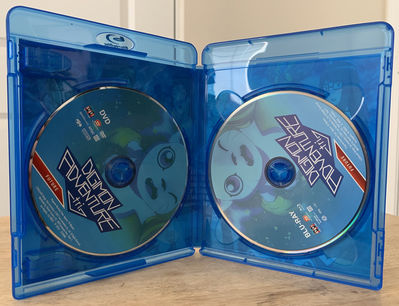 The insert covers up one disc when inserted into the case.
And that's it for the physical... onto the disc contents itself!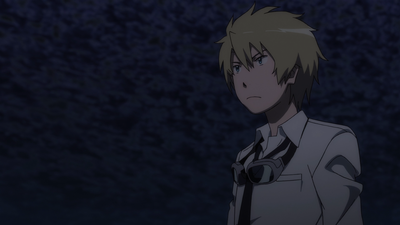 The video is encoded using AVC at an average bitrate of roughly 32 Mbps. Good bitrate for animated content. tri. Part 6 is encoded at 1080p and 24 frames per second. The bitrate is significantly higher than the Japanese release (which was the lowest tri. had), and is more than enough for this type of content.
tri. on Blu-ray looks great, which has been consistent for nearly every tri. Blu-ray.
The video quality itself is roughly what we expected. Everything is digital animation, so it looks great. You occasionally get a background or some other detail that isn't aliased that well, but that's par for the course for animated content. One thing to note is dark scenes look quite good. On occasion you will see some very mild banding but it doesn't seem to be to much of an issue.
There are slightly off frames if you pick and choose, and the occasional stilted bit of animation, which is normal in animation when you pick and choose what to show, but the encode on the Blu-ray itself is relatively pristine.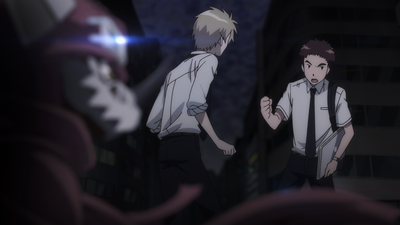 The English audio is a 5.1 lossless DTS-HD Master Audio track. Good lossless 24-bit audio.
The Japanese audio is a 5.1 lossless DTS-HD Master Audio track, also 24-bit.
The audio quality overall is, to my memory, roughly equivalent to what the Japanese release had.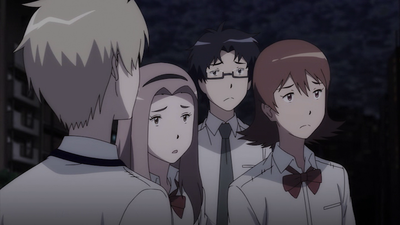 The DVD included here should be the same as the standalone DVD release.
Video is encoded using MPEG-2 at an average bitrate of 7.1Mbps. This is decent bitrate for anime content on a DVD. It's encoded at 480p and properly shows as '24fps film' content.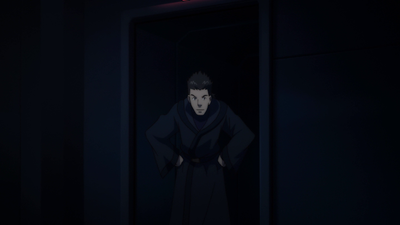 The English track is a 5.1 Dolby track at 448k, while the Japanese is 5.1 Dolby at 448k. Relatively standard and expected, and about as good as you'd expect audio to be on a DVD.
It feels like the audio on the DVD is missing a bit of punch compared to the Blu-ray, but there isn't much surprise there. It's roughly the same as listening to an MP3 versus a FLAC or WAV. Some people will notice, others wont, and even the DVD is pretty good.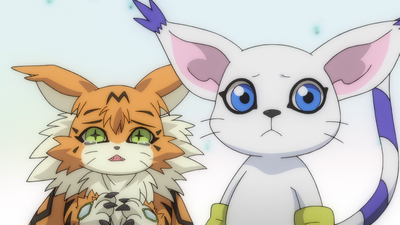 3 subtitle tracks are included on both Blu-ray and DVD:
Sign track for the English dub
Closed Captioning for the English dub
English subtitles for the Japanese audio
Oddly, the DVD has a fourth track, which appears to be identical to the English subtitles for the Japanese audio track. This has happened before and doesn't seem to cause any issues.
Closed captioning is something that has tapered off in anime related releases a number of years ago, but has come up quite a bit in recent memory. It's nice to see it included, more so that it is a proper closed captioning track. If a character's mouth isn't visible, you see their name. If a phone vibrates offscreen, they caption that a phone has vibrated, etc. I don't use captioning tracks myself, but it's a good thing to have a proper track for those who need it (or want to watch it with friends/family who may need it.)
I neither had the time nor the inclination to go through the caption track line by line as I did for Part 2. There may be small (or not so small) issues here or there.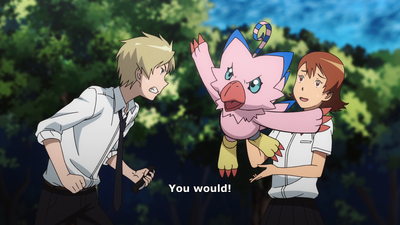 The subs for the Japanese track seem generally good. I didn't compare them in depth with the CR subs.
There may be mistakes somewhere, but on casual viewing I didn't particularly notice anything.
I will say, and this has happened for a few releases now, the subtitles are to high for my liking. It isn't technically an issue, but they really are to high in the picture.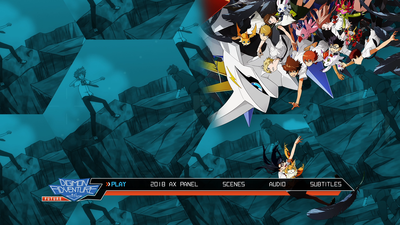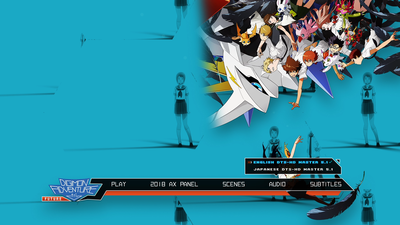 The Blu-ray menu is rather nice and functionally identical to prior releases. It plays the new English theme while various Part 6 clips run. Overall it matches the 'upgraded' menu style from Part 4 that was also used on 5. The poster key art appears, and the video plays with some different filters on it, leading to an overall nicer look than previous menus.
Due to having only one extra, they skip giving extras a submenu and just place it on the main menu, which I rather like. Less pressing buttons to get to content.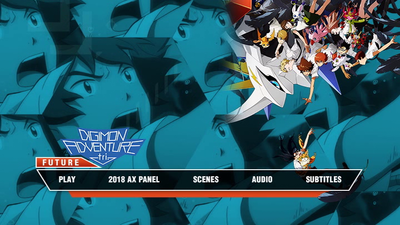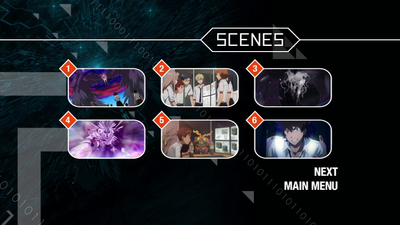 The DVD menu does it's best to emulate the setup of the Blu-ray menu, and does it reasonably well. Each submenu has it's own menu page on the DVD.
Like Parts 4 and 5, menu assets have been tweaked here to work better with the lower resolution provided by DVD. While not a major change, those who use DVDs instead of Blu-rays will no doubt appreciate menus that are slightly easier to read.
In PC software players the DVD played fine, but the menus acted a bit odd. In commercial players they seemed to work fine, while various free and/or open source solutions either ran the menus fine, but button overlays didn't appear right, or else menus didn't seem to render correctly. I may look at upgrading various software packages I use, but playability wasn't affected by these issues. It acted so oddly I couldn't get a proper screencap of the audio menu. Audio was still changeable during playback with no issue, and I believe this was a software issue rather than an issue with the disc (as mentioned above, it seemed fine in commercial players.)
Time for extras! Well... extra.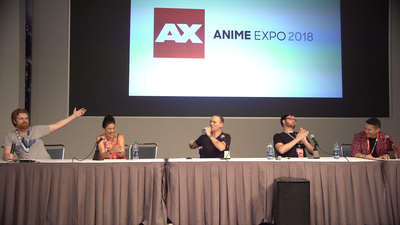 No clean OP or ED material, but we do get a single extra.
We get the tri. panel from Anime Expo 2018!
Like the 2017 panel, it's once again quite fun. Brian Ward returns as moderator, with Joshua Seth, Colleen O'Shaughnessey, Johnny Yong Bosch, and director Ryan Johnston joining him this time.
This is our longest extra yet, running in at a rather hefty 46 minutes.
The content this time has a bit more focus on the mechanics and art of voice acting and directing, along with holding mock try-outs and scene reads with audience members.
A fun high point is Joshua Seth playing Matt in one of these scenes and his interpretation of the character.
The panel appears to be mostly complete, and without any bleeps and blurring this time.
A small odd note. On the Blu-ray the extra is encoded with MPEG-2. It's fine for an extra filmed like this, it's just a bit odd...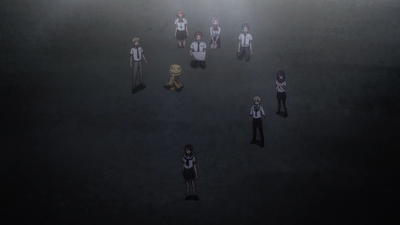 When you buy the Blu-ray, you get a voucher code for a digital copy of Part 6. This is a DRM-Free downloading & streaming code that redeems via VHX. This is effectively the Cadillac of digital copies.
You receive a copy that you can stream on your devices using the various VHX apps, to say nothing of the DRM-Free download itself.
The download copy itself is made up of half a dozen different MP4 files of varying specifications, which you can choose and download at will. And because they are DRM-Free, you can make use of it the best way for you. It's worth mentioning most of the VHX streaming apps also allow you to download specific versions to your devices, but may not include the full range of resolutions that the web interface does.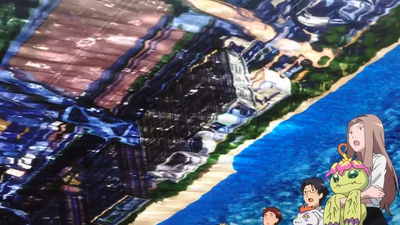 Below are quick video and audio specifications for each DRM-Free downloadable files, along with a single screencap for each..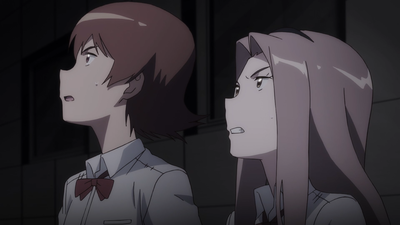 1080p is 2.4GB (3.1Mb AVC video with 256k AAC 2.0 audio)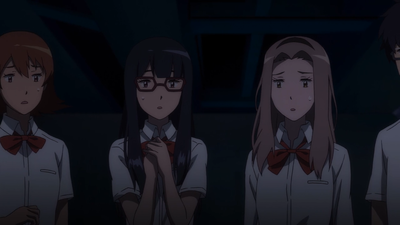 720p is 1.2GB (1.52Mb AVC video with 256k AAC 2.0 audio)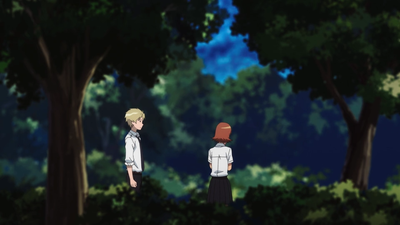 540p is 833MB (902Kb AVC video with 256k AAC 2.0 audio)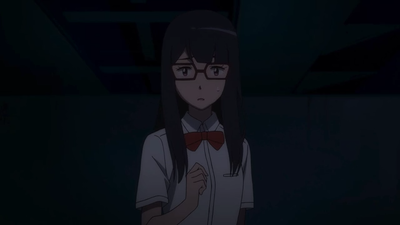 360p is 351MB (359Kb AVC video with 128k AAC 2.0 audio)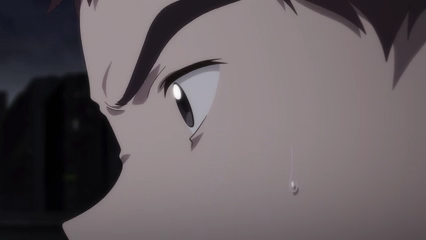 240p is 248MB (231Kb AVC video with 112k AAC 2.0 audio) [full size image embedded]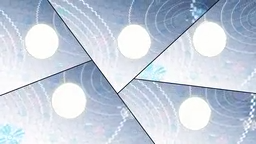 144p is 156MB (118Kb AVC video with 96k AAC 2.0 audio) [full size image embedded]
The digital copy itself is dub only. Oddly, unlike prior releases, there is no SRT captioning track (yet?)
The files are all rather standard, even if a few of the smaller ones continue to seem a bit hilarious.
I'd say they continue to need to add the sign/song track as a second SRT... but this time there isn't even the first one.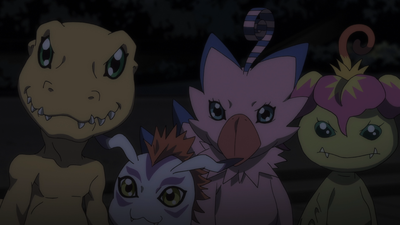 Digimon Adventure tri. Part 6 has received a very good release in the USA on Blu-ray. In general everything feels about in line with prior releases. Which leaves me with not much to say.
It's by and large a good release, and that applies to the DVD also.
Minus digging into the subtitle tracks and potentially finding an issue, it's hard to come away with to much negative to say.
The Shout releases by and large have been reasonably good, even solid A- or B+ releases, but little things have occasionally shown up (the random extra subtitle tracks, some questionable captioning, the video glitches on Part 2) that have kept them from being perfect.
With this we are at the end of tri. in the USA. All 6 releases in the USA ended up released on home video in roughly the period of a year and a half, with the last release being roughly half a year behind Japan. Not bad overall for a series that began 3 years in Japan.
The digital to own versions of Digimon Adventure tri. Part 6 should be reasonably similar to the digital copy: dub only with closed captioning. Various storefronts are listing it as $10 for the SD only version and $13 for the HD.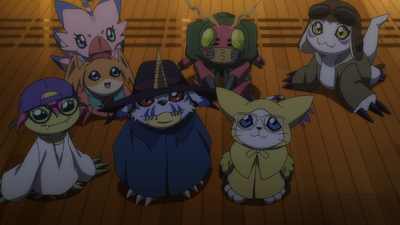 Screencaps were taken largely at random while jumping around the various versions included with the Blu-ray (although if I knew a moment was coming up I wanted a cap of, I'd wait.) Owing to the unique way DVDs are encoded, the DVD screencaps have been stretched lengthwise to the proper aspect ratio, as they would appear while actual watching. The Blu-ray screencaps are all straight off the disc.
Various additional screen captures are in our gallery:
Blu-ray
DVD
Digital
The screen captures include numerous screen captures from the Blu-ray and DVD, including various menu captures. The digital includes a handful of shots from each available resolution.
The
scans can also be found in the gallery
, along with a few additional photos of the packaging.
The scans are very small compared to the master scans I did (the work and backup folder structure for the scans and screencaps is roughly 7.1 gigs.) I will try and make wallpapers if people are interested. If you want to see a specific screencap of something give me a rough timecode if you can.
If you have any questions about the release feel free to ask.
If you want to discuss the home video release and English dub of Digimon Adventure tri. Part 6 in more detail we have a thread
here
.
Digimon Adventure tri. Part 6 is also out in the
UK
and we've already done scans of it's release. An Australian release is
scheduled for March.
Digimon Adventure tri. Part 6 was reviewed using a copy purchased at retail.
Digimon Adventure tri. Part 6 is available to order if you don't have it yet: (Affiliate links.)
Digimon Adventure tri. Part 6 Future Blu-ray/DVD/Digital Combo
Digimon Adventure tri. Part 6 Future DVD
We also already have
a breakdown of the complete collection for tri. on Blu-ray
!
Prior Digimon Adventure tri. are also still available to order:
Digimon Adventure tri. Part 1 Reunion Blu-ray/DVD/Digital Combo
Digimon Adventure tri. Part 1 Reunion DVD
Digimon Adventure tri. Part 2 Determination Blu-ray/DVD/Digital Combo
Digimon Adventure tri. Part 2 Determination DVD
Digimon Adventure tri. Part 3 Confession Blu-ray/DVD/Digital Combo
Digimon Adventure tri. Part 3 Confession DVD
Digimon Adventure tri. Part 4 Loss Blu-ray/DVD/Digital Combo
Digimon Adventure tri. Part 4 Loss DVD
Digimon Adventure tri. Part 5 Coexistence Blu-ray/DVD/Digital Combo
Digimon Adventure tri. Part 5 Coexistence DVD
Our prior breakdowns/reviews of the US releases of Digimon Adventure tri. can be found here:
Digimon Adventure tri. Part 1 US Release- Review, Breakdown, Scans, Screencaps
Digimon Adventure tri. Part 2 US Release- Review, Breakdown, Scans, Screencaps
Digimon Adventure tri. Part 3 US Release- Review, Breakdown, Scans, Screencaps
Digimon Adventure tri. Part 4 US Release- Review, Breakdown, Scans, Screencaps
Digimon Adventure tri. Part 5 US Release- Review, Breakdown, Scans, Screencaps
Lots of Digimon stuff is coming out soon and supporting us via our
Patreon
or
donations
would be greatly appreciated so that we can do more breakdowns and improve the site. Feel free to join us in the
Discord
if you want to chat about the release.
More things to come!
Images are hosted on our gallery
and embedded on the forum, so let us know if anything is acting up.