Show User Social Media
Hide User Social Media
Joined

Sep 8, 2006
Messages

15,796
A few upcoming card game events in Japan.
We already knew about Super Tamer Battle, but we have
a decent bit of new info
...
It will be on September 17th, and the prizes are...
​
The winner and top 8 will each get playmats. The same one minus different markers in the corner.
On site to buy will be...
​
The Tamer Selection Box, Super Tamer Battle 2022 Darkdramon version will be available to purchase for 3,500 yen.
It includes a half-storage box themed after Darkdramon.
Plus, half a dozen parallel cards. We've seen art for a few of these in the US card game, but I don't 'think' all of them yet. Each of the 6 cards is included 4 times for a total of 24 cards.
Then, to celebrate something coming out...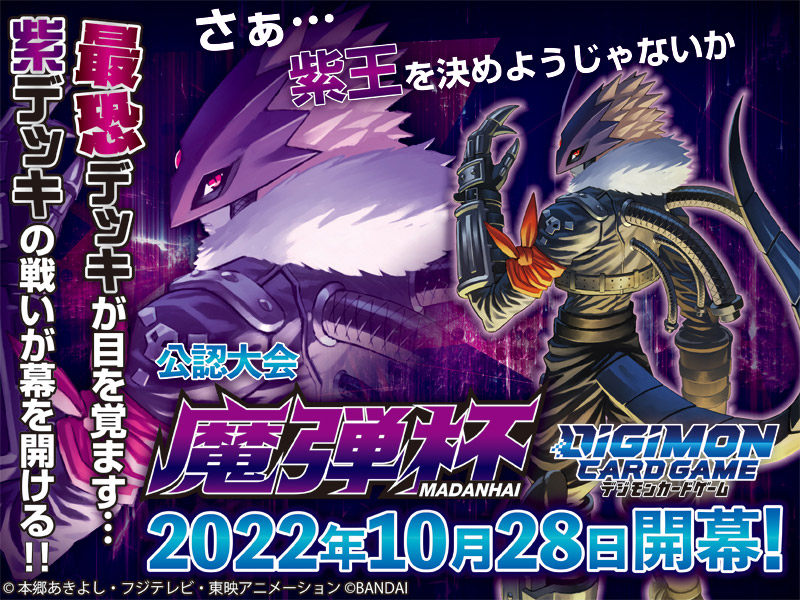 On October 28th,
Madanhai (Magic Bullet)
, the first color event for the card game will take place at various shops.
The tournaments will be purple decks only, with a few clarifications:
Digitama cards must also be purple.
Mixed color cards can be used as long as one color is purple.
More details coming mid-September.
Always nice to see more events.
We have
early details for Booster Set 11 Dimensional Phase
.
We have our early details for
Starter Deck 14 Advanced Deck Beelzebumon
.
We have clean card images from
Booster Set EX-03 Dragon's Roar and Survive, DC-1, Memorial, Battle Pack 13, Illustration, & Espimon Promo Cards
.
And images from previous Digimon Card Game releases:
Starter Decks 1, 2, and 3, and first 10 promo cards
Booster Set 1 New Evolution
Booster Set 2 Ultimate Power
V-Tamer Promo Cards
Purple/Black Promo Set
Tamer Battle Pack 1 and Tamer Battle Winner's Card
Booster Set 3 Union Impact
Starter Decks 4, 5, & 6, plus Tamer Battle Pack 2 & winner's Card 2, & 1st 2 scene vote cards
Booster Set 4 Great Legend, Tamer Battle Pack 3, 3rd Scene Vote, Dark Digimon Promo Pack, & Apparel Cards
Booster Set 5 Battle of Omega, plus Tamer Battle Pack 4, 4th Scene Vote, & Vital Bracelet Pack-In Cards
Starter Decks 7 & 8, plus Delay Promos, Tamers Battle Pack 5, 1st Anniversary Promos, & Pulsemon
Booster Set 6 Double Diamond Cards, the 1st Anniversary Adventure Pack, and more
Booster Set EX-01 Classic Collection, plus Tamer Battle Pack 6 & 7, Tyranomon & dual Zeromaru Promo Cards
Booster Set 7 Next Adventure, Campaign Cards, & Tamers 20th Promo Cards
Starter Decks 9 & 10, plus Tamers Battle Pack 8, Ghost Game Promos, Online Promos, Tamers Evolution Box 1, & Amazon Starter Promos
Booster Set 8 New Hero, Starter Deck 11, plus Tamer Battle Pack 9 & Event Cards
Booster Set 9 X Record, plus Battle Pack 10, Special Promo Pack 2022, Update Pack, & Evolution Box 2
Starter Decks 12 & 13, Luxury Finished Tamers, plus Battle Pack 11
Booster Set 10 Xros Encounter, plus Battle Pack 12, Special Promo Pack 2022 v2, & Evolution Cup Cards