Show User Social Media
Hide User Social Media
Joined

Sep 8, 2006
Messages

17,371
It's been a long wait for UK fans...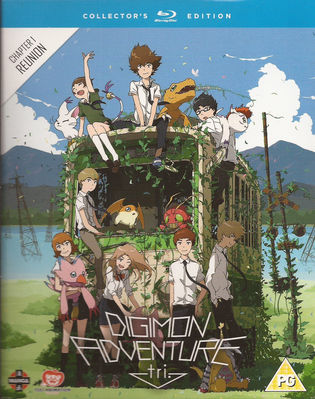 Their release of Digimon Adventure tri. Part 1 had a release date last year... then was delayed to early this year... then was delayed again... and on top of that... they never had an official subtitled streaming option like much of the world did.
But it's finally time! Coming out on May 22nd and showing up at many doors already, UKers finally get Digimon Adventure tri. Part 1 on Blu-ray and DVD!
So, I did very little editing on these... and no scanning, because I didn't get the UK release (gotta decide where that money needs to go.) Thanks to forum member
Kai
, we have these images because he scanned them on his own and shared them to make sure the UK release could get featured, the same way we try and do for media whenever possible. So big thanks to Kai for putting in the time and effort.
Most of what I did here was cropping, because most of my tools and workflow simply do not work at these lower resolutions, and chances are I couldn't have done much (although one image did have a bit of extra work done to it...)
I'm not going to to go over tri. Part 1 itself, but I did in the recent review of the US tri. Part 1 Blu-ray, which you can read
here
.
The first thing worth mentioning. The UK Blu-ray release does not include a DVD like the US release did. So if you want the release on DVD, you'll need to get the standalone DVD version. The Blu-ray is labeled as a collector's edition, the DVD is not.
The front cover of the collector's edition slipcover(at the top) is a well known piece of tri. art, the train car image. This is the same image Manga UK have been using for their stand in cover since the beginning, but they've moved a few elements around. The cover looks very nice overall. Minus perhaps moving the logo to the top right so it wouldn't cover Gabumon and Palmon at the bottom, there isn't much that could have made this cover better.
The back of the slipcover is very clean.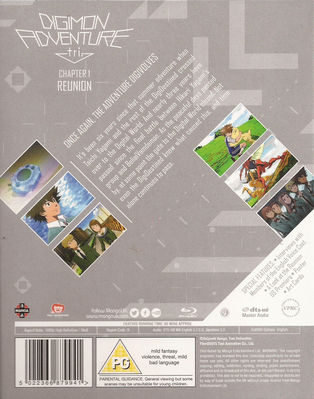 In a number of ways it feels like this back cover was based off the digital motif used in the Japanese release. While it has a nice overall look, I'm not sure I like the text and screencaps at an angle like that. The bigger issue is the description is using the Japanese names when it's really meant to be more of a dub-centric release. it's possible it's on purpose, but it feels more like a mistake.
The back also has extras listed, along with various technical specs.

The spine of the slipcover looks nice. The number on the grey is a nice touch and should look nice lined up on the shelf with future releases.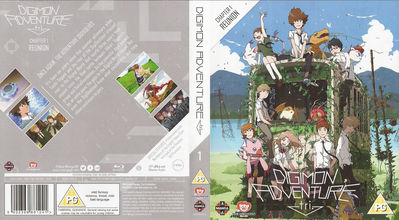 The actual BD cover insert itself is basically what you expect, basically the same as what was used on the slipcover, just in insert form. Once the collector's edition is replaced by a normal version, this is what will be forward facing to the buyer instead of the slipcover (especially since the UPC is different on this one.)
And the insert is reversible!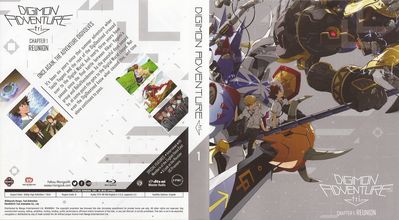 This one uses the theatrical poster from tri. Part 1, and uses different logo placement than the Shout release did. It looks quite nice. Especially nice is that there are far less logos and other required things, since this cover won't ever be consumer facing in stores. The back cover also inverts the colors of the background. It's very nice looking over, and I wouldn't be shocked if many people swap their covers to this version (especially since the main cover is nearly 1:1 to the slipcover.)
The tri. style motif continues to the disc...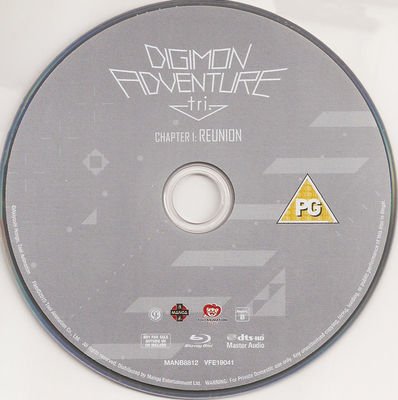 The disc looks very nice and clean. It has the various logos on it, but otherwise sticks to the tri. style motif that is used elsewhere in this release (which was originally used in various Japanese tri. releases.)
The release also includes a few physical extras.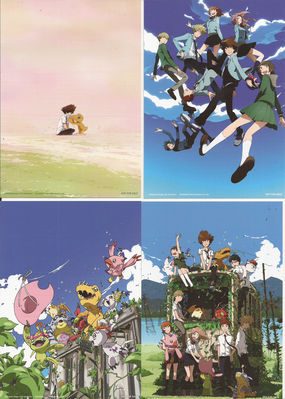 These four art cards each uses a different piece of art that'll most likely be familiar to tri. fans. Each looks very nice, and I expect they'll look very nice if anyone decides to frame them.
The other extra is a poster.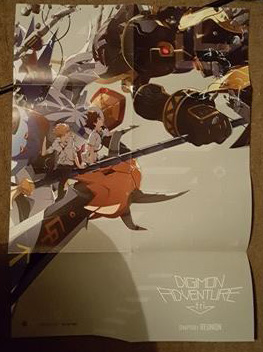 The poster is to large to get on a scanner, but Kai took a photo just to show what it looks like. It looks roughly the same as the reversible cover, but with the logo resized a bit (since the poster is much larger) along with the image itself being a bit more vertical (since it doesn't have to fit the height of a BD cover.)
I can't go over the on disk content in detail since I don't have it, but I can go over the few things I do know.
The video is listed as 1080p. I expect that'll be at 24fps, same as the US disc.
Audio is listed as being DTS-HD Master Audio, which is lossless. It's listed as having both a 5.1 and 2.0 English track, along with a 2.0 Japanese track. Various people who have watched it have reported that the English audio track has a short version of Butter-Fly, which then moves into the tri. English dub theme (as opposed to the US version which just uses the tri. English dub theme.)
It is also listed as having English subtitles.
On disc extras are listed as the same as on the US release, so I'll include what I said about them in the US review:
First up we have 2 minutes and 13 seconds of footage of the premiere event for tri. part 1 at the TCL Chinese 6 Theater. We get a bit of footage from inside the theater along with footage from the premiere party that happened right after, which was thrown by Funimation for Toei. This is a short and relatively basic extra, but it's nice to get a look at it for all of us who couldn't make it there.
The only other extra is relatively substantial if I'm being honest.
22 minutes and 18 seconds of interviews with a handful of the dub cast and director. These are EPK style interviews, where people were interviewed one on one and they go between people. Rather than answering interview questions, they explain elements of tri., their characters, their thoughts, etc. I'm not going to list who was/wasn't interviewed for it, but there is a decent range of people. Especially interesting to many people will likely be director Ryan Johnston, if only because it's exceedingly rare for Digimon in the USA to have anyone new step into the director's chair for anime. In addition, the interview also has clips of more Digimon Adventure tri. being dubbed, which I have no doubt all of us will mine for as much information as possible prior to any further announcements (although I can safely say some of the actors, if not all, have finished recording thru part 3.)
That's it for this one. The UK release was a long wait for people, but it appears to be a pretty good one that is roughly equivalent to what we got in the USA. If you prefer art cards, a reversible cover, and a poster, the UK one is better. If you prefer a DVD and digital copy the US one is better. I think there are likely arguments to be made about either one.
Big thanks again to Kai for the scans,
which can be found in our gallery
.
If you have any questions about the release feel free to ask, we have quite a few members from the UK and I'm sure they'd be willing to answer questions from those of you trying to decide if you should buy the release.
If I'm able to in the future I will attempt to get ahold of a copy of the disc to expand the breakdown, similiar to what I would normally do.
And remember,
we are running a contest
for those of you in the UK and Ireland where we are giving away this Blu-ray, along with a copy of the DVD and it ends tomorrow!
Amazon UK pages to order (not affiliate links)
Digimon Adventure tri. Part 1 BD
Digimon Adventure tri. Part 1 DVD
Those in the USA will of course want to get that release (Affiliate links)
Digimon Adventure tri. Part 1 Blu-ray/DVD/Digital Combo
Digimon Adventure tri. Part 1 DVD
The breakdown/scans/screenshots of the USA Blu-ray/DVD/Digital release can be found here.
Thanks to everyone who has
donated
for us to do various scans and breakdowns in the past. We are still taking donations so we can do similar for future releases. If you are willing to donate please take a look at the most recent thread on the subject.
Images are hosted on our gallery
and embedded on the forum, so let us know if anything is acting up.