Show User Social Media
Hide User Social Media
Joined

Sep 8, 2006
Messages

13,184
Scans ahoy!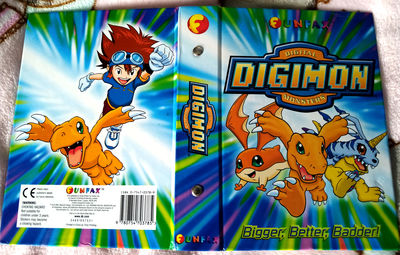 This time it's a Digimon File from Funfax (will just call it a Digimon Funfax from here.)
This is a small kids organizer from the UK designed as a children's version of the Filofax line of organizers. Vande ended up getting it when she was buying a used D-Terminal.
This specific Funfax is based around late Season 1/Adventure content and is dated to 2001 (Amazon UK shows a date of January 2nd, 2001.)
Scanning for the book wasn't done by me. It was done by
Vande
with her new all-in-one printer/scanner as a way to properly test it, so it made sense to share everything here. Most of it was done with automated settings, and the scanner doesn't have a descreener (although if Vande scans more stuff I'll likely get her setup with an aftermarket descreening solution.) The scans came out reasonably nice.
A few of Vande's photos had some color level tweaking by me, plus cropping, etc.
As mentioned above, this was a type of personal organizer for kids based on a version adults would have. You'd store friends names, addresses, and other information in it. It would also include puzzle pages, games, educational information, etc. (based on which Funfax you'd buy.)
There were various purchasable books that had the same holes punched out that could be added to the Funfax adding various things like educational tools, joke books, puzzle books, diary expanders, etc.
This made the various add-ons universal to whatever Funfax you had, including the Digimon one we are looking at today.
The photo (at the top of the article) shows off the cover, spine, and back cover of the Funfax. It's a reasonably sturdy cardboard which has the metal rings bolted through the spine. It has various dings and dents, seeing that it's nearly 20 years old.
The Digimon artwork and elements in the Funfax come from the Style Guide that Saban Entertainment put together for the brand as it was being licensed worldwide. Our
archives of the contents of the Style Guide
can be found
in the gallery
.
Onto the inside of the Funfax!
Due to the size of it, every page won't be thumbnailed and embedded. Instead just various samples from different sections will be included. The gallery does contain the full contents, and links will be provided to the first page of each section in the gallery.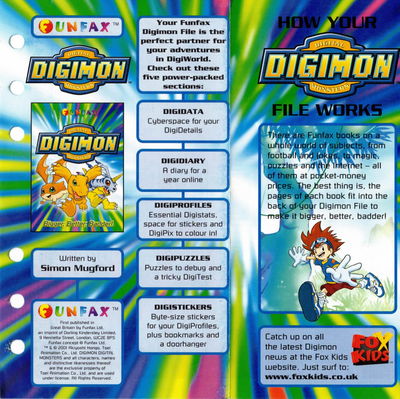 The first page goes over what the contents of the Digimon Funfax is, and also includes various credits and info.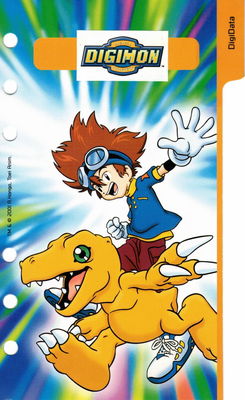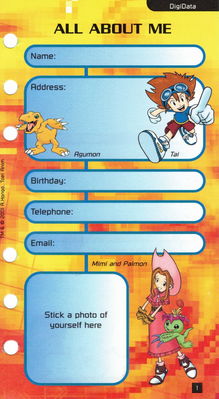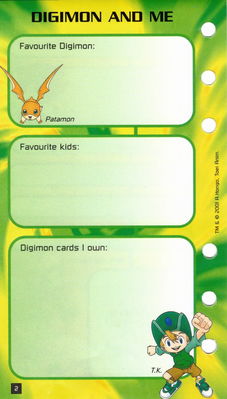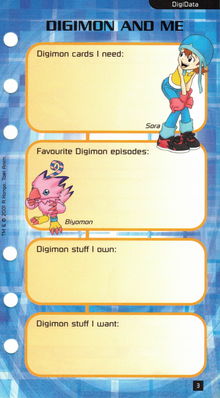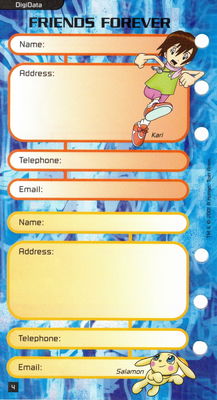 The first section of content included is '
DigiData
'. This section contains a page to put information (and a photo) of yourself, notes about what you like about Digimon, along with contact information for your friends.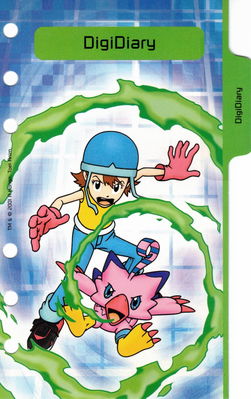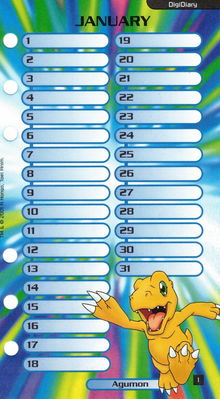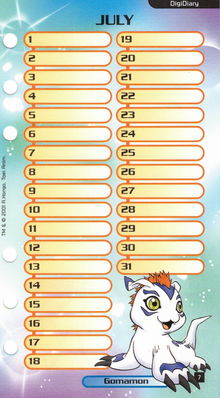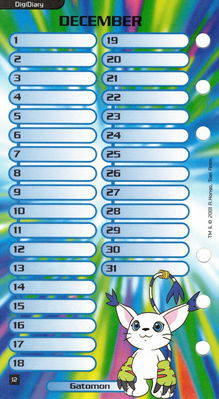 The second section is the '
DigiDiary
'. This is where British terminology comes into play, as the usage in this context is to write down an appointment or event happening on a specific day (although even then, the amount of space they give to write is very small.)
Each page has a different Digimon on it.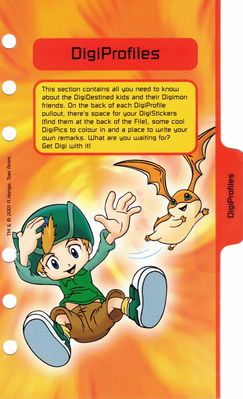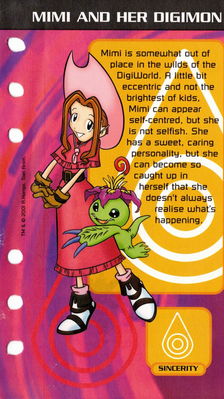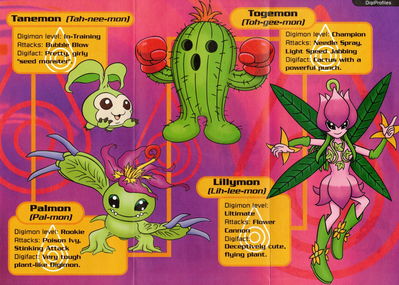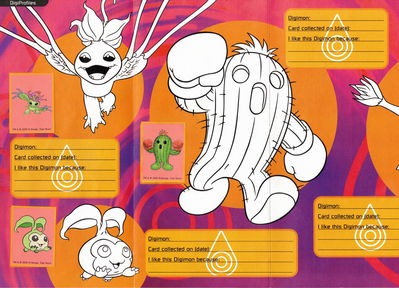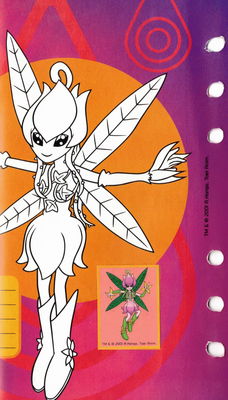 The next section is '
DigiProfiles
.' You get an unfoldable spread on each kid and their Digimon partner's various forms.
On the reverse side is lineart along with information you can fill in on your own (along with the various pieces of lineart acting as a coloring book.) There were sticker cards that could be placed on each rectangular image. The majority of the stickers remain. The missing ones appear to have once been here, as you can still make out places where glue helped some of the ink bleed through.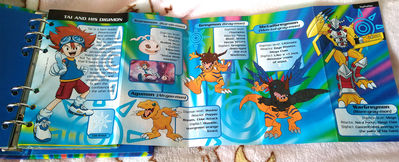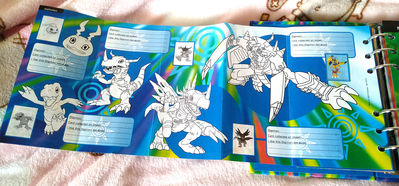 A couple of images showing the full unfolded spreads.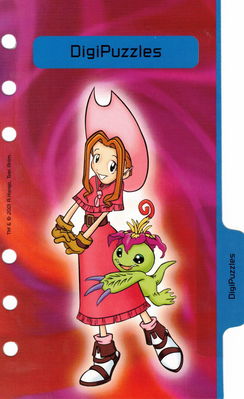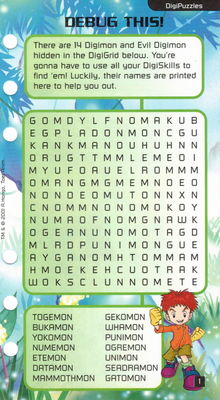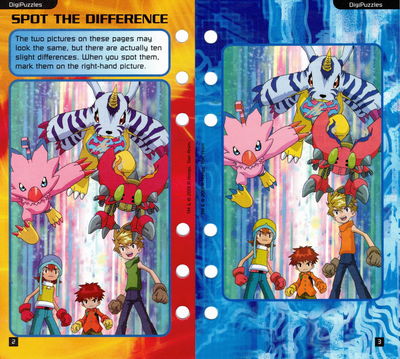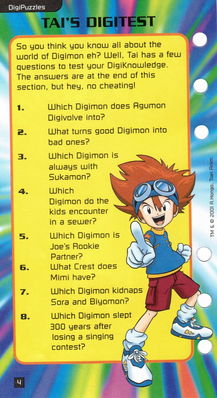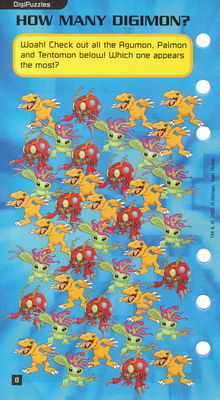 The last full section are a number of puzzles under the heading '
DigiPuzzles
'. These were a number of kid friendly puzzles like you'd find in many activity books, but Digimon themed.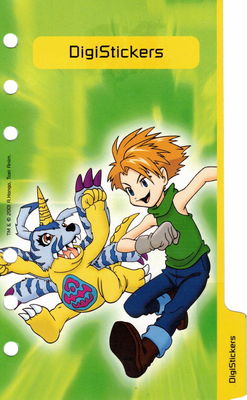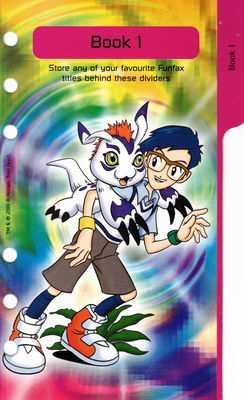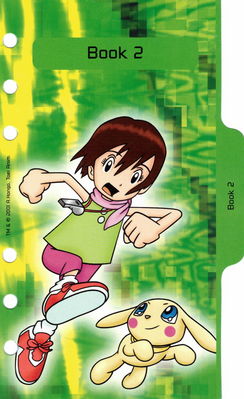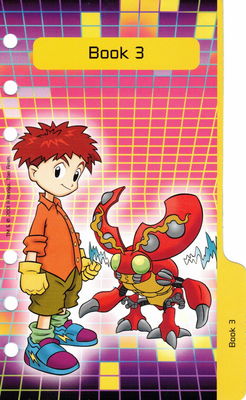 Last up is a few odds and ends.
You have the divider that would have let you jump to where the stickers would be ('
DigiStickers
'). The actual sheet is long since gone, but the divider is still there. (It appears the intention for the stickers might have been to put them on the spots earlier when you got an equivalent collectors card.)
Beyond that are 3 dividers
that you could put any of the various add-on books you purchased for a Funfax.
The last image is just showing the inside of the Funfax with the pages in it.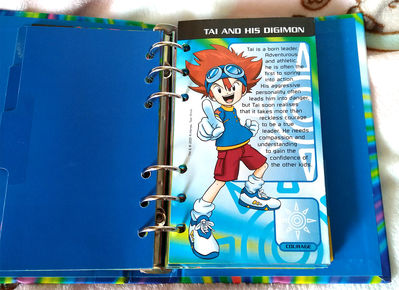 Just a fun little look back for some of our friends in the UK, one or two of whom maybe even used to own the Digimon File from Funfax.
I'm sure there was some sort of equivalent thing in the US, but not anything I ever had (I had grown out of activity books and such by this time anyways, so seeing a combined activity book/organizer type thing was at least a bit interesting.)
Thanks again to Vande for scanning and photographing the Funfax so people could take a look at it.
Lots of Digimon stuff is coming out soon and supporting us via our
Patreon
or
donations
would be greatly appreciated so that we can do more breakdowns and improve the site. Feel free to join us in the
Discord
if you want to chat about the release.
More things to come!
The scans can be found
here
.
If you have any questions about this thing and I'm sure Vande will answer what she can (and it wouldn't be shocking if another UK user or two popped up who perhaps remember it.)
Images are hosted on our gallery
and embedded on the forum, so let us know if anything is acting up.
Affiliate links for Digimon items of interest on Amazon.com:
Digimon Story: Cyber Sleuth- Complete Edition for Switch
Digimon Survive for PS4
Digimon Survive for Switch
Digimon Survive for Xbox One
Digimon 20th Anniversary V-Pet
Digimon Adventure tri. Part 1 Blu-ray Combo
Digimon Adventure tri. Part 1 DVD
Digimon Adventure tri. Part 2 Blu-ray Combo
Digimon Adventure tri. Part 2 DVD
Digimon Adventure tri. Part 3 Blu-ray Combo
Digimon Adventure tri. Part 3 DVD
Digimon Adventure tri. Part 4 Blu-ray Combo
Digimon Adventure tri. Part 4 DVD
Digimon Adventure tri. Part 5 Blu-ray Combo
Digimon Adventure tri. Part 5 DVD
Digimon Adventure tri. Part 6 Blu-ray Combo
Digimon Adventure tri. Part 6 DVD
Digimon Adventure tri. Collection on Blu-ray
Digivolving Spirits WarGreymon
Digivolving Spirits MetalGarurumon
Digivolving Spirits Diablomon
Digivolving Spirits Angewomon
Digivolving Spirits Alphamon
Digivolving Spirits AtlurKabuterimon
Digivolving Spirits HolyAngemon
Digivolving Spirits BlackWarGreymon