Show User Social Media
Hide User Social Media
Joined

Sep 8, 2006
Messages

16,110
We first found out about this a month ago...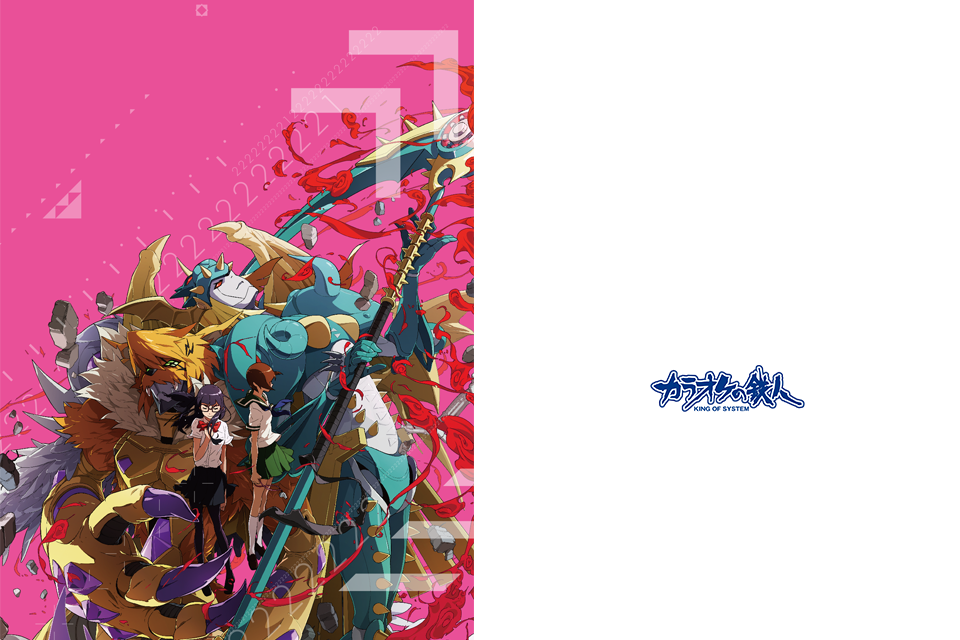 Digimon Adventure tri. is returning to the King of System karaoke chain for a third collaboration event for the upcoming release of Digimon Adventure tri. Part 5!
The newest Digimon Adventure tri. and King of System event will run between September 30th (the same day Part 5 is out) and ends on November 5th!
It will take place at the following King of System shops:
Ikebukuro Higashiguchi Sunshine Street
Ikebukuro Higashiguchi
Shinjuku Kabuki-cho
Shinjuku O-guard
Shibuya Dogenzaka
Machida
Sakuragi-cho
Kawasaki Ginryugai
First up, the drinks!
The featured drinks are 550 yen and non-alcoholic.
Courage and Friendship- A mix of orange syrup, peach syrup, pineapple syrup, with grapefruit jelly in soda, and garnished with an orange slide.
Love and Purity- Matcha-ade is mixed with milk. A the bottom of the glass is strawberry flavored tapioca pearls and the drink is topped with milk.
Knowledge and Sincerity- Coffee is mixed with blueberry syrup. THe drink is topped with a marshmallow drizzled in black sesame sauce.
Hope and Light- peach syrup is at the bottom of a glass of calpis and garnished with a lemon slice.
With every drink you get 1 of 9 coasters at random. The designs feature new art made for the new King of System tri. event. The designs shown are the front of the coasters. The back will also have a design that they aren't showing for now.
If you show your tri. Part 5 ticket stub they will give you an additional coaster (1 per person, not per drink ordered.)
Next up is the food!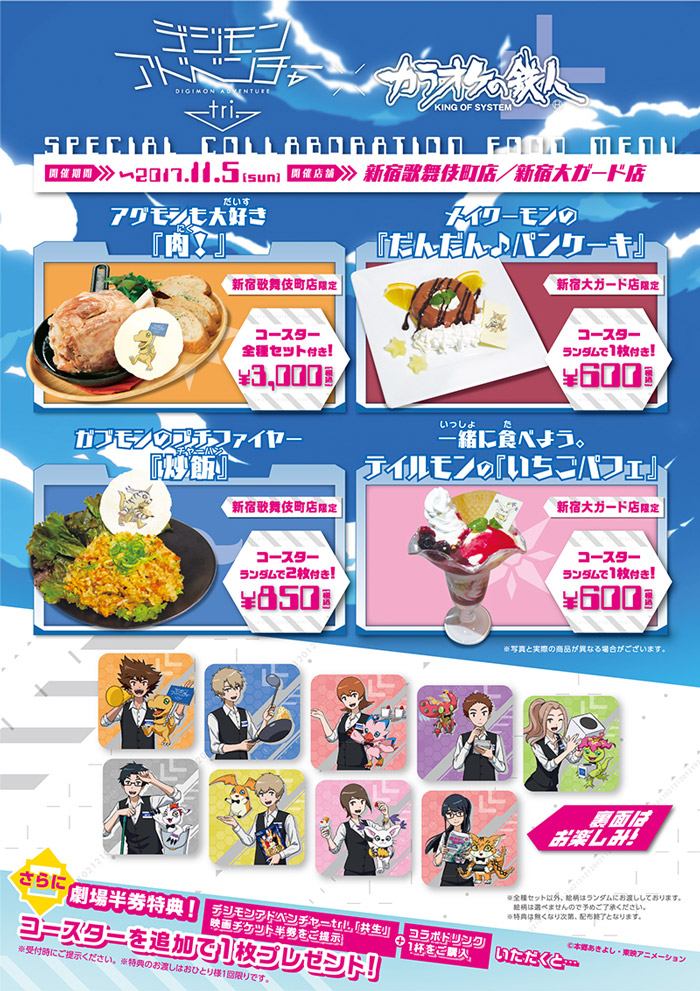 The food will be exclusive to specific stores.
At the Shinjuku Kabuki-cho location they will have two meal items:
Agumon's Favorite Meat!- This is what it says on the label. A piece of meat, served with bread and a small salad. This is 3,000 yen and includes the full coaster set.
Gabumon's Petit Fire Fried Rice- A place of fried rice (the name would suggest spicy, but who knows?) This is 850 yen and comes with 2 random coasters.
At the Shinjuku O-guard location they will have two dessert items:
Meicoomon's Thank You ♪ Pancake- A Japanese style pancake with a handful of toppings and items on the side. This is 600 yen and comes with a random coaster.
Let's Eat Together, Tailmon's Strawberry Parfait- This ice cream and fruit parfait is 600 yen and comes with a random coaster.
And it wouldn't be a karaoke shop without the karaoke event!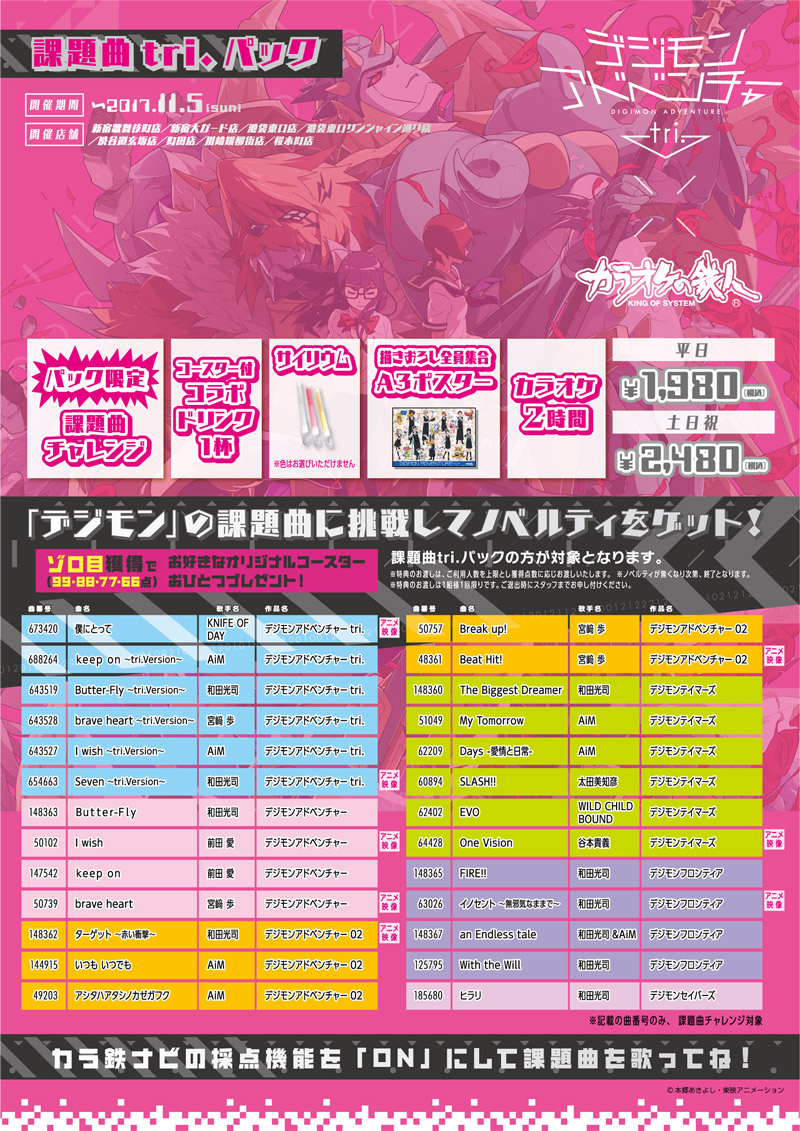 The tri. themed package is 1,980 yen on weekdays, 2,480 yen on weekends.
The package includes:
2 hours of karaoke
A Theme Song challenge featuring various Digimon songs.
1 of the tri. drinks (with random coaster)
A light stick (random color)
A3 size (16.53 x 11.69inches) poster featuring the karaoke key art
For the theme song challenge, if you sing one of the listed songs and get a score of 99, 88, 77, or 66 during a solo you get to choose a coaster of your choice as a gift/prize (1 per person.)
Last up... exclusive products!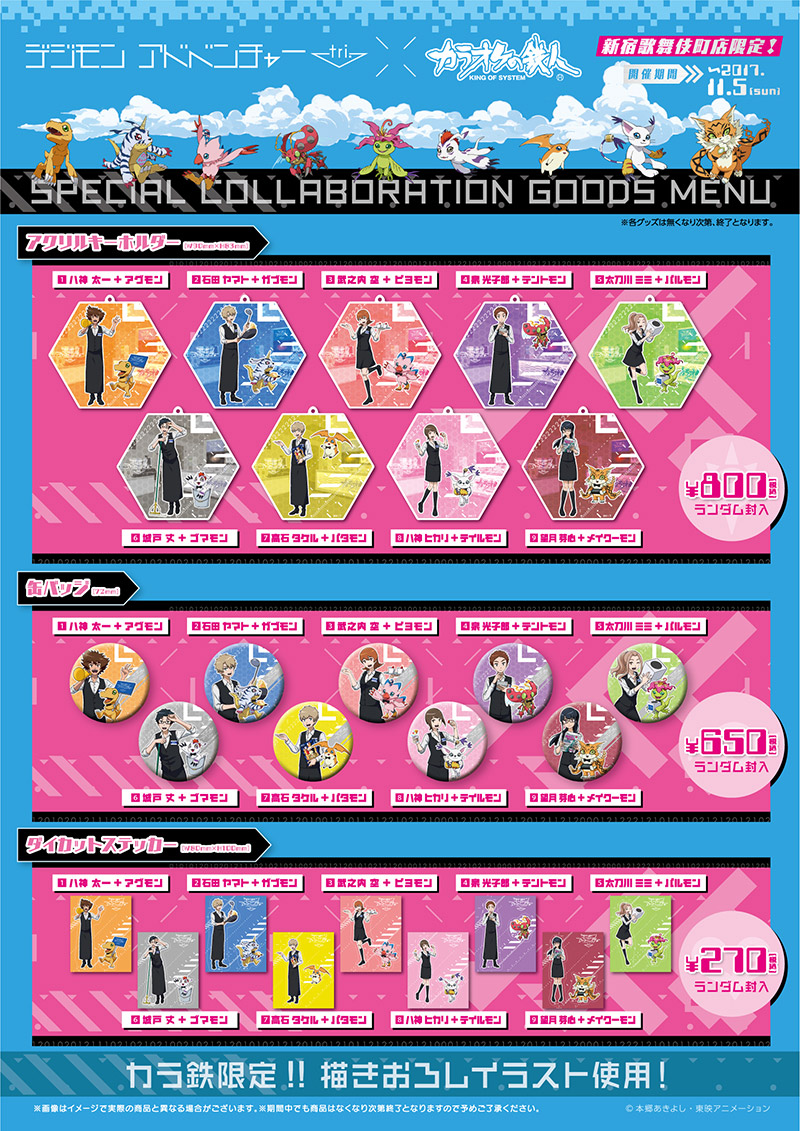 Exclusive products (outside of the coasters) will only be available at the Shinjuku Kabuki-cho location. The sizes are a bit hard to read on some of these, so the sizes may be off.
First up, acrylic keychains featuring the karaoke key art! Each is roughly 3.5 x 3.4 inches and 800 yen.
Then we have can badges! Each is roughly 2.8 inches in diamete and is 650 yen.
Last up, the ever nice die cut stickers! These are roughly 3.1 x 3.9 inches and costs 270 yen.