Show User Social Media
Hide User Social Media
Joined

Sep 8, 2006
Messages

16,175
Anime retailer
prArt
will be selling a number Digimon Adventure tri. products at
Anime Japan 2017
.
Anime Japan is a massive exhibition even in Tokyo between March 23rd and March 26th. It's more akin to E3 than what we'd think of as an anime convention (in fact, the first 2 days are all business seminars and such that aren't open to the general public.)
During the days open to the public many companies will be showing off anime merchandise, new and upcoming anime, and tons of related content.
Luckily for us we know what prArt will have on hand for Digimon stuff.
They're going to have a stack of Digimon stuff for sale (with nearly
50 items listed on the tri. section of their website
.)

Some of the items prArt is selling, both at Anime Japan and in their online store, are items previously available in limited numbers (but not exclusive) at various stores prior to this (including the Taichi, Yamato, and Hikari themed tote bags, along with the crest themed business card holder.)
We're just going to cover the stuff that we are relatively sure is new that will be featuring at Anime Japan 2017. They're currently listed for pre-sale online for people who can pick them up at the event. These items appear to be exclusive to Anime Japan.
First up are cable wraps! You stick these to the back of your phone and wrap up your headphones around them. There is
Agumon eating chips
,
Gabumon playing the harmonica
, and a
version with both
! Each of these is 800 yen and is about 2 inches in diameter.
This nice phone case
is laid out in a notebook format. It features the artwork of Agumon and Gabumon and has a few sizes to note:
It's roughly 3 x 5.5 x .6 inches when closed.
It's roughly 6 x 5.5 x 2 inches when opened.
It can hold any phone that is up to roughly 2.75 x 5.3 x 4.5 inches in size.
It costs 3,000 yen.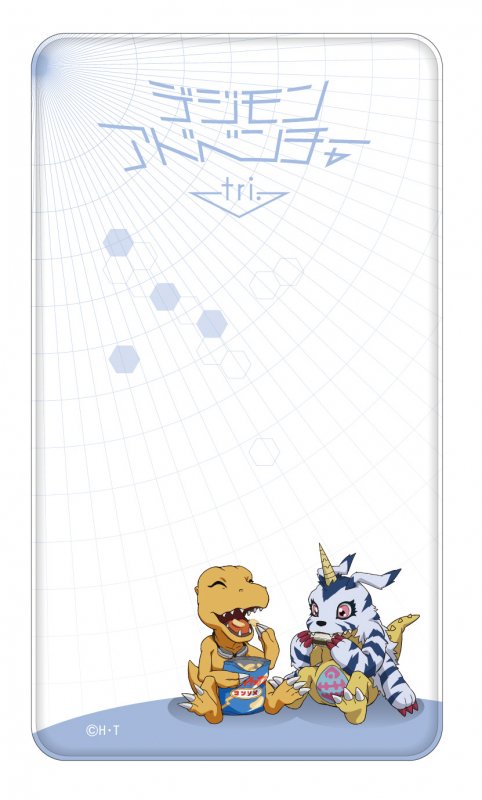 This
phone battery
measures roughly 2.5 x 4.4 x .35 inches and costs 4,000 yen. It also includes a USB cable.
Last but not least...
Keychain/charms that come in both
Agumon
and
Gabumon
styles! These metal keychains have acrylic charms on them themed after the design/character you pick. They're 800 yen each.
Thanks to garm for some translated details,
boku
for some of the info, and shin for a few other details.
You'll want to contact an intermediary to get these items sent to you. WtW is not affiliated with any, but here are a selection of intermediaries that have worked well for various WtWers and their friends in the past:
From Japan
Rider Proxy
Nippon-Yasan
Japan Hero
Be aware many intermediaries do not carry items from events and pop-up shops since they can't be ordered online. You will need to ask them and explain what you want very carefully (perhaps with a photo.) Some intermediaries will potentially still not be willing to get the item.
Some of the intermediaries have a full store front and may have the item listed, so you may want to check that first.
Update- Small update...
The product sheet/board showing the items that they will have at Anime Japan this weekend.
The only new item listed that we didn't know about was a mug with the Agumon/Gabumon art that costs 1,800 yen.
The 800 yen ribbon/pins they show have been available since late last year.
In addition, while the text is small, it appears the battery is 4000 mAh.