Show User Social Media
Hide User Social Media
Joined

Sep 8, 2006
Messages

16,625
The Blu-ray for Digimon Adventure tri. Part 6 is out!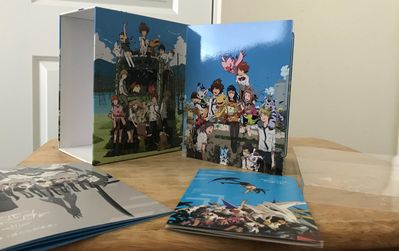 This is the end of Digimon Adventure tri.'s home video release for Japan!
Where things would be identical, bits of text will be taken from the articles for Parts 1 thru 5.
Lots of scanning on this one, but not to much editing.
As normal, I won't be reviewing the show itself, just going over the actual Blu-ray release.
Any screencaps from the Blu-ray are lossless PNGs.
All images in the article are smaller copies from our gallery (to keep loading sizes smaller for everyone), but link to the full sized versions when clicked.
Scanning was done as high quality as I could do, and compressed and shrunk to reasonable sizes, along with reasonable quality JPG compression. I've explained my workflow in my personal thread and will answer any questions involving it or the processes used.
Scanning this time was odd. Scanner was fine, scan results were fine, but my scan software has taken to freezing up lately. No real explanation for it that I can find, but in-between various times forcing it closed and reopening everything got done.
First up will be all the physical stuff. Everything included with the Blu-ray was scanned minus things that weren't going to scan well due to the position of them (plus an instructional sheet.)
We start with.... an obi card!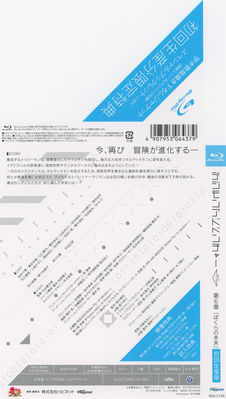 This is an interesting obi card as it completely covers 3 sides, and partially covers a 4th. The part of the obi that covers the front covers the top left corner of the front. This is the only time the front triangle has been on the top, and seems the best place for it based on the formatting of the artwork on the cover. The back of the case itself has no information on the product, so it's left to the obi card to contain all of this relevant information. It also means with the obi removed, the product is completely clean of most legal and technical information. If you look at the bottom of the obi, you can also notice they have the Digimon 20th logo.
The packaging for the Blu-ray itself is a cardboard digipak. The digipak is slightly thicker than is normally used but is identical to those for the rest of tri. The disk tray is plastic and raised far more than you'd normally see for a digipak. There is no obvious reason for this to be done this way. The cardboard is actually slightly wider than the plastic tray (likely to take into account the booklets and ads included.)
The front and back cover for the Blu-ray are very nice and clean.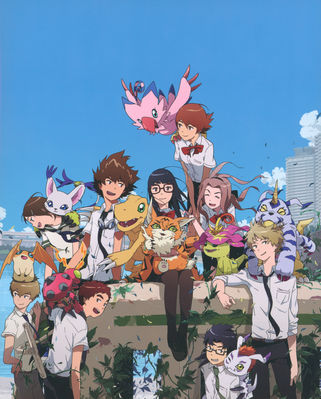 The front cover is a great shot of all the kids and Digimon on the traincar that acts as a fun compare/contrast with early promotional artwork that also had the kids and Digimon on the train car. All the characters are showing great personality on it, but Patamon weirds me out a bit.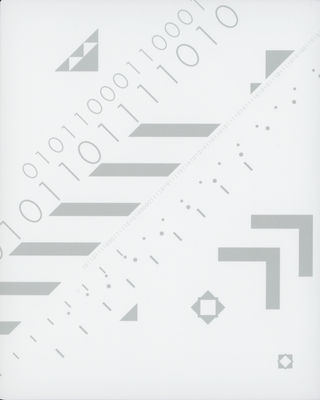 The back cover is clean and with the tri. style digital motif (for lack of a better term) imagery in a subtle gray. This time I didn't scan the spine. The spine is simply basic black text of the title, but for the tri. text itself they kept it as it appears in the logo (it's effectively identical to the spine from other parts of tri., just with the changes to part 6 (it's basically just the vertical logo from the obi card in fact.)
The Blu-ray comes with a slipcover (in an o-card shape) that is made out of clear plastic with the tri. style digital motif imagery on it to add to the cover. The logo is also on the slipcover.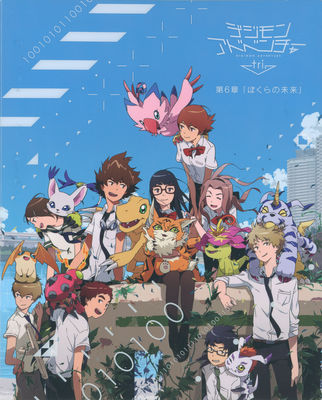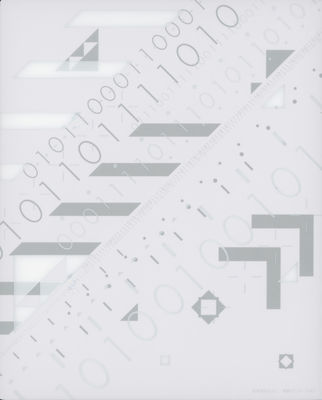 The front with the slipcover added adds an effect that appears similar to what we see in the OP for tri.
The back is interesting because it already has a similar design style in a different color, so it feels multi-layered.
One of the things I didn't scan was the inside of the digipak. Because of the height of the plastic tray, the scan wouldn't have come out well. The same as with prior parts, there is no art on the inside of the digipak. It uses the same motif we see through the packaging, but this time it's different layers of blue and white.
The physical Blu-ray itself continues using this theme.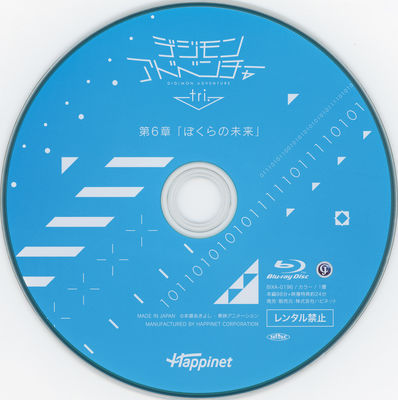 Same motif, just with a focus on the blue color used for tri. Part 6.
The Blu-ray came with a single physical extra since it was the Amazon version.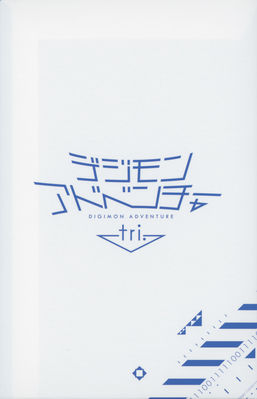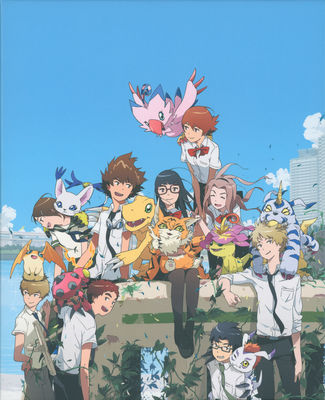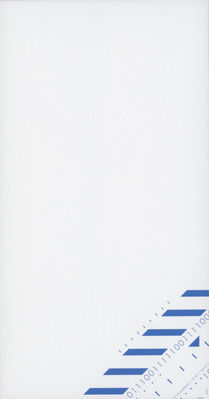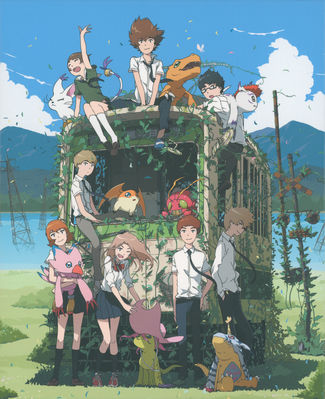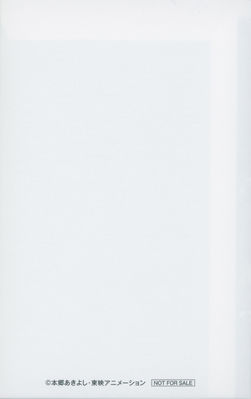 A box that holds all 6 parts of tri.!
The box is a rather nice chipboard box. In fact, I'd say as far as the quality of the physical box itself, it might be one of the best I've seen, very solid.
The art is rather simple, but works. One side is the cover of Part 6, while the other is the original traincar promo art. In a few places the tri. digital motif appears, along with the tri. logo in blue on the top of the box.
The box is, size-wise, designed to fit the 6 first print editions of tri.
There was also a bonus item from Animate.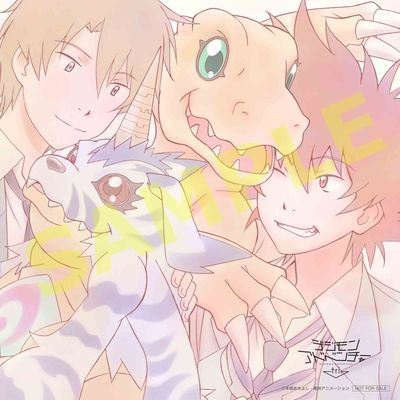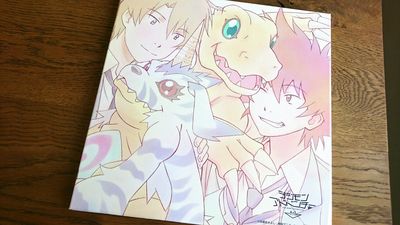 If all 6 parts were ordered from Animate, using the same Club Animate account, a rather nice piece of artwork of Taichi, Agumon, Yamato, and Gabumon is included on canvas. Animate's press image is included above, alongside a photo from Toei.
Two booklets were also included. The smaller booklet is less a real booklet and more a fold-able pamphlet like thing made out of some nice paper stock.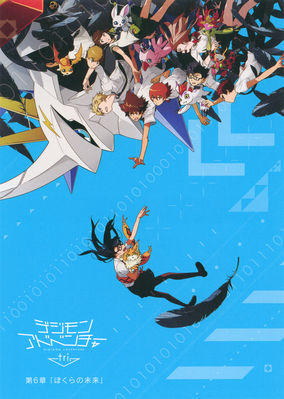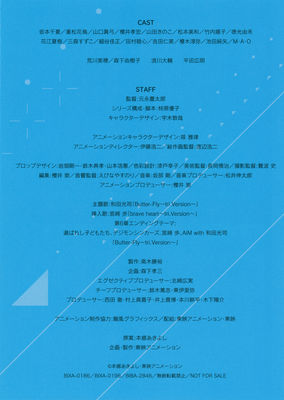 The front uses the poster art from tri. Part 6 that we first saw right after Part 5 came out, while the back lists credit information using the tri. digital motif.
The inside of this contains 2 pages with a familiar piece of art...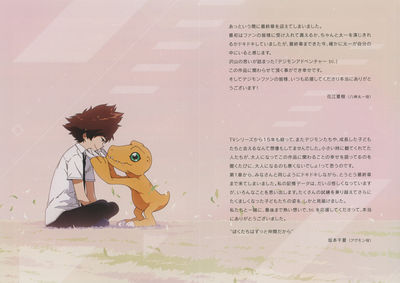 And with it is some text from the actors who play the characters in the artwork.
Natsuki Hanae (Taichi)
Before we knew it, we've already reached the final part.
At the start, I was really nervous about acting as Taichi as I wasn't sure if I could do the role justice, and if the fans would accept me as Taichi; however, come the final part, I can definitely feel Taichi inside of me.
I'm glad to have been able to be a part of Digimon Adventure tri., where I've made so many great memories.
And thank you to all of the Digimon fans for your continued support!
Chika Sakamoto (Agumon)
I never even imagined I would meet the Digimon and the children all grown up, 15 years after the original TV series aired. Every time I hear of the people who watched Digimon Adventure as a child and were so happy to be able to be a part of this project as an adult, I would think "see, becoming an adult isn't such a bad thing after all, is it!".
From Part 1, where I was just as excited as everyone else, we've finally come to the end of the series. My memory data has gotten a little hazy, but working on this has brought back lots of memories. We were able to watch over the kids as they overcome various hurdles and grow even stronger.
Thank you for passionately supporting tri. together with us all the way.
"We'll always be friends."
4 pages of storyboards are also included. I left them in 2 page formation as I scanned them. They storyboards are for a single key scene from tri. part 6.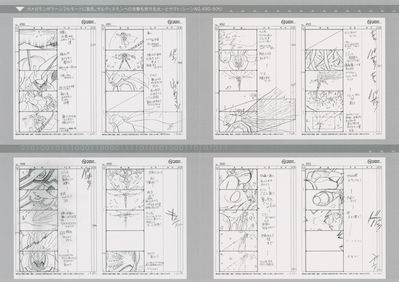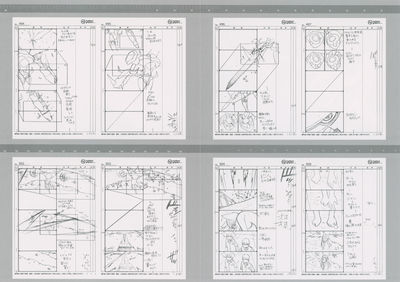 Scene No. 490-505: Omegamon transforms into Merciful Mode. Taichi and Yamato watch as it attacks Ordinemon
I love production materials, so it's great to see more storyboards, and again we get one of the key scenes, just like last time. Still holding out hope for a storyboard book.
The larger booklet is a nice quality booklet with a range of material on the inside. I've kept the scans in double page formation for the interior, as I scanned it, as the dual page spreads are generally related.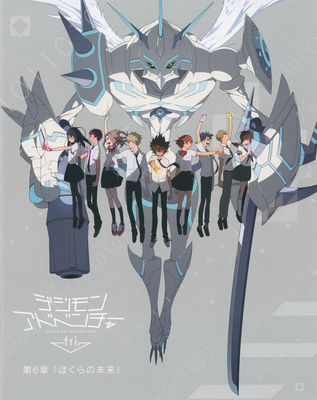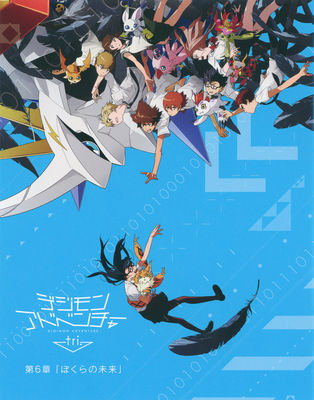 The front uses the second piece of poster art from tri. part 6. The back uses the first piece of poster art.
The first interior pages again uses familiar art.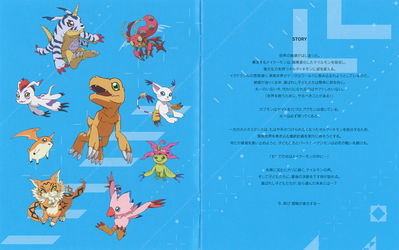 It's the character art for the 9 Digimon! Along with that we get a story overview we've all seen before.
The next 2 page spread is something else we are familiar with!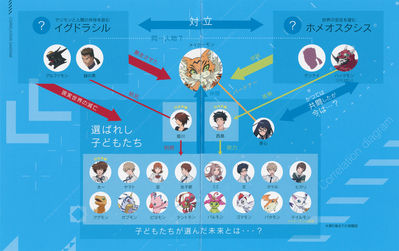 The relationship chart/correlation diagram. This version is updated to where everything stands as Part 6 begins.
Then we get some character and background images!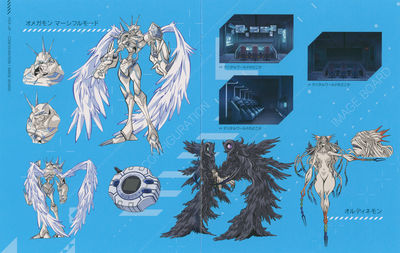 The focus this time is on four things. We get a good look at Omegamon Merciful Mode and Ordinemon. We get a nice clean piece of art of the 'shining' Digivice. And we get a few images of the lab, which they refer to as 'Somewhere in the Digital World.'
Next up is more Digimon.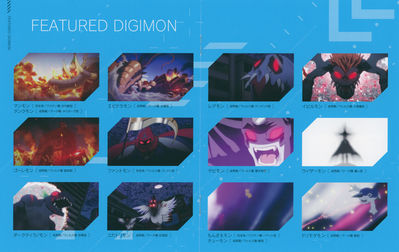 The featured Digimon section shows a number of recognizable Digimon that showed up to various degrees in Part 6.
The bigger booklet also features more storyboards.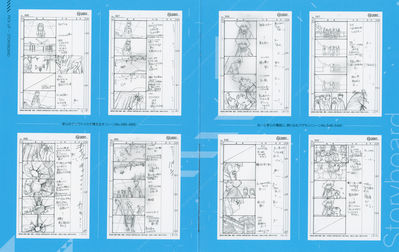 We get two key moments from tri. Part 6.
Scene no. 486-489- Meiko's Digivice begins to shine
Scene no. 546-549- Agumon interrupts Taichi and Meiko's phone call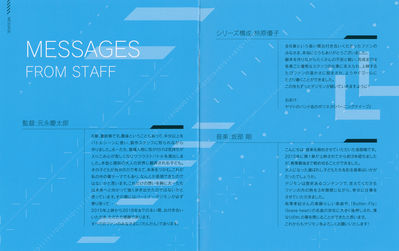 Messages from the staff is the final full section in the booklet!
Director Keitaro Motonaga
Part 6 is the final installment of tri. In part because this was the last part, I used half of the screentime for battle scenes, incurring the wrath of the production staff. You might've noticed, but the final battle was a heart-wrenching one that Taichi and the other characters really poured their feelings into. The children find themselves at the mercy of the adult world, driven by ulterior motives and a public face; these children then start to think for themselves, and grasp their own future. This was one of the background themes I had in mind for the series, and I hope I was able to express it in the movies somehow. I wonder if Taichi and the others will be able to take a confident first step towards their future, while keeping their feelings close to their heart. And of course, their Partner Digimon will be tagging along with them, not far behind...
I am nothing but grateful to everyone for sticking around this whole time, from when tri. started in 2015 up till 2018.
I would like to say "dandan", thank you to all of the fans.
Series Composition and Screenplay Writer Yuuko Kakihara
A heartfelt thank you to all fans who have stuck with us all this way, through all 6 parts.
As we battled the various anxieties that gnawed at us while creating the script, we were supported by an excellent team of staff and cheered on by the warmth of the fans during each part, and now, we have finally reached our goal.
Here's to Digimon continuing forever!
P.S.: One of the scrapped ideas for Yamato's band name was 'Burning Naive'.
Music Composer Go Sakabe
Hello, I am Go Sakabe, the music composer for Digimon Adventure tri. Almost 3 years have passed since the screening of Part 1 back in 2015, but we've all made it to the end.
How did you find the music that accompanied the Chosen Children on their road to adulthood?
Digimon is a franchise with a rich history, so it was a pleasure for me to work on this project and experience the passion of the supportive fans throughout these 3 years.
With the support of Arisawa Takanori-san's wonderful score, as well as the famed 'Butter-Fly' and 'brave heart', I was able to help close the curtains on tri. in my own way.
Please continue to support Digimon in the future too!
To finish with, the bigger booklet ends with some more messages...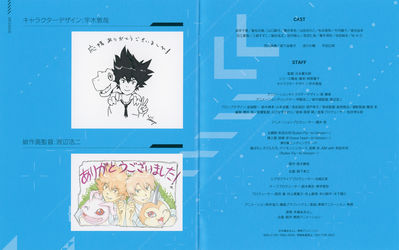 We get two messages in image form, along with the credits on the opposite page.
Character Designer Uki Atsuya (1st drawing)
"Thank you for the support!"
Chief Animation Director Koji Watanabe (2nd drawing)
And that's largely it for tri. Part 6's package. Except the ads, which I'm including here...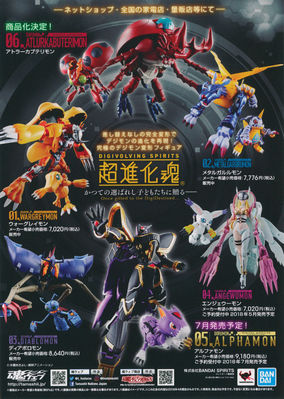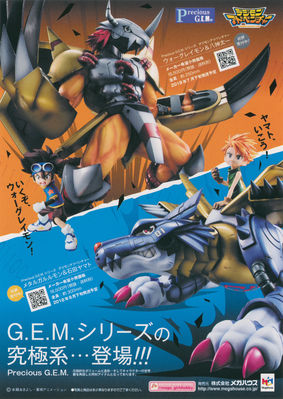 The ads this time focus on figures. The first shows all the Digivolving Spirits with formal release details known to us, while the second shows the Precious GEM figures.
And that's it for the physical... onto the disk contents itself!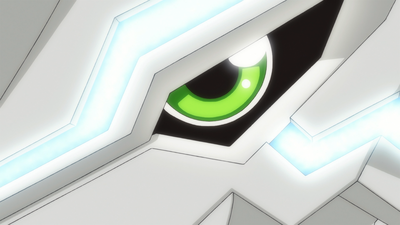 The video is encoded using AVC at an average bitrate of roughly 20 Mbps. Decent bitrate for animated content in general. tri. Part 6 is encoded at 1080p and 24 frames per second. This is the lowest bitrate for tri. thus far, but there doesn't seem to be any obvious negatives to the video quality from the drop.
The audio is a 5.1 PCM track. Good uncompressed 16-bit audio. The audio is generally smooth and crisp and is effectively the same as prior releases.
No subtitles are included, which is expected.
The video quality itself is roughly what we expected. Everything is digital animation, so it looks great. You occasionally get a background or some other detail that isn't aliased that well, but that's par for the course for animated content (although has happened less and less as tri. has gone on.) One thing to note is dark scenes look quite good, which is important as the vast majority of Part 6 is dark scenes. On occasion you will see some very mild banding but it doesn't seem to be much of a problem here (again, something that has seemed to go down as tri. has gone on.)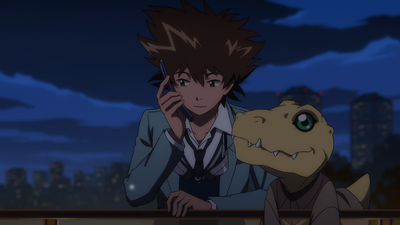 By and large tri. on Blu-ray looks great. There are slightly off frames if you pick and choose, and the occasional stilted bit of animation, which is normal in animation when you pick and choose what to show, but the encode on the Blu-ray itself is relatively pristine.
The menus again impress me (which is expected since it's basically the same menu we've seen before, just themed to tri. Part 6.)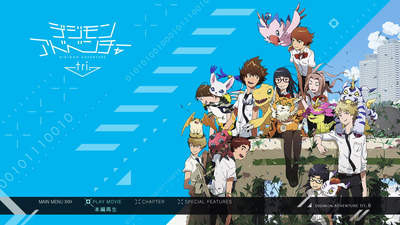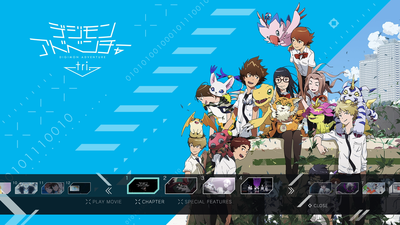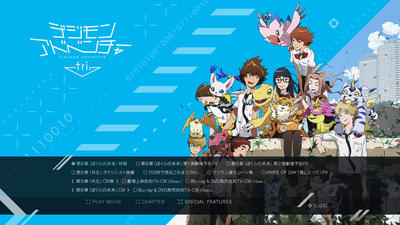 The menu animates in over the coverart with the tri. motif and then becomes a static menu.
The chapter menu shows the first 4 chapters larger, and when you go over to 5, the size switches to have the next 4 larger. This goes back to a 'triple' page system for chapters like Part 3 had, due to the length. The entire menu is very clean and usable, which is how I like my menus.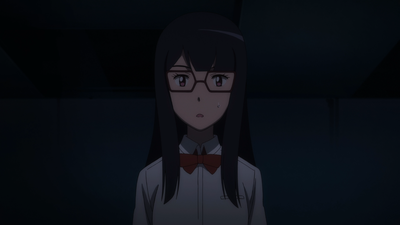 Time for extras!
The initial Part 6 teaser which they refer to as a 'special report', which runs 40 seconds.
Trailer 1 which is a minute long.
Trailer 2 which is 90 seconds long.
The 3 minute long diget version of tri. Part 5.
The 100 second long digest of Parts 1 thru 5 which features the new version of Butter-Fly -tri. version-, which they call 'Last Time on tri. in 100 Seconds.'
The Evolution Compilation videos. These go thru all the evolution sequences from tri. with Brave Heart playing behind them. They can be done as a play all, or you can choose which of the 8 partner Digimon you want to see the evolutions of. It runs for 13 minutes and 45 seconds.
A 1 minute and 40 second music video for Boku ni Totte.
A 30 second TV commercial for tri. Part 5.
A 15 second Blu-ray/DVD commercial for tri. Part 5.
A 15 second Blu-ray/DVD commercial for tri. Part 6.
It's a rather decent collection of extras, along with a few surprises (I didn't expect to see Boku ni Totte here.) There is no clean ED because it's just clips from tri. this time.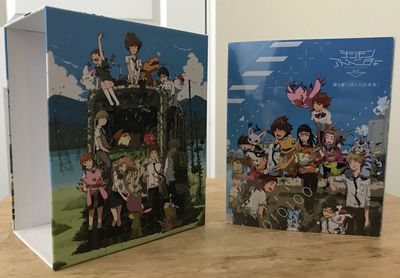 Overall tri. Part 6 got a package on par with prior releases that feels like a nice way to close out the series. The initial package, as mentioned above, comes in a digipak, but after the initial printings it will move over to a normal Blu-ray case, same as with parts 1 thru 5.
tri. got a pretty nice home video release in Japan, and the releases elsewhere appear to be just as good, just with a few less extras. The US release of Part 6 is likely just half a year away.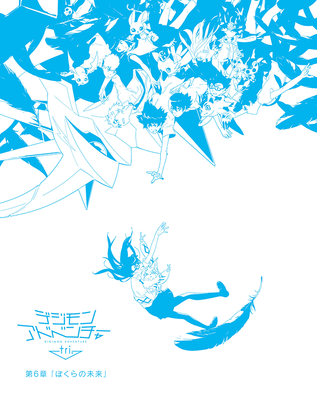 Part 6 did receive a theater release BD when it was in theaters. The disk contents themselves are the same, the only difference is in packaging and a different label on the disk.
The DVD release should be the same for physical (with slight change in packaging for DVD instead of Blu-ray.) On disk content should be effectively the same, but in 480 compressed with MPEG2 instead of 1080 compressed with AVC for video, and Dolby Digital compression for the audio instead of uncompressed PCM.
Screencaps were taken largely at random while jumping around (although if I knew a moment was coming up I wanted a cap of, I'd wait or take extras.)
Various additional screen captures are in our gallery.
The scans can all be found in the gallery.
The scans are very small compared to the master scans I did (the work and backup folder structure for the scans and screencaps was over 28 gigs.) I will try and make wallpapers if people are interested. If you want to see a specific screencap of something give me a rough timecode if you can.
If you have any questions about the release feel free to ask.
We hope to add a few more translations shortly.
Digimon Adventure tri. Part 6 is still available to order (Affiliate links.)
Digimon Adventure tri. Part 6 DVD
Digimon Adventure tri. Part 6 Blu-ray
Lots of Digimon stuff is coming out soon and supporting us via our
Patreon
or
donations
would be greatly appreciated so that we can do more breakdowns and improve the site. Feel free to join us in the
Discord
if you want to chat about the Blu-ray or tri.
More things to come!
Images are hosted on our gallery
and embedded on the forum, so let us know if anything is acting up.
Thanks to garm for some translated details.
And we have week one sales. The sales chart for this period is May 28th through June 3rd. Digimon Adventure tri. Part 6 came out on June 2nd.
The Blu-ray version sold 4,833 copies and came in 7th place on the Animation Blu-ray chart.
The DVD version sold 1,537 copies and come in 4th place on the Animation DVD chart.
For comparison purposes:
Digimon Adventure tri. Part 1 sold 6,074 on Blu-ray and 1,748 on DVD in it's initial week. It's chart position was 5th for BD and 10th for DVD.
Digimon Adventure tri. Part 2 sold 9,602 on Blu-ray and 2,804 on DVD in it's initial week. It's chart position was 2nd for BD and 3rd for DVD.
Digimon Adventure tri. Part 3 sold 9,061 on Blu-ray and 2,461 on DVD in it's initial week. It's chart position was 1st for BD and 2nd for DVD.
Digimon Adventure tri. Part 4 sold 7,780 on Blu-ray and 2,599 on DVD in it's initial week. It's chart position was 2nd for BD and 3rd for DVD.
Digimon Adventure tri. Part 5 sold 5,442 on Blu-ray and 1,863 on DVD in it's initial week. It's chart position was 3rd for BD and 2nd for DVD.
This was a rather large release week notable releases that came out at the same time as tri. Part 6. Notable releases that came out the same week that tri. Part 6 sold more than are: Darling in the Franxx Volume 2, Cardcaptor Sakura Clear Card Volume 2, Devilman Crybaby Complete, and the Japanese release of Kubo and the Two Strings.
Week 1 sales for tri. Part 6 are down compared to prior volumes and appears to have scaled about how you would expect with the standard malaise that goes on as a series continues (or more people buying from Amazon to get the box, since it seemed to be a very popular extra, but I tend to assume malaise.)
Overall the home video release for tri. hasn't had much in the way of oddities, except perhaps that it's actually selling well. New, non-legacy, releases for Toei tend to be very toyetic and tend to not sell much in the way of home video releases for ongoing content (both DB Super and One Piece tend to be far under 1,000 copies per volume for example), making most of their money off heavy merchandising.
Thanks to
ANN
and
SomeAnithing
for the numbers.
Update- Thanks to
ANN
we have week 2 sales.
The Blu-ray version sold 819 copies and came in 6th place on the Animation Blu-ray chart.
The DVD version sold 396 copies and come in 9th place on the Animation DVD chart.
The Blu-ray actually went up in rank for it's second week, despite the top 3 all being new releases.
Update- Thanks to
ANN
we have week 3 sales.
The Blu-ray version sold 342 copies and came in 15th place on the Animation Blu-ray chart.
The DVD version sold 180 copies and come in 25th place on the Animation DVD chart.