Show User Social Media
Hide User Social Media
Joined

Sep 8, 2006
Messages

16,108
The tri. setup at the Wald 9 is coming together!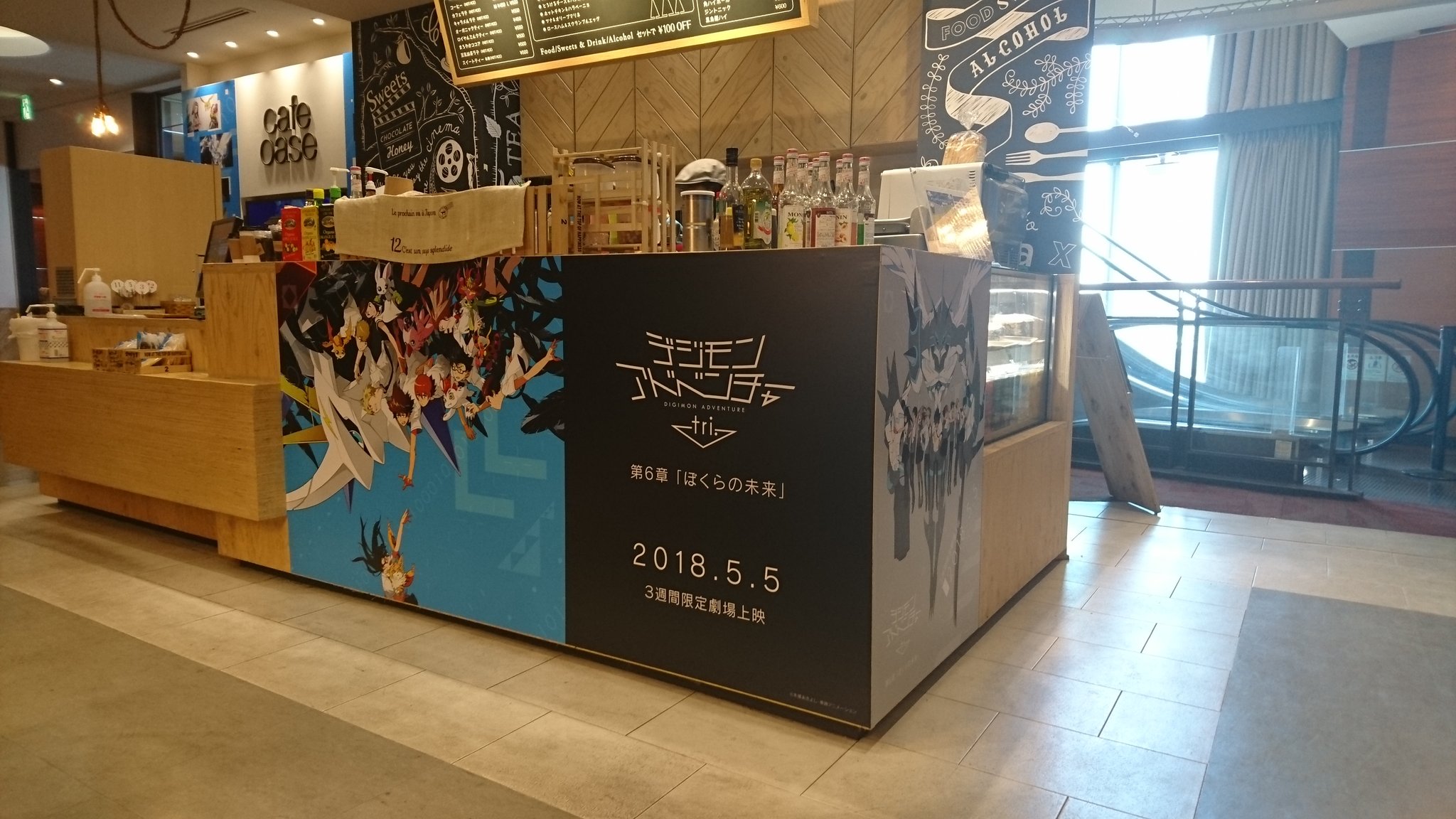 The main elements of the setup at the Wald 9 are things on display at the theater and yet another tri. cafe!
The Cafe Oase at the Shinjuku Wald 9 has been taken over by Digimon Adventure tri. for the release of Part 6! (they jokingly refer to it as a hijacking.)
There is a custom menu, some bonus items for Digimon fans, along with Digimon products on display nearby in the theater.
There is a number of fantastic bits of tri. themeing all over the cafe!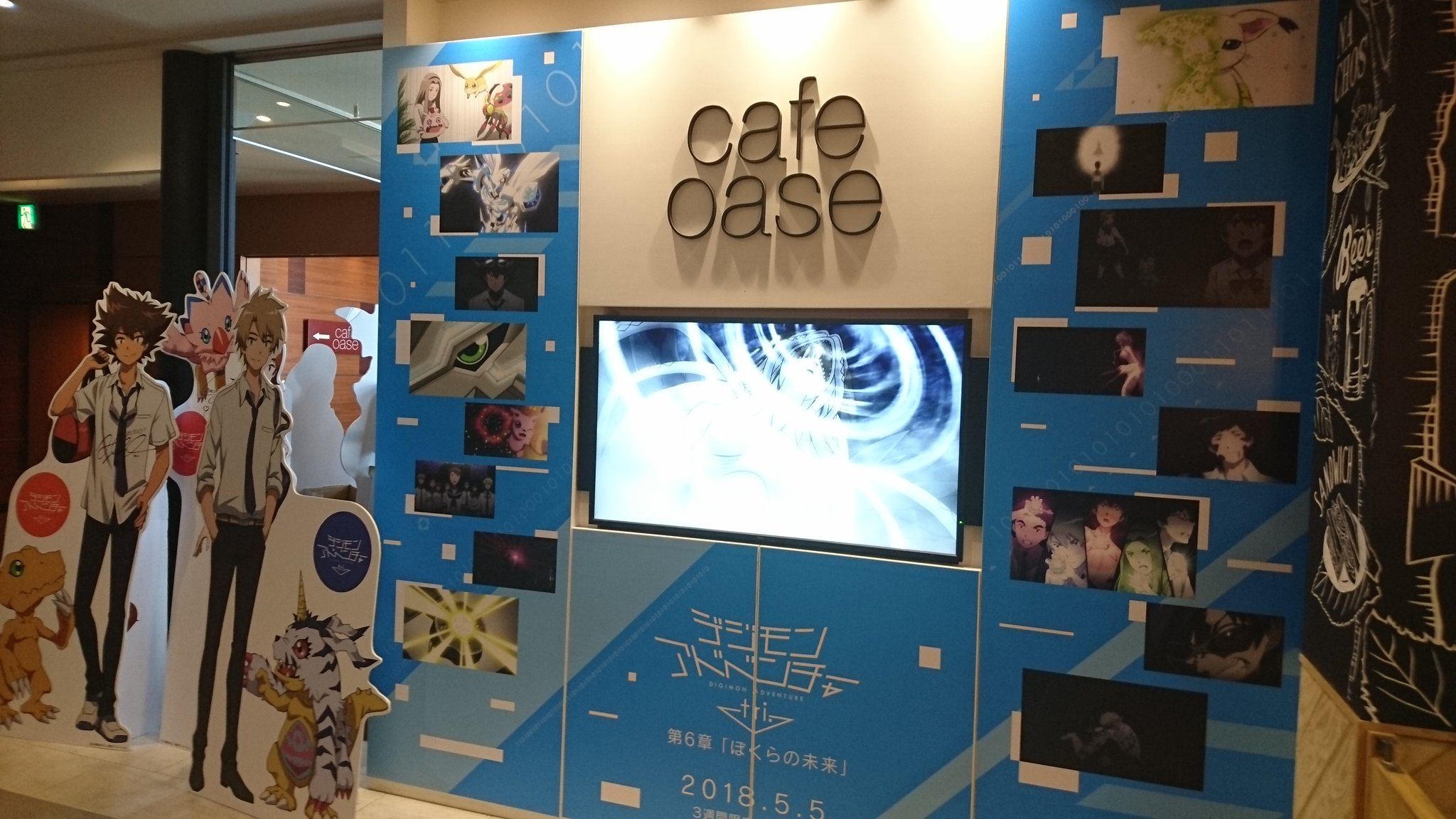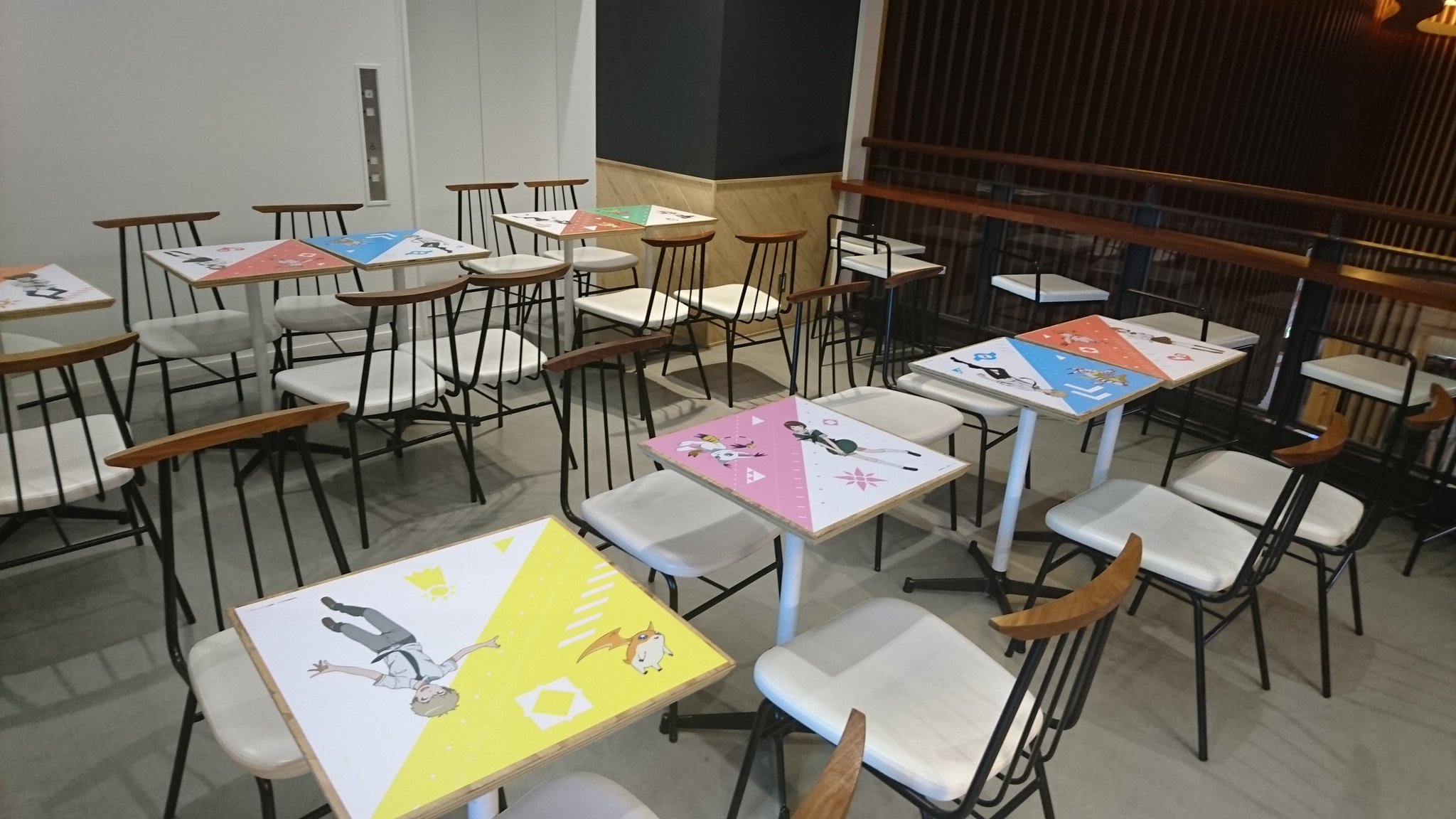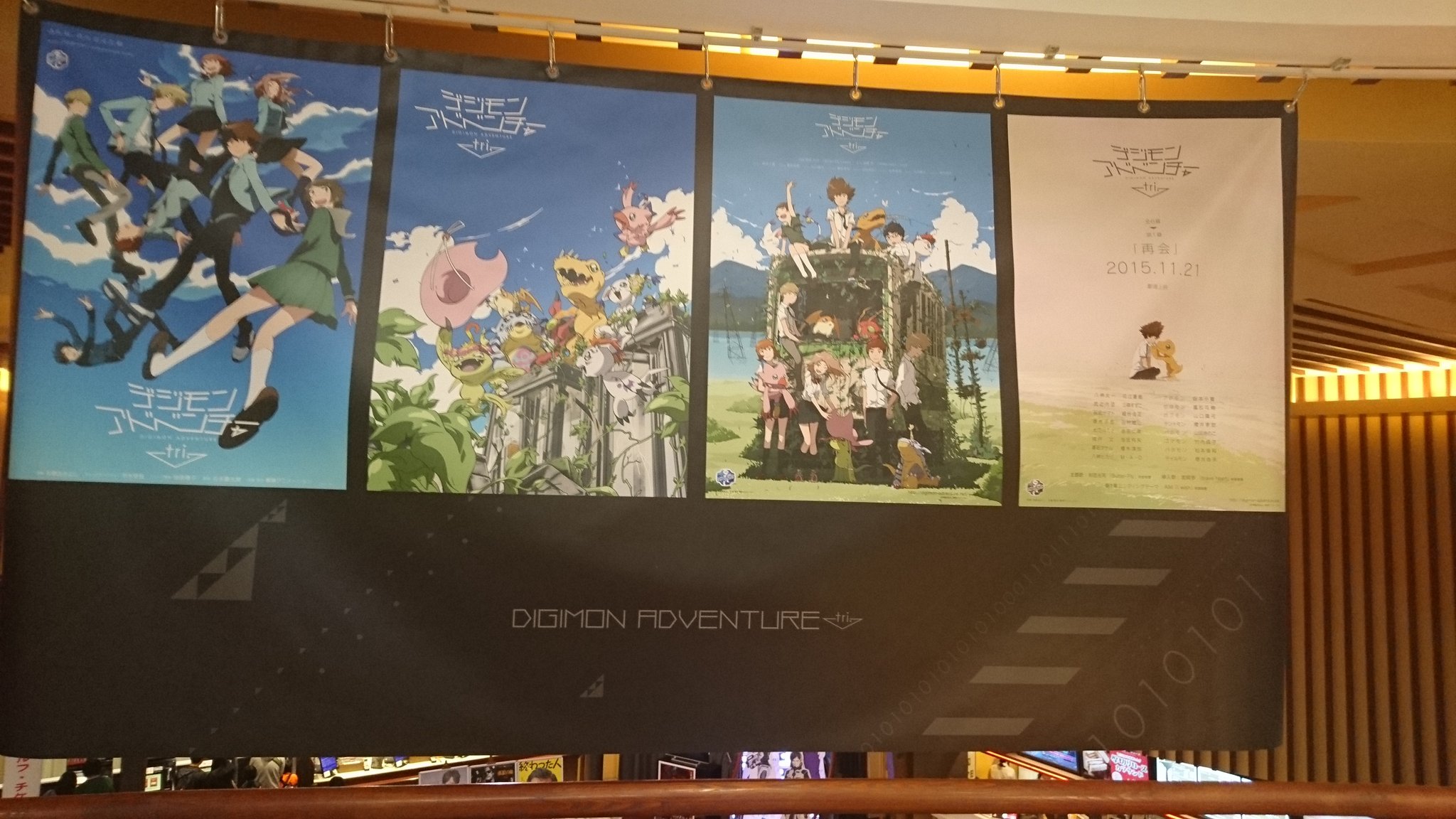 They have a video and image display, along with standees for photos!
Tables have had tri. artwork added to them, which is a small but fun touch!
And if you stand in the Wald 9 lobby and look up, tri. Part 6 banners! The other side of these have even more tri. images for those at the cafe!
Time for the menu! It is available now thru May 24th!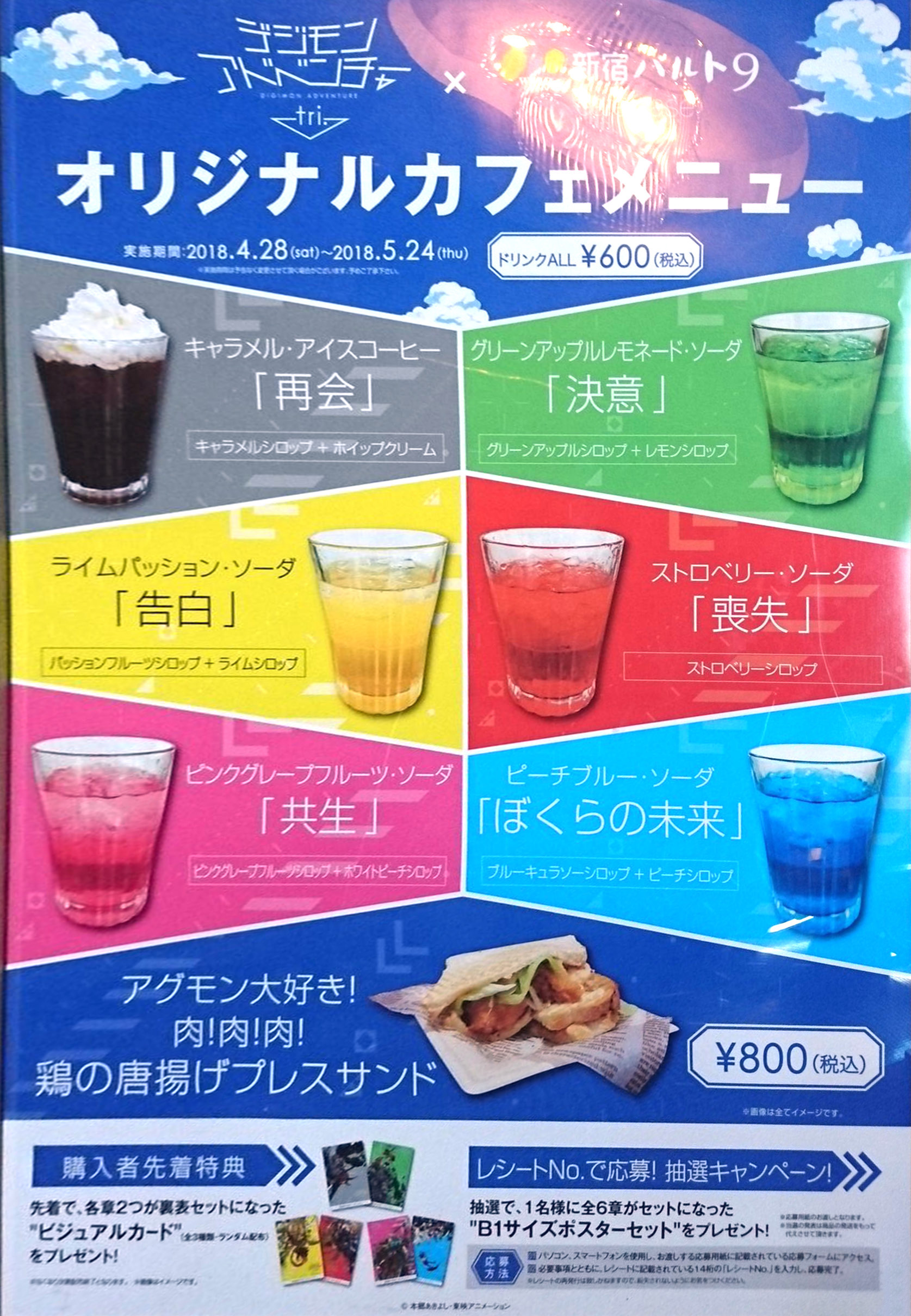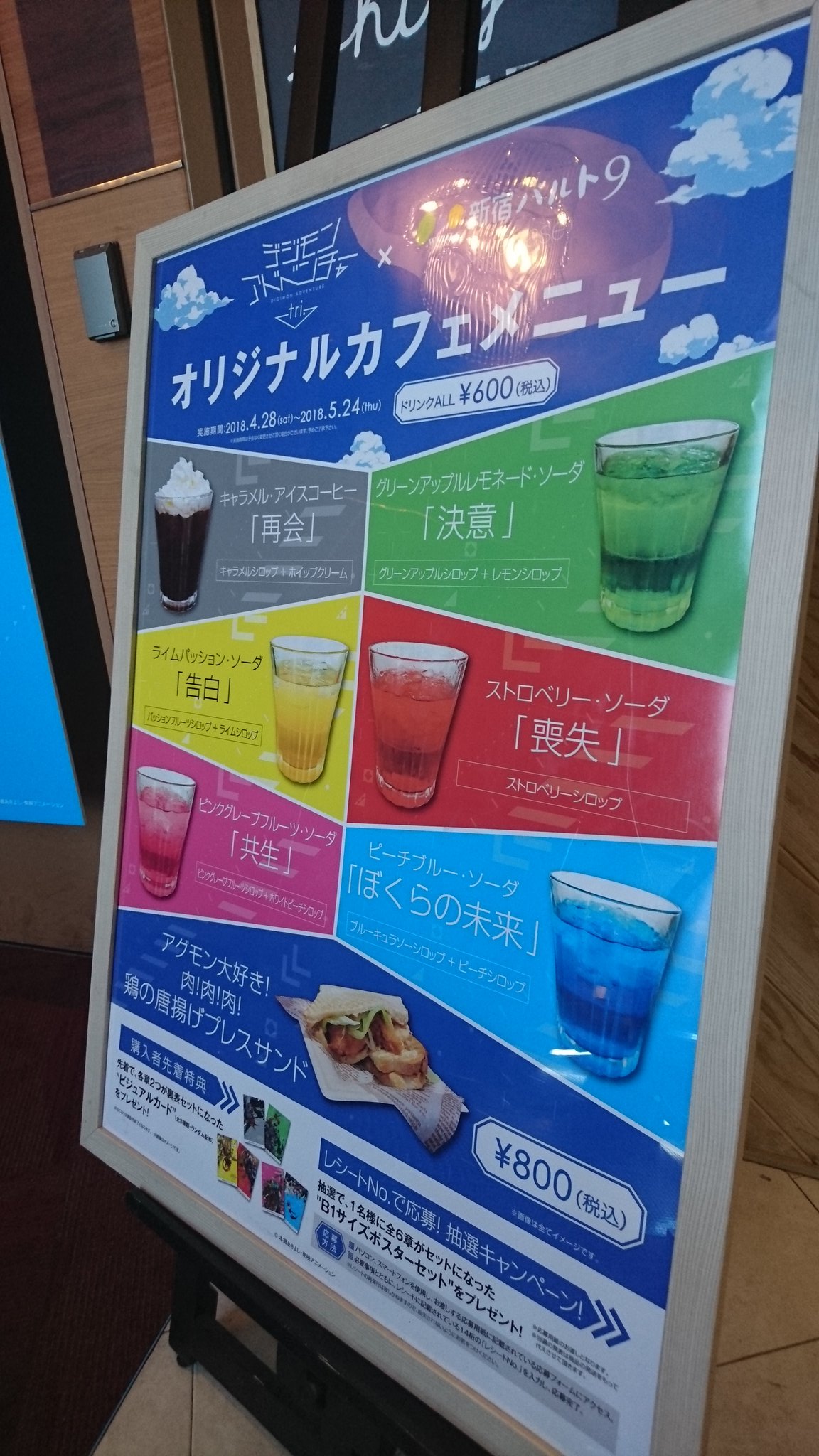 We've gone ahead and edited the photo of the menu board to make it easier to see, but are including the original photo also.
Each drink on the menu is 600 yen and themed after each part of tri.
Reunion Caramel Iced Coffee- Iced coffee with caramel syrup and whipped cream.
Determination Green Apple Lemonade Soda- Green apple syrup and lime syrup are mixed with soda water. (None of the sodas mention the soda base used, for the sake of simplicity we are assuming it's plain soda water.)
Confession Lime Passion Soda- Passion fruit syrup and lime syrup are mixed with soda water.
Loss Strawberry Soda- Strawberry syrip is mixed with soda water.
Coexistence Pink Grapefruit Soda- Pink grapefruit syrup an white peach syrup is mixed with soda water.
Our Future Peach Blue Soda- Blue curacao syrup and peach syrup are mixed with soda water.
And for 800 yen there is one food item...
Agumon's Favorite! Meat! Meat! Meat! Chicken Karaage Pressed Sandwich- A fried chicken sandwich.
And as for some bonus items...
Those who show up early will get a double sided tri. visual card. Each features two poster images from Digimon Adventure tri. The 3 cards will be given out at random and once they are gone, they are gone.
Plus, if you go to the tri. themed cafe at the Wald 9 and register your receipt online, you have a chance at winning a set of 6 B6 size (5.0 x 7.2 inches) tri. theatrical posters!
And last but not least, various products are on display at the theater itself!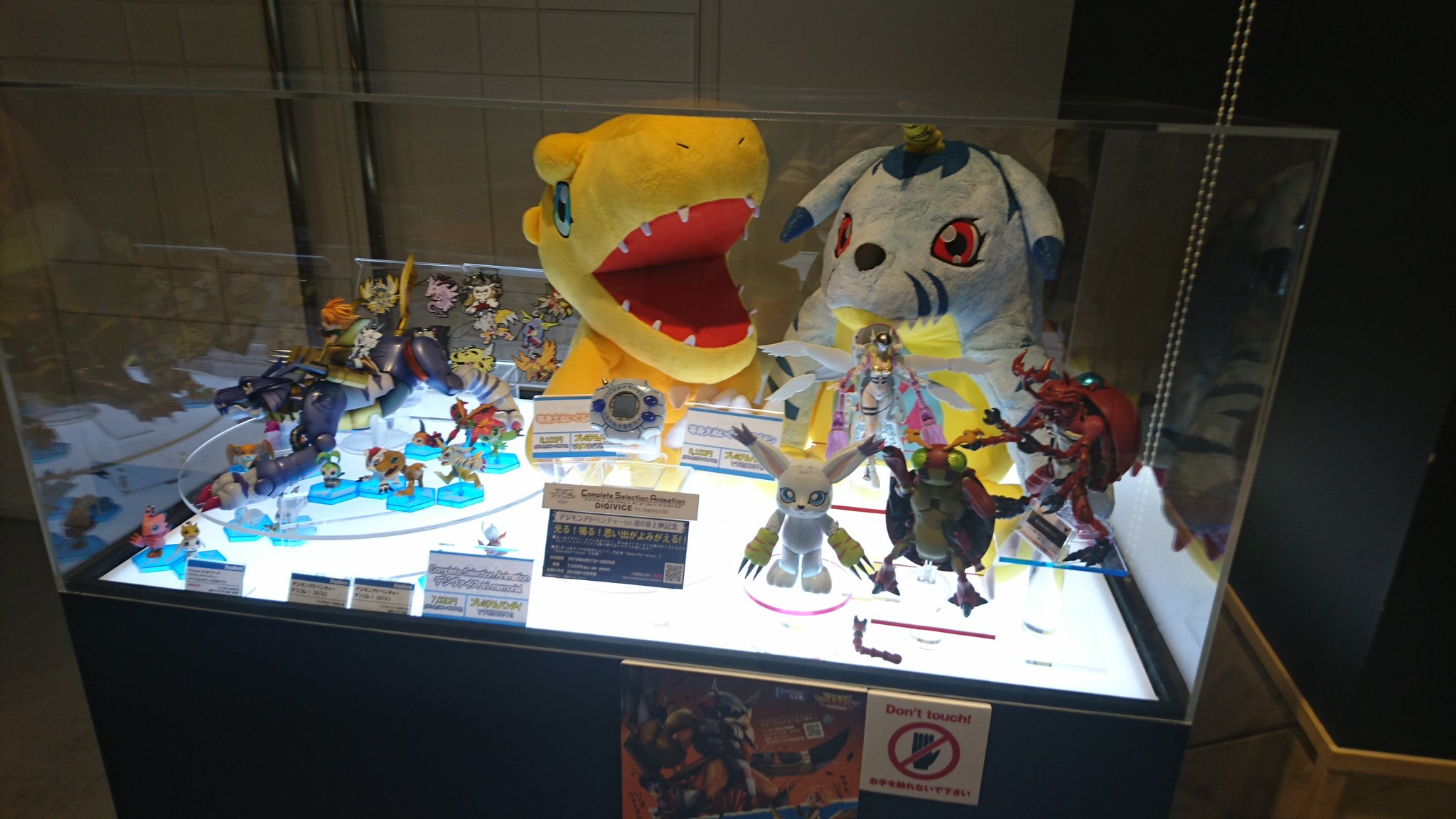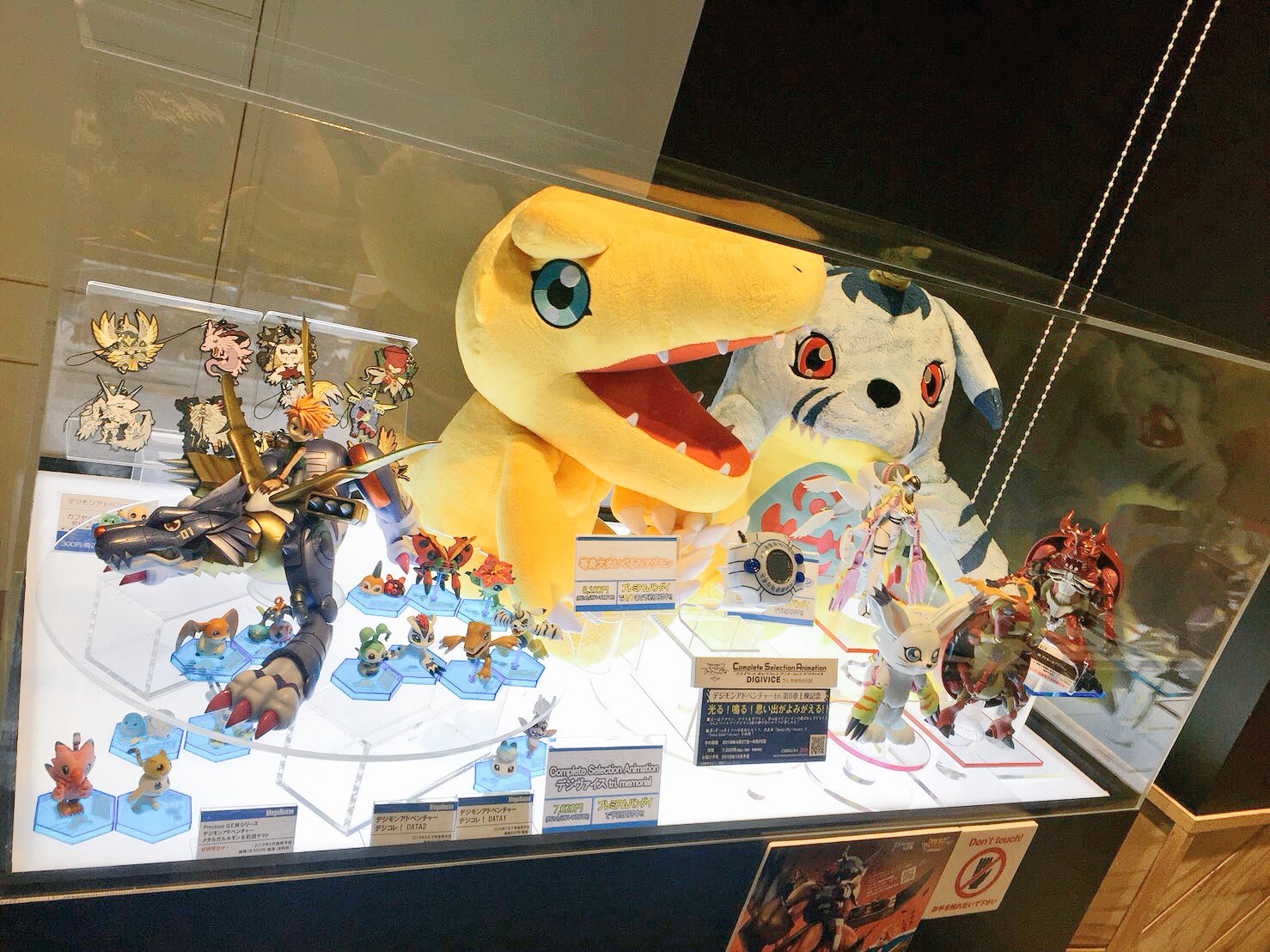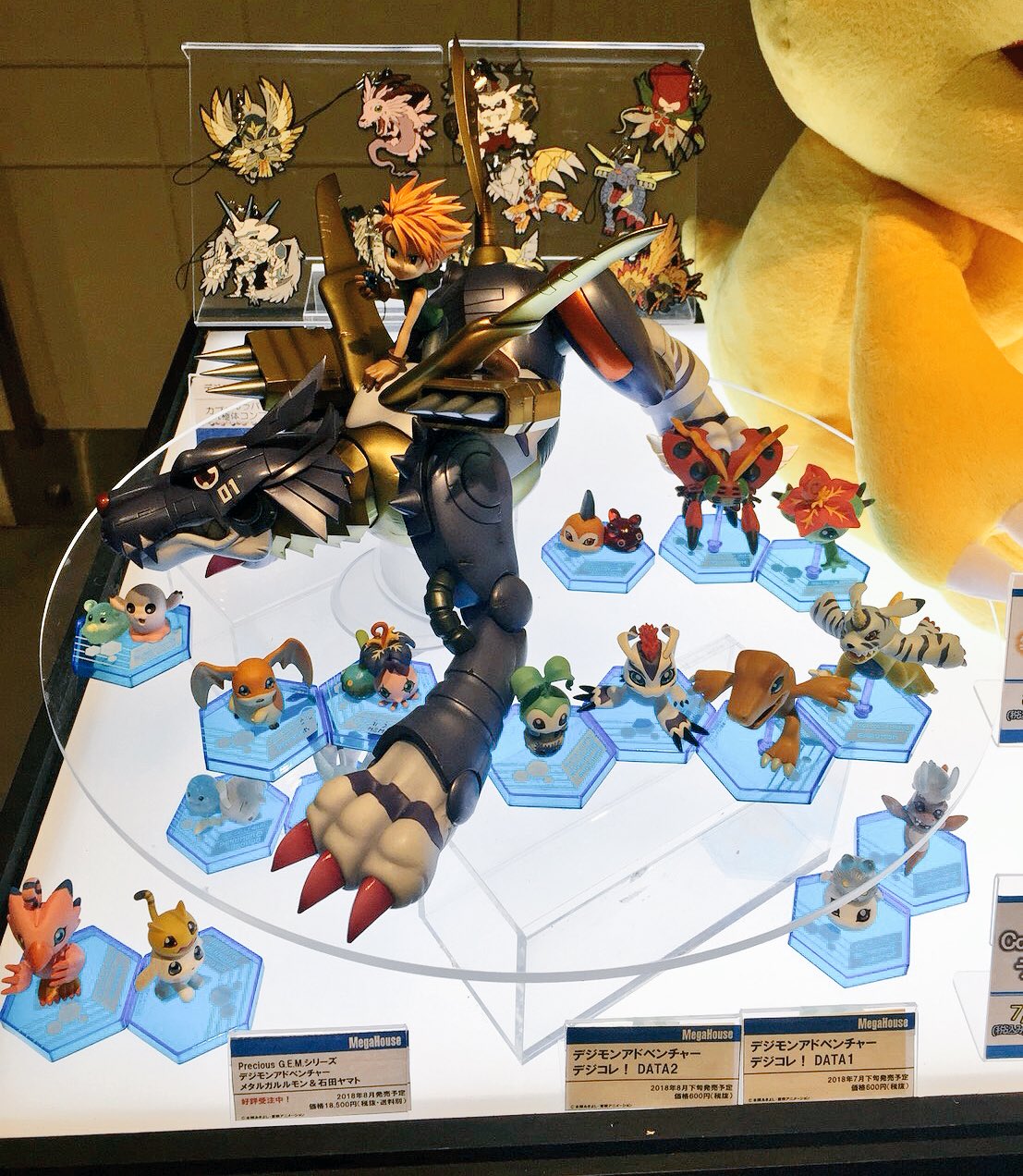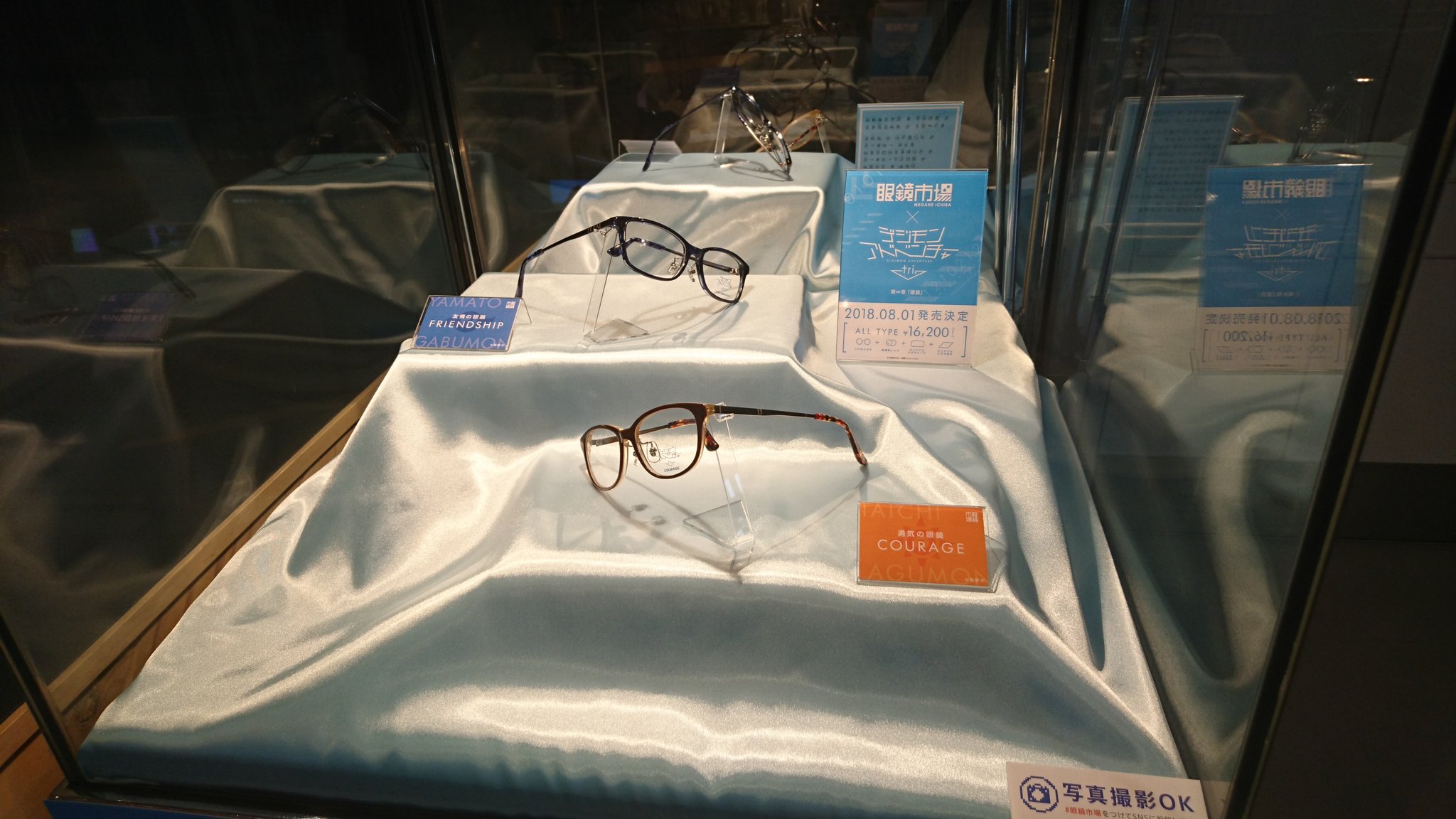 Various products are on display at the moment including: Precious GEM figures, DigiColle figures, the new keychains,
both upcoming lifesize plushes
,
Digivolving Spirits figures
, the upcoming
CSA Digivice tri. Memorial
, and the just announced
Digimon Adventure tri. glasses
!
Overall it's a fantastic goodbye to tri. from what has been the home base of the theater (and the home of many of the special event screenings.)
We can only wonder if they will somehow add even more before tri. Part 6 starts!