Show User Social Media
Hide User Social Media
Joined

Sep 8, 2006
Messages

16,108
Some details and better images!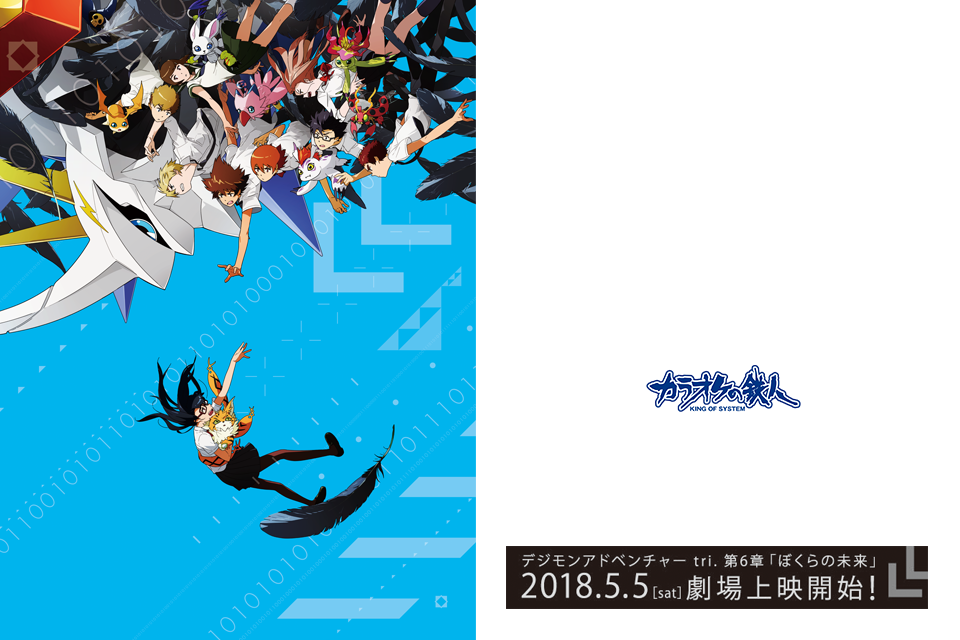 The newest tri. Karaoke collaboration was
announced a couple weeks ago
without much in the way of details.
After a reasonably short wait they've announced quite a bit though!
The newest
Digimon Adventure tri. and King of System event
will run between May 1st and August 5th!
It will take place at the following King of System shops:
Ikebukuro Higashiguchi Sunshine Street
Ikebukuro Higashiguchi
Shinjuku Kabuki-cho
Shinjuku O-guard
Shibuya Dogenzaka
Machida
Sakuragi-cho
Kawasaki Ginryugai
Time for all the special things they've announced for the collaboration!

The Shinjuku Kabuki-cho shop will have a collaboration room for the event for up to 8 people. Reservations will be taken.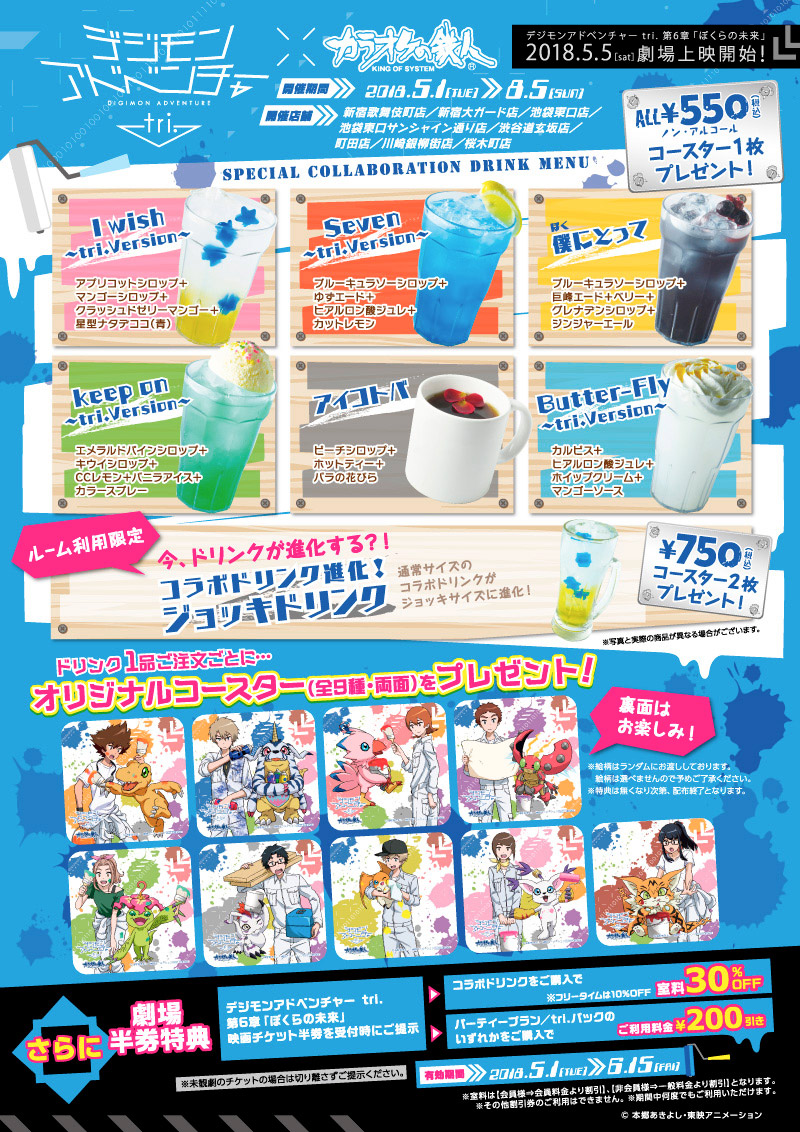 Drinks themed after the EDs for Digimon Adventure tri. will be available at all 8 shops. Each drink costs 550 yen, and larger versions can be ordered for 750 yen if you are in any karaoke room (they refer to these as 'jug size', they can't be done takeout like the normal size drinks.) Any drinks are non-alcoholic. You get one coaster with the normal size and two with the jug. Coasters come at random.
I Wish tri. Version- Apricot syrup, mango syrup and crushed mango jelly sit at the bottom of a glass of unnamed soda (likely soda water or a citrus soda.) Blue star shaped nata de coco are added to the drink for color.
Seven tri. Version- Blue curacao syrup, yuzu-ade and hyaluronic acid jelly (a flavored jelly, normally peach, pear, or mango, that apparently is a health food for the skin) are mixed for a delightfully blue drink. The drink base is currently unknown. A cut lemon is added for garnish.
Boku ni Totte- Ginger ale is mixed with blue curacao syrup, kyoho grape-ade, grenadine syrup, and topped with berries.
Keep On tri. version- Emerald pineapple syrup and kiwi syrup are mixed with CC Lemon (we aren't sure if it's CC Lemon mixed with each syrup separately and layered, or if it's all mixed into one and some of the syrup is just separating to the bottom.) It's topped with vanilla ice cream and rainbow sprinkles.
Aikotoba- Peach syrup in a hot cup of tea, topped with rose petals.
Butter-Fly tri. version- Calplis is mixed with hyaluronic acid jelly and topped with whipped cream and mango sauce.
The page also goes over perks for those who see tri. Part 6...
From 5/1 to 6/15 if you show your tri. Part 6 ticket stub while ordering you get:
30% off a karaoke room price (10% of free time) when ordering the driniks.
200 yen off a party plan or tri. pack.
These discounts can apply as many times as you like during the promotion, and will be added to member pricing also.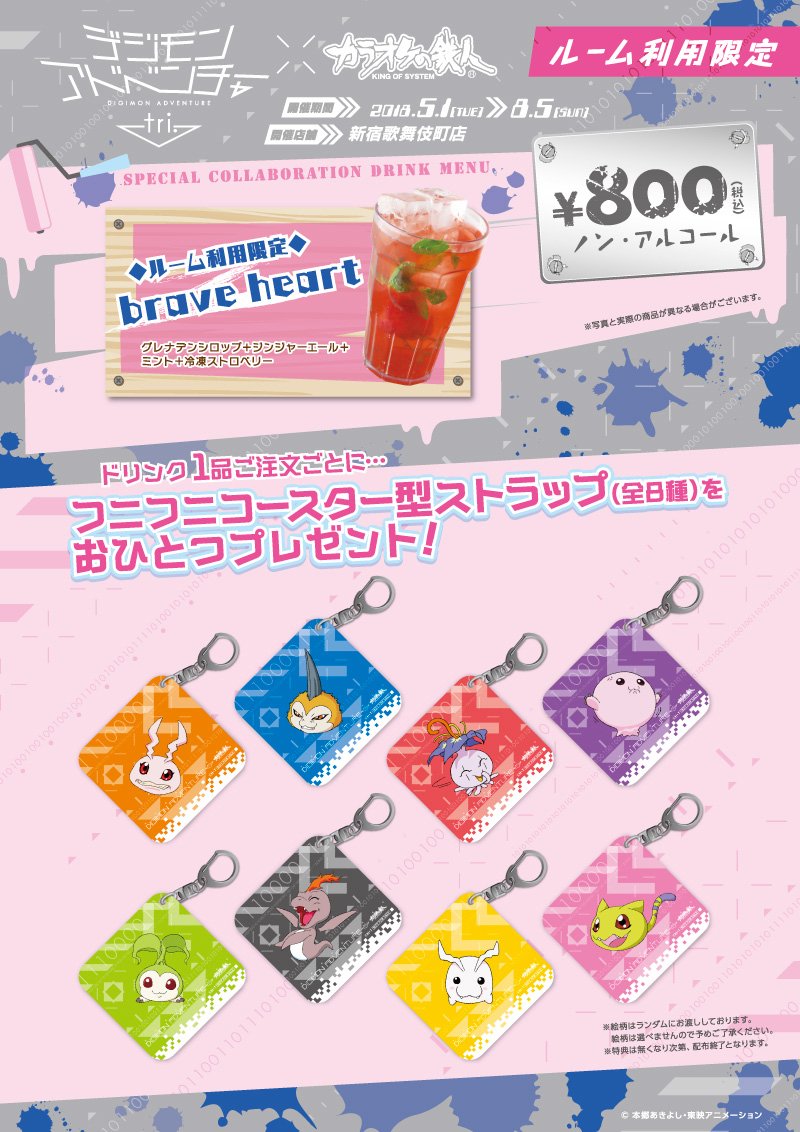 The Shinjuku Kabuki-cho store will have an additional drink for those using their tri. collaboration room.
Brave Heart- Grenadine syrup is mixed with ginger ale. Frozen strawberries are added to the drink, and mint is added as garnish.
The drink costs 800 yen, and for each drink ordered you get one soft coaster-type keychain at random.
A party set available at the Shinjuku Kabuki-cho and Shinjuku O-guard shops in the month of May.
The tri. 'Ending Commemoration Party Plan' includes...
The Meat Festival Set:
Stinco (Pork shanks) and garlic rice moriawase.
Garnished Turkey Leg (smoked turkey and spicy potato fries.)
Milano Salami from Italy (with caesar salad, spicy popcorn, and the dessert of the day.)
A canvas panel that features a comment from Taichi and Agumon (the same one on sale normally.)
A tri. Part 6 themed shopping bag.
A full set of the coasters.
The party set has to be ordered for everyone in the room and reserved at least 3 days in advance, for at least 4 people.
If you reserve the karaoke room the party plan is 4,000 yen per person. An extra 500 yen for 'free flowing' soft drinks or 1,000 yen for 'free flowing' alcoholic drinks (per person.)
A less fancy pack set available at the Shinjuku Kabuki-cho, Shinjuku O-guard, Ikebukuro Higashiguchi Sunshine Street, and Ikebukuro Higashiguchi shops.
It includes:
an A3 size poster with the same design as the canvas panel (and no Taichi and Agumon comments.)
a Memorial Illustration Book
the tri. part 6 themed shopping bag.
1 collaboration drink with coaster.
If you book a karaoke room for 120 minutes this pack is 1,980 yen on weekdays and 2,480 yen on weekends per person, and each person in the room must order the plan.
This plan isn't eligible for discounts.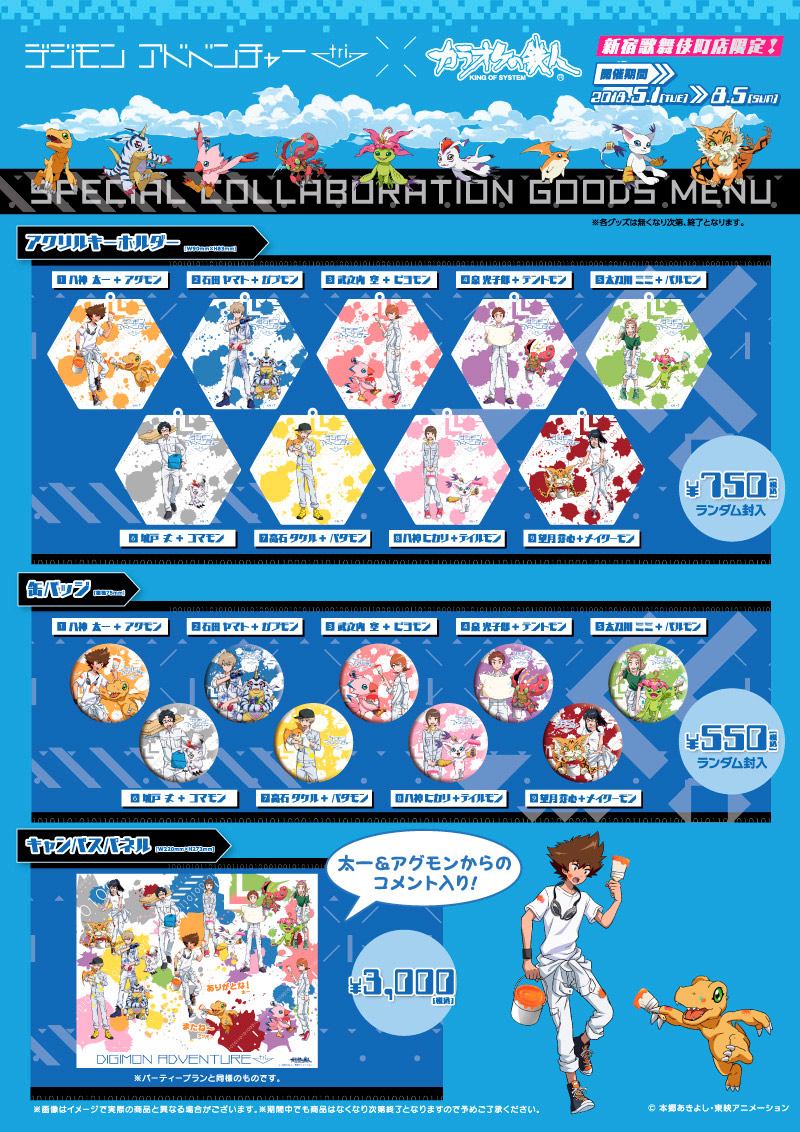 The goods are actually the one thing they showed us when they announced the tri. Part 6 event at King of System.
Acrylic keychains for 750 yen each, random packed.
Can badges for 550 yen each.
A canvas panel for 3,000 yen. It measures roughly 8.7 x 10.7 inches. This is the same panel from the party pack.
Some great looking stuff for this newest collaboration.
Update- Details have been cleaned up thanks to garm and onkei.