Show User Social Media
Hide User Social Media
Joined

Sep 8, 2006
Messages

13,484
Yay, the new trailer for Digimon Adventure tri. part 3, along with a bunch more tri. 3 info.
It's over at FBR since Toei region locked it if the embed doesn't work.
It's a good looking trailer.
We get to see lots of stuff I think people are looking forward to...
Update- Translation courtesy of
onkei
.
TAICHI: "If we wait…"
TAICHI: "If we wait to do something 'someday,' we'll end up grown adults before we even know it."


DIGIMON ADVENTURE TRI, Chapter 3, "Confession"


PATAMON: "Hey, Takeru. I'm infected, right?"
SORA: "We and our Digimon partners are special. We're always connected to each other. That's what I believe."
NISHIJIMA: "Why did you keep it a secret even from me?! Am I that unreliable to you?"
HIMEKAWA: "It's better off for some things to be kept secret."
KOUSHIRO: "The infection could be spreading while we're wasting time like this! This is no time to be caught up in trivial things!"
MIMI: "Trivial?! WHAT?!"
YAMATO: "Are we all going to change? Is it all just going to end up being nothing but a fond memory?"
TAKERU: "I don't care about whose fault it is, or who's to blame. I care about what we should do from here. And what we should do is…"
MEI: "Mei-chan! I'm right here! Here! Can you hear me?"
HIMEKAWA: "It's probably the Reboot."
SORA: "Reboot?"
ATLURKABUTERIMON: "I won't let you through! I will never let you through!"
JOU: "Friends up against each other… How is this possible?"
TENTOMON: "Koushiro-han… Goodbye!"
KOUSHIRO: "Tentomon!"
And we also have the cover. (Update- Replaced the cover with an identical resolution, but much cleaner copy.)
And some information about the release.
As with prior tri. disks, DVD is 7,000 yen and Blu-ray is 8,000 yen.
A liner notes booklet will be included once again also.
On disk extras are listed as clean OP and ED for part 3, and a commercial collection for part 2.
First printing will include the slip-cover/digipak combo like part 1 and 2. It will also include an additional booklet. Printings after the first will not have the extra booklet, and will be in normal DVD and Blu-ray cases.
The Amazon Exclusive version will once again be the first printing plus a B2 sized cloth poster (about 20 x 27 inches.)
Pre-Order Links for tri. part 3 (Normal editions are CDJapan affiliate links, Amazon Editions are not.)
tri. Part 3 DVD
tri. Part 3 DVD Amazon Exclusive version
tri. Part 3 BD
tri. Part 3 BD Amazon Exclusive version
The Toei store has also announced (for those in Japan) that if you order from them, they will enter you in a lottery to win the tri. part 3 poster (B2 size) with the 9 actors who play the kids in tri.
Update- Product layout images are available. Tracked down high res for the Blu-ray. DVD is low-res and courtesy of our friend
WTK
.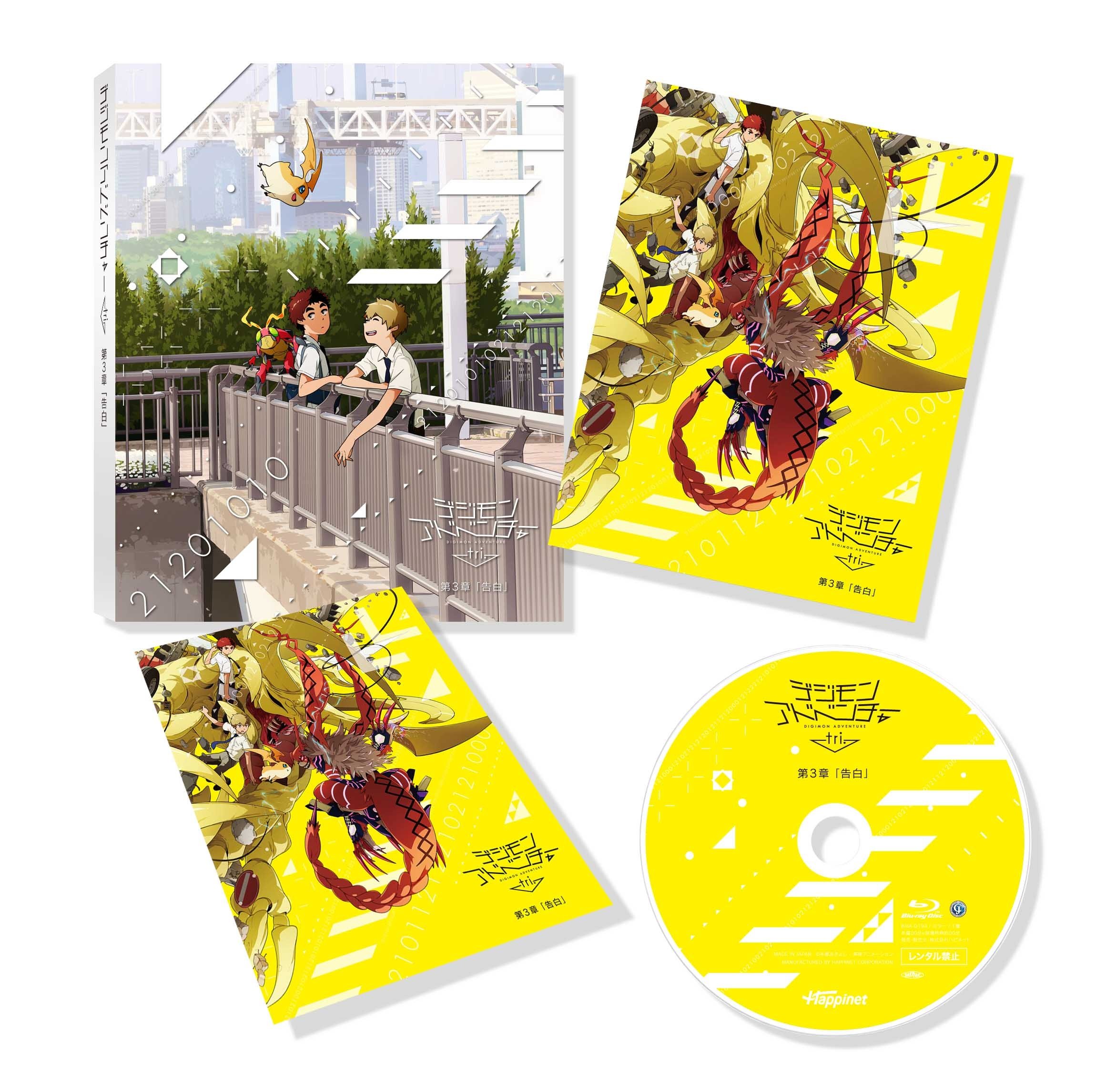 And back to the trailer for some of what we see for people who can't stream where they are, and for me to make some minor comments.
Hackmon appears to do... something, anything.
We get to see MetalGreymon do some battling (against... a pink/purple Birdramon? Infected maybe?)
Tentomon evolves.
Angewomon finally shows up!
Koushiro and Mimi have an argument.
The kids going to the digital world.
It appears 3 may be the part of tri. where everything kids into a higher gear.
And Mimi has short shorts.
To make things easy, let's pop all the different tri. 3 conversation from other threads here.
Some prior threads:
New tri. Part 3 Commercial
First tri. part 3 Preview Screenings on August 19th
tri. part 3 Story Summary Released