Show User Social Media
Hide User Social Media
Joined

Sep 8, 2006
Messages

16,112
Bit of a delay for various reasons, but time for tri. part 2 scans, breakdown, and other various bits of info.
Where things would be identical, bits of text will be taken from the
article for part 1
.
Lots of scanning and editing on this one.
Gotta thank the people who donated. Hopefully we can do this again for the various upcoming CDs and Blu-rays.
As normal, I won't be reviewing the show itself, just going over the actual Blu-ray release itself.
Any screencaps from the Blu-ray are lossless PNGs. I will embed a small amount as samples, the rest will be a gallery to off-site storage. Warning for those on metered internet connections.
The JPGs themselves of the scans I'll embed.
Scanning was done as high quality as I could do. I explained my workflow in my personal thread
over here
. Total time I sort of lost track of, but it was a decent chunk of time. Some of these had quite a bit less cleanup than I normally do for various reasons. If necessary I might go back and do more editing later.
First up will be all the physical stuff. Everything included with the Blu-ray was scanned minus two things, which will be mentioned as I get to them.
We start with.... an obi card!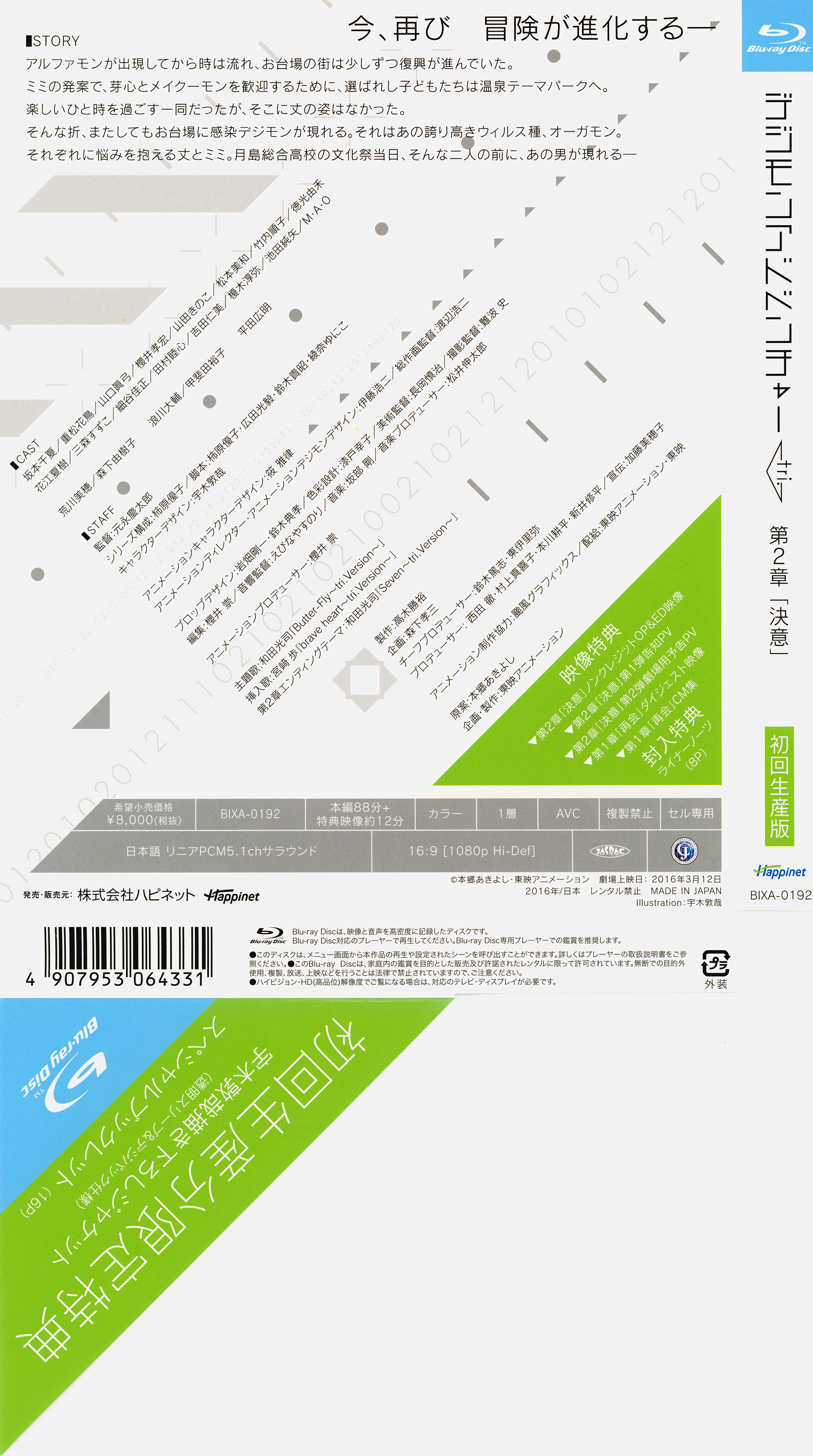 This is an interesting obi card as it completely covers 3 sides, and partially covers a 4th. The back of the case itself has no information on the product, so it's left to the obi card to contain all of this relevant information. It also means with the obi removed, the product is completely clean of most legal and technical information.
The packaging for the Blu-ray itself is a cardboard digipak. The digipak is slightly thicker than you'd expect. The disk tray is plastic and raised far more than you'd normally see for a digipak. There is no obvious reason for this to be done this way. The cardboard is actually slightly wider than the plastic tray (likely to take into account the booklets and ads included.)
The front and back cover for the Blu-ray are very nice and clean.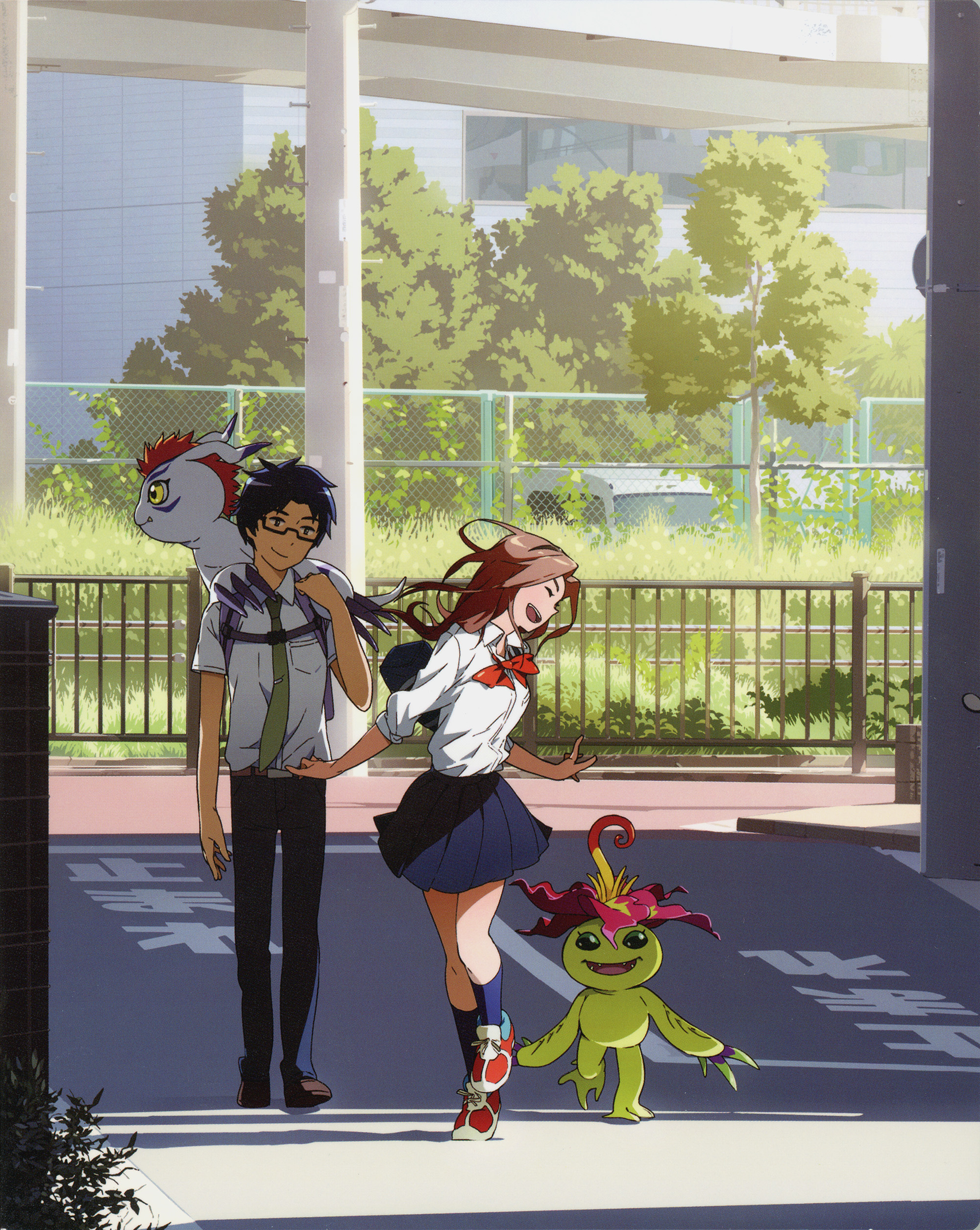 The front cover is a great image of Mimi, Palmon, Jou, and Gomamon. I would like to know what is so interesting that Gomamon is looking completely awar from everyone else though...
The back cover is clean and with the tri. style digital motif (for lack of a better term) imagery in a subtle gray. This time I didn't scan the spine. The spine is simply basic black text of the title, but for the tri. text itself they kept it as it appears in the logo (it's effectively identical to the spine from part 1, just with the changes to part 2.
The Blu-ray comes with a slipcover (in an o-card shape) that is made out of clear plastic with the tri. style digital motif imagery on it to add to the cover. The logo is also on the slipcover.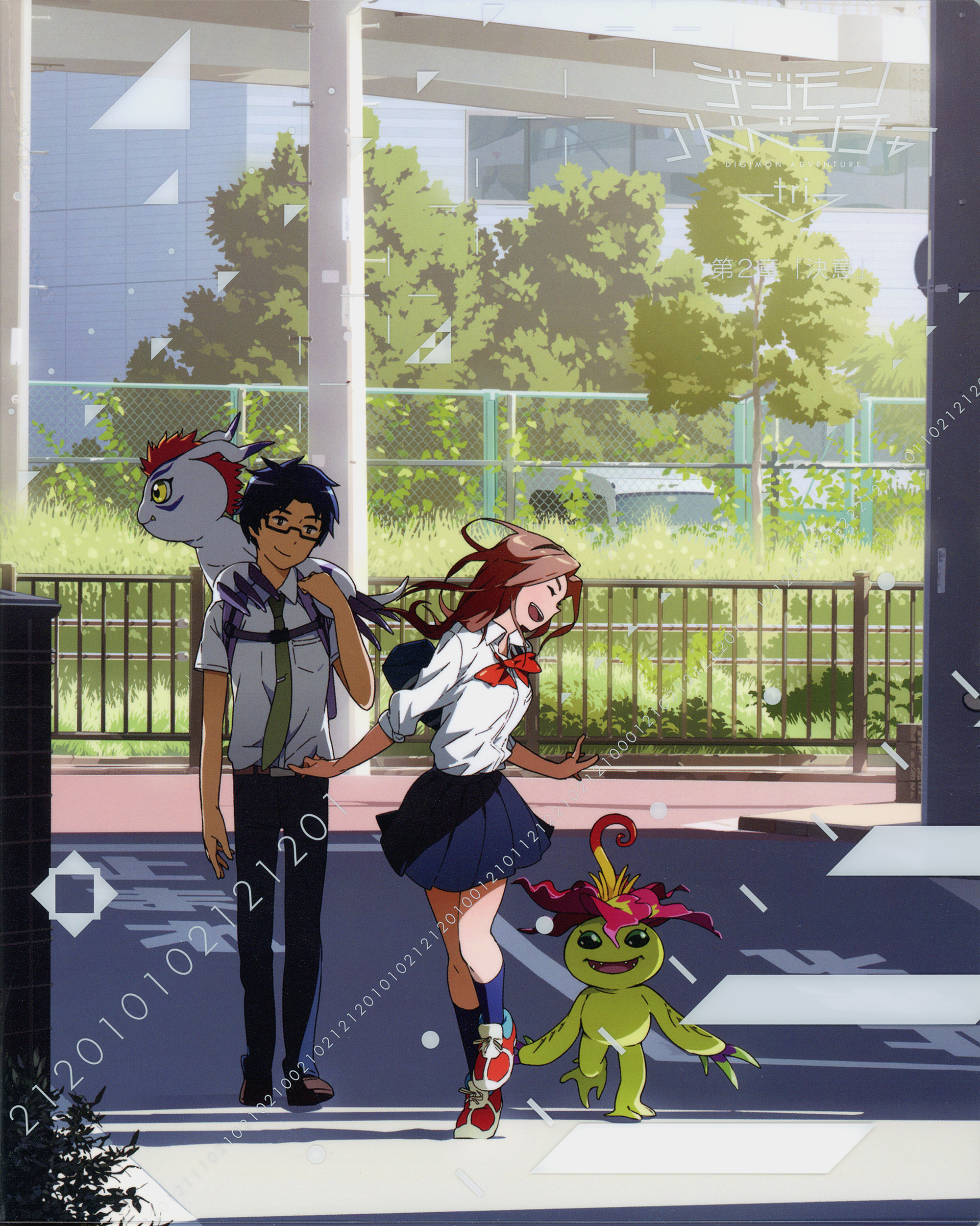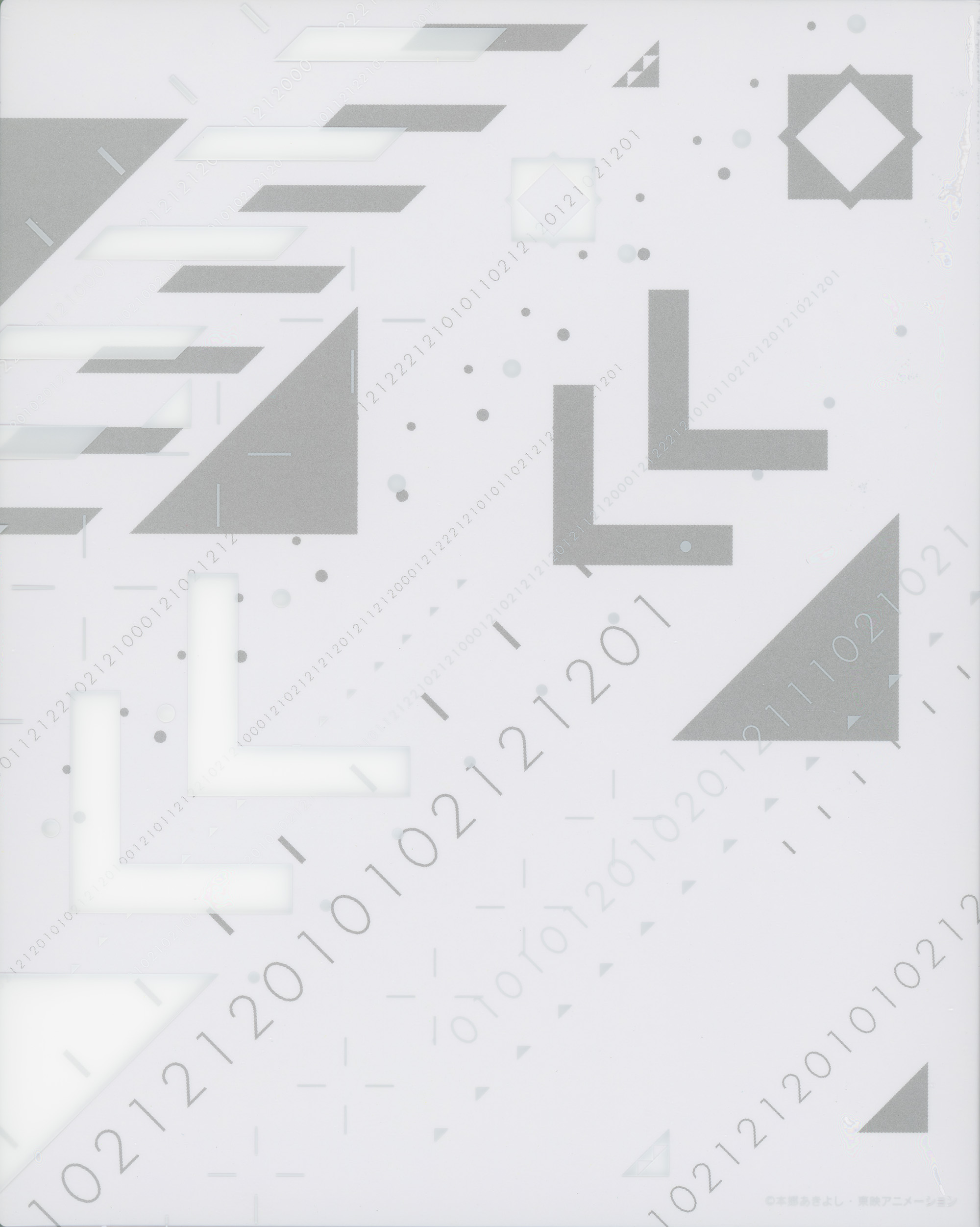 The front with the slipcover added adds an effect that appears similar to what we see in the OP for tri.
The back is interesting because it already has a similar design style in a different color, so it feels multi-layered.
One of the things I didn't scan was the inside of the digipak. Because of the height of the plastic tray, the scan wouldn't have come out well. Oddly, there is no art on the inside of the digipak. It uses the same motif we see through the packaging, but this time it's different layers of green and white.
The physical Blu-ray itself continues using this theme.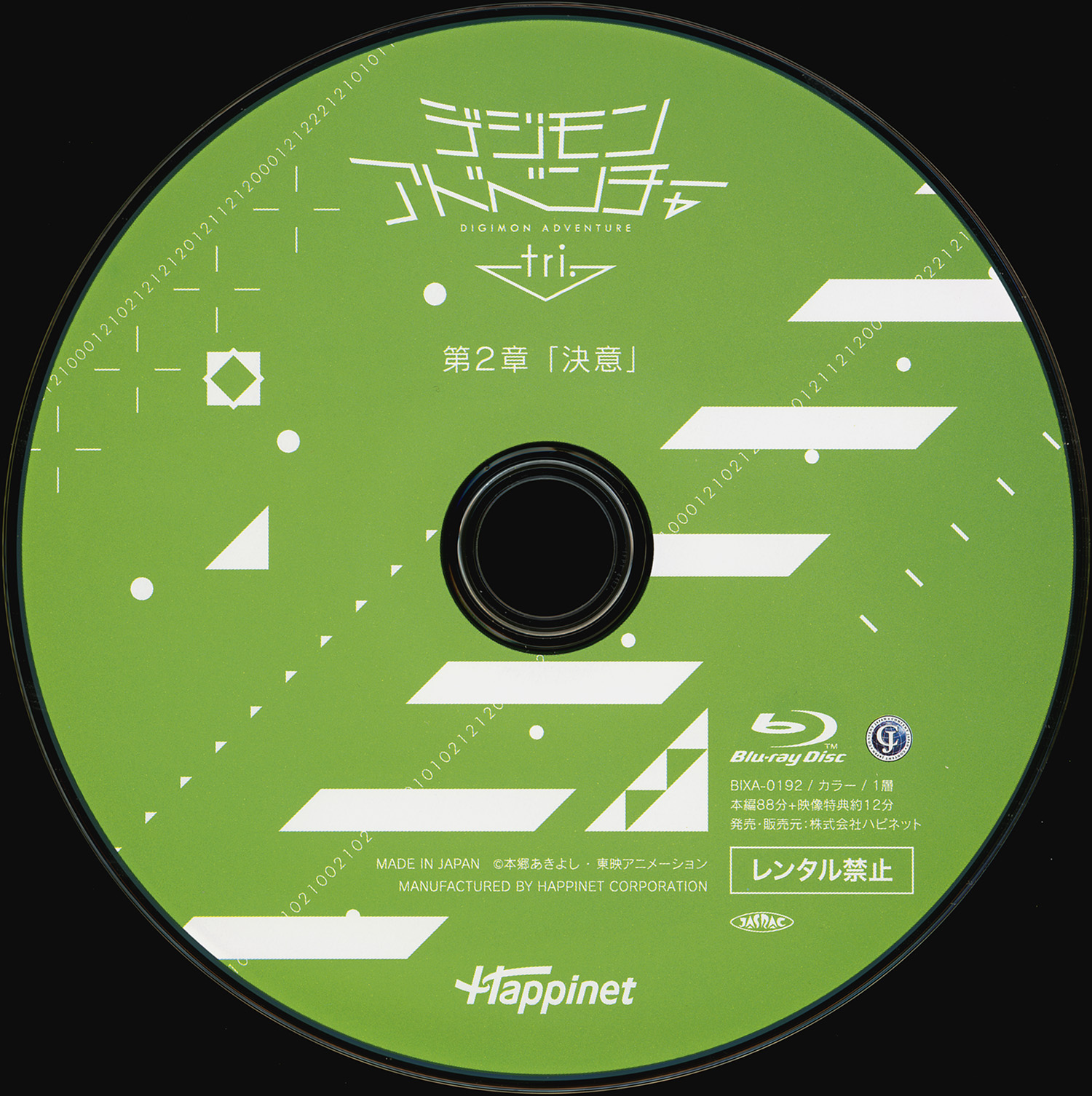 Same motif, just with a focus on the green color used for tri. part 2.
The Blu-ray came with a single physical extra (no clear file this time.)
I'm including Amazon's sample image here simply to show what it is. The poster is quite large, and I will try and scan it once I'm sure exactly how best to go about doing it (I may attempt to scan it in pieces and stitch it together, or go to an office store and see if they have a large scale scanner I can use.) Another option would be to hang it and take a picture to show it at scale (this is recurring with these massive posters... I'm leaning towards everything being done and doing large scale scans on a rented large printer all at once.)
Two booklets were also included. The smaller booklet is less a real booklet and more a fold-able pamphlet like thing made out of some nice paper stock.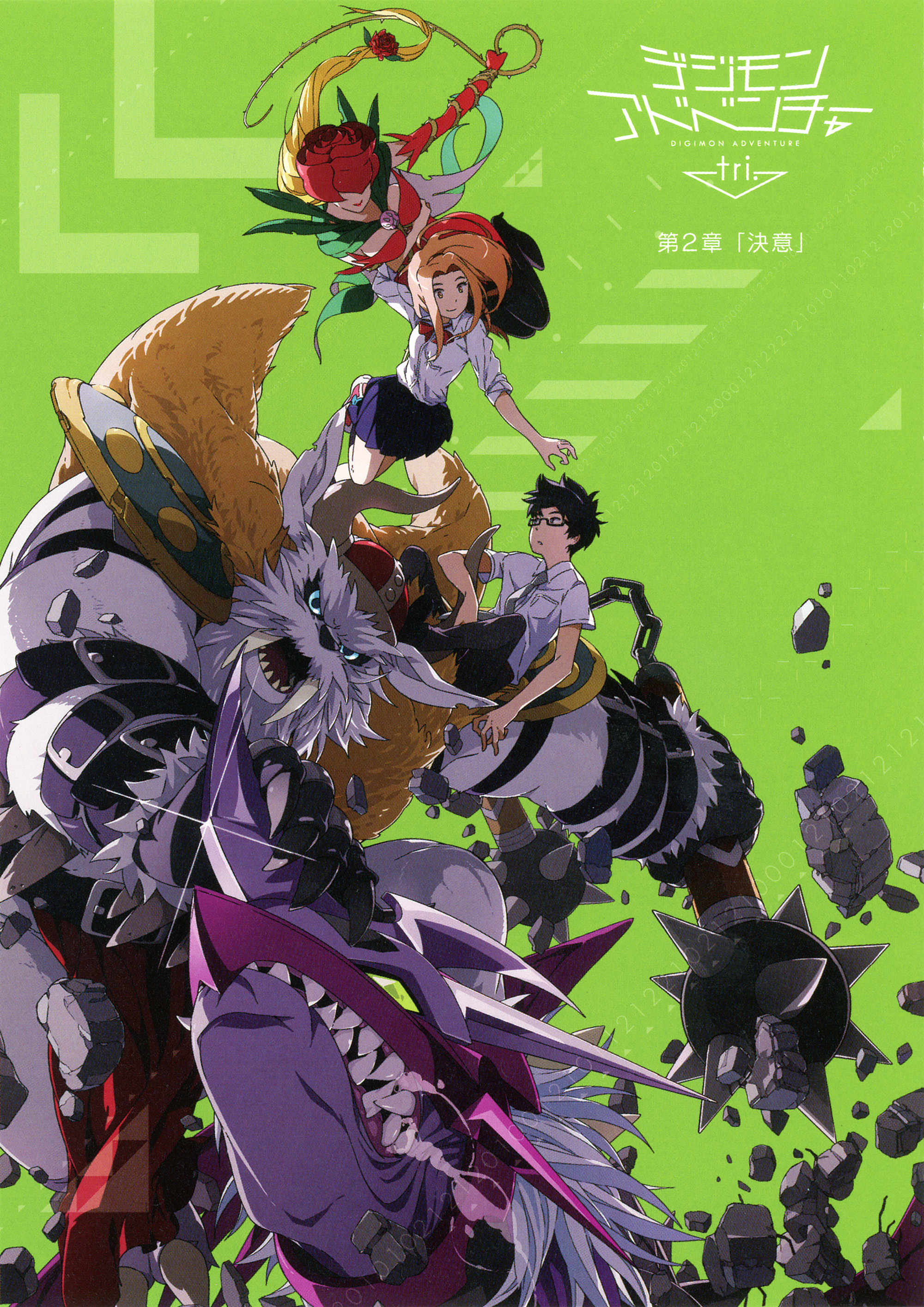 The front uses the poster art from tri. 2 that we first saw right after tri. 1 came out, while the back lists credit information using the tri. digital motif.
The inside of this contains 2 pages with character information on Mimi, Palmon, Jou, and Gomamon. 4 pages of storyboards are also included. I left them in 2 page formation as I scanned them.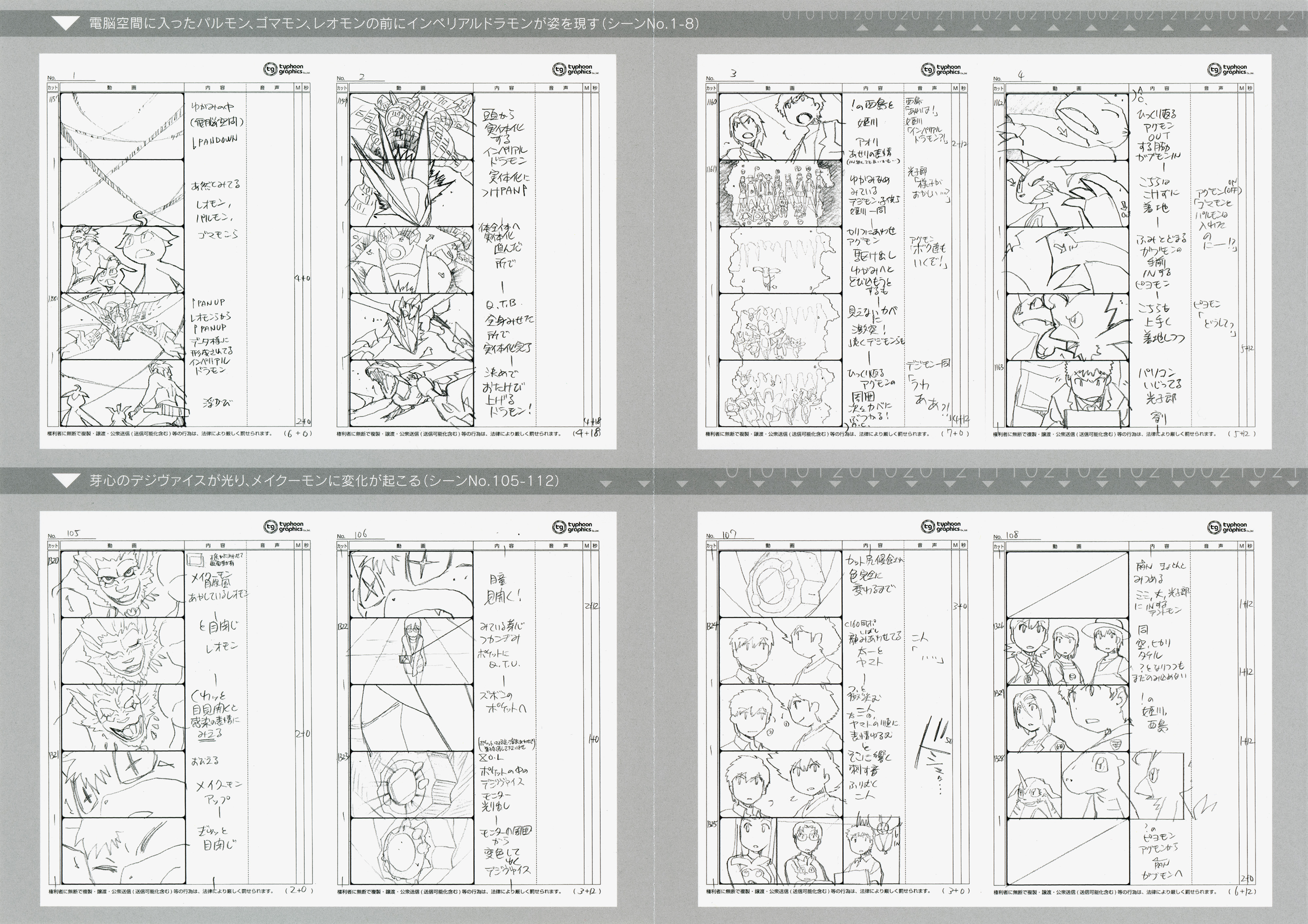 As before, I'm a sucker for production material, so it's great to see more storyboards, especially for a rather important scene (and I'm really hoping when tri. is done that we get a storyboard book.)
The larger booklet is a nice quality booklet with a ton of great art on the inside (cross your fingers for an artbook.). I've kept the scans in double page formation for the interior, as I scanned it, as the dual page spreads are generally related.
The front again uses the poster art from tri. 2. The back continues the digital motif.
The first interior pages will have a familiar image to Digimon fans.
It's the first promo image we saw of Digimon Adventure tri. I know some people didn't like it, but I still do in general. On the opposite side is some text for story information.
The next 2 page spread is all Mimi and Palmon!
Getting detailed images of Mimi, Palmon, and her evos are great. I gotta be honest, I love the Mimi art, but her eyes in many of the images creep me out...
Next up is Jou and Gomamon!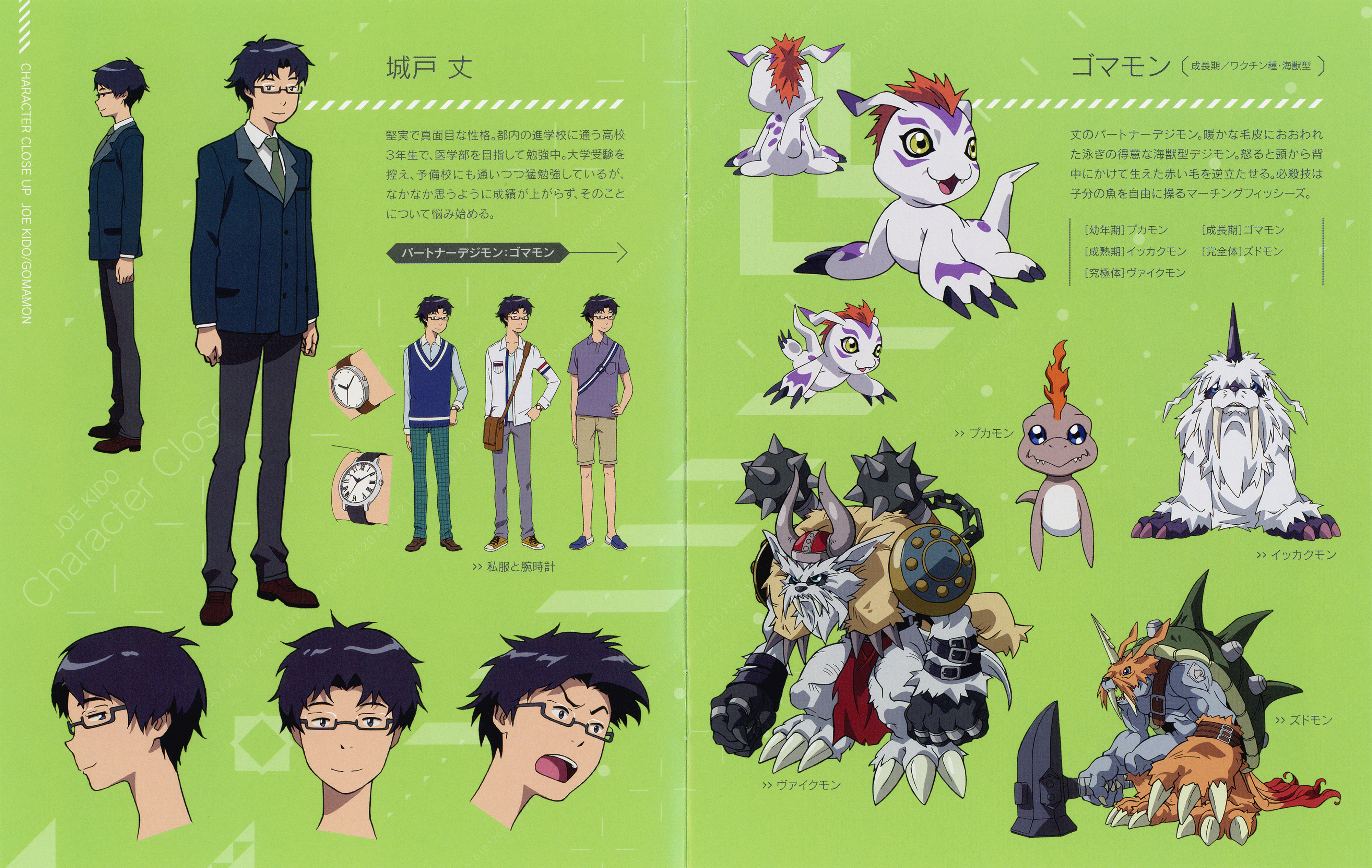 Jou has creepy eyes in one of these images also... I like the details that he actually changes watches.
This next batch is the Kaiser, Imperialdramon, along with Leomon, Ogremon, and Elecmon.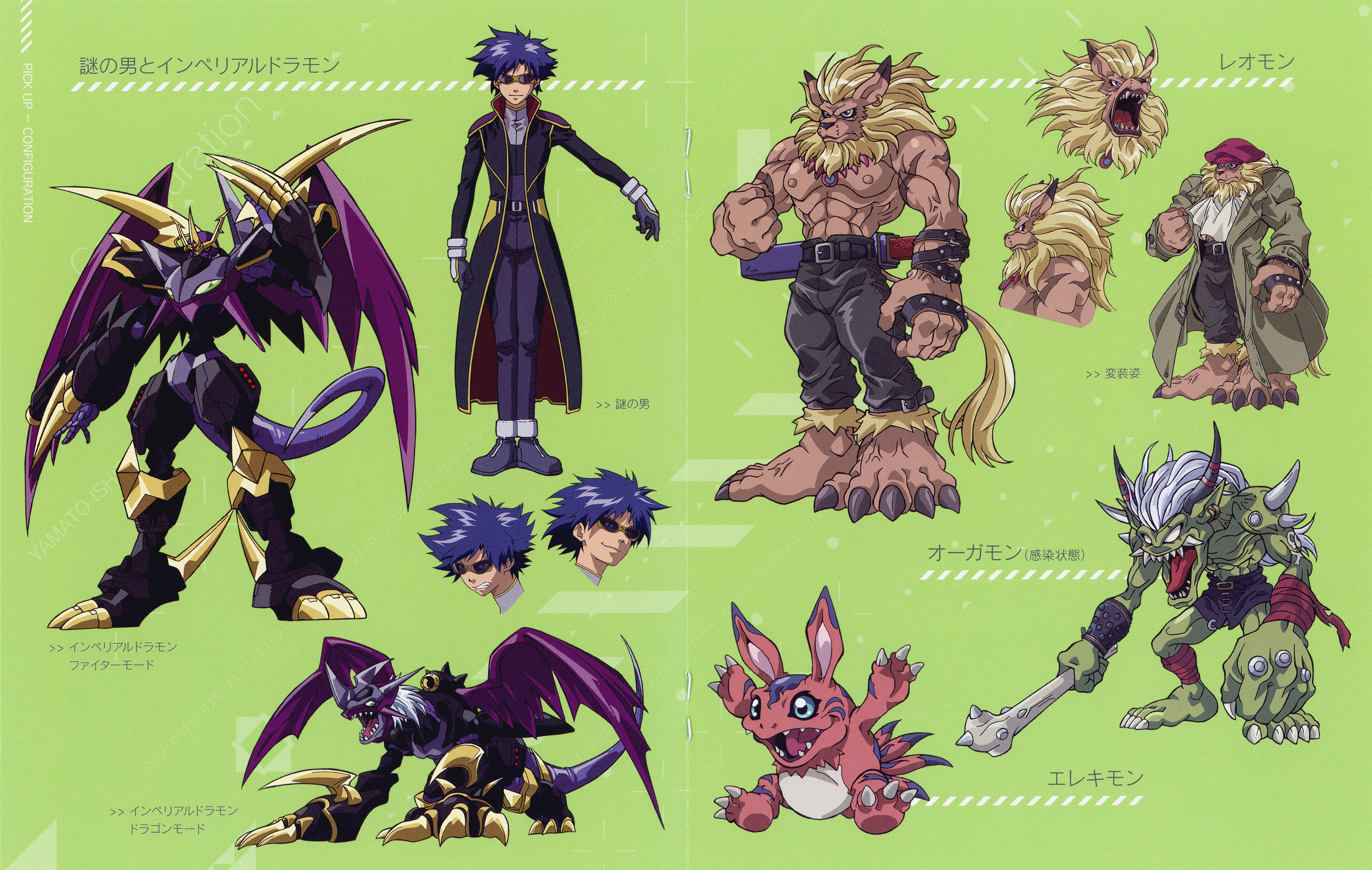 I like all the detail Leomon gets, and it's great to get a good clean look at Imperialdramon.
Bunch of extra stuff!
This spread has a bunch. We not only get a page of locations, we also get a good look at Huckmon/Hackmon, Palmon and Meicoomon in their outfits, along with some phones and phone straps.
We also get to see some alternate stuff used a few times...
The first page is dedicated to them at the onsen, showing the different outfits and some location images. The second page is dedicated to Daters. The look at the food and the detailed look at the oufits is especially nice.
To finish with, the bigger booklet ends with some more storyboards.
We get some Mimi here, but I feel like the high point is the page of Jou and Gomamon material.
And that's largely it for tri. part 2's package. Except the ads, which I'm including here... along with an oddity...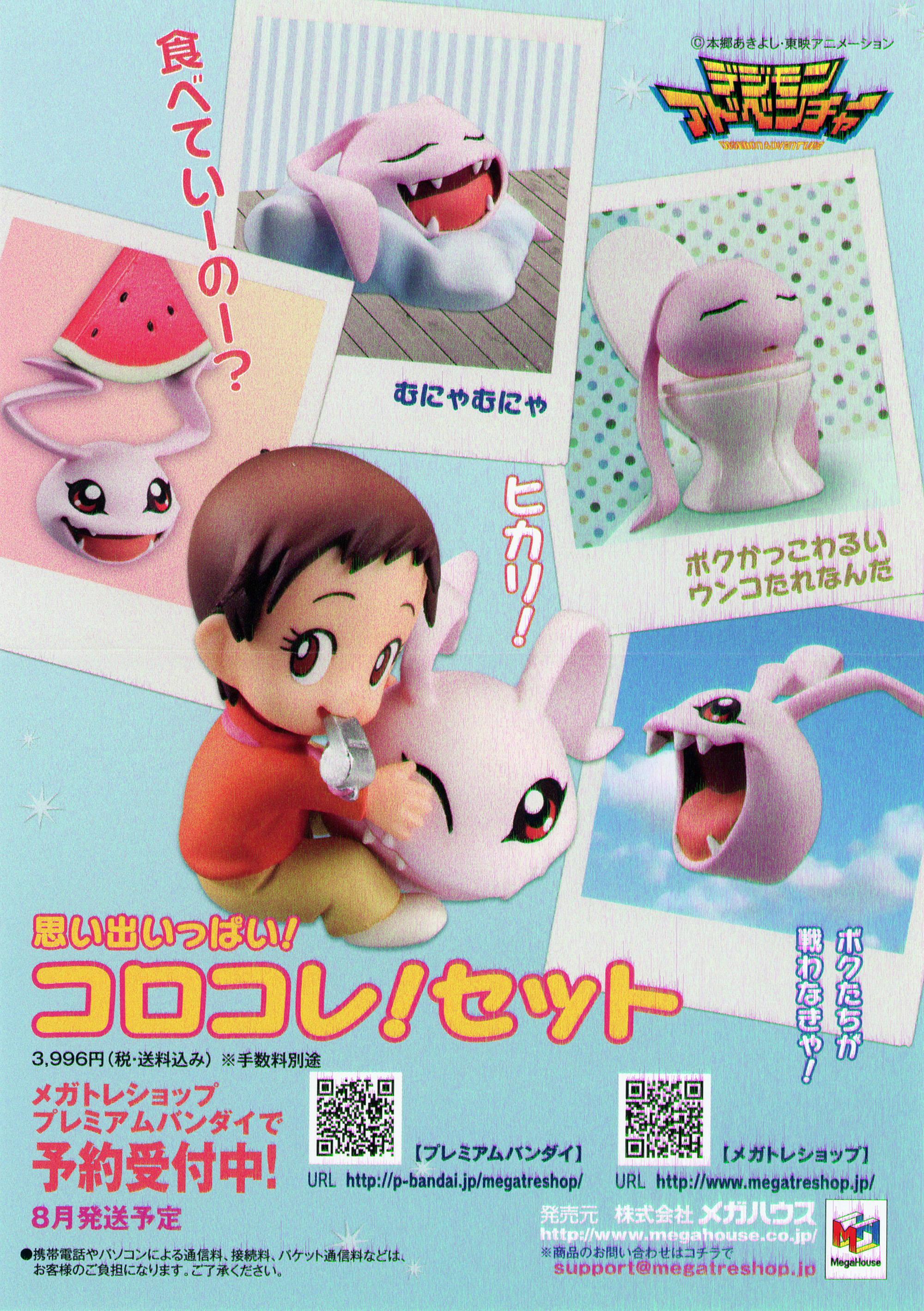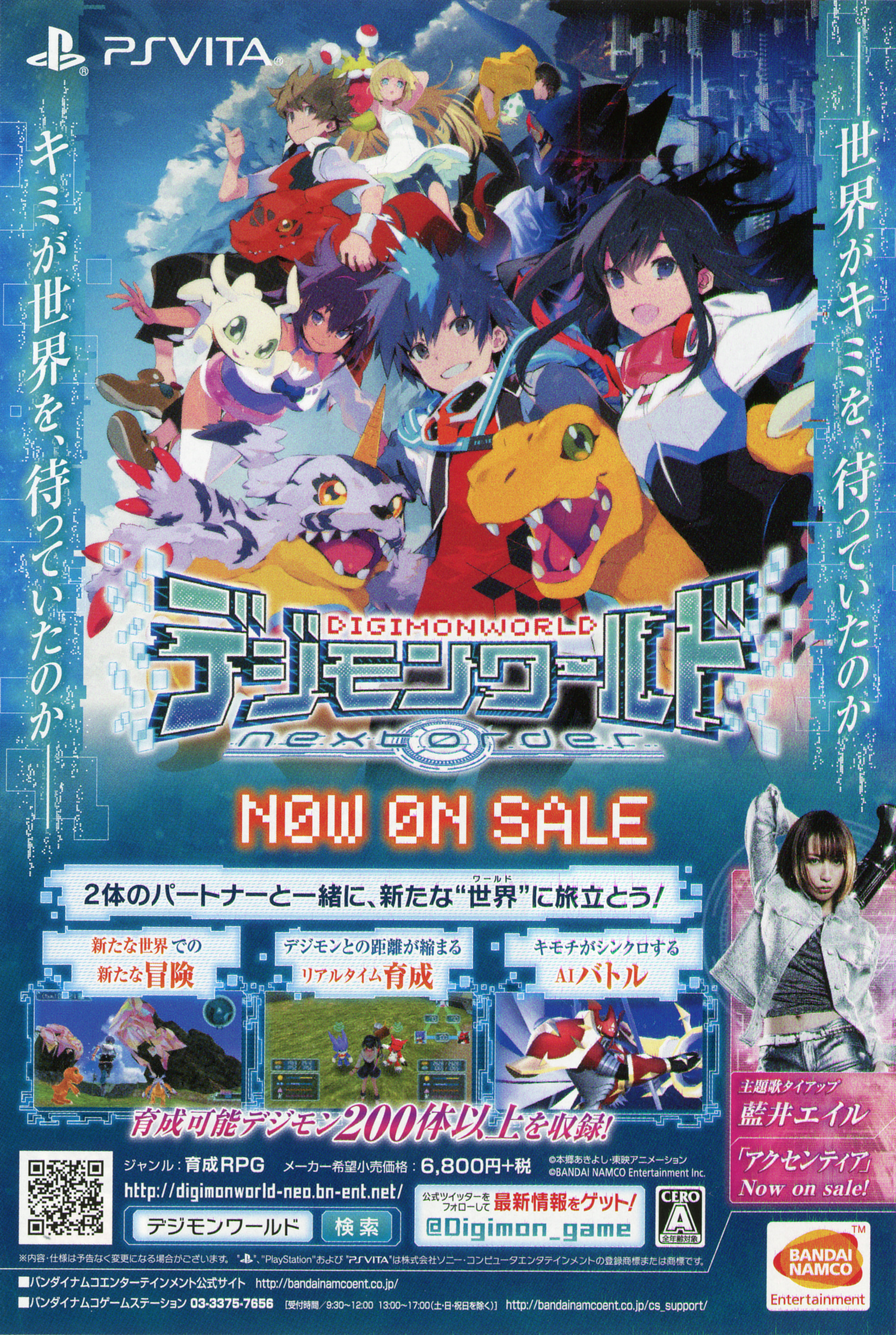 The ads themselves don't show us anything new, but they all came out rather strange with some sort of weird visual quirk on them. I checked the ad sheets themselves, and while not the best printing, they looked fine enough. The ads were scanned in the middle of scanning everything, so it's not the scanner, as everything else scanned fine. Since it was just the ads, I decided not to go back and fix them, and instead leave them as an interesting curiosity.
And that's it for the physical... onto the disk contents itself!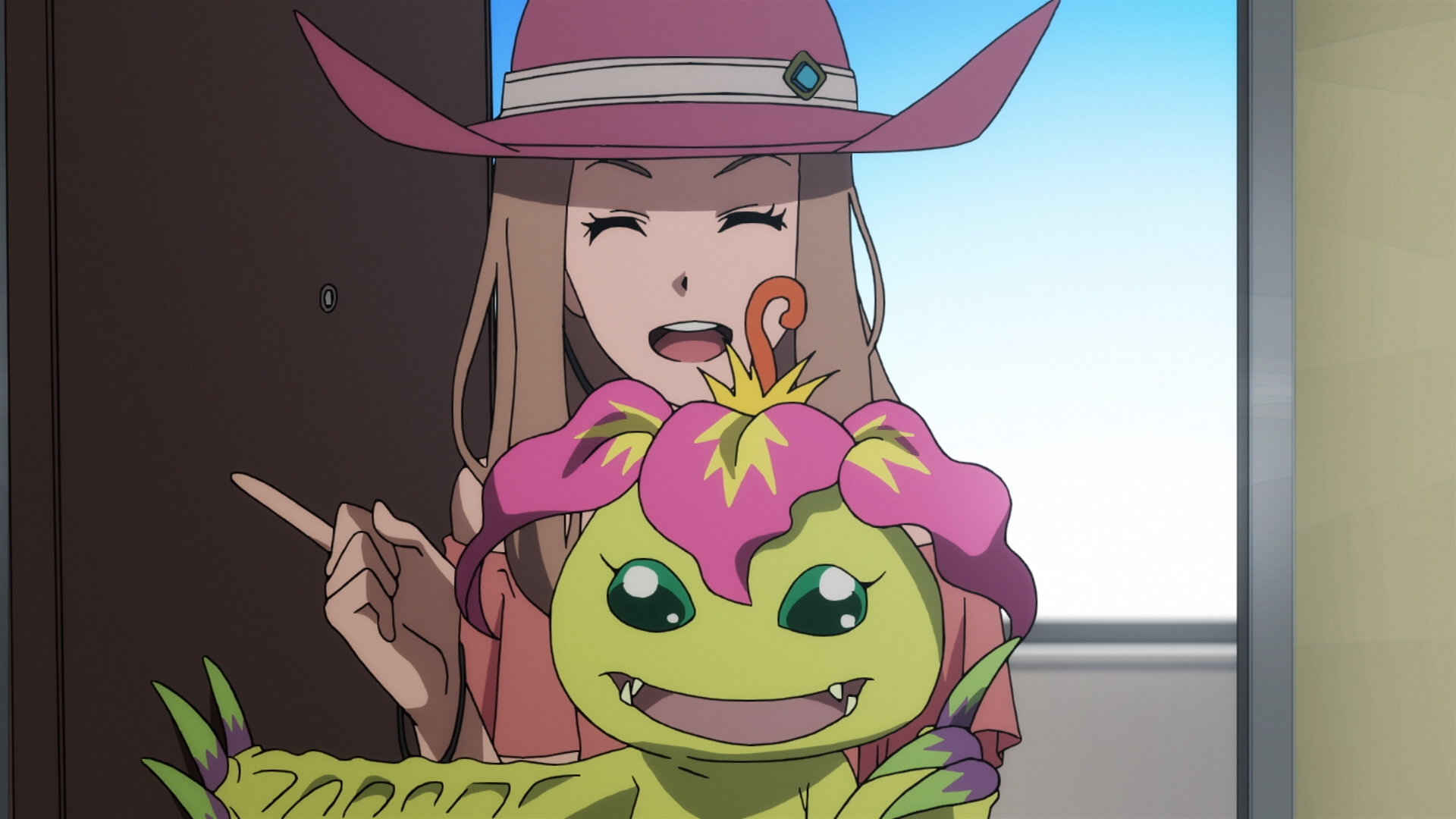 The video is encoded using AVC at an average bitrate of roughly 26 Mbps. Good bitrate for animated content. tri. part 2 is encoded at 1080p and 24 frames per second (the bitrate is amazingly similar to part 1's.)
The audio is an 5.1 PCM track. Good uncompressed 16-bit audio. Both of these lead to the best version of tri. we can reasonably expect.
No subtitles are included, which is expected.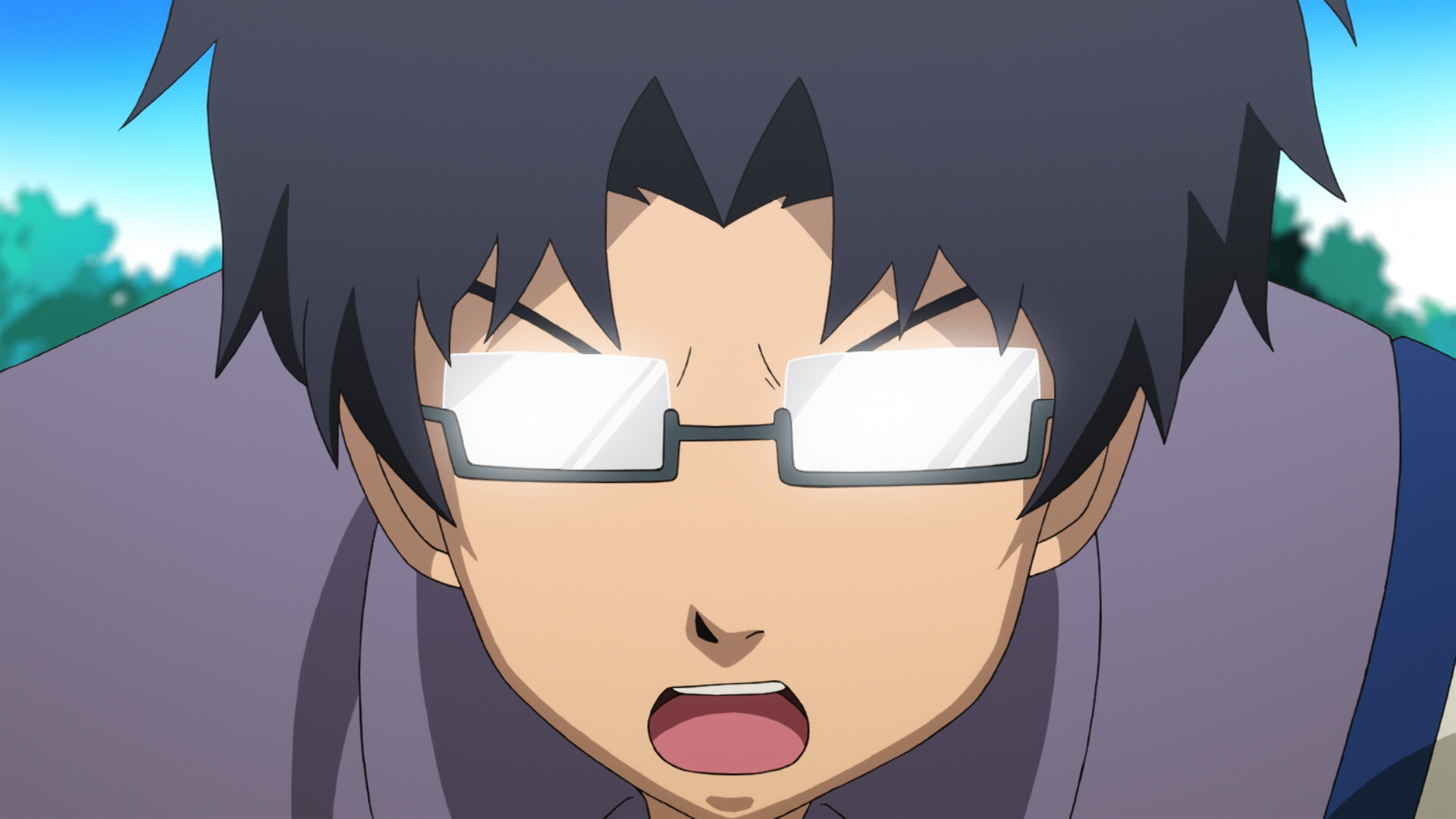 The video quality itself is roughly what we expected. Everything is digital animation, so it looks great. You occasionally get a background or some other detail that isn't aliased that well, but that's par for the course for animated content. One thing to note is dark scenes look quite good. Often with dark scenes you'll get some banding, but it doesn't seem to be much of a problem here.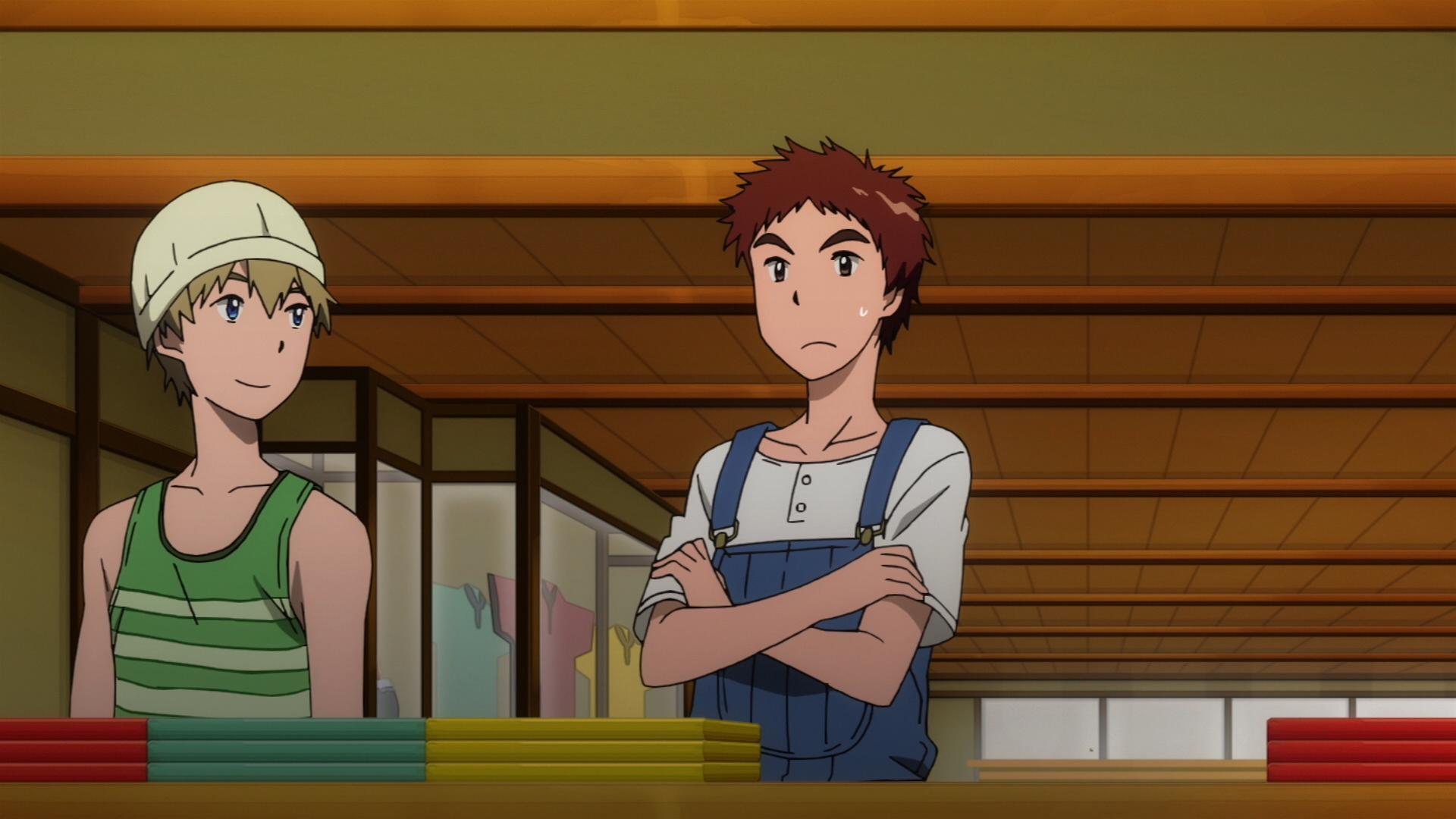 By and large tri. on Blu-ray looks great. There are slightly off frames if you pick and choose, and the occasional stilted bit of animation, which is normal in animation when you pick and choose what to show, but the encode on the Blu-ray itself is relatively pristine.
I rather like the menus to be honest.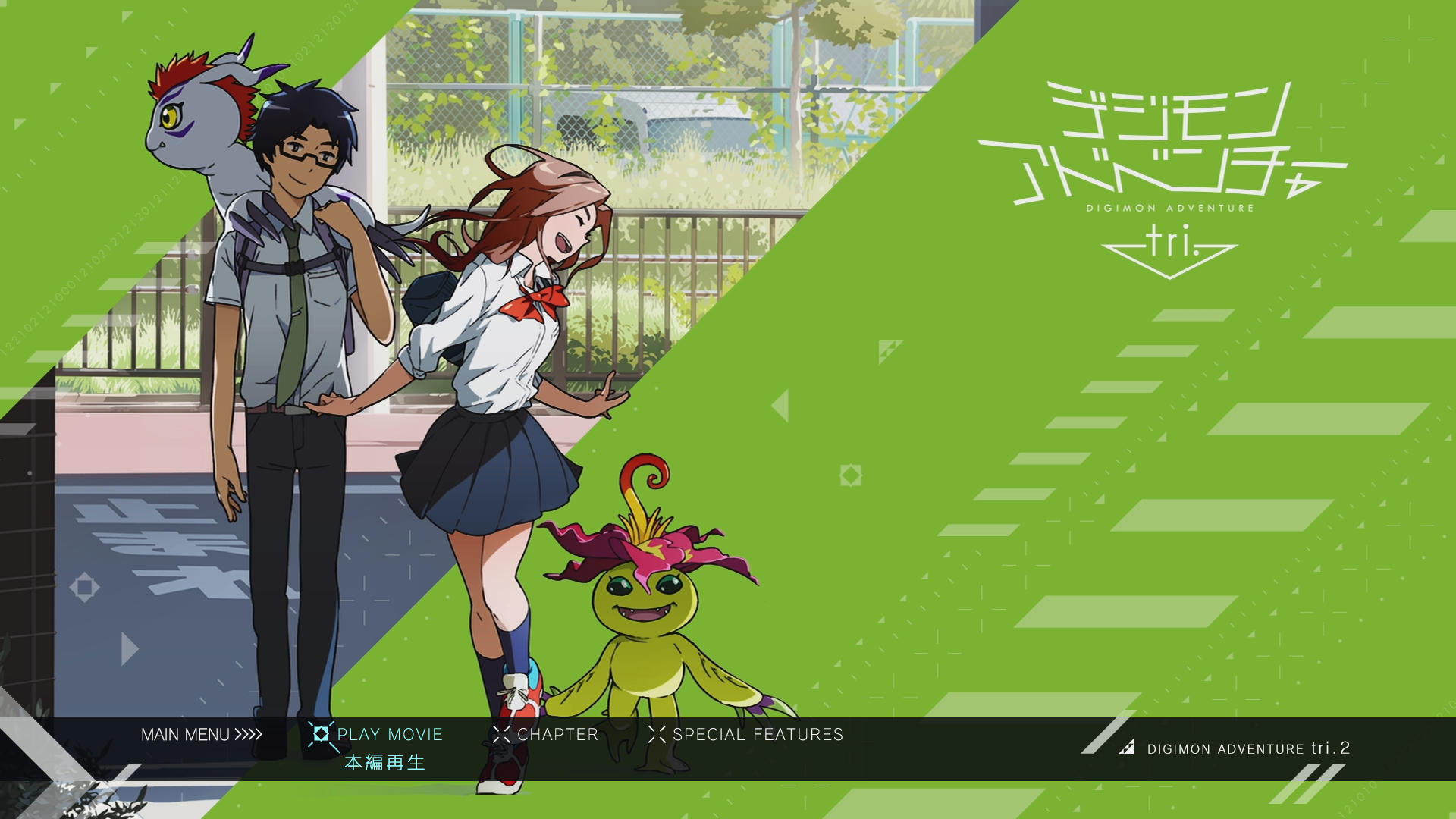 Chapter Menu
Extras Menu
The menu animates in over the coverart with the tri. motif and then becomes a static menu.
The chapter menu shows the first 5 chapters larger, and when you go over to 6, the size switches to have the last 5 larger (since I showed tri. part 1 with the first 5 larger, I went with the last 5 this time.) The entire menu is very clean and usable, which is how I like my menus.
We get some more extras this time than we did with tri. part 1! Not much, but a bit.
We start off with the clean OP, and the clean episodic ED for part 2.
Then we get a 90 second trailer for tri. part 2, along with the long 2 and a half minute long trailer.
We also get the 3 minute digest version of part 1 (this is meant to be a refresher of what happened in tri. part 1 before you watch part 2.)
After that we get... some commercials for part 1. We get a 30 second ad, a 60 second ad, and a 15 second ad for the part 1 BD/DVD (perhaps a suggestion that getting these done a month early for the theaters meant they weren't able to stick commercials on them... so it'll be interesting to see if part 2 ads show up on part 3.)
Overall tri. part 2 got a package on part with the good bar that part 1 set. The initial package came in a digipak, but information suggests after the initial printing it will move over to a normal Blu-ray case.
Part 2 did not recieve a theater release BD at the same time for various reasons. The disk will be made available when tri. part 3 has it's limited theater run.
DVD release content should be the same for physical (with slight change in packaging for DVD instead of Blu-ray.) On disk content should be effectively the same, but in 480 compressed with MPEG2 instead of 1080 compressed with AVC.
Screencaps were taken largely at random while jumping around (although if I knew a moment was coming up I wanted a cap of, I'd wait.)
Here are 50 caps in lossless PNG in galleries. They are stored off site, but I have backup copies stored on WtW, so if they ever go down let me know and I'll replace them.
Page 1, Page 2, Page 3 (These will be up shortly.)
Now some sales numbers before we finish up...
tri. 2's home video sales are as follows.
Week 1 BD and DVD- 9,608 and 2,804
Week 2 BD and DVD- 1,511 and 655
Week 3 BD and DVD- 424 and 299
Total Sales reported thus far for the first 3 weeks (at time of this post) are 11,543 for Blu-ray and 3,758 for DVD.
At this point (3 weeks) tri. part 1 had sales of 10,729 for Blu-ray and 3,101 for DVD.
Thanks to SomeAnithing and ANN for sales information.
The scans are very small compared to the master scans I did (many gigs were used.) I will try and make wallpapers if people are interested. If you want to see a specific screencap of something give me a rough timecode if you can.
Hopefully future packages continue the theme of tri. getting a nice home release.
Thanks to our donators for making this possible. We are still taking donations so we can do this again for future releases. If you are willing to donate please take a look at the
most recent thread on the subject
.