Show User Social Media
Hide User Social Media
Joined

Sep 8, 2006
Messages

12,252
Thanks to
Eleven Arts
we have some Digimon Adventure tri. tickets to give away!
Due to the movie being nearly two weeks away, we are going to do this light and breezy and make it fun and easy for everyone.
There will be two contests, each with a ticket to Digimon Adventure tri. Part 1 as the main prize. There may also be mini-posters made available to other people who entered.
Contest 1 will be- Draw whatever you want from Digimon Adventure tri. as long as it has to do with part 1. It could be a character posing, characters fighting, anything you want, as long as it features characters from tri. part 1.
Contest 2 will be- Write up what character/actor you are most looking forward to seeing or hearing in the dub of Digimon Adventure tri. part 1... and WHY you are looking forward to that character/actor. You can make it as short or as long as you want, but effort and/or details could count.
Both contests will be judged by me. You can post your entry in this thread, PM me using our internal PM system, tweet your entry to the
WithTheWill Twitter account
(be careful doing the writing contest on Twitter... gotta have a really short writing entry on Twitter), or email me your entry to
godofchaos@gmail.com
(put WtW Contest in the subject for email entries.)
I won't be judging on any particular detail, just do your best. If it catches my attention you might have an advantage, but I'll be pouring over each and every entry for both contests.
Due to the extreme time crunch the contest is open right now, and will close midnight (Pacific) on September 5th (next Monday.)
You don't have to send any personal information with your entry. If you win Eleven Arts will need your legal name, zip code, and email address to send you the ticket. If posters are given away your address may be needed to mail you the poster.
Your entry may be shared on WtW and social media sites by us or by Eleven Arts.
These contests are only open to people who live in the USA.
We have a thread with all the details on the upcoming theatrical release of Digimon Adventure tri. Part 1
right here
.
Thanks to our friend Dev for scanning the pamphlet/postcard that we shared above and for Eleven Arts for approving us using a digitized version of it, despite the text mistake on it...
Update- Contest is over and I've gone through the entries for the winners.
We got more entries than I expected (giving away tickets so late with only a week to enter I honestly expected practically no entries.)
First up, the winner for the art contest.
I quite liked the art entries we got. We got both drawn, and even a couple CGI entries.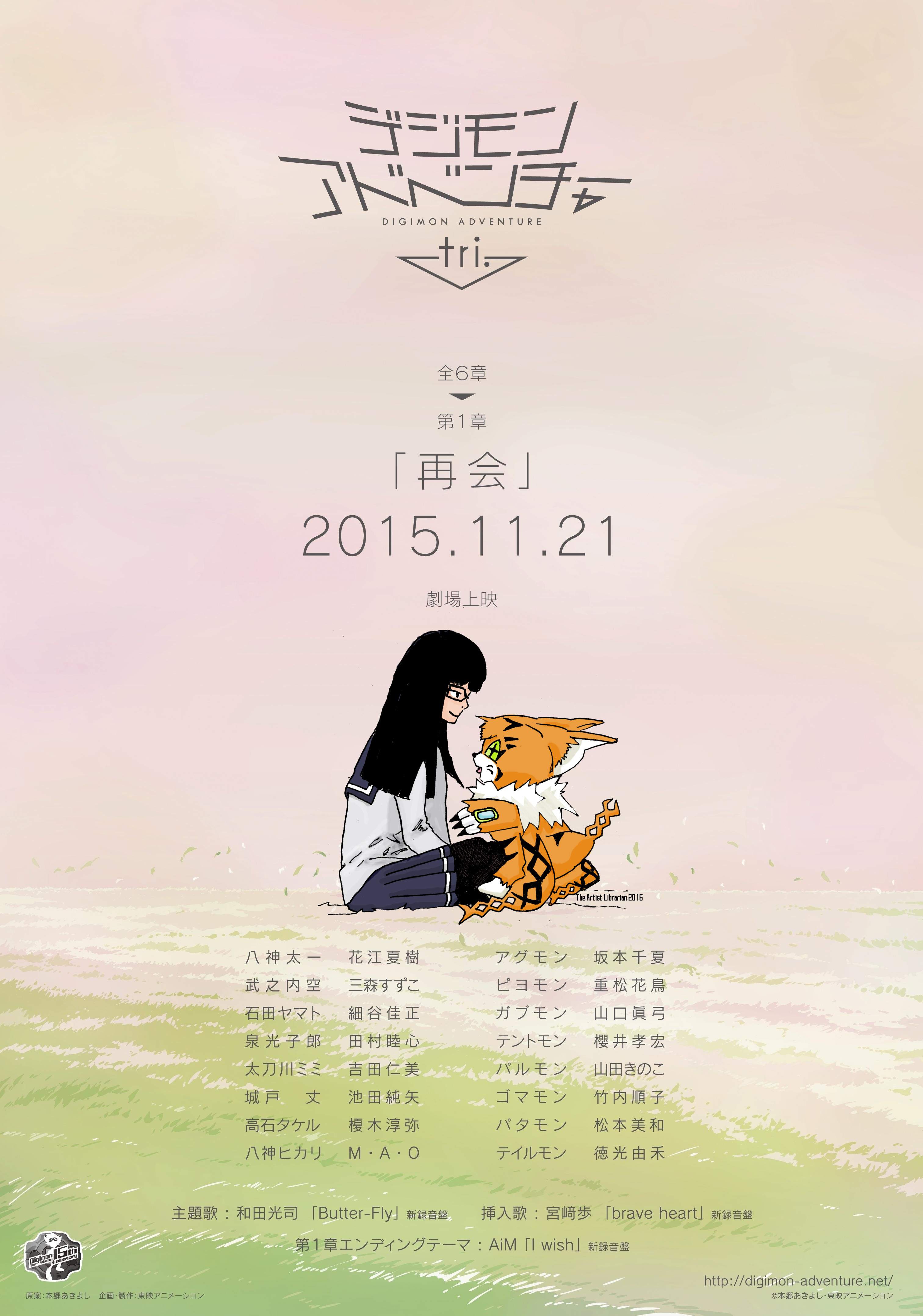 I wafted on this one a lot, but Zekkaina doing a take on the Taichi/Agumon image with Meiko and Meicoomon just worked very well, especially with the version she sent in as her entry actually put the art in the poster version of that artwork.
And now for the writing contest...
For the writing contest I've read and re-read the entries. Most entries focused on Taichi or Mimi. Most of the reasons written were generally nice personal things, but one entry wrote an actual short essay...
The character that I'm most excited about seeing again in the dub of Digimon Adventure Tri: Reunion… is none other than the princess of sincerity, Mimi Tachikawa! Since being introduced to her in 1999, Mimi remains as my one of my favorite fictional characters ever created, and there is a lot of reasons why I have that opinion.


First of all, I found her damn hilarious. Nine year old laughed me at her reactions to the Digital World, and the way that the other kids at times seemed to be annoyed at her. But I also found her really realistic, and felt like that some of her reactions would be how I would act if I was separated from my family and sent to a crazy world full of monsters. Why some of the kids like Tai or Sora seemed to cope well with the life and death situations, Mimi was there to appropriately either have a freak out or want to rest some where, so she was pretty much my spirit animal even if I was not a fan of the color pink.


But then, something magical happened. Character development. Watching Mimi, my favorite character, grow throughout that season was amazing to watch. She started out spoiled, but eventually through her companionship with Palmon and her journey through the Digital World, she turned into a true sweetheart. She showed compassion even to former enemies like Ogremon, and tried to help them, which I loved because I believe in second chances and helping people whenever they need help.


She was also extremely outspoken, which I admired at that age because I was the shy kid in school who rarely talked to anyone. So while I was still shy after watching the show, she did teach me that it was okay to let loose and be honest because that's the right thing to do! Also, she was not afraid to step up as a lead. At the end of the season, she led a whole army of Digimon into battle against Piedmon! Now that was a badass moment, and it came from Mimi Tachikawa!


Unfortuntely, season two came in and while she was a highlight for me when she appeared, she did not appear as much as I would have liked since she moved to New York. But thankfully, Digimon Adventure Tri now exists and she will be back to make a bigger mark on the Digimon franchise once again! I'm so excited to hear Philece Sampler bring her back to life again, and I'm counting down the days until I can see this movie, and more importantly Mimi Tachikawa back on an English screen once again!


Hopefully with all the reasons I stated here, you can understand why this random dude from Pennslyvania finds Mimi to be one of the best characters from animation! :-D
Steven won because of the level of detail he put in. It was nice to see such a detailed entry, even with quite a few shorter ones that had nice stories and bits in them, his simply stood out.
Thanks to everyone who entered for both contests, all of the entries for both were really nice to see.
I'll be posting other entries later either here or on twitter.