Show User Social Media
Hide User Social Media
Joined

Sep 8, 2006
Messages

16,925
So there may be a delay for Digimon Adventure tri. Part 1 in the UK.
Many of the below details are from the prior thread, simply updated with new stuff.
Digimon Adventure tri. part 1 on Blu-ray and DVD in the UK was originally announced by Manga UK for a release on December 19th. The date for the DVD has been changed on Amazon UK to March 20th, 2017. The BD still shows December 19th at Amazon (at the time of this posting), while HMV shows the Blu-ray as March 20th, 2017.
Update- Manga UK has confirmed that both the Blu-ray and DVD are delayed to March for reasons out of their control.
Manga UK from
their Twitter
:
A few announcements this morning: due to circumstances beyond our control, Digimon Tri will unfortunately now be released in March 2017
Update- Manga UK has confirmed
on their Twitter
the reason for the delay: Contractually, to have the English dub on the disk, it can't be released before a US release.
So while not an announcement, we should likely assume an American release March or earlier, hopefully with an announcement soon. Thanks to omegalucas for the heads up on this.
On the plus side, we have a few new angled images for both BD and DVD (we already saw the BD like this in the image of all the stuff coming with the Collector's Edition, but nice to see it on it's own also.)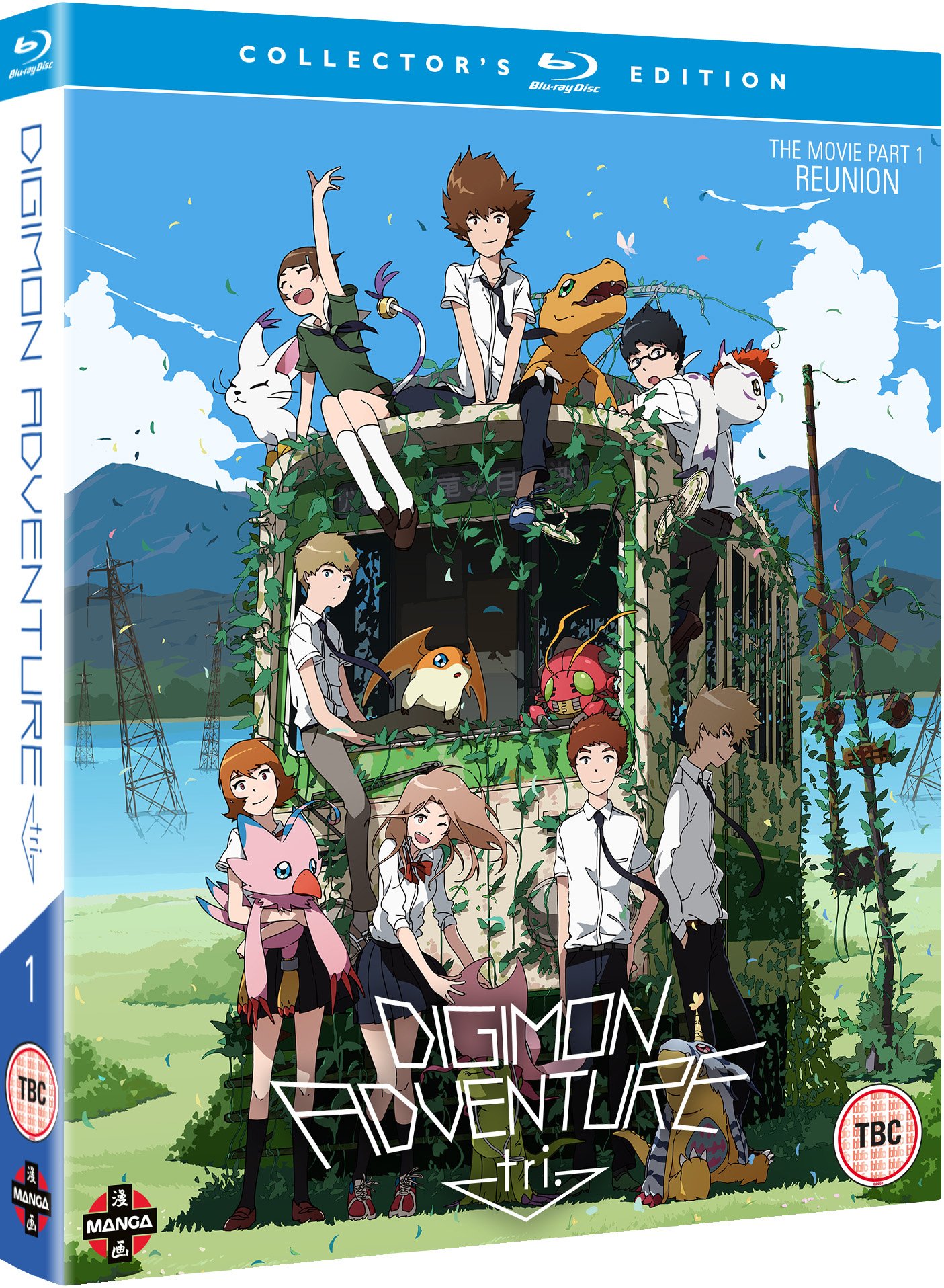 Information from Manga UK has confirmed both English and Japanese audio.
The Blu-ray will cost £24.99 and the DVD will be £19.99.
The Blu-ray will be labeled as a Collector's Edition and will include a slip-cover, the insert/sleeve will be reversible, it will include a booklet, and it will also include art cards.
The packaging image doesn't clearly show a booklet, but does show a poster using the tri. part 1 theatrical art.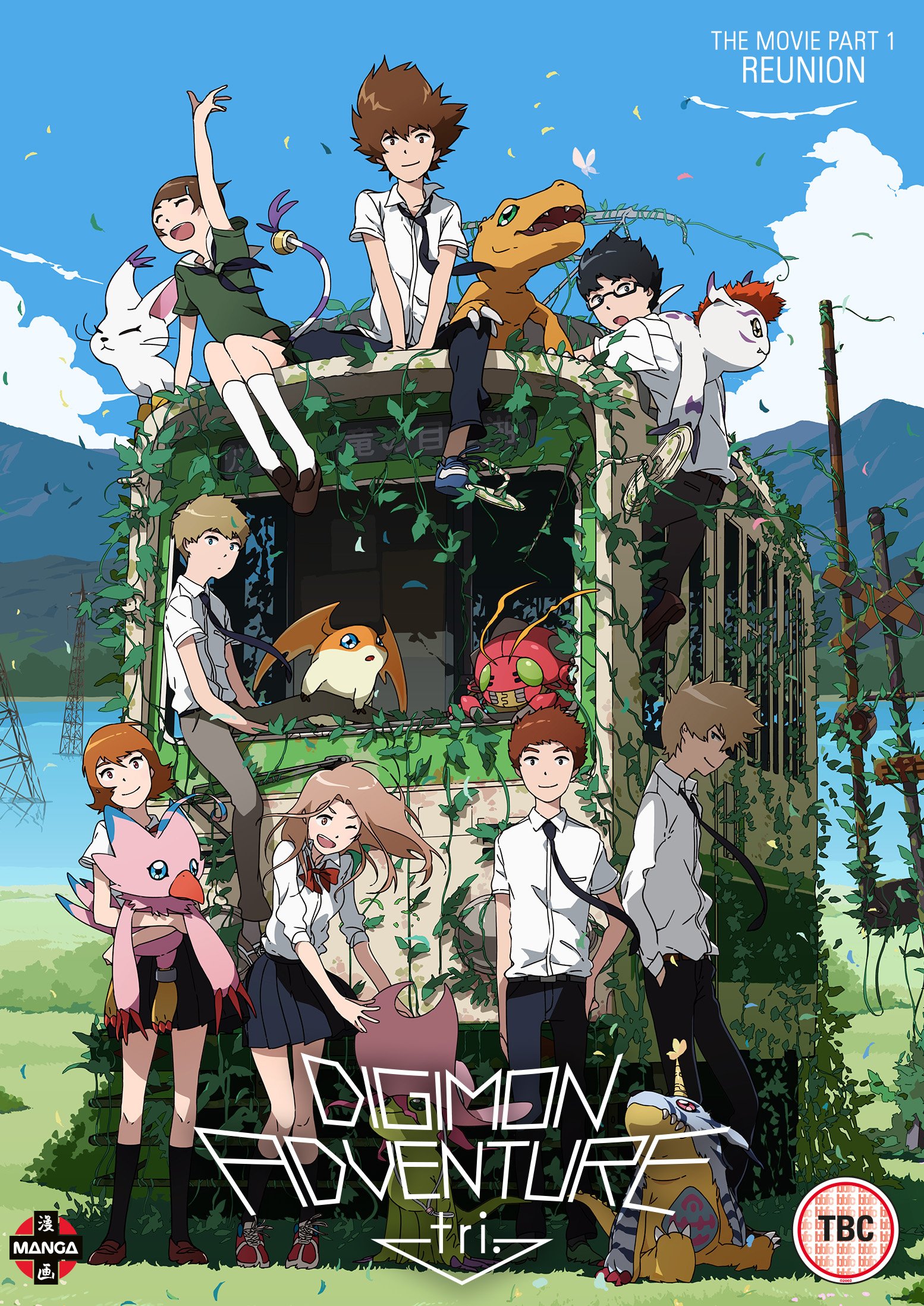 The DVD version will be a standard UK DVD with PAL video.
Amazon UK pages for Pre-Orders (not affiliate links)
Digimon Adventure tri. Part 1 BD
Digimon Adventure tri. Part 1 DVD
And while not tri. news, Digimon fans in the UK have waited for a full release of season 1 for a very long time (with half a dozen shuttered partway through releases over the years.)
That's still scheduled for Monday October 3rd, just a few days away. Just above is finalized artwork with a few unique touches from the prior stand-in art (which was the USA cover with a few new logos.)
Season 2 is still scheduled for November 14th
Amazon UK pages for Pre-Orders (not affiliate links)
Digimon Season 1 (Adventure)
Digimon Season 2 (Zero-Two)
The prior thread for the home release of tri. part 1 in the UK can be found
here
.
Thanks to wildwing64 for the Amazon info and Crazy_Tai for the HMV info.