Show User Social Media
Hide User Social Media
Joined

Sep 8, 2006
Messages

16,452
tri. Music Cafe in Ani-On Station The 2nd Details, Part 1 Menu, & Exclusive Products
We found out about the 2nd tri. Music Cafe awhile ago...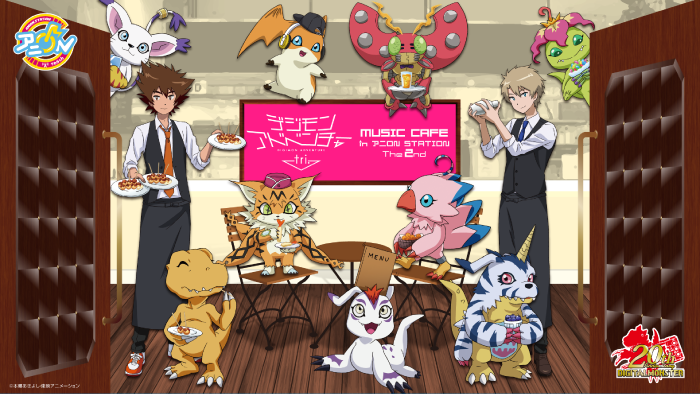 Now we have a bunch of info about it!
Digimon Adventure tri. Music Cafe in Ani-On Station the 2nd will be held at the Ani-On Station Akihabara between September 8th and October 15th.
And at the Ani-On Station Namba Parks between September 29th and October 22nd.
Entry to the cafe will be a bit different this time...
There will be an entry fee and reservations, with seating in 90 minute blocks, with two different scheduled 'times' available. Seating will begin 15 minutes before a scheduled time.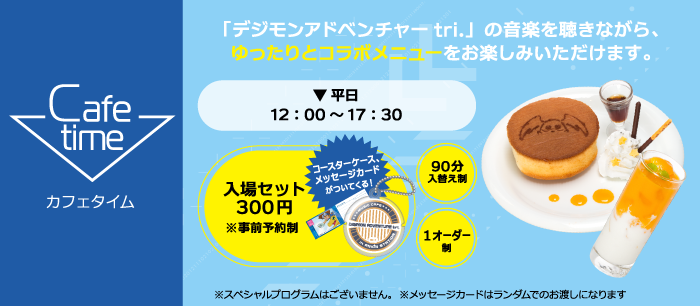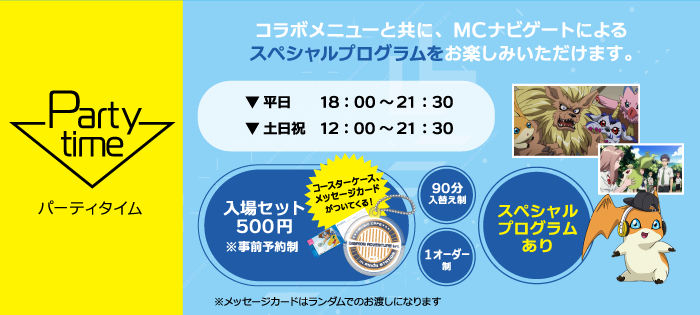 Cafe time will be 300 yen and be a calmer experience where you can enjoy your meal while listening to music, but won't have any special programming.
Party time will be 500 yen and the MC of Ani-On Station will present a radio style program related to Digimon Adventure tri. This includes clips looking back at tri. and trivia questions for the audience to answer.
In addition there will be introduction messages and they want everyone to have fun surrounded by Digimon.

First column is for time, the second column is for weekday events, and the third column is for weekend/holidays.
On October 11th the Akihabara cafe will close early at 3:30pm.
When you enter the cafe, you will receive both a coaster case and a message card regardless of when you show up.

The message card features images from Digimon Adventure and tri., along with a place where you can write a message. During Party time you can write answers to what the MC asks. They appear to be designed to be pulled apart so that you can keep the art portion. There are 18 of them total, which are given randomly.
Then we have the menu...
The Part 1 Menu will be available between September 8th and 28th at the Akihabara cafe and September 29th and October 9th at the Namba Parks cafe.
The Part 2 Menu will be available between September 29th and October 15th at the Akihabara cafe and October 10th and 22nd at the Namba Parks cafe.
First up, let's do the food! Each dish includes a coaster of the chosen child associated with the food.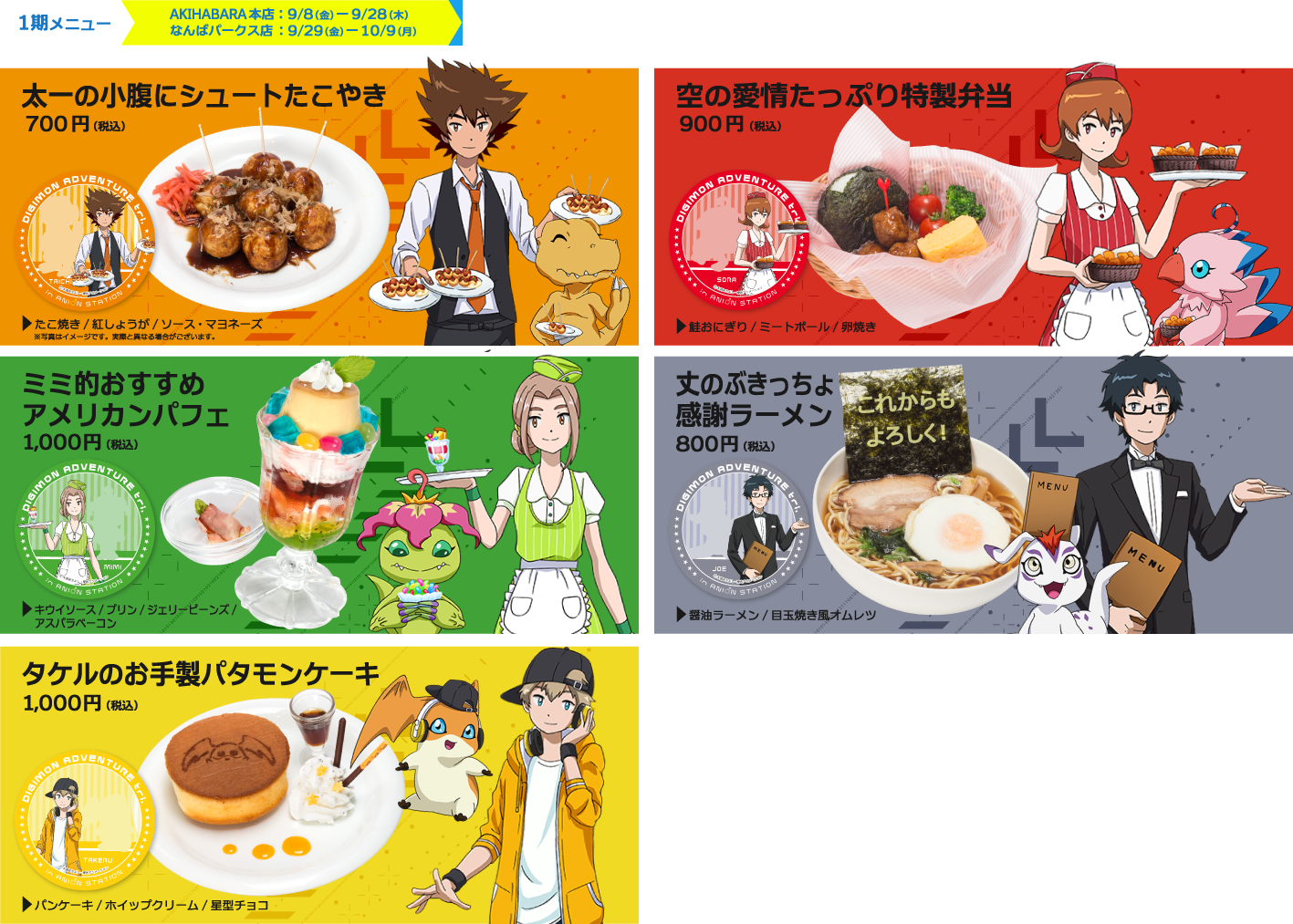 Taichi's Takoyaki Stomach Shooters: 700 yen- A plate of takoyaki with a side of red ginger and a mayonnaise based sauce.
Sora's Plenty of Love Specially Made Lunch Box: 900 yen- A Salmon rice ball, with a side of meatballs and a fried egg. A small selection of vegetables is also included.
The Mimi Recommended American Parfait: 1,000 yen- A parfait layered with various things, beginning with kiwi sauce and topped with pudding and jelly beans. It includes a side of bacon wrapped asparagus.
Jou's Thank You Ramen: 800 yen- Soy Sauce Ramen that includes a sunny side up styled omelette, along with a message.
Takeru's Homemade Patamon Cake: 1,000 yen- A thick Japanese style pancake with a Patamon image drawn on the top. A side of syrup and whipped cream with star shaped candies (a yellow colored white chocolate it appears?) with what seems to be Pocky sticking out of it.
They will announce the Part 2 food menu at a later date.
Update-
The Part 2 menu can be found here
.
Onto the drinks! All drinks are 700 yen and include a coaster of the Digimon associated with the drink.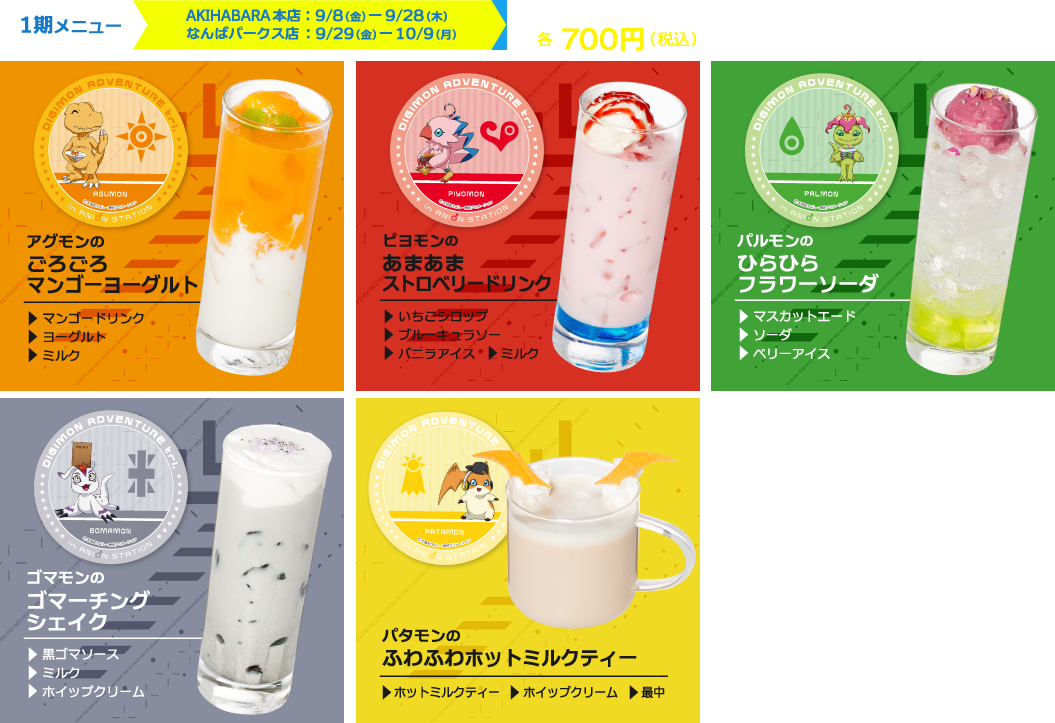 Agumon's Rumbling Mango Yogurt- Mango juice, yogurt, and milk put together into a two tone drink. It appears there may be some manga and mint at the top of the drink.
Piyomon's Sweet-Strawberry Drink- Strawberry syrup and milk have been topped with vanilla ice cream (and syrup.) At the bottom of the glass is blue curacao.
Palmon's Fluttery Flower Drink- Grape Muscat-ade syrup is mixed with a clear soda and tpped with a berry flavored ice cream and sprinkles.
Gomamon's Gomarching Shake- Black Sesame sauce is mixed with milk and topped with whipped cream and some sprinkles.
Patamon's Fluffy Hot Milk Tea- A Hot milk tea, topped with whipped cream. They also mention it comes with a monaka, which is a cake made with two wafers filled with a bean jam. They don't show a picture of it, so we're unsure if this is a separate item, or perhaps a joke based on the wings being made of some type of wafer.

They will announce the Part 2 drink menu at a later date.
Update-
The Part 2 menu can be found here
.
Of course, as was mentioned... everything comes with coasters...

Which you can put together two coasters in the coaster case you received to make a nice keychain.
Last but not least, are the items you can buy at the store featuring the 2nd music cafe key art!
First up, for 1,300 yen are acrylic stand sets featuring the kids and Digimon along with a cafe background.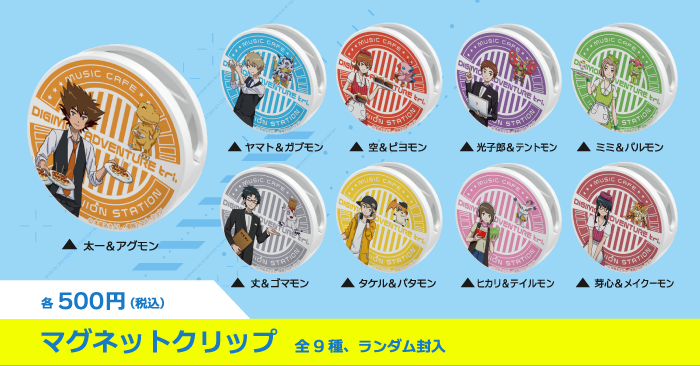 For 500 yen each are clips featuring character art. These have magnet backs and will be random packed.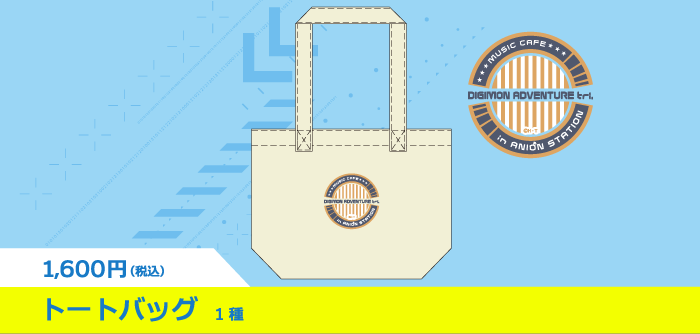 This tote bag featuring the Digimon Adventure tri. in Ani-On station logo costs 1,600 yen.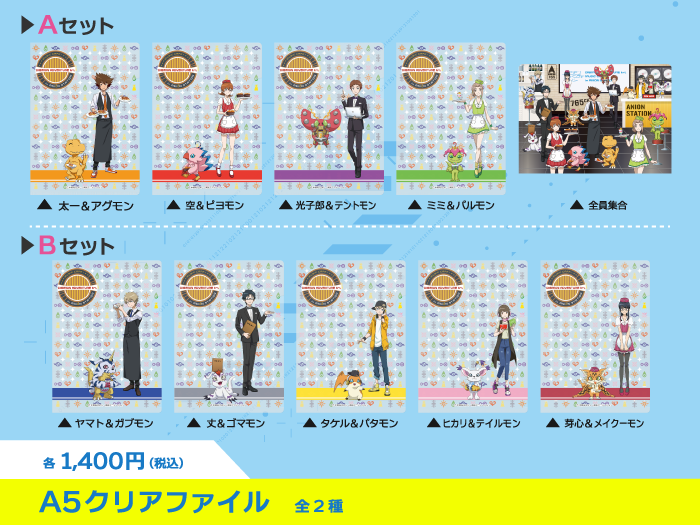 Clear files! Each is A5 sized (5.8 x 8.3 inches.) There are two sets. Each set is 1,400 yen.
Set A- Taichi, Sora, Koushiro, Mimi, everyone at the cafe.
Set B- Yamato, Jou, Takeru, Hikari, Meiko
That's most of the details, but there is a handful of additional rules/guidelines: (There are more than these, but these are some that will be helpful to know if you plan to go.)
Last orders will be taken 30 minutes before each reservation groups end time.
Reservations will be taken in groups of 4. If you have more than 5 people, they ask that you reserve in groups of 2 and 3 people.
After 6pm you have to be 18 to enter.
If you have parents with you those under 18 can enter until 10pm.
No filming/photos can be taken during footage screening/programming.
Cash only.
Thanks to shin for help with the drinks before she passed out and garm for a few translation corrections.
You'll want to contact an intermediary to get these items sent to you. WtW is not affiliated with any, but here are a selection of intermediaries that have worked well for various WtWers and their friends in the past:
From Japan
Rider Proxy
Nippon-Yasan
Be aware many intermediaries do not carry items from specialty shops since they can't be ordered online. You will need to ask them and explain what you want very carefully (perhaps with a photo.) Some intermediaries will potentially still not be willing to get the item (or may only be willing to at great cost.)
Some of the intermediaries have a full store front and may have the item listed, so you may want to check that first.
The prior thread for the tri. music cafe is
here
.