Show User Social Media
Hide User Social Media
Joined

Sep 8, 2006
Messages

12,266
We found out about the 3rd tri. Music Cafe less than 2 weeks ago!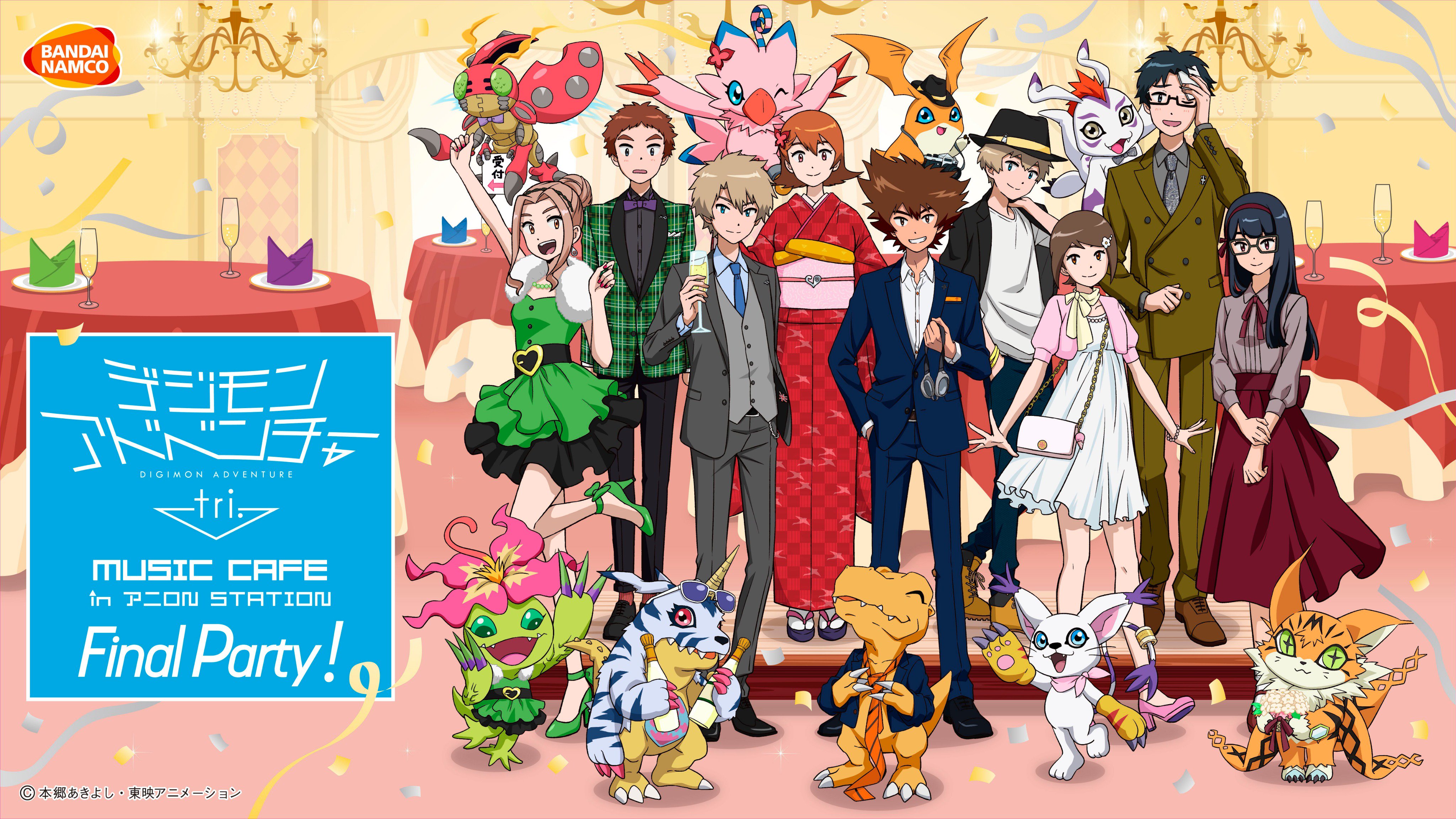 And now we have a bunch of details plus the cafe key art for all the characters!
The artwork is pretty gorgeous all around. Each character is full of energy and personality, and there are little art touches all around as everyone is dressed up for the party! I keep trying to decide who my favorite is b ut I keep bouncing around because they all just look great.
Digimon Adventure tri. Music Cafe in Ani-On Station Final Party! will be held at various Ani-On Station locations around the release of tri. Part 6. They had previously announced it for 3 locations, but they've upgraded it to 5.
Akihabara- April 18th thru May 27th
Nagoya- May 9th thru June 3rd
Namba Parks (Osaka)- May 9th thru June 3rd
Sapporo Esta- May 12th thru June 3rd
Hakata Bus Terminal (Fukuoka)- April 28th thru May 20th
There will be an entry fee and reservations, with seating in 90 minute blocks, with two different scheduled time groups available. Seating will begin 15 minutes before a scheduled time.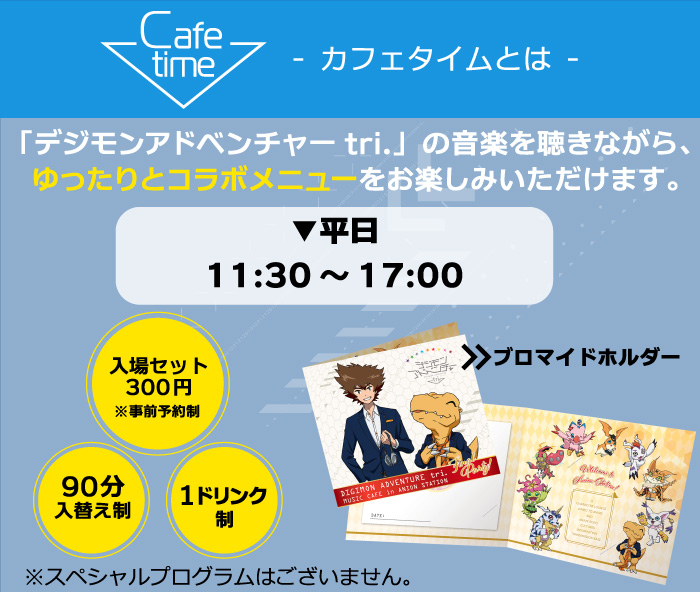 Cafe time will be 300 yen and be a calmer experience where you can enjoy your meal while listening to music, but won't have any special programming. A bromide holder is included with your entry. You have to order at least one drink.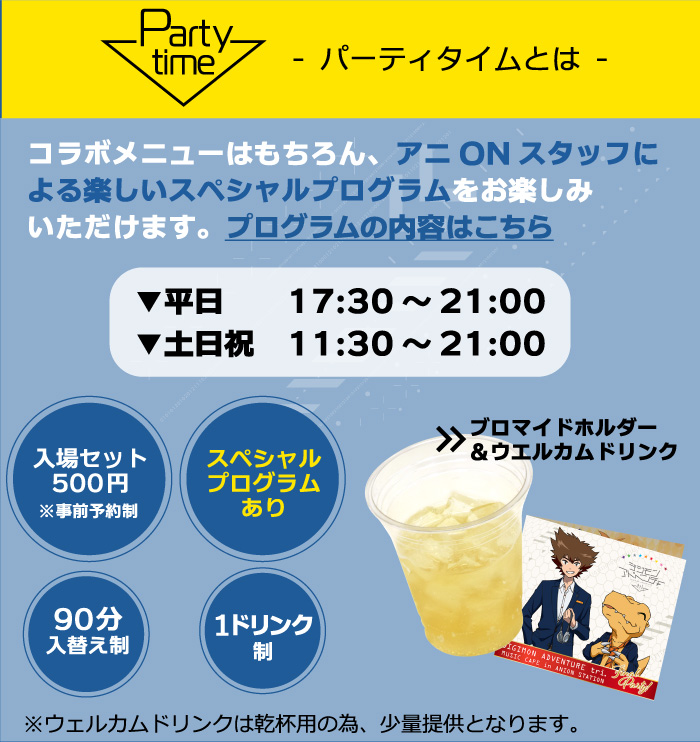 Party time will be 500 yen and will include various programming. It's 500 yen and you get a bromide holder and a 'welcome drink', but you'll still also have to order a drink.
The story/setup of the cafe is...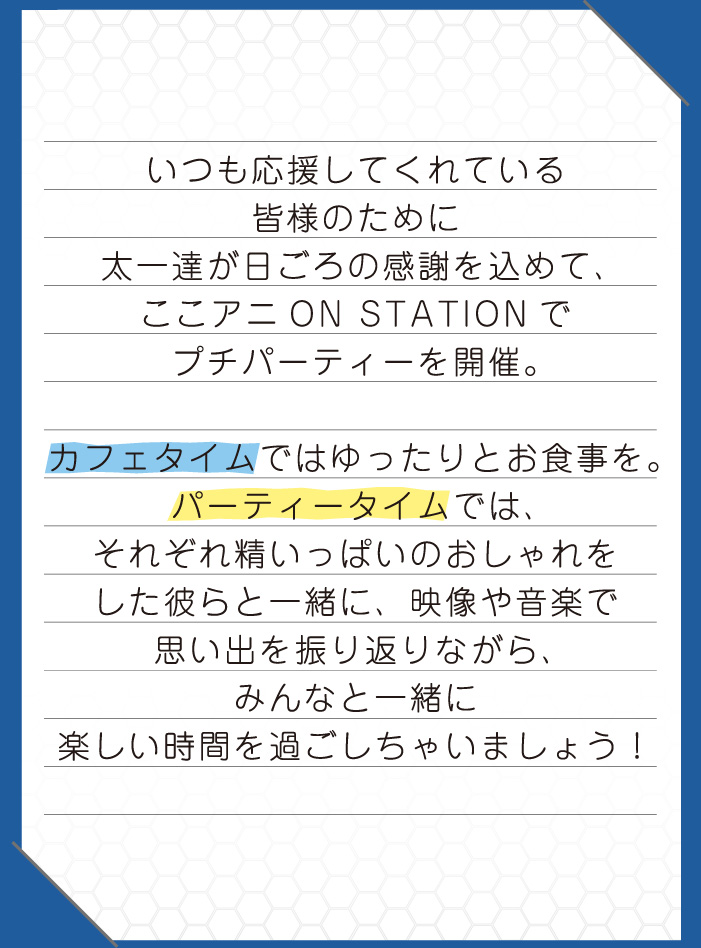 For everyone who always cheers us on, Taichi and the others hold a party at Ani-On Station. Relaxing dining options at cafe time and have a good time with them at party time and enjoy looking back on memories with video and music.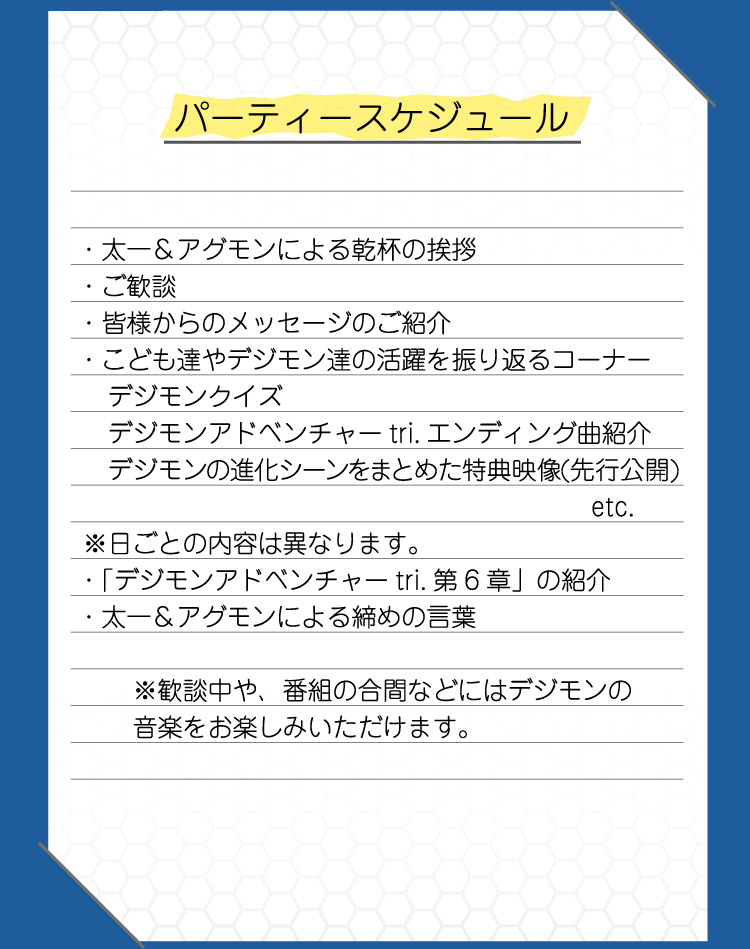 Party Time will have plenty of events including...
Cheers and Greetings with Taichi and Agumon
A chat
Introductory Messages from Everyone
A look back at the Children and Digimon
Digimon Quiz
Digimon Adventure tri. Ending Songs
Pre-Release Viewings of the Evolution Clips (
from the upcoming home video release of tri. Part 6
)
Possibly More, since they list 'etc.' afterwards
Digimon Adventure tri. Part 6 Introduction
Closing Words from Taichi and Agumon.
Events will change daily.
The schedule for Party Time will be a 15 minute reception (enjoy your welcome drink, order, etc.), the Taichi and Agumon greeting, chatting time, the special programming, a tri. Part 6 trailer, and then the closing words from Taichi and Agumon.
In-between programs Digimon music will play.
Schedule details for when it's Cafe Time and when it's Party Time.
The left column has time in a 24 hour format, the middle column is for weekdays and the right is for weekends
Then we have the menu...
The food and drink menu is split into two halves, with different items available based on when you go.
Akihabara
1st- April 18th to May 4th
2nd- May 5th to May 27th
Nagoya
1st-May 9th to May 20th
2nd-May 21st to June 3rd
Namba Parks (Osaka)
1st- May 9th to May 20th
2nd-May 21st to June 3rd
Sapporo Esta
1st-May 12th to May 20th
2nd-May 21st to June 3rd
Hakata Bus Terminal (Fukuoka)
1st- April 28th to May 8th
2nd- May 9th to May 20th

The food menu being shown for now is items that will be available through the entire cafe. Each item is 900 yen.
Digital World- Basil rice with lettuce and baby leaves simulate a small island, while a light blue curry surrounds it simulating water. The train car on the island is actually a monaka (it appears to just be one of the wafers and not a full monaka, which is also used on other items.)
Butter-Fly- A carbonara with butter-fly shaped ham. A monaka with the cafe key art is also on the dish.
Chosen Children- A layered desert featuring various items to represent all the kids. Included is orange sorbet, ramune ice cream, chocolate sauce, star shaped chocolates, a cherry, strawberry chocolate snacks (appears to be Pocky), whipped cream, cornflakes, blue pineapple jelly, blueberry sauce, and raspberry sauce. The raspberry sauce appears to come on the side to pour over, and there is some mint for garnish.
They will announce food that will only be served during the second half later.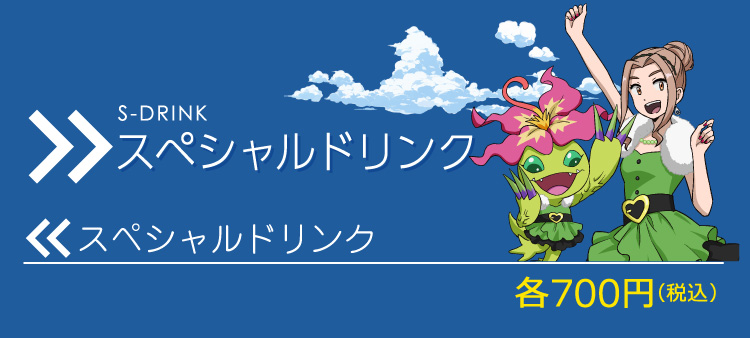 Onto the drinks! All drinks are 700 yen and include a digivice coaster that features the kids and Digimon!
First up, the drink that will be served for the entire run of the cafe!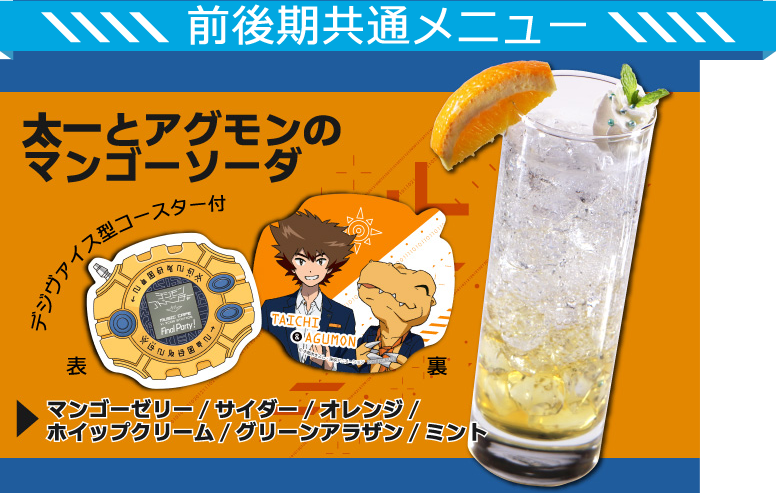 Taichi and Agumon's Mango Soda- Mango jelly sits at the bottom of a glass of cider. It's garnished with an orange, some whipped cream and a green pearl topping. The jelly appears to create a nice almost glowing effect.
Next are the drinks that will only be served during the 1st half of the cafe!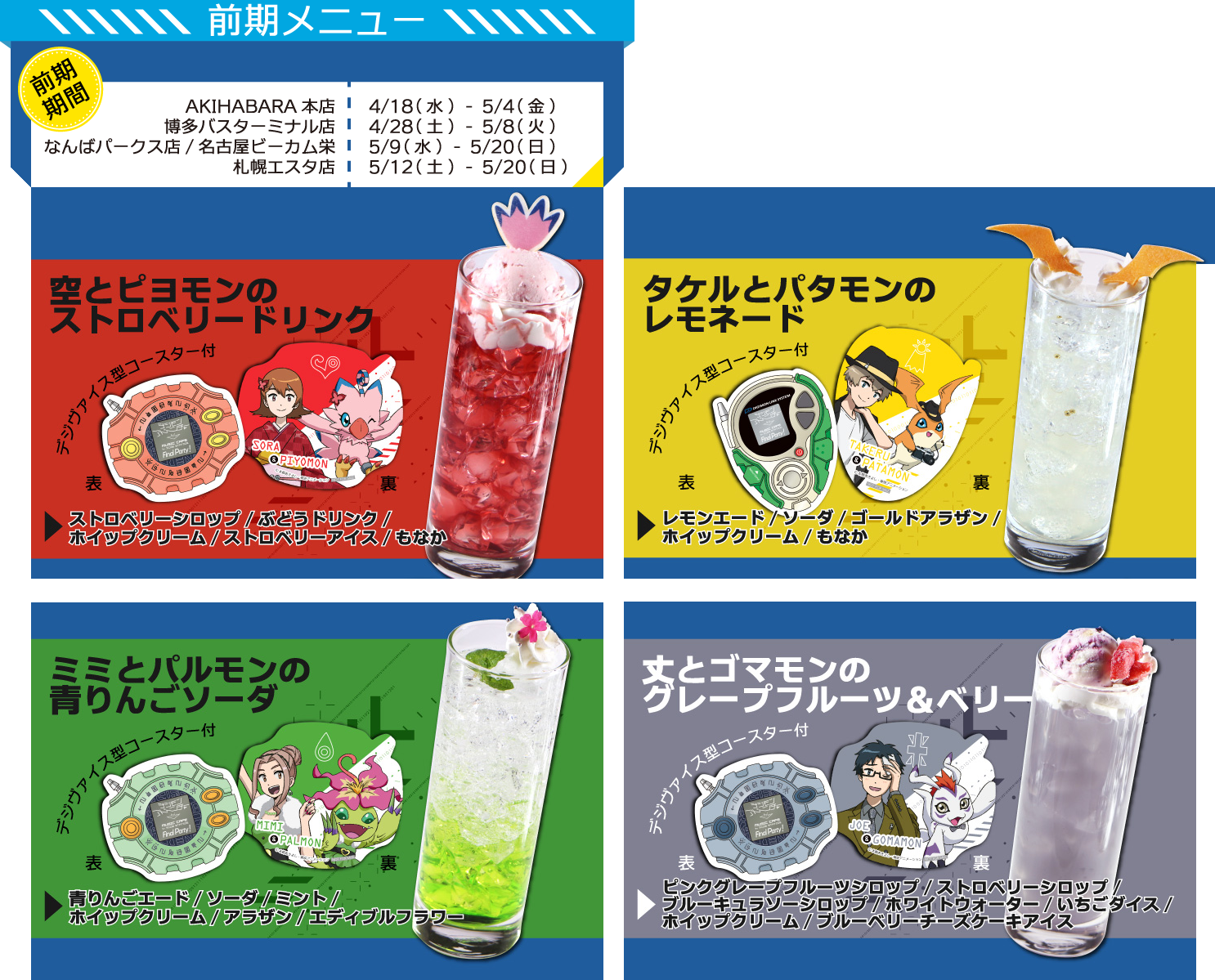 Sora and Piyomon's Strawberry Drink- Strawberry syrup is mixed with grape drink and topped with whipped cream, strawberry ice cream, and a small Piyomon tail shaped monoka.
Takeru and Patamon's Lemonade- Lemonade is mixed with soda water and sprinkled with a gold pearl topping. It's topped with whipped cream and Patamon wing monakas.
Mimi and Palmon Green Apple Soda- Green appleade is layered underneath soda water and topped with mint, whipped cream, a silver pearl topping, and an edible flower. The flower appears somewhat similiar to the flower on Palmon's head.
Joe and Gomamon's Grapefruit and Berry Drink- Pink grapefruit syrup, strawberry syrup, and blue curacao syrup are mixed with whitewater and topped with a blueberry cheesecake icecream, whipped cream, and diced strawberries. The topping emulates the general look of Gomamon well in food form.
Last up for drinks are the ones being served only during the 2nd half of the cafe!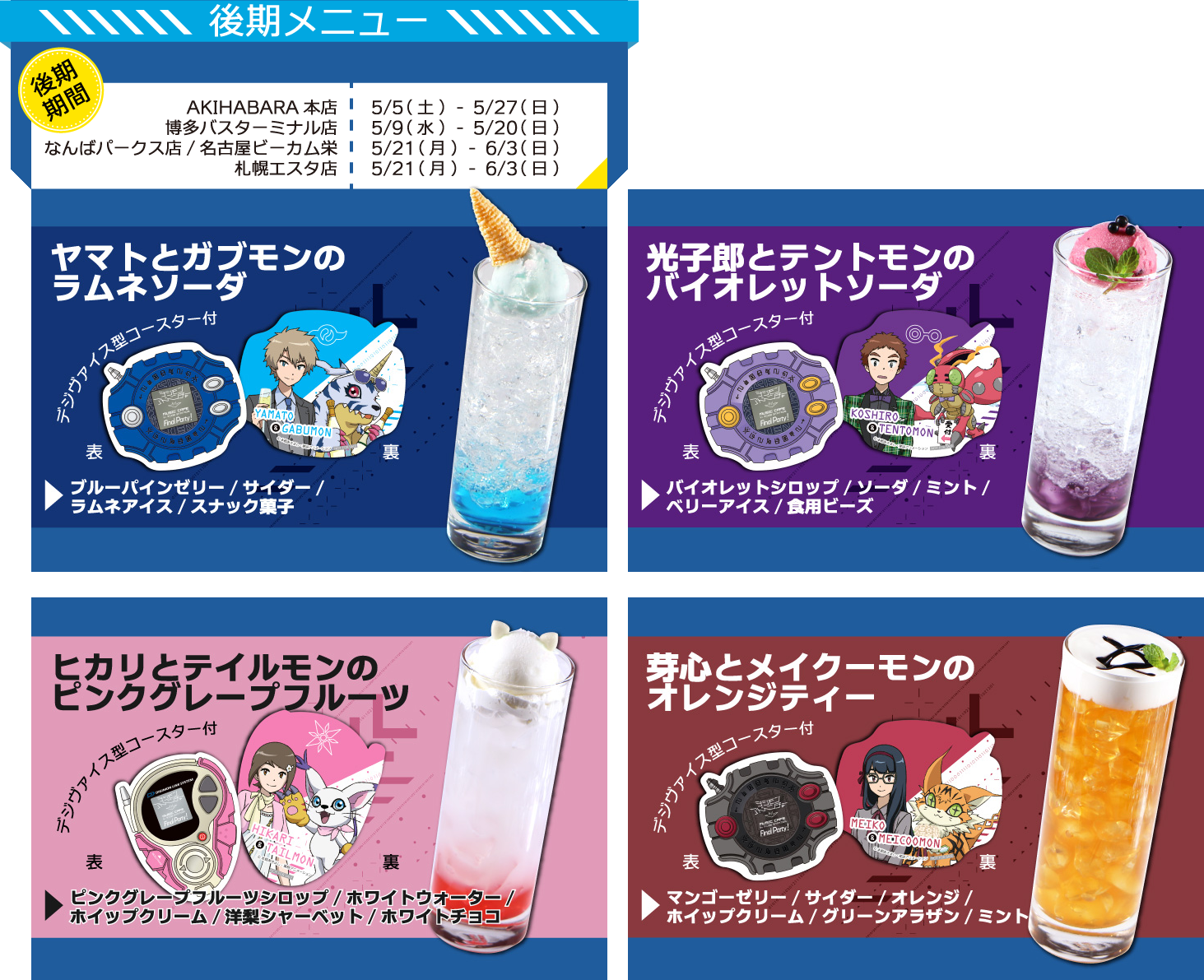 Yamato and Gabumon's Ramune Soda- Cider floats on top of blue pineapple jelly. It's topped with a scoop of ramune ice cream and a candy snack in a familiar shape...
Koushiro and Tentomon's Violet Soda- Violet syrup is layered under soda water and topped with berry ice cream, mind, and edible beads in a manner that makes you think of Tentomon's shell.
Hikari and Tailmon's Pink Grapefruit Drink- Pink grapefruit syrup sits under white water and is topped with a pear sorbet, whipped cream, and white chocolate giving the appearance of cat ears.
Meiko and Meicoomon's Orange Tea- Mango jelly is mixed with cider and orange (they say orange, but I think it's orange aid or an orange drink) and is topped with whipped cream, green pearl toppings, and mint. They don't seem to mention it, but it looks to be topped with a bit of (chocolate?) syrup that's shaped like Meicoomon's double helix design.
Food and drink purchases also get you something to fill that bromide holder with...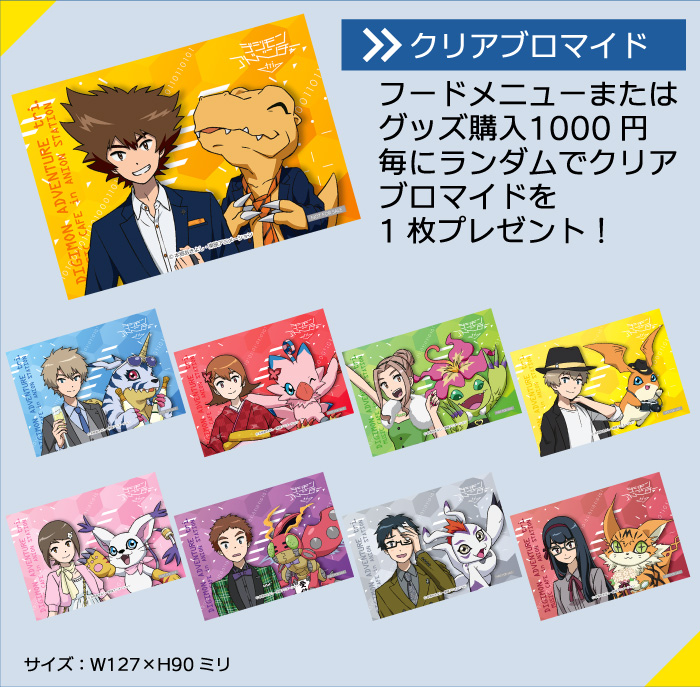 Clear bromide prints of the new cafe art! You get one each at random for every 1,000 yen you spend. The bromide prints measure roughly 5 x 3.5 inches.
As for products on sale at the cafe...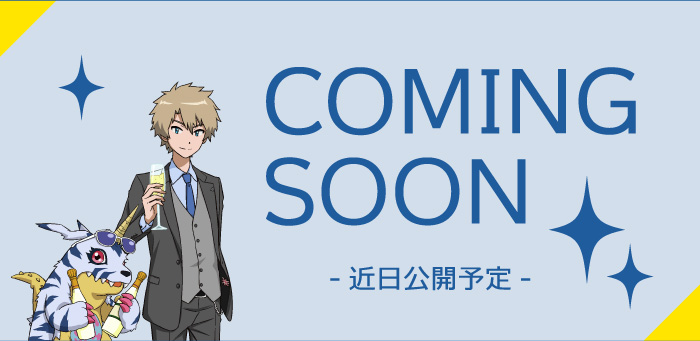 Those will be announced at a later date.
There are various common sense guidelines to follow when/if you go:
Time and content may change based on scheduling reasons.
No recordings during the shows.
If you act in a way that causes issues you may be asked to leave.
If you want to photograph the food, drinks, and various novelties at the shop that's fine. There will also be a photo spot (likely with character cutouts or something similiar.)
Don't record the monitors. (They bring it up twice, so they really don't want you to.)
The locations have different times when people under 16 may not be allowed in without adult supervision.
They may limit how much food, drink, and products you are allowed to buy, and things may sell out.
More to come soon!
Thanks to shin for help with some of the drink and food details before she passed out!
Some additional translated details may be added shortly.
You'll want to contact an intermediary to get these items sent to you. WtW is not affiliated with any, but here are a selection of intermediaries that have worked well for various WtWers and their friends in the past:
From Japan
Rider Proxy
Nippon-Yasan
Be aware many intermediaries do not carry items from specialty shops since they can't be ordered online. You will need to ask them and explain what you want very carefully (perhaps with a photo.) Some intermediaries will potentially still not be willing to get the item (or may only be willing to at great cost.) Realistically to get anything from the cafe at a reasonable cost you'll have to find someone who is actually going and ask them to pick you up something.
Some of the intermediaries have a full store front and may have the item listed, so you may want to check that first.
The prior thread for the 3rd tri. music cafe is
here
.