Show User Social Media
Hide User Social Media
Joined

Sep 8, 2006
Messages

16,445
More stuff!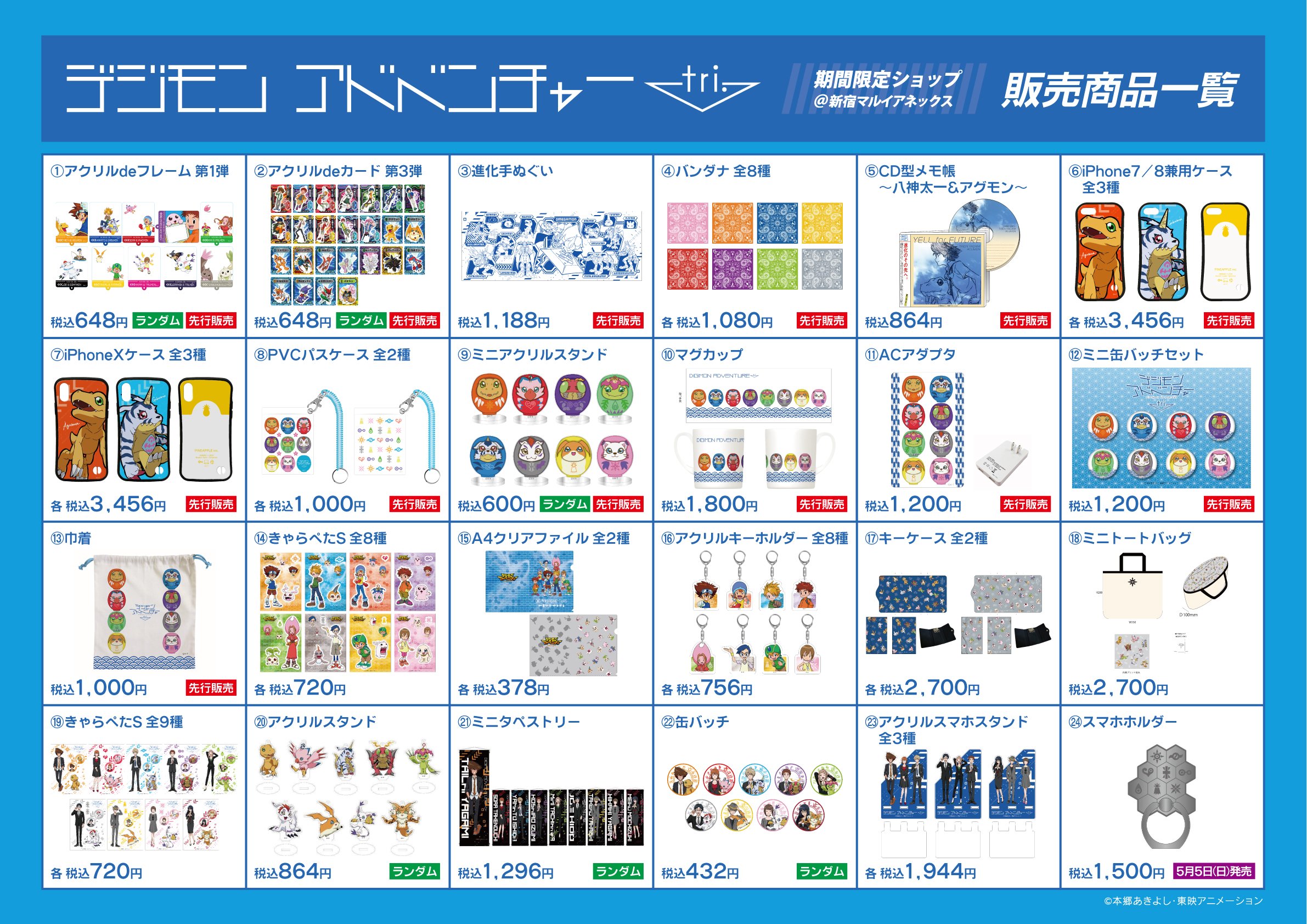 This time it's a pop up shop at the
Shinjuku Marui Annex
that they are calling the Digimon Adventure tri. Limited Time Shop!
It'll be held May 2nd to 22nd at the first floor event space at the Maryu Annex.
As you can see above, there will be a number of products including:
Acrylic Frames
Series 3 of the Digimon Acrylic Cards! (some familiar faces!)
a tri. towel
Bandanas
a CD Type Note Pad with Taichi and Agumon? (it's a notepad designed to look like a CD case with CD style pags)
iPhone 7 and 8 cases
iPhone X cases
PVC pass cases
Mini acrylic stands featuring the Digimon!
a mug!
a multi-usb plug ac adapter
a mini can badge set
a pouch
a smartphone holder.
and that's just the stuff we haven't seen before, they'll have a number of items that have shown up before also.
As for series 3 of the Digimon Acrylic Cards, some nice character choices: (02) Taichi, (Bokura no War Game) Koushiro, (02) Miyako, (tri.) Hikari, (Tamers) Jenrya Lee, (Frontier) Kouji, (Frontier) Kouichi, (Savers) Ikuto, (XW) Kiriha, (Hunters) Taiki, (Appmon) Yuujin, (Appmon) Eri, Agumon, Patamon, Etemon, Imperialdramon Fighter Mode, Guilmon, Fairymon, Lucemon, Alphamon, Gaomon, Dorurumon, Gumdramon, DoGatchmon, and Botamon!
Update- Cleaned up the article and added a list of the new acrylic cards.
Update- The Limited Time Shop will have a special lottery for holders of an Epos brand credit card.
For every receipt that has purchases at the shop of at least 3,000 yen, they get an entry into a lottery. Those who sign up for an Epos Card on the spot will get two additional entries.
The prizes for the lottery. Each entry is guaranteed a prize:
A Prize- A poster signed by Natsuki Hanae and Chika Sakamoto (Taichi and Agumon.)
B Prize- A complete set of 8 original postcards.
C Prize- 1 random postcard from the set of 8.
There will be limited stock of each prize.