Show User Social Media
Hide User Social Media
Joined

Sep 8, 2006
Messages

16,108
Another thing we only just found out about!
We recently found out there would be a collaboration between Digimon Adventure tri. and the apparel brand Freak's Store from the solicitation information for the
"Digimon Adventure tri. Magazine Special Issue"
and the products in that collaboration have been detailed.
From left to right in the image above...
Sleeve Print T-Shirt, 4,500 yen- This shirt features the tri. geometric patterns on the sleeves along with the tri. and Freak's Store logo on the chest. They mention it being in four colors, yellow and purple, and 'basic' black and white.
Butter-Fly T-Shirt, 4,500 yen- This shirt features Butter-Fly text that also says Since 1999. It's available in both black and white.
Multi-straps, 900 yen- These straps will be available in all 8 colors representing the kids and their Digimon. It says Digimon Adventure tri., Freak's Store, along with 0801 and 1999 text.
Mei Collaboration Meicoomon Shoulder Bag, 4,500 yen- A triple collaboration between tri., Freak's Store, and outdoor brand Mei. This is a black bag with Meicoomon design stitching. They've also added Meicoomon's forehead tag M on top of the Mei logo.
Orders for the items will begin on May 2nd at ZozoTown. They don't provide a link, but the
Freak's Store page at ZozoTown
is a likely place.
In addition, these items will be sold at
the Ikebukuro tri. Pop-Up Shop
. The first ten people who purchase any of these items will get a special mini towel.
Update- The towel is a tri. Part 6 themed microfiber towel.
While not on the pop-up stores list of products, this is one of the items they were expected to have regardless (prior towels have been at the stores quite a bit.)
In addition they've shown off the cover to the
Digimon Adventure tri. Magazine Special Issue
.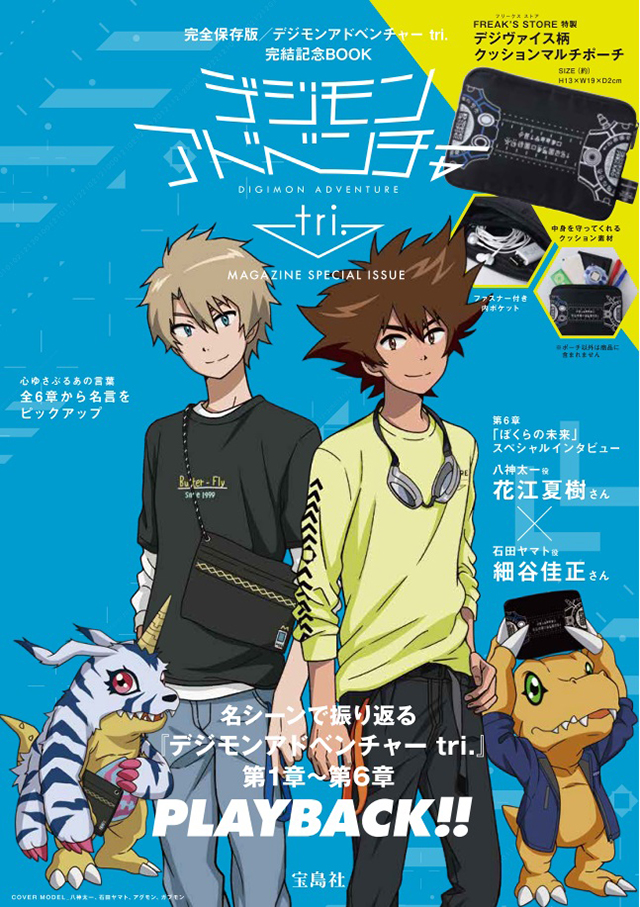 A basic but nice cover.
As previously announced, it will also come with a Freak's Store collaboration item.
A Digivice Pouch.
You'll want to contact an intermediary to get these items sent to you. WtW is not affiliated with any, but here are a selection of intermediaries that have worked well for various WtWers and their friends in the past:
From Japan
Rider Proxy
Nippon-Yasan
You'll want to provide your chosen intermediary with the link to the item. Just copy paste the link to the product pages for what you want and send them a message about it and they'll take care of it after they discuss pricing and their policies with you. The links embedded in the news article for the products are exactly what you'll need to send them.
Some of the intermediaries have a full storefront and may have the item listed, so you may want to check that first.