Show User Social Media
Hide User Social Media
Joined

Sep 8, 2006
Messages

13,988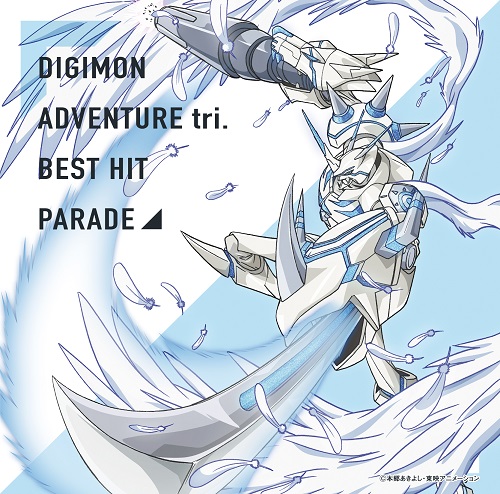 A few bits of music news...
First up,
FeelMee has announced
Digimon Adventure tri. Best Hit Parade for March 25th for 2,273 yen.
The cover features (what looks to be new) artwork of Omegamon Merciful Mode.
Should be an affordable and easy way to nab a bunch of tri. music for anyone who wants it.
The "Best Hit Parade" name was previously used for Adventure, 02, and Frontier for collections of their most popular singles collected in an album, the same as being done here. (And the number of singles tri. had should hopefully allow them all to appear.)
Tracklist for the album:
1. Butter-Fly -tri. Version-, Wada Kouji
2. Brave Heart -tri. Version-, Ayumi Miyazaki
3. I Wish -tri. Version-, AiM
4. Seven -tri. Version-, Wada Kouji
5. For Me, Knife of Day
6. Keep On -tri. Version-, AiM
7. Aikotoba, Ayumi Miyazaki and AiM
8. Butter-Fly -tri. Version- [Finale Version], Chosen Children, Digimon Shinkers, Ayumi Miyazaki, AiM, Wada Kouji
We expect pre-orders to show up reasonably quickly.
On top of that,
FeelMee has shared
that the new singles that have come out for Kizuna appeared on the Oricon Singles Chart.
28. Wada Kouji, Butter-Fly
31. AiM, Even if We're Apart
33. Ayumi Miyazaki, Brave heart -Last Evolution Version-
36. Ayumi Miyazaki, What Lies Ahead [We may shift to calling this 'Beyond' once the movie is out based on context]
Some neat music news right before the movie comes out!
If you want to order the CDs, they are all still available: (CDJapan affiliate links)
Opening Theme- Butter-Fly
Insert Song- Brave Heart ~Last Evolution version~
Insert Song- What Lies Ahead
Ending Song- Even if We're Apart
Digimon Adventure: Last Evolution Kizuna, the 20th Anniversary film for Digimon Adventure, comes out February 21 in Japan and
March 25th in the US
. Tickets are currently on sale for the US screenings, so check Fandango, Atom, or wherever you would normally check for tickets.
The Kizuna page on Fathom's website
lists theaters.
Update- Added the tracklist.