Show User Social Media
Hide User Social Media
Joined

Sep 8, 2006
Messages

16,154
This is a big one!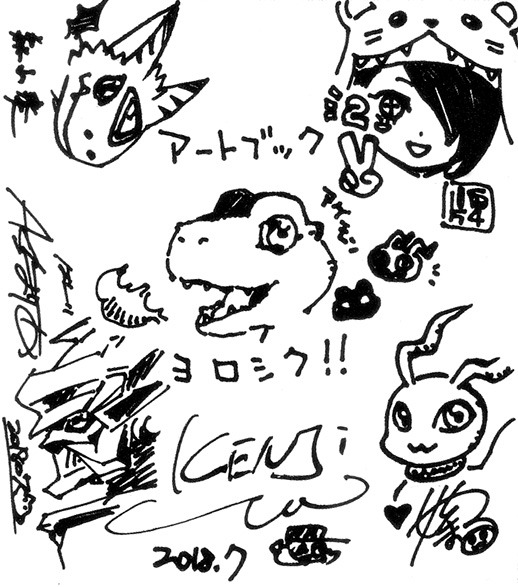 The Digimon Designers' Special Talk is a roundtable interview with a number of Digimon artists/designers and was conducted in July of this year for inclusion in the Digital Monster Art Book Ver. Pendulum.
It includes a number of interesting details from the history of the franchise, from the earliest days up through right now.
This group interview was teased in a few
MonMon Memos
earlier this year. The image above is a shikishi they all drew on during the talk.
This roundtable is a standalone interview, but it also acts as a kind of follow-up or companion piece to the solo
interview conducted with Kenji Watanabe for the V-Pet Artbook
last year.
Huge thanks to
garm
for translating this for everyone.
A few formatting changes were made to fit the forum better. Any additional changes were discussed with garm, and further changes may be made based on additional discussion.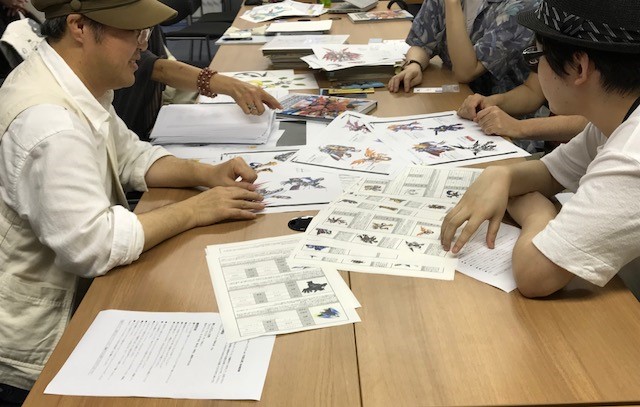 (Digimon Designers) Image was taken during the roundtable, and included in a MonMon Memo. It's being included in this article for clarity.
Attendees:
Kenji Watanabe (渡辺けんじ)
: Has been involved with the Digimon series since the 'Digital Monster' V-pet. He has also contributed to 'Tamagotchi' and 'Legendz: Tale of the Dragon Kings'.
Kagemaru Himeno (姫野かげまる)
: Manga artist and illustrator. Some of her signature works include 'PaPiPu Pet' (published by Shogakukan), and 'Pokémon Card ni Natta Wake [How I Became a Pokémon Card]' (published by Media Factory).
Soh Moriyama (森山奏)
: Illustrator. He has done designs and illustrations for of course, the 'Digimon' series, but also for the Digimon Web Official Twitter account.
As'maria (As'まりあ)
: Illustrator. He works mainly on X-Antibody Digimon. He has a varied style, ranging from highly-detailed robots to super-deformed 'SD' characters.
Haito Nakano (中野牌人)
: Illustrator. He has worked on the official illustrations of Digimon such as GraceNovamon. He also contributes to the designing of toys.
Watanabe and Moriyama's 2-man Era
–When were you first involved with Digimon?
Watanabe
: Well, I was involved since the planning stages of the 'Digital Monster' toy, but since I was also working on illustrations for 'Tamagotchi' at the same time, I quickly became unable to handle all of the illustration work for Digimon on my own. So, starting from around 'ver. 2' of the V-pet, I put in a request for additional help with Bandai and their associates. That was when Moriyama-san came on board.
Moriyama
: If I recall correctly, I was still a student back then, so I did this as a part-time job. When I applied, I didn't know what exactly this job would entail, just that they were looking for people who could color digitally. Although there were many famous illustrators in the company, most of them only knew how to color with Copic markers; Photoshop had only just begun to gain popularity around then, and since I just happened to know my way around digital coloring, I applied for the job. In the beginning, Watanabe-san would draw and hand me the finished linework, and my job was to color in the linework. From there on, I slowly started to delve into doing illustration work as well.
Watanabe
: At that time, we had two other illustrators with us as well: Rika Saitou-san
¹
and Tomotake Kinoshita-san
²
. Since they were in charge of doing illustrations that showcased the actions or movements of the Digimon, I put in a request for Moriyama-san to help in the drawing of official artwork. In time, Moriyama-san became a freelancer and I was able to liaise with him directly.
Moriyama
: Since it was on the way of my commute, I remember regularly stopping at one of the train stations to pass documents over to him (laughs). I began my coloring work on Digimon starting with the 'ver. 5', and the first Digimon I was involved with designing were the 'Nightmare Soldiers' Mokumon, PicoDevimon, Candmon, and others.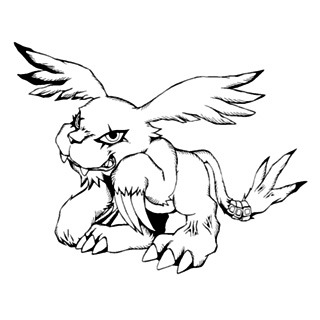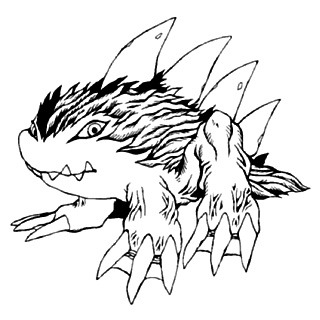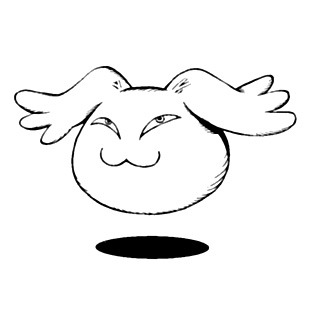 (Lineart drawn by Watanabe-san, which were then colored in by Moriyama-san.)
Change in Illustration Direction: The X-Antibody Digimon Era
Watanabe
: If I'm not wrong, the next person to come on board would be As'maria-san. Up till then, Moriyama-san and I were pretty much the only two people working on the artwork.
Moriyama
: Since the anime series had ended, I was wondering where we would go from there. That was when I received the request to illustrate the booklet manga for the 'Pendulum X'; I was surprised to hear the news.
Watanabe
: That was also when we got As'maria-san to contribute to the series.
Moriyama
: The premise behind the 'X-Antibody' was to get various creators to participate and draw the Digimon while adding their own personal touch. The manga I would draw would also be linked to this premise.
Watanabe
: At the time, since we already had a fair amount of existing Digimon, we thought of getting new people in to redesign those Digimon; that's how the 'X-Antibody' came about. That's also because I was busy helping with 'Legendz: Tale of the Dragon Kings' then. I did do the artwork for several Digimon such as DORUmon, but halfway through, Kaneki Tanukikouji-san
³
, who was from the card game department, introduced me to As'maria-san. I was talking to Tanukikoji-san about the direction I wanted to take the 'X-Antibody' in when he told me "If you're looking for someone to add their personal touch to the designs, I know someone perfect for the job". I think As'maria-san had already drawn Omegamon for the card game then.
As'maria
: Yes, I originally drew several Digimon, such as WarGreymon, for the card game's 'Ultimate Battle Set'. MetalGarurumon was the first X-Antibody Digimon I did the art for.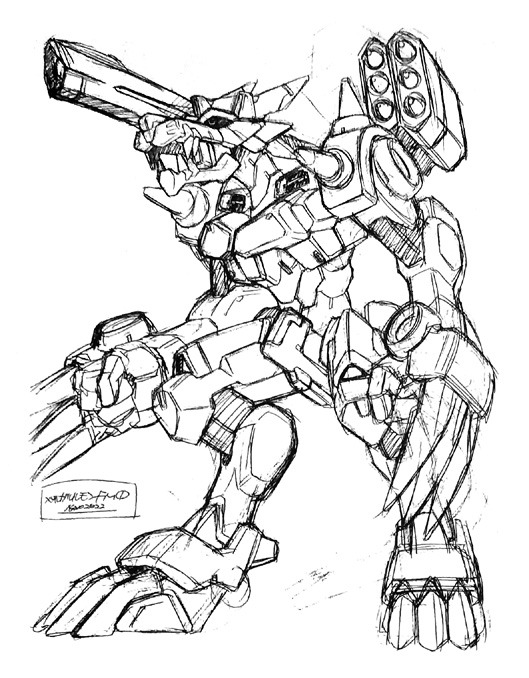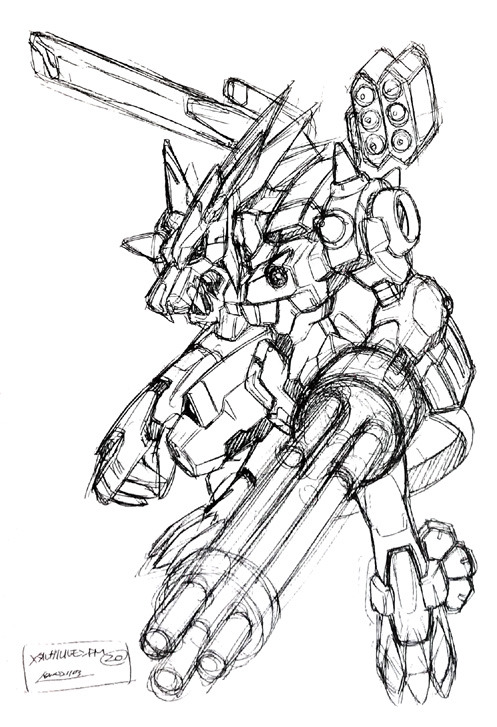 (As'maria-san's sketches of MetalGarurumon (X-Antibody).)
As'maria
: I still clearly remember thinking about what kind of appearance I should give MetalGarurumon. Since WereGarurumon was bipedal while MetalGarurumon was quadrupedal, I thought, why not make MetalGarurumon's X-Antibody form bipedal again? My initial design also had it wielding its claws as weapons. When I was doing the artwork for Cerberumon X-Antibody, I had received the rough sketch from Kenji-san beforehand and it was my job to brush up on that sketch. However, I never met up with Kenji-san to discuss ideas regarding the X-Antibody aside from that initial meeting.
Watanabe
: That's right, we didn't meet up in person. I wasn't very involved with the X-Antibody side of things, so there are probably tons of X-Antibody forms that I haven't even seen yet (laughs).
Aiming to Design 'Cute' Digimon
Watanabe
: Himeno-san came on board to help with Digimon a bit after that. I had previously worked with her on adapting the 'PaPiPu Pet'
⁴
project into a comic. I think she was also illustrating for a 'Pokémon' manga at the time.
Himeno
: I made my debut as an illustrator through shojo manga, but at the time I was doing illustration work for the 'Pokémon Card Game', as well as for a manga about Pokémon cards.
Watanabe
: I thought it would be nice to have someone who could draw in a cute style, so I reached out to Himeno-san. I was aware that she was also busy with her manga illustration work, so I tried not to sound pushy (laughs). But she replied that she was free and would be happy to help.
Himeno
: I don't usually mention outright that I do artwork for Digimon, so I wonder how many people actually realize that I do (laughs).
Watanabe
: It might be because you use the pen name 'Himemaru' (laughs). If I'm not mistaken, you were involved with both Pokémon and Digimon even before Tenya Yabuno-san
¹
.
As'maria
: I often bought Pokémon cards at the time so I was really shocked to find out, too.
Himeno
: I don't remember very clearly which the first Digimon I drew was, but I think it was Mamemon's X-Antibody form.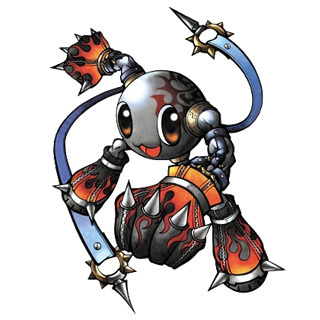 (Mamemon (X-Antibody), Himeno-san's first art contribution to Digimon.)
Watanabe
: So you were involved since the X-Antibody era. Back then, I told the staff "I think Himeno-san would be perfect for designing cuter characters" before leaving, so we didn't get to meet after I asked for your help.
Himeno
: That's right. Also, after I had sent them the finished illustrations, I never actually got to see what they would be used for. I still have no idea, to be honest (laughs).
Watanabe
: They were most likely taken to be used as official artwork for the X-Antibody Digimon. So it's not so much that the artwork was meant to be used for something specifically, but more that the finished artwork would go on to be used in cards, instruction booklets, and so on.
From a Consumer to a Creator
Watanabe
: Nakano-san, you were still a student when we reached out to you, right?
Nakano
: That's right. I was still in university back then.
Watanabe
: When I asked him what his plans for the future were, I saw that he had already been doing illustration and so I brought him into the industry.
Nakano
: I think this would be my fifth or sixth year in the industry. AeroV-dramon was the first Digimon I drew for work.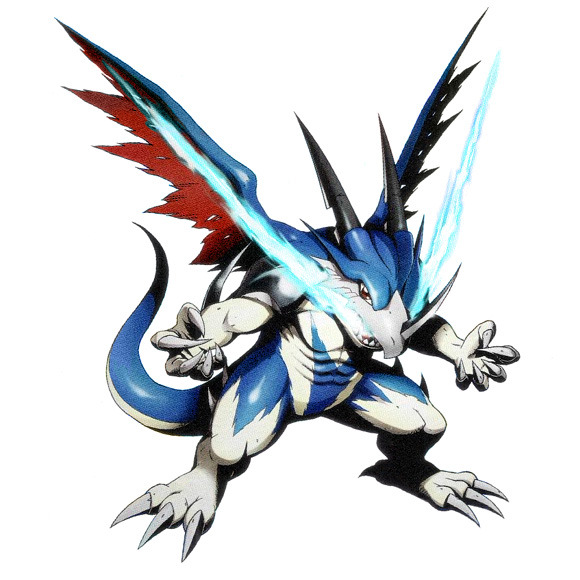 (The first illustration done by Nakano-san for work.)
Moriyama
: That means you were part of the target audience back when the X-Antibody was first introduced.
Nakano
: Yes, that was around when I was in middle school.
Watanabe
: I had gone back to being the only Digimon illustrator around the time 'Digimon Story' debuted. Although we did sometimes outsource Digimon illustrations outside of WiZ, we were also trying to keep the illustration work done in-house at WiZ as much as we could. However, as plans for the 'Digimon Jintrix'
⁵
and 'Digimon Crusader'
⁶
projects were being drawn up, both of them requiring a large number of illustrations, it became such that I wouldn't be able to draw all these required illustrations alone. That's when I tweeted "Looking for people interested in drawing Digimon!" on Twitter.
Nakano
: It was such a sudden tweet, but I indicated my interest nevertheless.
Watanabe
: We originally met at a fan event. Around the 'Xros Wars' era, I would begin attending these events and seeing for myself the amazing number of Digimon fans, as well as meeting and interviewing a few.
Moriyama
: There would be various types of fans interested in different aspects of the series, such as in the anime, or in the toys or card games.
Nakano
: I was in elementary school back when 'Digimon Adventure' aired, and I remember having a lot of fun collecting the cards too. Back then, I really enjoyed redrawing existing characters while adding in elements of my own, which is true even now, so seeing the X-Antibody redesigns for the first time really surprised me. I went, "Wow, what is this!?". MetalGarurumon's X-Antibody form in particular left a deep impression on me. It was bipedal, it had cannons on its shoulders, it had those spikes and everything. Middle schooler me back then thought 'They're really going all out with this'.
Watanabe
: I'm always really glad to hear about people like Nakano-san getting into drawing Digimon from watching the anime. Not only that, getting people familiar with Digimon to draw for Digimon saves us the trouble of having to explain everything to them (laughs).
Freedom in Designing
–Is there anything about illustrating for Digimon that really stuck with you?
Himeno
: Since I mainly do illustration work for 'Pokémon', I found the spikiness and female Digimon's sex appeal in Digimon really interesting to draw.
Watanabe
: The New Year's greeting cards I receive from Himeno-san every year always have these heavily armored girls on them, drawn with elements taken from the Chinese zodiac, and they just have so much detail. Looking at them always makes me think, 'I bet nothing is impossible to draw for whoever can draw like this'. Her Digimon illustrations tend to be packed full of details too.
Himeno
: It's really fun adding all the details. For Digimon, I'm usually not given many specifications or restrictions, and I'm just told to draw however I like. So it was really enjoyable to be given the freedom to come up with art for Digimon such as Sistermon.
Moriyama
: For me, it was illustrating the opening pages of the 'Pendulum X' booklet comics that left the deepest impression. The manga I drew had the purpose of introducing and explaining to the players the world that the 'Pendulum X' was set in. Since Omegamon was the antagonist of the story, I tried to draw its flashing eyes and mouth in a way reminiscent of an oni
²
. Imagine my surprise to hear of fans using this story as a base to create and perform a radio drama
³
!
Watanabe
: There are even fans out there who took the protagonists of the comics and wrote their own stories about them. The person in charge of the project was named 'Koutarou', so the protagonist of the manga was named 'Kouta' after him.
As'maria
: I think I got a bit too excited when I first drew Omegamon, so I tried to reflect on that while drawing Dukemon and I feel that the result turned out nice and polished, even for my own standards. Working on WarGreymon left an impression on me as well. When the 3DCG models for 'Digimon X-Evolution' were being made, I wondered to myself whether WarGreymon X-Antibody's design would really translate successfully to 3D, and so I drew up a turnaround sheet from ground up and even made a model of it to test.
Watanabe
: I remember thinking 'Wow, this is really cool!' the first time I saw Gaioumon. Like, I was amazed that you could bring out the 'Japanese' aesthetic in this manner.
As'maria
: When I received the request to redesign BlackWarGreymon, I was told to add a bit of Japanese flair to it. So I did up a rough sketch and made it dual-wield swords while adding some Japanese flavor, and they were so pleased with it that they said "Let's give it an entirely new name!". That was the first Digimon I designed that received a completely original name, instead of 'something'-mon X-Antibody.
Watanabe
: While doing up illustrations for the games, I had mentioned that I wanted to draw Gaioumon, and so I was allowed to do so. But then, I couldn't really make out the lower half of Gaioumon's design, so I drew its upper body leaning forward so as to hide its lower half, to which I was then told to "draw it properly". I replied "I can't do it…" and was this close to crying (laughs).
Nakano
: I mainly worked on either redrawing existing designs, or finishing the rough sketches sent to me by Watanabe-san. I think GraceNovamon was the first Digimon I designed completely from scratch.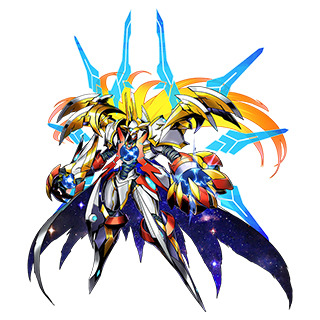 (GraceNovamon.)
Watanabe
: When I saw it, I thought, 'Now this is something only Nakano-san can draw. This is really something else.'.
Nakano
: Watanabe's designs for the Zubamon line had the really clear '20' motif drawn on them, which really drives home the fact that these are the anniversary Digimon. So in my case, I decided to take the exaggerated approach instead, and set out to design something as flashy as possible.
Moriyama
: Examon was already in a league of its own in terms of size, so I never would've imagined that an even larger Digimon would come along.
Watanabe
: I've been letting Nakano-san design more new Digimon lately, but each time he does it's another design that only Nakano-san himself can draw (laughs).
Moriyama
: A lot of the newer Digimon are really detailed.
Nakano
: I remember putting a lot of effort into drawing Voltobautamon's face too.
Watanabe
: In the case of Voltobautamon, I drew the official art while Nakano-san drew the in-game portrait. The recently released Rafflesimon was Nakano-san's design as well.
Nakano
: The only instruction I got was to design a fusion between Rosemon and Lotusmon, so when I simply tried to fit them together initially I ended up with an Omegamon-like design.
Watanabe
: When I received his first draft, I remember having something different in mind, so I replied with ideas such as "If you're going for the 'most powerful' of flowers, maybe the rafflesia is a nice fit?" and "Why not give it a feminine appearance?".
The Unique Linework and Inking in Digimon
–Is there anything you try to take note of when drawing Digimon?
Himeno
: Even though I was told I could freely draw however I wished, I remember initially worrying about whether I had to include the signature black linework in my drawing. When I tried to imitate the original Digimon drawings by adding in black shadows, the end result would appear too black when shrunk down to the size it would be used at.
Watanabe
: There were times I accidentally ended up with drawings that were overly black, too.
Moriyama
: For Digimon illustrations, I found that adding a black fill for around 20% of the illustration helped to make it more vivid, after which I would add rough highlights.
Watanabe
: I still remember when parts of Moriyama-san's drawings were filled with black, they would in turn end up too black and we would often have to redraw or fix those parts properly.
Himeno
: You have a unique style of inking! I feel that very strongly.
Watanabe
: To think it came about because I was too lazy to draw in the details…(laughs)
Moriyama
: That black fill is especially apparent in areas such as on Tyrannomon's head. The shaded area might seem weird lighting-wise when you think about it, but that black-filled area really helps to bring the whole piece together.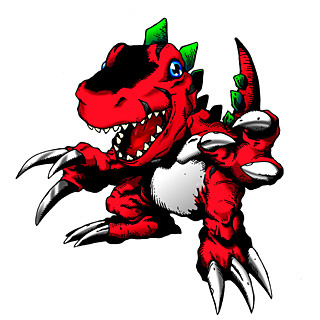 (Pay attention to Tyrannomon's forehead.)
Watanabe
: It's like studio lighting, where there can be more than one light source. The illustration's composition wouldn't be as nice without the black-filled forehead, but that area isn't colored black on the character itself (laughs).
Himeno
: So it's not its base color, but instead shadow. The style really screams 'This is Digimon' to me, it's a style that no one else can replicate exactly and is difficult to even imitate.
Watanabe
: Yes, I've been asked if I was trying to add an American comic-like touch to it, but that's not quite right. More accurately, I used the American comic style as a base while still inking in my personal style.
As'maria
: I've heard of Digimon fans who, since becoming adults, went on to become obsessed with American comics since the official Digimon artworks were based on the American comic style (laughs).
Watanabe
: I did draw those artworks with the intention of introducing kids to the American comic style after all!
–What do you think makes an illustration or design have a 'Digimon' feel?
Watanabe
: I feel that Moriyama-san honestly draws the most Digimon-like Digimon. Even I am completely straying from that path (laughs).
Moriyama
: But that in turn means you put out a lot of surprising designs. Seeing everyone's personal styles and touches overflowing from the X-Antibody redesigns really reaffirms my belief that anything goes in Digimon.
Watanabe
: Personally, I try to maintain a recognizable silhouette. A Digimon design often ends up getting drawn by many different people; someone would draw the official artwork, and others would draw the same character in perhaps a different pose. That's why I try my best to have a distinct silhouette and give my designs character, and try not to design a Digimon that's too hard to redraw.
Moriyama
: This is from twenty years back, but I was told by Watanabe-san to not design them like 'mob enemies in an RPG', and to bring out a sense of individuality even in weaker Digimon.
Watanabe
: Kind of like how the monsters in 'Dragon Quest
⁴
', designed by Akira Toriyama-san, all have their own unique feel. I wanted to design lovable characters that children would find 'strong' or 'cool', that would make children want to draw them. That's why when I have others design Digimon, I hope that they inherit this same line of thought as well.
Himeno
: Digimon are really like what boys' dreams are made of, aren't they. They have all those spikes and teeth and look all fearsome, and sometimes a little sexy. Since I draw for 'Pokémon' as well, what I feel is that 'Pokémon' designs are aimed more at younger boys and girls but also have this universal appeal. On the other hand, Digimon designs seem to be more focused on being targeted towards boys.
Moriyama
: During that era, when the monster-collecting genre was heavily popular, Digimon's designs were known for their fearsomeness and fierceness, in a way.
Watanabe
: It's a kind of 'coolness' that even kids can comprehend.
Himeno
: Now that I look at the Digimon designs again, I think their eyes have a unique style to them.
Watanabe
: I remember mentioning that I wanted their eyes to be drawn to resemble animals in order to bring out that feral, beastly feel, as if you have no idea which direction they're actually looking in.
–Since X-Antibody Digimon were intended as redesigns, was there anything different you had to keep in mind when designing them, as opposed to regular Digimon?
As'maria
: While I wasn't explicitly told to do so, I tried to keep the same proportions of enlarged hands and feet from the original designs even in my redesigns. I was going for a 'higher resolution' approach to redesigning…in other words, kind of like designing the details as I would in a comics-to-Hollywood live-action adaptation.
Watanabe
: Digimon started out as pixel sprites after all. Turning them into illustrations is like upping the resolution a notch, and the X-Antibody designs are like taking it up another level.
As'maria
: Also, I had the idea of adding glowing bits to the designs, so that you could tell at just one look that it was an X-Antibody design; seems like it's being referred to as 'As'ma Green' now. MetalGarurumon didn't have any of those since it was the first design that I drew, but I began adding them in subsequent designs.
Moriyama
: Actually, we had originally planned for red to be the image color of X-Antibody Digimon, since the Pendulum X toys had built-in LEDs that would flash red.
As'maria
: Come to think of it, Watanabe-san had included some of that 'Nabe-ken Red' in his designs, such as on Alphamon's forehead. If only I'd noticed earlier, I could've adopted that in my designs too (laughs).
Watanabe
: As'ma Green and Nabe-ken Red…(laughs). Maybe the next one could be 'Nakano Yellow'.
Nakano
: So I'm Yellow? (laughs)
Designs and Illustrations
–The notion of 'official artwork' has been brought up several times during the discussion; are 'official artwork' drawn differently as compared to other illustrations?
Watanabe
: They would have to be drawn in a way where all of their main features are clearly visible. Since the official artwork serve as 'poster images' for the Digimon, if details such as the hands and feet were obscured, it wouldn't serve as good reference for others when they have to redraw the Digimon. Basically, we have to draw in such a way that the design can be understood easily.
Moriyama
: I was told that no matter how cool I make the pose, the drawing wouldn't work as official art if the design elements weren't clearly visible.
Watanabe
: I say that, yet I still drew Beelzebumon's official art with its back facing forward (laughs). I probably thought it wouldn't be a problem since I'd be the one drawing any subsequent art anyway.
Nakano
: I do occasionally have to clarify with WiZ too about the design of the Digimon's backs when they're not visible.
Watanabe
: Sometimes, even when I don't know how their backs look, I just draw them based on imagination, or change up the pose so that their backs aren't shown.
As'maria
: I remember running into that problem with Dukemon's official art. There was concept art for Dukemon since it appeared in the anime, but the first time I drew it for the card game, I didn't know how the inside of Aegis looked, so I just drew Dukemon holding Aegis with its hand. It was later that I asked and found out that Aegis sprouts out of its arm directly. That sure shocked me!
Watanabe
: It does sound kind of gross when you put it like that (laughs). This one was Kitagawara's
⁵
idea.
As'maria
: So, when it's not wielding the shield, its hand sprouts out instead.
Watanabe
: Yeah, Digimon are weird like that. Since Digimon are digital lifeforms, they can do things like wield guns without needing holsters, and even hang swords by their waists without needing a scabbard. If I were asked 'why' they can work like that, I'd probably answer with simply 'data is variable'.
Moriyama
: Whether Angemon actually has a face or not is a question that's been asked many times too.
As'maria
: What I heard in the past was that beneath Angemon's mask, there's only a wireframe like those you see in 3DCG models before rendering, and there isn't actually a face.
Watanabe
: It's not that Angemon doesn't have a face, it's just that the mask is part of its model. The moment you remove the mask, the model would be redone and rendered to show a face. Except Angemon never removes its mask.
Moriyama
: That aside, whenever I do up a draft, I've also wondered if I should keep the scars present in the original design in the same places in my drawing of the Digimon.
Watanabe
: I don't know if those scars would be permanent…since Digimon are made of data, it's very possible to imagine that their scars could heal up completely at the very next moment. I just add scars to my designs on purpose to make them look cooler, and to kind of make people go 'ah, this was drawn by Watanabe'.
The Future of the X-Antibody
–Moriyama-san worked on Tyrannomon (X-Antibody), As'maria-san worked on Diablomon (X-Antibody), Nakano-san worked on Dracomon (X-Antibody), Watanabe-san worked on Sakuyamon (X-Antibody), and Himeno-san worked on Renamon (X-Antibody) and Beelstarmon (X-Antibody)'s designs and illustrations respectively. Is there any particular direction you intend to take the designing of new X-Antibody Digimon in in the future?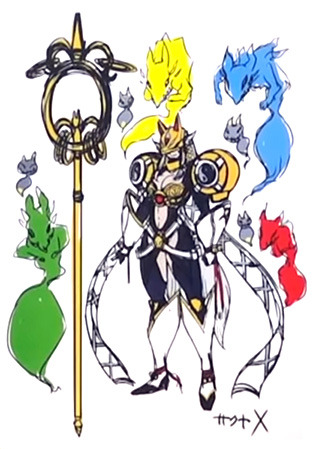 (A rough sketch of Sakuyamon (X-Antibody), drawn by Watanabe-san.)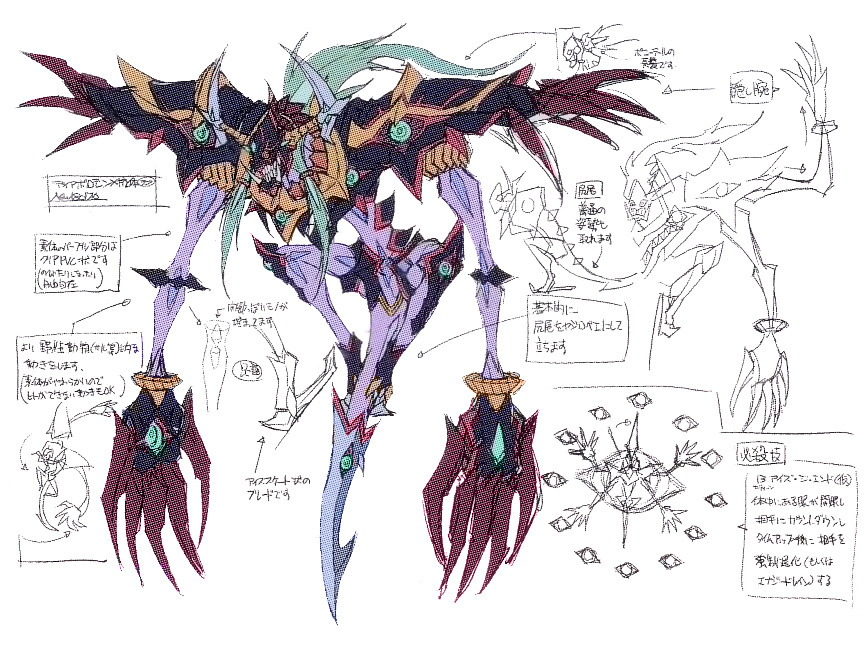 (A rough sketch of Diablomon (X-Antibody), drawn by As'maria-san.)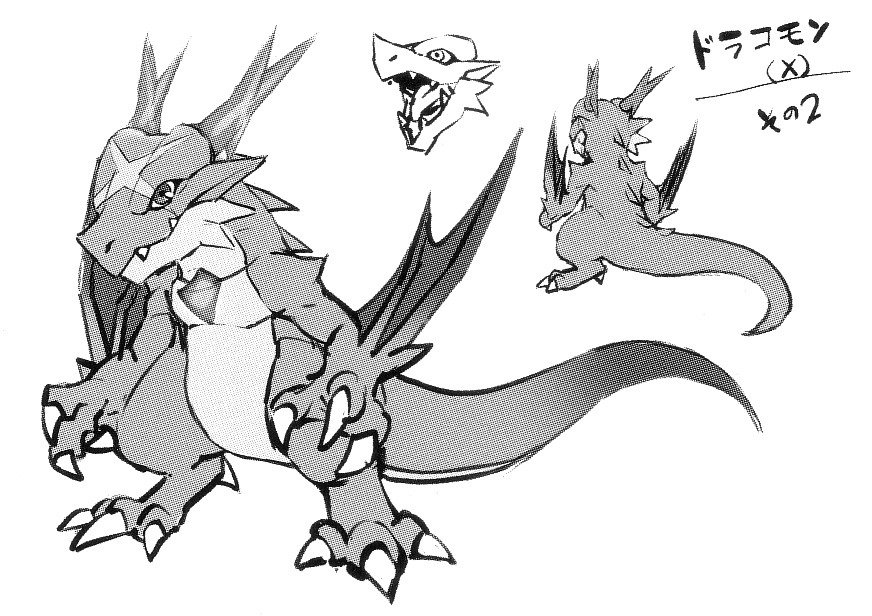 (A rough sketch of Dracomon (X-Antibody), drawn by Nakano-san.)

Moriyama
: Since there weren't really any parts you could add on to in Tyrannomon's design, it was a challenge to design for me (laughs). I remember mulling over it because I couldn't think of any details to add.
Himeno
: I guess its simplicity ended up making things more difficult instead.
Moriyama
: When I saw everyone else's rough sketches, I felt that I needed to include some sort of motif that would tell people 'this is an X-Antibody design'; I suppose this is what As'maria-san meant by 'higher resolution' earlier.
As'maria
: Since more and more Digimon are being included in the video games nowadays, I tried to suggest gimmicks and Special Moves that would come into play if they were added into the games. If I didn't specify anything, when they're added to the games, they might end up shooting beams from places I didn't expect them to (laughs).
Himeno
: I thought about whether it would be alright if all I kept was the lineart style.
Watanabe
: Just draw as you normally would, Himeno-san, in a way that's comfortable for you.
As'maria
: For the time being, I guess we can say that when you think of X-Antibody designs, you'll think of As'ma Green and Nabe-ken Red.
Moriyama
: So as a start, we just need to include those green, glowing crystals. The challenge is in where to incorporate them.
–Thank you for the enlightening discussion, everyone!
Notes marked in
orange superscript
were taken and translated from the artbook interview itself. Notes in
blue subscript
were added by garm.
¹
: Rika Saitou (さいとうりか) is an illustrator. At the time, she was involved with doing Digimon illustrations, outside of the official artwork. Her artstyle is defined by its cuteness.
²
: Tomotake Kinoshita (木下ともたけ) is an illustrator. At the time, he was involved with doing Digimon illustrations, outside of the official artwork. He is currently involved in series such as Gundam.
³
: Kaneki Tanukikouji (狸小路カネキ) was an employee of Bandai who was in charge of the Digimon Card Game at the time.
⁴
: PaPiPu Pet (PaPiPuペット) is a pet-based project by Bandai. Kenji Watanabe-san was in charge of the character designs, while Kagemaru Himeno-san was in charge of illustrating the manga, published by Shogakukan.
⁵
: Digimon Jintrix was an online game where one could purchase physical cards and register them online, using the card data to have Digimon battles. The online service and sale of these cards began in 2012.
⁶
: Digimon Crusader was a mobile application released for iOS and Android, where players could select cards and do battle with them. It introduced a brand-new Digimon, Aegiomon, and featured many illustrations created specially for this game.
¹
: Tenya Yabuno (やぶのてんや) was the artist for the Digimon Adventure V-Tamer 01 manga. He later went on to draw for the Pocket Monsters: Horizon manga, which began serialisation in 2016.
²
: Oni (鬼) are a kind of demon from Japanese folklore, somewhat similar to western ogres or trolls.
³
: Moriyama is referring to the fanmade Digimon Chronicle audio drama made by the Iyoku x Inazuma Digimon Ouendan (イヨク×稲妻デジモン応援団), a Japanese Digimon fan community. Their Digimon Chronicle audio drama videos, as well as other videos of their radio show, can be found
here
.
⁴
: Dragon Quest is a highly popular RPG series in Japan. Its monsters and characters were designed by Akira Toriyama (鳥山明), most well-known for his manga Dragon Ball.
⁵
: Makoto Kitagawara (北川原真) is an employee at WiZ who helped in designing, and played a big part in creating Digimon's Digital World setting.
Once again, huge thanks to garm!