Show User Social Media
Hide User Social Media
Joined

Sep 8, 2006
Messages

12,048
Translated Multi-Part Interview with Producer Yousuke Kinoshita about Kizuna & Shorts
Time for a translated interview!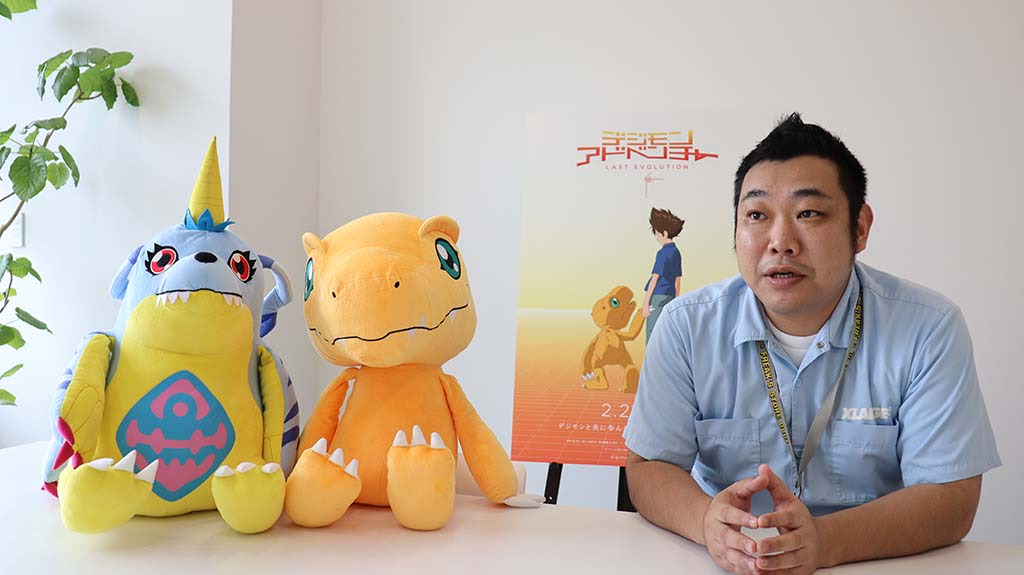 One last big thing for 2019 for everyone to enjoy...
Animage Plus did a multipart interview with Digimon film producer Yousuke Kinoshita about Last Evolution Kizuna, the Memorial Stories short films, and the related crowdfunding project.
The interview appears to have been conducted a few weeks into
the crowdfunding beginning
(likely early September) and was published in parts over September and November.
Huge thanks to onkei who translated everything. Some tweaks were made to the translation by both of us for readability and clarity.
The interview covers quite a bit of ground and gives us a decent bit of information.
All 3 interview parts were conducted by, and written up by Hideki Kon, listed in the interview as 'HH'.
Part 1
(Published September 20, 2019)
"Digimon Adventure's 20th Anniversary Memorial Story Project" was a crowdfunding project set up by Toei Animation that began on August 22nd. In almost two weeks, it reached well over 200% of its goal.

We had a three-part interview with Toei Animation's producer Yousuke Kinoshita on this project, which could only be done now as a culmination of "Digimon Adventure" for its memorial year, as well as on the anime shorts "Memorial Stories" that are this project's showpiece, and on the new movie "Digimon Adventure: Last Evolution Kizuna" that will be in theaters February 21st of next year.
HH: Mr. Kinoshita, you were credited as the producer for "Digimon Adventure tri." Part 5 and Part 6.

Kinoshita: I used to work on live-action films, but I joined Toei Animation through a connection and did my first project as an assistant producer on the original film "Popin Q." It was around the time "Popin Q" ended that I joined "Digimon tri." in its mid-run.

The first thing that happened was when I went to see Chapter 4 on the first day of its theatrical release; I was surprised to see so many female and overseas fans. Also, I was moved by seeing about 2,000 people, gathered in the event hall for "Digifes" in summer 2017, singing in unison to "Butter-Fly." The sing-along happened so naturally that I was honestly just overwhelmed seeing this awesome sight. I keep feeling heavily pressured by the fact that so many fans are still passionate about this series. I must admit that even to this day, deciding how to properly face a series with 20 years of history behind it is a daily struggle for me.
HH: Have you been involved with this 20-year-anniversary event [the new movie and memorial project] since its beginning?

Kinoshita: Yes. I began working on it since doing "Digimon tri.", making preparations for it at the same time. There were so many things that I wanted to do, but for starters, I wanted to form an enterprise that encompassed all 20 years of the Digimon series.

Although, I must admit, I can't help but have some biases.
HH: And one part of that enterprise was the crowdfunding.

Kinoshita: Yes. It was born out of a plan to create something that couldn't be made simply by holding a normal event, or just advertising about it. I wanted to create something *with* the fans. Original goods will be made for this project, but making a collection of anime shorts called "Memorial Stories" was a new experiment. Even though we're the ones who came up with the idea, we're here with the feeling of "let's make this exciting for everyone who participates," and "let's enjoy the 20 year anniversary together."
HH: I don't think Toei Animation usually does crowdfunding at all, so what was the reaction like within company walls?

Kinoshita: They're fully supporting the idea, saying that something fun could be done with Digimon. The crowdfunding shorts are being made by the same company who is making the movie, Yumeta Company, but all of the staff have been keeping their eyes on [the crowdfunding] too. They were all surprised, saying, "The goal is reached already?!" The movie staff has clearly felt [the fans] passion for [the crowdfunding].
HH: Was the [public] response to the crowdfunding exactly as you expected?

Kinoshita: To be honest, I expected the goal to be reached, but not at the speed that it happened. I think I was simply in awe. The first day was honestly just incredible. I felt like wanting to refresh the page every five seconds (laughs). And, every time, seeing the number rise would be a surprise. I thought I'd understood the fans' passion from the live events, but this was really amazing.
HH: Each of the tiers are also quite generous.

Kinoshita: I made sure it would be well worth it. We discussed what kinds of bonuses to add, while saying "this is too normal" or "it needs to be something special." Many of the ideas turned out to be the kind that needed coordinating from both inside and outside the company, so I said with finality, "I'll be in charge of coordination, so let's do it!" (laughs) The tier for having an original Digimon drawn by Mr. Kenji Watanabe, the tier of being a background voice in "Memorial Stories," and the tier with the invitation for an advance screening of the movie, were each decided after much coordination. When one does stuff like this, it becomes tough work because you're raising the fans' anticipation, but I felt that it wouldn't make the fans happy if it wasn't tough work, so that's how I've been keeping on.
HH: So, the response has been rising, but for now you've cleared the goal.

Kinoshita: For now, I'm relieved [that the goal has been reached.]
HH: One of the bonuses is the original short stories "Memorial Stories," which is what the crowdfunding is based on, isn't it?

Kinoshita: Yes, it is. And, we [the staff] discussed, that if we were going to make them, then we should make them linked to the movie "Digimon Adventure: Last Evolution Kizuna."
And so, the interview that delves further into the contents of "Memorial Stories" will be available in part 2!!
Part 2
(Published September 27, 2019)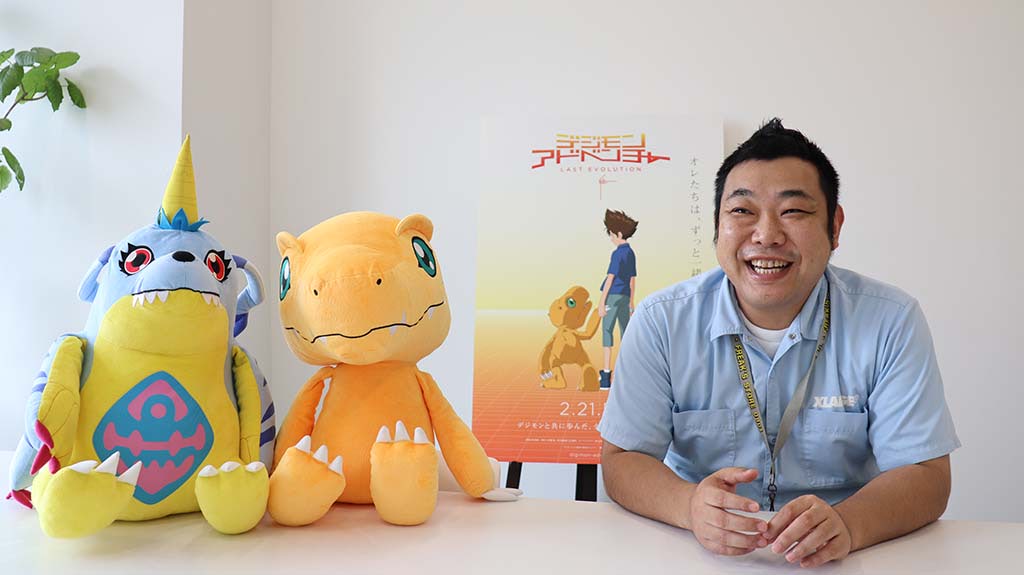 HH: One of the bonuses is the original short stories "Memorial Stories," which is what the crowdfunding is based on, isn't it?

Kinoshita: Yes, it is. And, we [the staff] discussed, that if we were going to make them, then we should make them linked to the movie "Digimon Adventure: Last Evolution Kizuna."." They will be presented as five shorts, but we thought that we might as well make them interesting ones.
HH: Since it's linked to the movie, it's not just fanservice, is it?

Kinoshita: Our first and main objective, of course, is to make the 20th anniversary more enjoyable than ever. In that sense, I kind of wish that the fifth short was the main short. I basically took the lead for the other four shorts, but the original producer, Ms. Hiromi Seki, has a hand in the fifth title. When I described the project to her and asked her if she'd like to think of ideas with me, she readily agreed. The script was written by Mr. Yamatoya, who is the screenplay writer for the upcoming movie, while the storyboard was drawn up by Director Tomohisa Taguchi. Mr. Kenji Watanabe came up with the character designs of the Digimon, and I think the fans will be surprised when they see it. Ms. Seki comes up with bold concepts that I would never even dream of. I couldn't help but ask her, "Would that really be okay?" and she said "Pft, it's fine." (laughs) She's an amazing person. The title is going to be "The Shibuya-ish Heroic Saga of Pump and Gotsu" and the old Pumpmon and Gotsumon will show up in it. I hope everyone looks forward to it.
HH: What about this perk from the crowdfunding, of being able to participate as background voices?

Kinoshita: That would be for the one I'd just mentioned, episode 5. I'm thinking of having them participate as the background Digimon. The slots for that one filled up so fast, like the blink of an eye. By the time I was thinking, "Hm, maybe I should apply for that one," it was already filled up.
HH: Then, were the other four titles thought up by building upon the script for "Last Evolution Kizuna"?

Kinoshita: Yes, indeed. We plan to have them available for viewing this November at a theater room, opened by Toei Anime, which is annexed to a shop in Shibuya PARCO, to customers who purchase items there. The first two shorts were drawn up to match the opening date of "Last Evolution Kizuna." The first short, which will be viewable before the movie, is like a prequel of sorts. The 2nd short, which will be viewable during the movie's release, will be the other side of a story on a certain scene that takes place in the movie. The third and fourth titles will be things that we wanted to do because we didn't think anyone else was going to make them.

Since there is a limit to how many characters get to have some action within the movie's limited time, [the third and fourth shorts] will focus on the children who won't be playing much of an active main role in the movie. So, to be more specific, one with Jou and Gomamon. The other one we made with "Jogress Evolution" as the theme. I think all five of them were created fundamentally with fanservice in mind.
HH: Knowing that the original Producer Seki is involved must be big news to the older fans.

Kinoshita: When I was sharing a meal with the movie director Taguchi, the screenplay writer Mr. Yamatoya, as well as Mr. Watanabe and co, I mentioned that there was going to be original shorts for the crowdfunding project. Mr. Yamatoya said "Why am I not writing that? Let me do it" and from there, Director Taguchi and Mr. Kenji also joined in. And then, from there, we talked about dragging Ms. Seki into it as well.

Director Taguchi was still troubling over the movie's storyboard at that time, but he said "If I finish [the storyboard], take a break, and then I can stretch my legs out a bit and make something fun, [then I'll join]," and he seriously finished the storyboard in two days after that.

It feels like it was kind of decided at the thrill of the moment, but in terms of fanservice, I needed Ms. Seki, Mr. Yamatoya, and Mr. Kenji, the OGs. Ms. Seki is already part of our briefing sessions in discussing the movie script, and she helps me out with a lot of different things for the 20th anniversary. Ms. Seki is more about saying what's on her mind than giving advice (laughs). Before our briefing sessions on the script, she'd say "I haven't read it yet so I'll join you guys later," and a short time after the conference has begun, she'll come in and say things like "Taichi isn't like this. He wouldn't say so-and-so." Also, she would always say to us, "You keep saying 'digital,' but don't forget that 'analogue' is important." She said this was exactly how she was like 20 years ago, too.
HH: You're creating this with incredible people. The "Memorial Stories" really does sound like something that fans will enjoy.

Kinoshita: That's the most important thing. We always try to keep in the forefront of our minds what would make the fans happy.
The next set of questions goes into details of the movie "Digimon Adventure: Last Evolution Kizuna"! To be continued in part 3!!
Part 3
(Published November 29, 2019)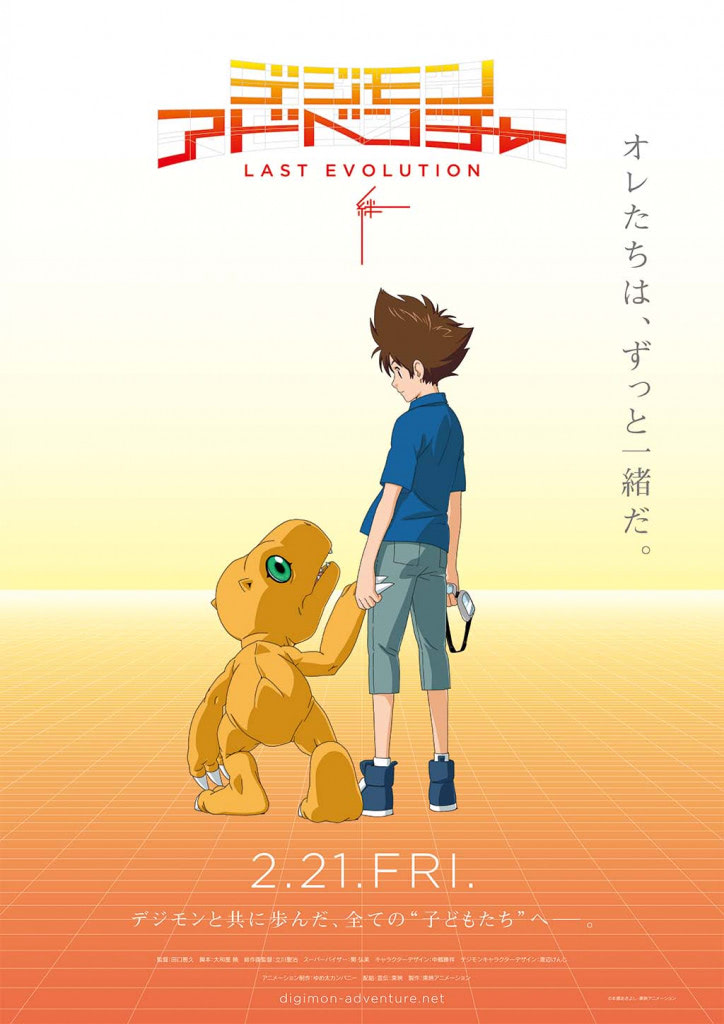 HH: From what I see of the poster for "Digimon Adventure: Last Evolution Kizuna," the Chosen Children are no longer children, I take it?

Kinoshita: Yes, indeed. While "tri.", which I'd joined at its half-point, was developing, there was talk about doing another movie.

Since the fans were so enthusiastic about Digimon, the [production side] felt that we should keep going. That's why this upcoming movie was being run pretty much at the same time as "tri." The idea for it was already more or less there, and around the start of autumn two years ago, we decided on Mr. Tomohisa Taguchi as director and Mr. Akatsuki Yamatoya as screenplay writer.

Also, we had already assumed from the beginning that [the movie] would take position as the commemorative 20th anniversary film.
HH: Why was Director Taguchi chosen?

Kinoshita: This was completely my intent. I wanted those who'd grown up watching the series to be the ones to make the new Digimon. I also wanted to do it with people who could see it from a fan's perspective, which is why I asked Director Taguchi, who said he'd watched Digimon.
HH: Did you feel pressure from working alongside original staff members, such as Ms. Hiromi Seki, the original producer, and Mr. Akatsuki Yamatoya, the screenplay writer who's written a lot for the Digimon series?

Kinoshita: They are extremely nice people, so I didn't feel pressure at all. It felt more like they didn't want me to hold back on whatever it was I wanted to say. That attitude was the same whether it was towards me, or towards the director.

First, when Director Taguchi and I came up with the plot together and showed it to them saying that this is what we wanted to do, Ms. Seki said "Taguchi-kun and I are definitely on the same wavelength" (laughs). She even said, "I like this" and "I will support you no matter what." Even Mr. Yamatoya would say "Let's do what we want to do," and every draft he wrote expanded our imaginations more than the last. We put the things that Director Taguchi wanted to do, on top of all of that, to form its structure.

After that, when creating the scenario, our discussions of "what is Digimon exactly?" led us to creating a chronological table of the Digimon world, and that helped us to re-validate the Chosen Children's history. From there, we went into even more detailed research like: what was going on in the human world at that year, what events were taking place at that time, what was the employment rate at that moment for instance, etc. Since the movie takes place in 2010, we researched the conditions of digital technology in 2010 and decided to make it a slightly more progressive world.
HH: It sounds like you got to create what you wanted to do.

Kinoshita: We were able to apply ideas to the theme that we had all discussed and agreed on together. Since the main audience who will watch, and who we want it to be watched by, are adults now, we wanted to make a story that would encourage those people to wake up the next day and keep trying. I remember that we wanted [the movie] to have the message of "let's keep living strongly."
HH: Since one of Digimon's themes is "growing up," I would think a title like "Last Evoluion Kizuna" makes it pretty easy for people to guess what's going to happen before they even see it.

Kinoshita: Since the information that we've released at this moment has taglines like "The last evolution" and "We can't stay together?," I'm sure that everyone is aware that it's going to be that kind of story. But I don't think that their story ends there. For them [the characters], it's simply one of many important turning points in their lives. Since their world in 2028 is already depicted in the last episode of "02," we think of that [last episode] as the end goal while adding in details of what else could have happened before arriving there.
HH: The "02" characters will be appearing, right?

Kinoshita: Since it is the 20th anniversary, I wanted to bring out a festive feeling and I also simply just had the desire to see Daisuke and the others again. However, since the story comes first, [the movie] could only include those from "02" if they ended up being used properly in the tale. I wish I could see the kids in other series too, though.
HH: In closing, please tell us (what you're allowed at this point) what to look forward to and what scenes to look out for.

Kinoshita: All I can really say is to look forward to it and make your guesses from news flash info and teaser material (laughs). Oh, by the way, the [movie] poster [posted above] was commissioned to be drawn by the original character designer, Mr. Katsuyoshi Nakatsuru. He had difficulty with drawing Taichi ever since newly designing him, but when he drew this poster, I felt that *this* is exactly how Taichi would look grown up. I think it also clearly indicated the nature of the movie, so I'm really glad that Mr. Nakatsuru took on the request. We are still deep in the middle of production, but I have no doubts that the fans will love the movie, so please look forward to it.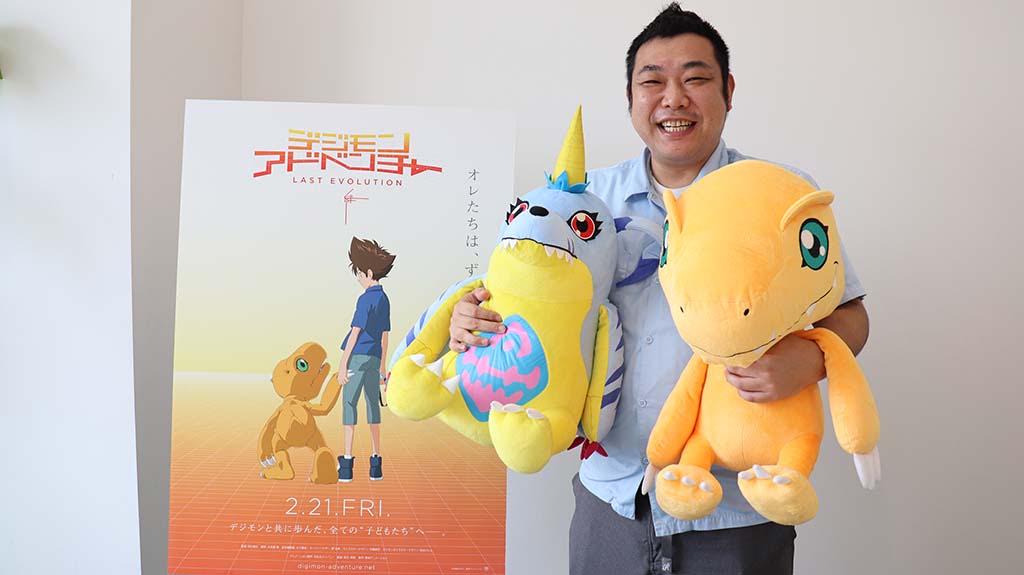 Some really great and interesting stuff from Kinoshita covering quite a bit more than you often expect to see in these types of interviews. Quite a bit to discuss and think about also, as a number of things he says clarifies things we've heard less directly at other times.
Digimon Adventure: Last Evolution Kizuna, the 20th Anniversary film for Digimon Adventure, comes out February 21, 2020 in Japan, with a release in the US in Spring 2020 announced.