Show User Social Media
Hide User Social Media
Joined

Sep 8, 2006
Messages

15,785
A fun mid-week surprise!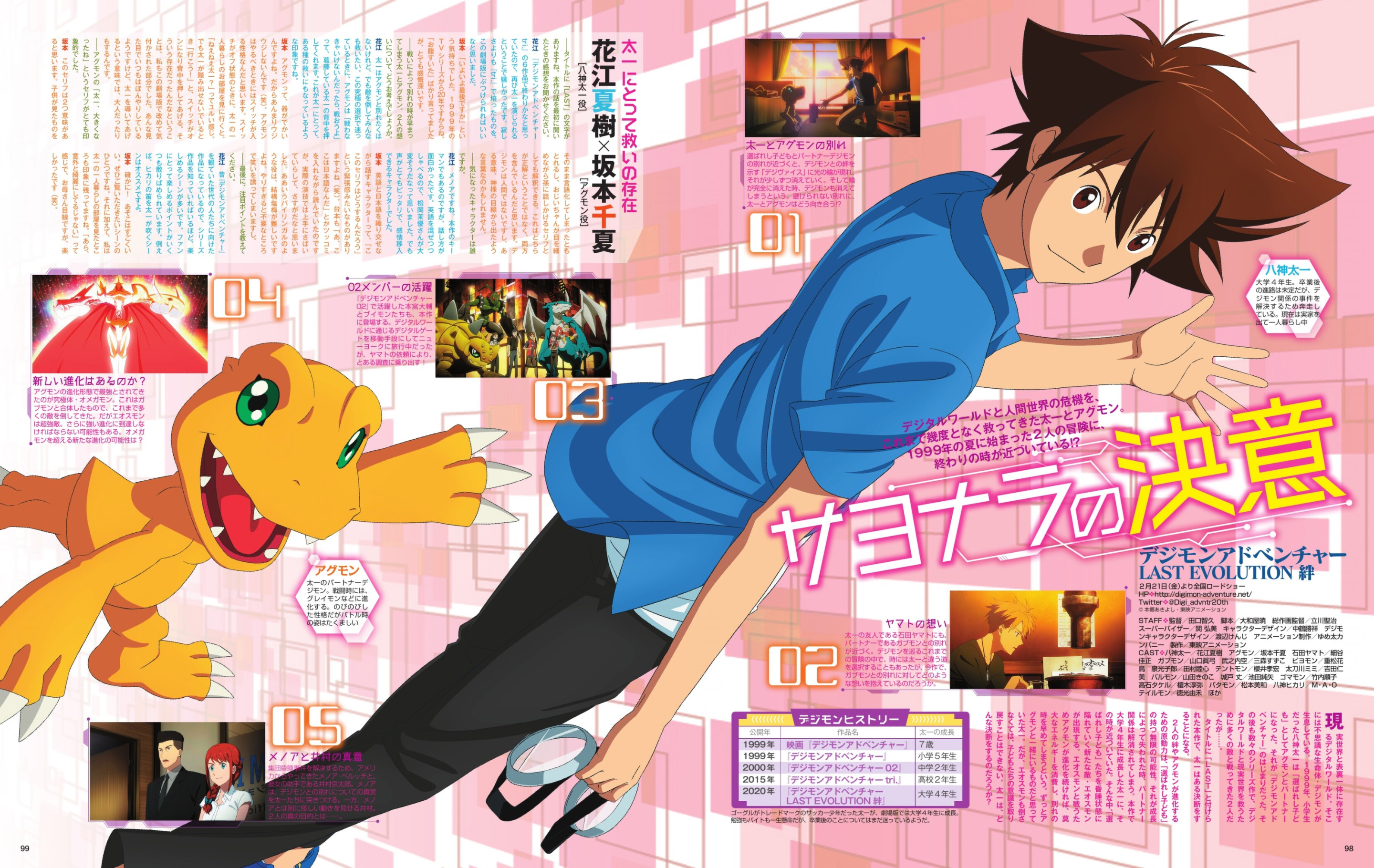 As mentioned a few days ago
, the March 2020 issue of Animage has a pretty nice Digimon Adventure: Last Evolution Kizuna spread.
We have a really nice copy of the spread along with translations thanks to onkei.
The content isn't completely spoiler free for those who want to avoid anything and everything, but it mostly just 'hints' at spoilers.
The art itself for Taichi and Agumon is from the final Kizuna poster.
The Digital world that exists on the other side of the same coin with the real world. Strange creatures called Digimon live there. In 1999, the "Chosen Child" Taichi Yagami becomes partners with Agumon. That was the beginning of "Digimon Adventure." Through various series after that, these two have fought many enemies to save both the Digital world and human world...
In this movie that has "Last" in its title, Taichi makes a decision.
The driving force of Agumon's evolution and their bond comes from the infinite possibilities that the "Chosen children" possess. As the children grow, those possibilities become more limited, leading to their bond with their partner being undone. In this movie, Taichi who has grown into a 4th year university student, faces that moment. Meanwhile, the "Chosen children" fall into a coma and a new enemy Eosmon appears. In order for Agumon to fight Eosmon, he must keep evolving, which eats up enormous energy that quickens the time of their separation. Taichi thought that he would be with Agumon always. But if they don't beat Eosmon, the children will never regain consciousness. What decision will Taichi make?
Taichi Yagami: 4th year university student. He's still undecided about what he wants to do after graduation, but keeps busy solving Digimon-related incidents. Currently he is living away from home on his own.
Agumon: Taichi's Digimon partner. During battle, he evolves into Greymon. While he has a carefree personality, he is strong-willed in battle.
01- Taichi and Agumon's goodbye
As the time of separation for the Chosen Child and their Digimon approaches, a ring of light that symbolizes their bond with their Digimon appears on the digivice and slowly vanishes. When the ring disappears completely, their Digimon vanish as well. How do Taichi and Agumon face this unavoidable parting?!
02- Yamato and Gabumon's goodbye
Taichi's friend, Yamato Ishida, must also separate with his partner Gabumon. Among their adventures in Digimon, he sometimes chooses a different path from Taichi, but in this movie it becomes apparent exactly what feelings he has about his parting with Gabumon.
03- The actions of the 02 members
Daisuke Motomiya, V-mon, and the others who appear in "Digimon Adventure 02" will also be appearing in the movie. While they were using the Digital World's digital gates to travel to New York City on holiday, they begin an investigation through Yamato's request!
04- There's a new evolution?
Agumon's strongest evolution is the Ultimate level Omegamon. He fuses with Gabumon to defeat many enemies. However, Eosmon is super powerful. There is a possibility that they would need to achieve an even stronger evolution. Is there a likelihood that they can evolve to something stronger than Omegamon?
05- The truth behind Menoa and Imura
Menoa Bellucci arrives from the USA to resolve the mass coma incident, with her assistant Kyotaro Imura. Menoa reveals the truth about the children's parting with their Digimon to Taichi and co. Behind the scenes, Imura acts separately making suspicious moves. What is the real motive behind these two...?
Interview with Natsuki Hanae (Taichi Yagami) and Chika Sakamoto (Agumon)
The title has the word "Last" in it. Please tell us what you thought when you heard about the movie for the first time.
Hanae: I thought it would be over after the six chapters of "Digimon Adventure tri." so I was really happy to get to voice Taichi again. Rather than feeling sad over the story, I thought it would be a good opportunity to use what I'd picked up from "tri." and throw it into this movie.
Sakamoto: My feeling was "It's finally the end." It's been 20 years since the 1999 TV series, after all. The line I often said was "I'm hungry" but I was still very emotional.
Fighting leads to Taichi and Agumon separating faster. What are your thoughts on how they felt?
Hanae: Taichi doesn't want to separate from Agumon, but he also wants to beat the enemy and save everyone. While he's hesitating over this massive choice, Agumon tells the conflicted Taichi "If we can't avoid the fight, then let's fight" and gives Taichi a push forward. I felt that saved Taichi in a way.
Sakamoto: Agumon has a big heart, so you don't often see him hesitate (laughs). I think Agumon has the kind of personality where he simply turns on the switch when it's time to do something that needs to be done. When the switch is off, like when he's going to visiting Taichi's apartment, he'll be laid back and saying "Hey, hey, Taichi." But when Taichi is unable to move forward, he'll turn the switch on and be the one to say "Let's go!" and push him forward. This movie helped me to realize anew that Agumon is that kind of character. Even though he's small and looks like he has his head in the clouds, he is the adult in terms of guiding Taichi towards the right path.
Agumon's words of "Taichi, you've grown big" left quite an impression.
Sakamoto: I think that line has two meanings. It can be interpreted as a child putting into words exactly what they're seeing, or it can also be interpreted as coming from a grandpa who's watching fondly over his grandson and telling that to him. I think neither one of them singularly is correct, but more that it's a mix of both. Since Digimon aren't human, it could have also been words that came from God, in a sense.
Which character are you interested in?
Hanae: That would be Menoa. She is the key person of the film, and her way of speaking is interesting. Since she speaks English here and there, I thought Mayu Matsuoka would have a difficult time. But her voice is perfect for the character, and the viewer can easily put themselves in her shoes.
Sakamoto: When a character speaks a mix of English and Japanese, you get nervous wondering "I wonder how they're going to say this line" (laughs). Even when I was reading the script, I'd see lines where I'd quip "Oh, this one's in Japanese," but in [Matsuoka's] actual performance she handled it expertly. That kind of bilingual role is quite often difficult to deal with. If you go too far, you might end up getting laughs where they aren't supposed to be any.
In closing, please tell us what highlights to look for.
Hanae: It's a movie meant for the generation that watched "Digimon Adventure" long ago, so the more you know about the series [plural], the more scenes you will enjoy. There are many points here and there that the fans will like. For instance, I recommend the scene where Taichi blows Hikari's whistle.
Sakamoto: Yeah, that one's a good scene! I'd definitely want the audience to see that one. In addition, the scene where we see Taichi's room when he's living alone left a big impression on me. I thought, like a mother, "Wow, he actually keeps a pretty clean room" but it was fun (laughs).
—Digimon History—
| | | |
| --- | --- | --- |
| Release Year | Name of Work | Taichi's growth |
| 1999 | Digimon Adventure (Movie) | 7 years old |
| 1999 | Digimon Adventure | 5th Grade |
| 2000 | Digimon Adventure 02 | Jr. High Sophmore (Year 2) |
| 2015 | Digimon Adventure tri. | High School Junior (Year 2) |
| 2020 | Digimon Adventure: Last Evolution Kizuna | College Senior (Year 4) |
Some nice background and interview content. Including the small chart to show his growth over the various titles was a nice touch.
The issue can be purchased
here
.
Last edited: