Show User Social Media
Hide User Social Media
Joined

Sep 8, 2006
Messages

16,411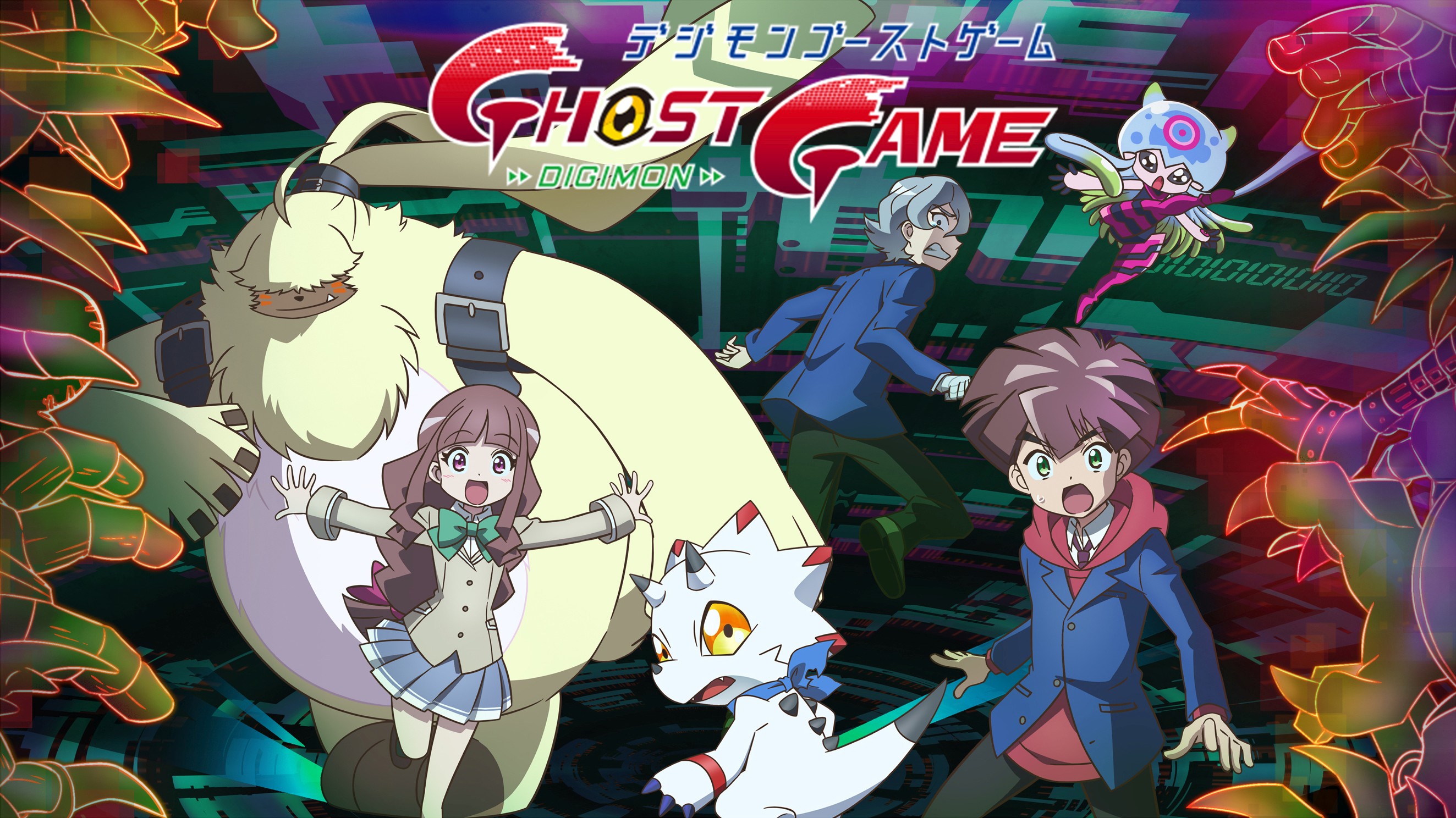 Awhile back, Digimon Partners called for questions to be used in an interview Q&A with Masatoshi Chioka, one of the two directors of Digimon Ghost Game.
The Q&A has been posted
and we have translations for the whole thing already!
Update- Changed to an accurate name translation.
The interview doesn't state when it was held, but it was posted November 13th, around when episode 6 of the series aired.
Thanks to onkei for translating the interview.
【About writing the story】
Q:Do you reference urban legends or literature when putting together the stories?
(From Netofa)
A:I refer more to the "framework" and "origins" of urban legends, rather than to the urban legends themselves. I'm sure that if we were able to use the urban legends that we know as is, the audience would immediately feel more familiarity. But as you would expect, it's difficult to match existing urban legends with Digimon profiles. That's why we instead factor in the "stylistic beauty" and "formulae" that are based on folklore origins, as well as the structures of urban legends and how they spread.
Q:How did you decide on the protagonist Hiro's personality and skills?
(From Hibari★)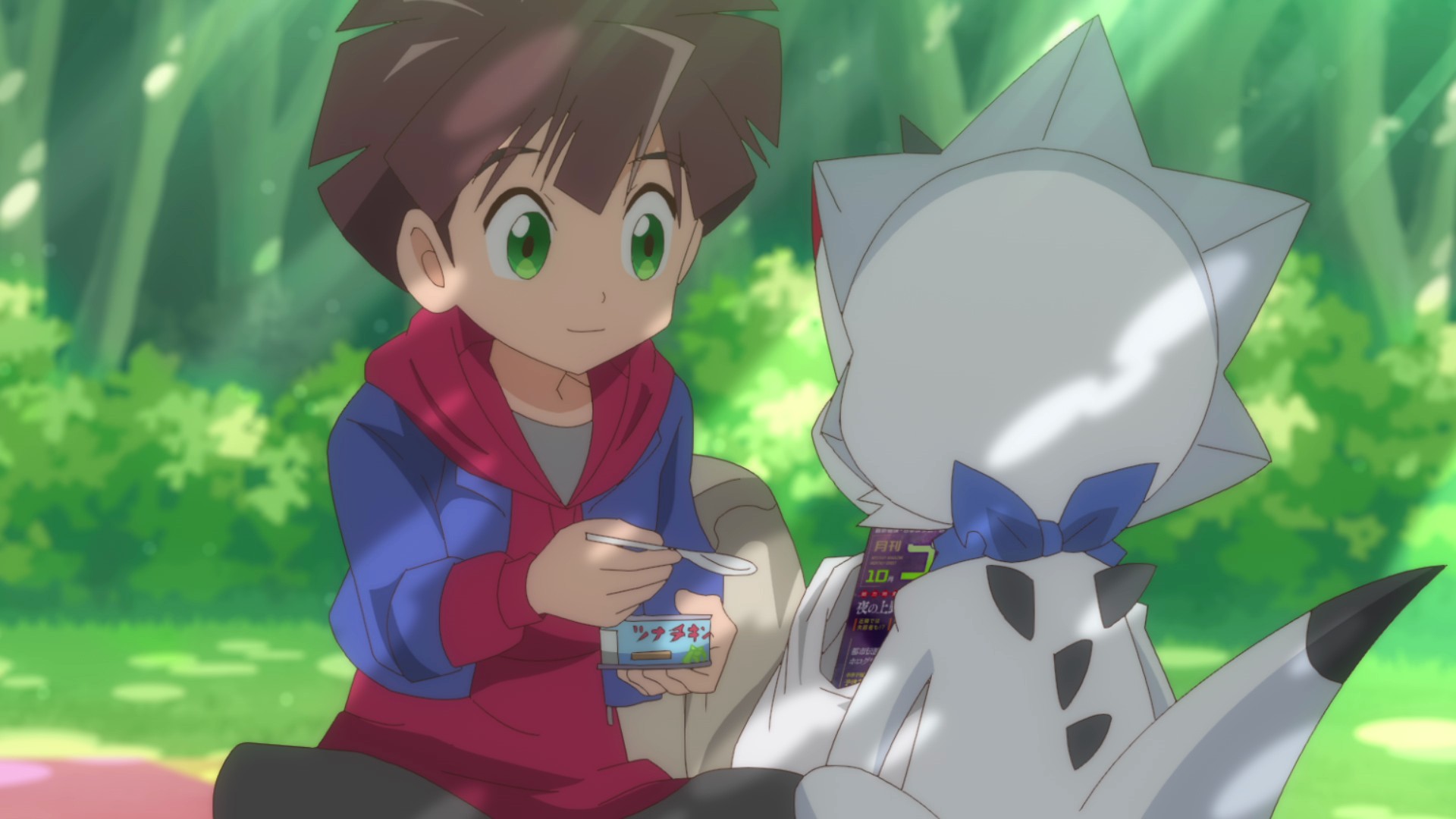 A:I wanted a character who was a bit unprecedented so, while he isn't a bad kid, I chose him to be the kind of person who got interested in a variety of things and doesn't hesitate to put them into practice-- a kind of outdoorsy type. Hiro's father is kind of the same way, in the sense that I wanted characters who were a bit unconventional. I didn't have a grasp on what skills to give Hiro beforehand, so the skills that ended up coming into fruition were things that the staff first discussed among themselves, then decided on based on what would be interesting for Hiro to be doing as well as what would pique the viewers' interests. Since electronic locks are the norm in Hiro's timeline, lockpicking is considered an "old" technique. Elements like that are the stuff that we combine and refine on.
【About settings】
Q:If Digimon who haven't materialized in the real world can't touch people who can't see them and they can't be seen by normal people, then how come Clockmon and Mummymon were able to be seen and attack normal people?
(From Kojikoji)
A:I can't reveal that to you just yet, so please keep watching the show (laughs).
Q: Do you have plans for extremely scary developments or scenes for future episodes? Also, was there a reason for having the main characters be in middle school?
(From Ameame)
A:I'm sure that the scare factor varies among the viewers, but I do intend to keep creating scenes and stories that feel scary, so I hope you will look forward to it. I set the age for the characters to be middle school because I thought that if they were too young, they would not be able to endure the "scariness." The protagonists needed to have the strength to keep moving ahead even as they're scared, so I felt that middle school age was appropriate. That's how important that I feel the emotion of "fear" plays into this series.
Q: There's a scene in episode 1 that shows a smartphone with 7G. Exactly what year is the series in? What is 7G capable of?
(From Boro)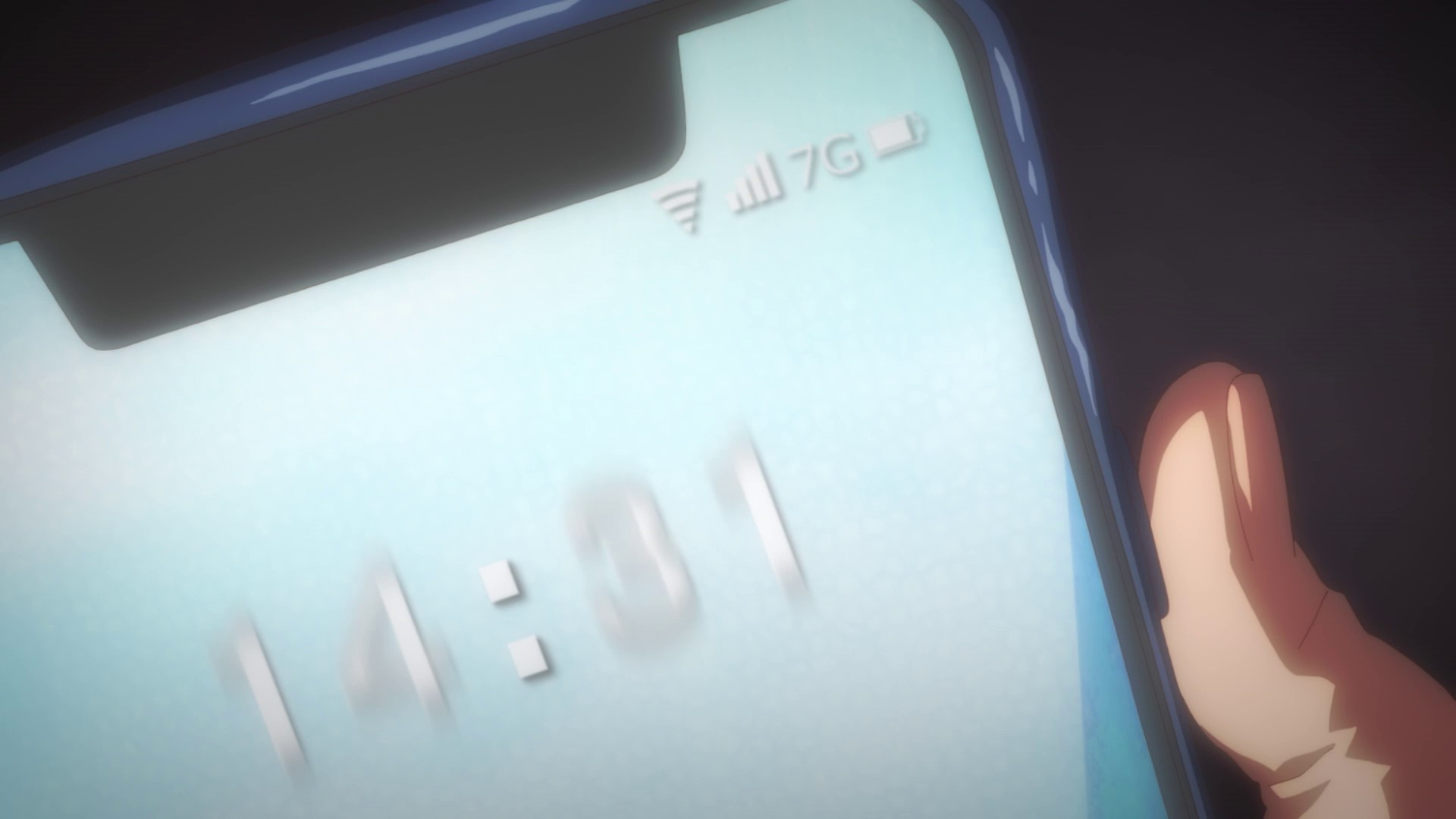 A:While I can't tell you exactly what calendar year it is, it might help to think of the setting "just a little further in the future" as a place where "7G" exists. This is a future where the use of holograms is predominant, and there are hologram advertisement billboards put on display. The large amounts of data used for them cause me to think that IoT(※) has permeated through this future's society pretty deeply. In other words, "3D Television" has been developed, but they're not popular as a household item because they're difficult to watch which is why they're seen more on the streets… that's a hidden backstory that I thought up. (laughs)
※IoT… aka "Internet of Things," where physical objects such as automobiles and household appliances are directly connected to the Internet for use without the need for a computer.
Q: I'm very curious about how Gammamon and the names of his evolved forms just released to the public have a connection to "stars and space"! If you're going to be involving space into the story, and not just ghosts, then is there a reason for why you decided to include them?
(From Zero)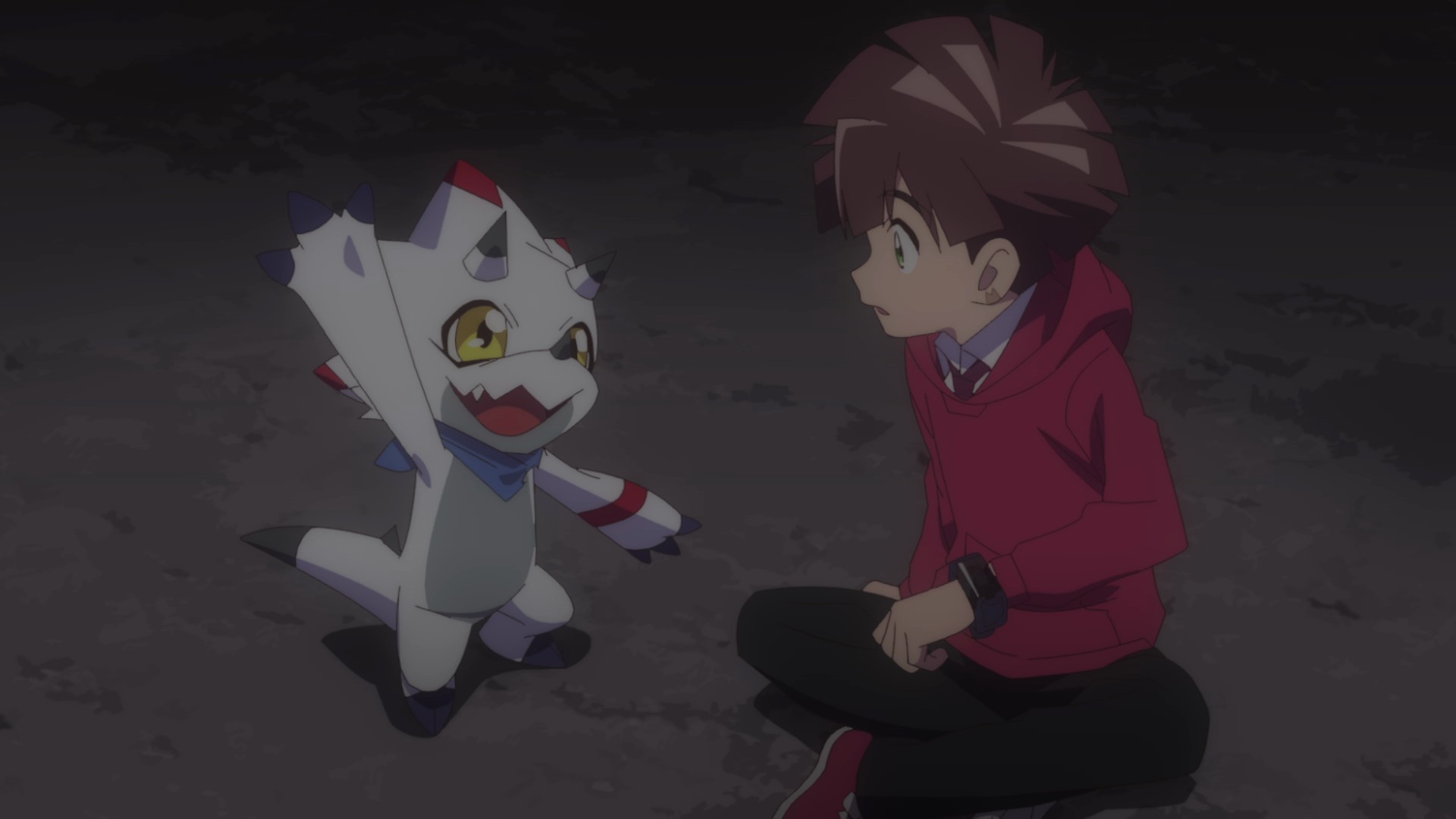 A:I have always been a fan of space-related sci-fi, so whenever I start something new, it's a habit of mine to include ideas that involve the cosmos in it. When I created Gammamon, because he has three horns, I at first named him "Gamma" from Alpha, Beta, Gamma, meaning "the third" or "the value 3." From there, I added the additional meaning of "gamma rays" in relation to space to his name, suggesting that "data that originated from space came to Earth and transformed into a Digimon in the Digital World." After finalizing Gammamon's profile, I thought it would be nice for the protagonist to have a name that related to the cosmos too, and among various suggestions, I decided on "Amanokawa" [translated as "Milky Way"] and "Hiro" [the kanji character for "sky/space"]. Hiro's father having the name "Hokuto" [translated as "the Big Dipper"] is also for that reason. The names of Gammamon's evolutions were chosen by Bandai [so I don't have input on them], but perhaps they were decided that way due to this trend.
Q:When Clockmon stole time from the student, or when the body part that was scribbled on acted strangely, there appeared a ring. Is this ring a sign that a "hologram ghost Digimon is affecting that part"?
(From Luna☆Reni)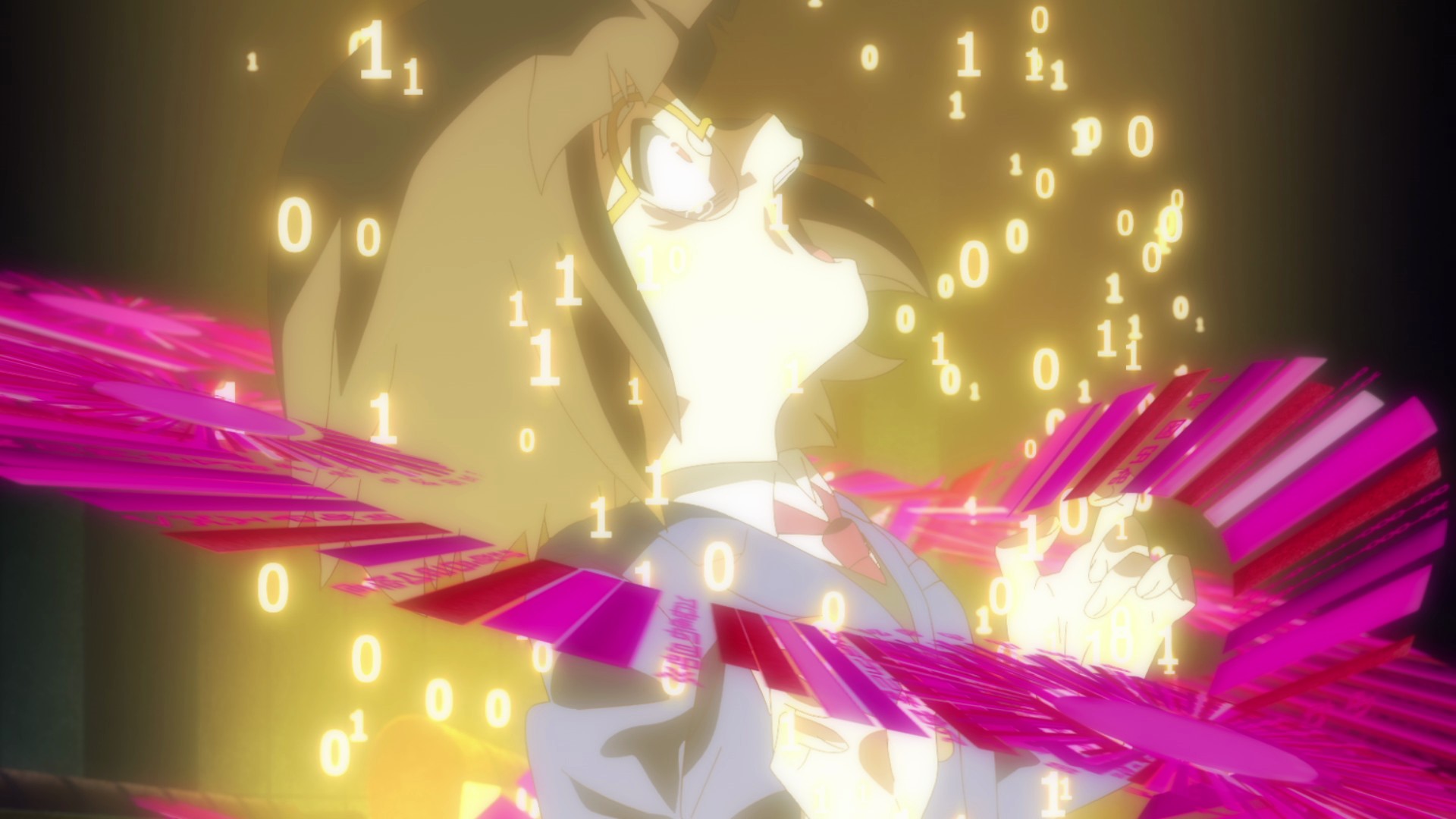 A:This is a digital "something" that is similar to and based on the "Digicode" that appeared in "Digimon Frontier." I'd like you to imagine why it appears and how it's being used as you continue to watch.
【About Chioka himself】
Q:Mr. Chioka, what is Digimon to you? How do you plan to reflect that in this series?
(From Okaza)
A:Since 20 years ago, and even now, I'm a fan of Godzilla and Gamera, so I get excited at the possibilities that "monster" stories can have. Having been involved in the "Digimon" series since I was an assistant has taught me a lot. The "Digimon" from 20 years ago was when digital technology was being introduced to animation, so it was a time when I could challenge myself in a variety of tricks to create images using digital technology. While "Ghost Game" is being made in a time where digital technology is now a common tool for animation, I hope to come up with a new visual expression through it.
Q: What is the first thing you think of when you think of the words "digital" and "ghost"?
(From Konto)
A:"Digital" makes me think of… "digital clocks" and "CDs". By digital clock, I mean the ones with panels that flip to show the time, not the ones with LCD screens, because I think that type was the first I'd seen (laughs). For "ghost," I think of the movie "Ghostbusters." Especially that marshmallow man (laughs). While "Ghost Game" is horror, I love comedic shows. The early 80s was a time when films were fully integrating SFX (special effects filming), and I love all of the sci-fi films of that time. Like "Alien" and "Battalion" and "Tron." For adventure films, there was "Flight of the Navigator" and "The Last Starfighter." Because I love sci-fi and fantasy, I believe that my episode direction and way of thinking is influenced by these films. To tell you the truth, I'm no good with horror films and I'm scared to watch them. When the commercial for "Ju-On" came on, I had to pause it (laughs). I don't dislike them though, which is why I'll watch them once in a while…
Q:Cute or cool, what kind of Digimon would you want as a partner?
(From Ao)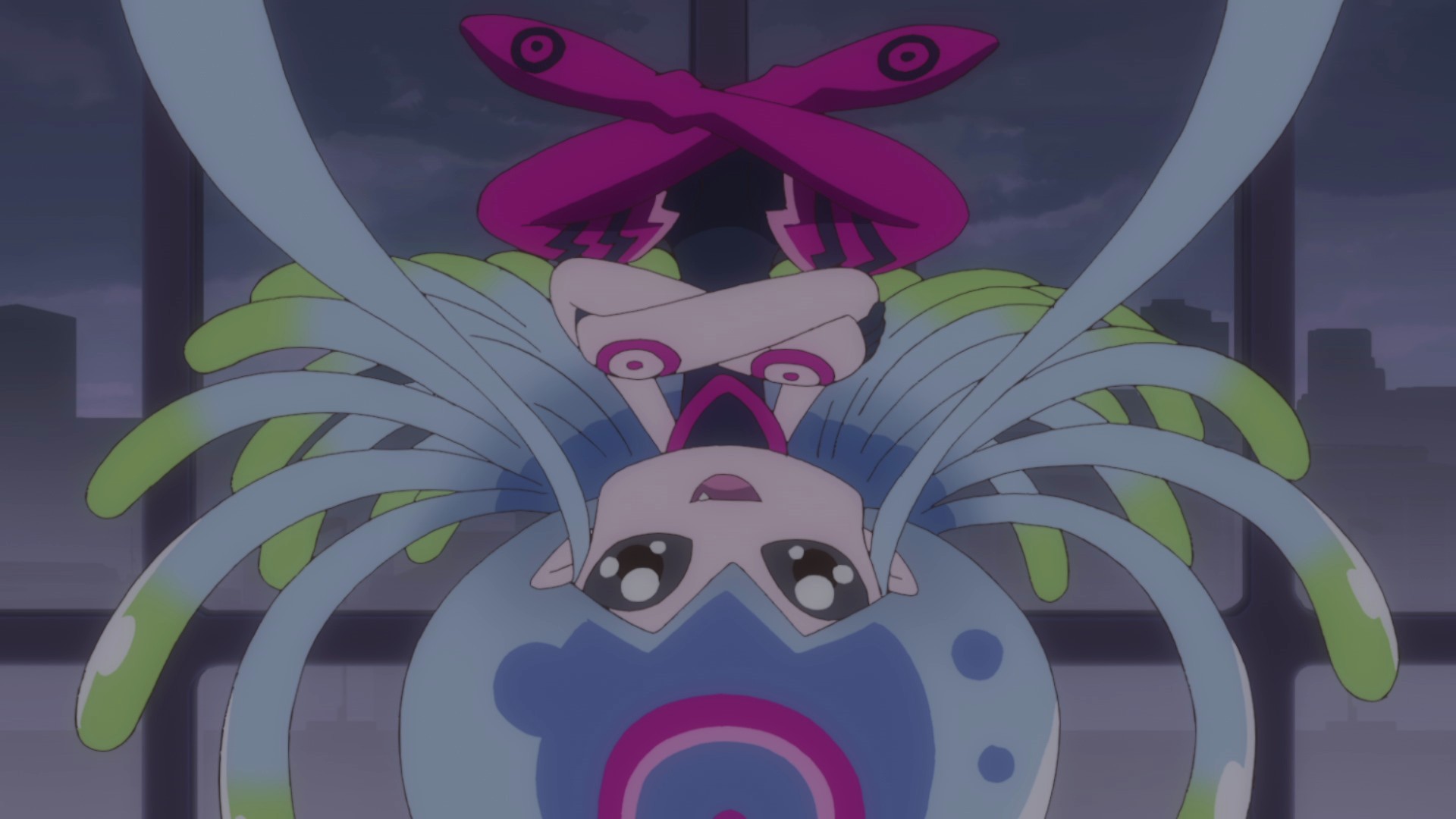 A:I like Lopmon. The first time I got involved in storyboarding was for "Digimon Tamers" episode 48, in the scene where Shaochung does a Card Slash for Lopmon to evolve. Not only is Lopmon cute, I also have fond memories of Lopmon due to having a hand in that evolution scene. As for "cool Digimon," they're all cool so it's hard for me to decide (laughs). If I were to choose one for a partner… If I had Terriermon and Lopmon together, life would be fun. I created Gammamon, Angoramon, and Jellymon as Digimon who I personally would enjoy having by my side. With Jellymon, every day would be fun, but I'd probably be in for a lot of pain (laughs).
Q:Do you have routines, habits, or favorite tools that you apply into your daily work?
(From Zero)
A:This is not exactly a routine, but when I'm putting all of my focus into something, I wear a bandana. They even modeled a character wearing a bandana after me in "Digimon Adventure" (laughs).
【After reading everyone's thoughts】
I'm very happy to see that everyone seems to be enjoying a different kind of "Digimon" and its developing story. I will do my best to continue giving you the experience of a new story and new Digimon that you've never seen before. Please continue to send your support!
―Thank you so for this interview & your time, Mr. Chioka!
Through lottery, we will draw a winner from those picked for their questions/reviews to receive
an autographed poster by Mr. Chioka!
The winner will be contacted at another time, so please look forward to it!
We hope that you continue to support "Digimon Ghost Game"!
A short but fun Q&A. The personal questions, as you'd expect, are the ones answered the best, while most of the show questions are winks, nods, or lean to "can't answer" or "have no answer."
Last edited: