Show User Social Media
Hide User Social Media
Joined

Sep 8, 2006
Messages

15,830
Time for an interview!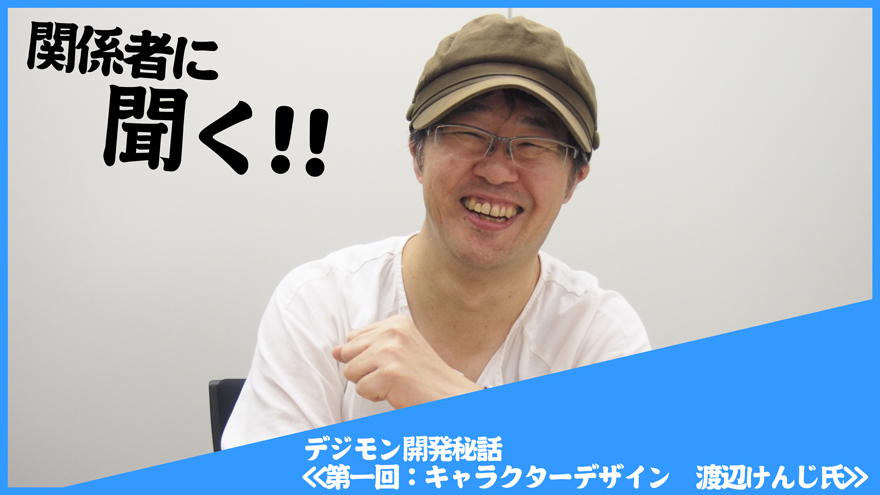 This interview from the
Digimon Game Community
website features Digimon Game Producer Kazumasa Habu interviewing Kenji Watanabe, the long time Digimon designer who has been there since the beginning.
This interview covers a number of interesting subjects, many of which fans discuss quite a bit (which gets brought in the interview a few times.)
Huge thanks to garm for translating all of this. This is in fact Part 2 of an interview, but due to lack of time, and that Part 1 is much more of a generic 'press' style interview from the day Digimon Game Community first opened, garm has skipped over that (it's mostly more press friendly questions rather than things more of interest.)
Some images have been added to this interview to break up the text a little bit. The original interview only featured an image of Zubamon.
Habu: Alright, let us move on to the next topic! Please tell us more about roughly how long it takes to finish a Digimon illustration, starting from the planning stage.
Watanabe: I do think it used to take less time. We would hold meetings, during which everyone would draw the idea they had in mind for the character, followed by a discussion on what could be added where. There have been exceptions when we'd have to consult the project in-charge, for questions such as "what kind of [Digimon] should we include next?", though the reply would usually be something like "we're not sure" (laughs). We can't just draw whatever we wanted either, so we'd reply with "we'll never get this done until you think of something!" and it goes on like this.
Habu: So in the past, everybody worked on creating [the Digimon], but lately the division of roles has become more specific...something like that?
Watanabe: Yes, each person has more specific roles. Not only that, it's not uncommon for us to do a sort of 'single-shot' design when it comes to the more recent Digimon designs. We can all brainstorm together when we have to come up with a certain quantity of designs, but it gets tough when we have to make a single Digimon that has to sell something on its own. This is true especially in recent times when I have to draw Ultimate levels quite often, and the detailed designs take quite a lot of effort to draw.
Habu: Though, the Child level Digimon that you draw have rather detailed designs too.
Watanabe: Since Zubamon was the character representing and commemorating the 20th anniversary, I wanted to draw something that was a step up from the usual designs. Also, since it's the 20th anniversary after all, I wanted to draw a character that was like a shrunk-down version of Omegamon, a symbolic character within the Digimon franchise.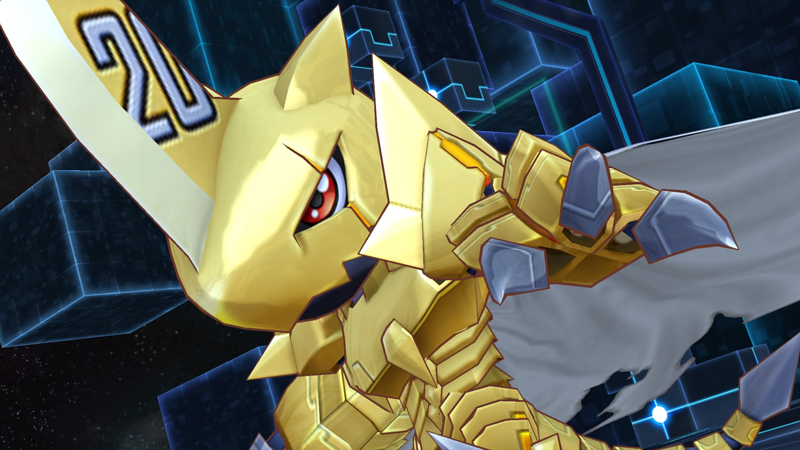 * Zubamon also makes an appearance in the latest upcoming game, Hacker's Memory!
Habu: Since we're on this topic, let me represent the fans in asking this question. What do you think of the increasing number of Omegamon [species]?
Watanabe: Hey, that's not my fault (laughs). In fact, it was Bandai Namco Games (now Bandai Namco Entertainment) that made the initial request. (Omegamon) Zwart had been made for a card earlier on, but I was told that they wanted a 'black' version with a different feel [from Zwart]. So, using that data, all the drafts were done in the image of Omegamon. However, we also talked about how if we were to make that Omegamon, we'd have to create the pre-fusion Digimon forms as well.
Habu: Ah, I didn't know that... This was from [the making of] next 0rder (Digimon World -next 0rder-, released 2016 for PlayStation Vita), wasn't it? Personally, I have more of a preference for filling in the evolutionary gaps in existing Digimon.
Watanabe: Well, I feel it's hard to deny that Omegamon is an icon of [the Digimon franchise], and that merchandise that get released often use Omegamon as a motif. As a result I find myself going "Huh!? Aren't I drawing Omegamon a bit too much?".
Habu: Whenever a subspecies of Omegamon debuts, it becomes a topic of discussion among the fans as well.
Watanabe: Yes, but there are also fans that won't be too happy if [Omegamon subspecies] keep being added so trivially.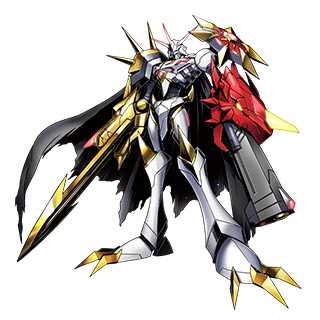 Habu: How was Omegamon Alter-S?
Watanabe: I feel that Omegamon Alter-S was more well-accepted, since BlitzGreymon and CresGarurumon were actually [designed and] drawn as well.
Habu: I see. Since we're already halfway there, why not add even more Omegamon and create a game where all the Omegamon species can duke it out in a Battle Royale? A battle to decide the strongest Omegamon breaks out! Or something like that (laughs).
Watanabe: That does sound interesting in its own way. I feel that we create more Digimon, it'd be great if they could get their time in the spotlight. I wonder if the fans might also be okay with the idea, so long as the [created Digimon] get used in some way.
Habu: You're right. I also think that if we were to create brand new Digimon, I'd want for them to have a specific role. However, even before that, I'd want to dig deeper into the Digimon groups that already exist, and include them in my games. Like the Olympos XII, for example.
Watanabe: On the contrary, I and the other folks and WiZ don't really have the avenue to do something like that. We don't really have a platform for us to express a certain world-view, so we have no choice but to rely on the games and anime series for that. While we can say "this is the world we want to portray, so please stick to the established setting", it's hard to actually stick to it. We can't put a lot of information into LCD games, so it is hard for [LCD games] to step out of the 'toy' territory to become an actual media platform.
Habu: However, because of how little information can be included [in the LCD toys], it leaves a lot of room for ambiguity, so wouldn't you think that [the world portrayed in LCD toys] also expands according to the consumers' imagination?
Watanabe: That's our intention. We set the base for the characters, and establish the relationships between them. There have been [characters] that were more neglected, but there's always the possibility that they might be picked up one day.
Habu: It'd be great if someone could organize that info.
Watanabe: As the people in charge of WiZ change, new ideas are also born. Not only that, as we move into a networked society, it has become easier for normal people and fans to publish their own original Digimon. It's a good thing, but on the other hand, I personally also find it very scary. More precisely, I'm worried about whether [the Digimon we create] will overlap with [existing original Digimon that fans have created]. For example, when we're asked to design a 'Something-mon', we might search the internet and find that someone has already designed an [original Digimon by that name]. For a period of time, we did try our best not to infringe on existing [fanmade original Digimon ideas], but now that the number of illustrations have been increasing at a never-ending pace, we try not to worry about it too much. Sorry if our ideas overlapped with yours! But rest assured that we didn't try to steal your ideas.
Habu: I find it really interesting how the idea of more and more Digimon surfacing all over the net actually ties in with the original setting of Digimon. There have also been Digimon that were fan entries made official, haven't there.
Watanabe: Yes, there have.
Habu: I didn't know at first, but the CatchMamemon that appears in Digimon Story Cyber Sleuth: Hacker's Memory is one such Digimon too, isn't it.
Watanabe: Ah yes, CatchMamemon. That was from some time back.
Habu: I think having fan-made Digimon being made official is another interesting aspect of the Digimon series. Let's go back to the topic of illustration. I had heard that the very first characters' LCD pixel-art were made from their illustrations, but has the work flow changed since then?
Watanabe: There have also been instances where we worked on the illustrations and pixel-art simultaneously. First, we make a rough decision on what kinds of [Digimon] we wanted to include; for example, a 'dinosaur' or a 'dog'. Though, there was once where we were working on a rock-like [Digimon], and the pixel-art turned out completely different from the illustration. In the end, we decided not to be too bothered by it. We would check with each other after [working on our parts], and make any corrections to either the pixel-art or illustrations if necessary.
Habu: Roughly how many people are involved in the designing?
Watanabe: Usually we have three people involved in the illustration, including me. When we want a firm-looking, mecha-like design, we try to delegate it to someone who specializes in doing that, such as asking As'maria-san, who is somewhat like a guest illustrator. In other words, we think of who would be best suited to [design] this character. Usually, I would draw the first draft to express the image I have in mind.
Habu: While it depends on who's working on it, there are also times when the final design deviates quite a bit from your rough sketch, aren't there?
Watanabe: We do ask As'maria-san to draw however he wants to; after all, I think it wouldn't have made for very interesting designs if he had just stuck to the mecha-style that I drew in. When we request for someone to draw something, we do it because we want something drawn in their style, so we tell them to draw however they like. Although there are times when [the final result] turns out completely different from the rough sketch (laughs), it's also because of that that I feel allocating the work to them was the right choice. Of course, illustrators can't be good at drawing everything, and they'll tend to have their strong and weak points, so there are times where we just can't draw out the exact image that comes to our mind.
Habu: So, what happens when things don't go well, or when you stray too far from your original intention? How do you fix it?
Watanabe: Redrawing and getting faults pointed out is inevitable. Things like, the posing isn't right, or the perspective looks weird, or it could be cooler, or it's not cute enough, the list goes on. Feminine Digimon in particular are hard [to design]. I feel that [Digimon] is, at its foundation, targeted at a boy audience, so I think it'd be great if we could make the feminine Digimon look cool as well. Using 'coolness' as a base, we add a bit of 'sexiness' to the [design] so that it's not only cool, but also heartthrob-inducing. I feel that achieving that kind of balance would be best.
Habu: In the initial stages, the faces of humanoid Digimon were usually hidden. Was there an enforced rule of some sort that cause this?
Watanabe: It's true that there were many Digimon whose eyes were hidden, because eyes leave a strong impression, don't you think? So it felt as if by adding eyes, we were diluting the 'digital' feel [of the design]. For monster-like imaginary characters, we showed the eyes prominently to give that realistic, bestial feeling. However, if we give humanoid Digimon too much of that realistic feeling, they end up not feeling like monsters anymore, so we tried not to [draw their eyes] to some extent.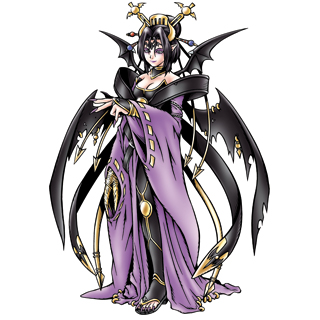 Habu: Did that change around when Lilithmon debuted?
Watanabe: It's not really set in stone whether it was Lilithmon that brought about that change or not...
Habu: Say, where did Lilithmon debut again?
Watanabe: If I'm not wrong, Lilithmon debuted in the Pendulum Progress. By the way, Lilithmon's name and base idea was inspired by a robot anime that was popular around that time. Speaking of which, I had initially designed Andromon as a quadruped, and got scolded by Volcano Ota-san for it. "Isn't this design just an exact copy of that?" Though that was what I had in mind while drawing (laughs). And so, Andromon ended up in a standing pose. I'm not sure why, but I'm quite fond of Andromon myself.
Habu: I had heard that you took some inspiration from American comics, but I see some of the motifs were anime-inspired as well.
Watanabe: From the start, I wondered whether it was okay if the designs ended up resembling existing things. However, thinking about how Digimon are basically information on the net that has been monster-fied, we could just see them as having been influenced by topics present on the net.
Habu: I see. Well then, please tell us more about what you take into consideration as you come up with your designs.
Watanabe: Since the monsters are effectively characters, I consciously try to design them so that they can be 'viewed' as a character. Originally, for Beast types, I made the eyes beast-like such that you'd never know what they were eyeing, to give a sense of "this scary monster is what you're raising!". However, once the anime series started, the eyes were drawn more clearly to show that they were looking at the viewer, in order to bring out a sense of closeness. Not only that, while the muscles were originally drawn bulging out to make them look revolting, we thought to give them more charm and so worked towards a more deformed style. While it might be hard to tell once you get to Ultimate level, the Child levels at least don't usually have very complicated silhouettes. We add some detail in the form of belts and other elements which don't affect the silhouette, that give a sort of Digimon-ish vibe. I like belts, zippers, and pockets even when it comes to fashion, so I try to incorporate those into my designs. When it comes to zippers, I simply have to draw out their teeth all pointed. When [the zipper] is opened, they then look like fangs belonging to a mouth.
Habu: That's something to take note of when creating 3D models for the games.
Watanabe: When you look inside from the open zippers, you can see the empty space within. That's due to Digimon being monsters that are textured only on the outside.
Habu: That's interesting to hear!
Watanabe: The humanoid Digimon take inspiration from American heroes; more specifically, we aim for the slim-macho type build. For example, the arms might be firm, but slim. Anyway, in general, the limbs are usually drawn bigger. However, somewhere down the line I thought that we didn't have to follow this rule strictly and started doing rough sketches with smaller limbs, which ended up getting corrected by Volcano Ota-san who said "Digimon can't not have big limbs!" (laughs).
Habu: There are also Digimon with different left and right arm lengths, such that you don't know if their lengths were actually like this, or if one of the hands is just stretched out.
Watanabe: In the case of humanoid Digimon, their hands are usually drawn long from the start, though sometimes we draw them extending outwards if they can do so.
Habu: I often get asked about Demon by the game development staff, about whether it's okay to just model it normally.
Watanabe: A normal model would be okay, since [Demon] was drawn to show that its arms could extend. However, there are some Digimon that do have different arm lengths; Cyclomon, for example, has one arm that is clearly larger than the other. However, there are also designs that get changed while they are drawn. The original drawing of Tailmon looked quite different from the Tailmon design shown when the anime series started airing. I wanted to draw it in a cuter fashion than what the anime was showing.
Habu: So, it got changed to achieve a certain aim. By the way, is there anything you take note of in particular while designing Digimon in general?
Watanabe: I think some of the elements discussed earlier contribute to the portrayal of a Digimon-esque design, but in general, I think the likeness to American comics still stands. Although there was a time when I thought losing this [American comic look] wouldn't be a big deal, this base hasn't crumbled even now. When I see fans draw art of Digimon using thick lines and strong shadows, it makes me want to say "that looks very Digimon". I think the style has become representative of Digimon.
Habu: The original illustrations of Agumon always featured a blackened forehead, didn't they.
Watanabe: I added the top shadows on purpose, and that was the case with Tyranomon too. However, that was made concrete by adding shadows there in the first place. Back then I didn't have a lot of time, so I thought it was okay since filling it in with black would cut short the time taken (bitter laugh), but it paid off and created a distinctive image for Digimon.
Habu: Does the work you do for Digimon feel special or harder as compared to the design work you do for other series?
Watanabe: As of now, the work I do for Digimon is pretty much my lifework, so the style I draw in just comes to me naturally. On the contrary, it's usually the non-Digimon work that I do where I come across difficulties. When I get a job offer, I tend to wonder if I should draw something Digimon-like or something else completely different, often not being sure what's expected of me.
Habu: Please tell us about what you would like to challenge yourself with when it comes to Digimon, which has become your lifework.
Watanabe: As the years go by, I've been thinking that instead of me being the one coming up with new Digimon, I'd have to pass the baton to the next generation sooner or later. Of course, there are designs that I leave to the younger ones to come up with as well, but I think it's for the best if someone else were able to take up the helm, and also so that I can see the Digimon that I created be portrayed in a different way. Of course, I'll continue drawing things that I want to express to the outside world, and if there happened to be a job that only I could do, then I'd be up for it as well. Pretty much, I'd be up for doing anything and everything. Popular illustrators have been brought on board for games, so it wouldn't be weird if the designs of the Digimon that appear in those games weren't done by me. We have all sorts of illustrators around, so there's no particular need for my designs, I think~ (laughs).
Habu: That's not true (laughs).
Watanabe: That's how I've been accepting the facts though! (laughs)
Habu: I'm sure both the fans and I still look forward to more of your works in the future, Watanabe-san!
Watanabe: In the first place, I never thought that Digimon would have continued like this for so long. Despite usually being in the background, I'm very grateful to see [Digimon] get its chance in the spotlight. From this interview, and other projects, there have been more opportunities for me to hear the fans' opinions directly. By maintaining a close relationship with the fans, it makes doing everything more interesting, and it'd be great if interactions with them can give rise to new character ideas. I hope to continue doing the best I can hereafter, and I appreciate everyone's support.
Habu: Is there anything you would like to request of the fans?
Watanabe: For now...please go easy on me (laughs). In any case, I hope to continue to work hard as I continue to maintain communication with the fans.
Lots of fun things to discuss, and once again, huge thanks to garm for translating all of this.