Show User Social Media
Hide User Social Media
Joined

Sep 8, 2006
Messages

15,593
Some sad news near the end of the year for everyone.
Voice actress Toshiko Fujita has passed away from breast cancer according to
Oricon
and Aoni Productions.
To Digimon fans Fujita would be best known as the voice of Taichi in Digimon Adventure and Zero-Two. She also voiced Sora's mother, Pipimon, and Taichi's son, along a few other bit parts.
She had a long history as a voice actor playing a number of characters such as Rally in Silent Mobius, Jerry in Japanese Tom and Jerry content, and Pierre in Puss 'n Boots (the film that gave Toei it's logo and mascot.)
She was 68 years old.
Thanks to a number of people for sending this in and
ANN
for additional information.
Update- Messages from various people who worked with Fujita, knew her, etc., along with the message from her agency. Thanks to shin for the translations of most of these and onkei for additional translations. People from the industry she knew or inspired often had massive resumes, we are only listing a few things for each.
Aoni Productions frontpage
(Fujita's agency)
Ms. Fujita had been under medical care for an invasive form of breast cancer for some time, but with no medical treatment having proved effective, she passed away December 28th, Heisei Year 30 (2018).

Many have expressed a deep heartfelt appreciation for the kindness they received from her during her lifetime.
Furthermore, with regards to the wake and funeral service, we will refrain from announcing details so that the family service can be held.
We kindly thank you for your understanding.
Digimon Music Producer
When I joined the recording company, the first anime I was put in charge of was Digimon Adventure. The first character song we recorded was Taichi Yagami's "I'll Turn My Courage Into Wings" (Yuuki wo tsubasa ni shite). Even now it remains one of my most important songs. Seeing Fujita-san's attitude towards music fuels me, even today. I would've loved to hear Taichi's voice once again… Gasshou (Prayers)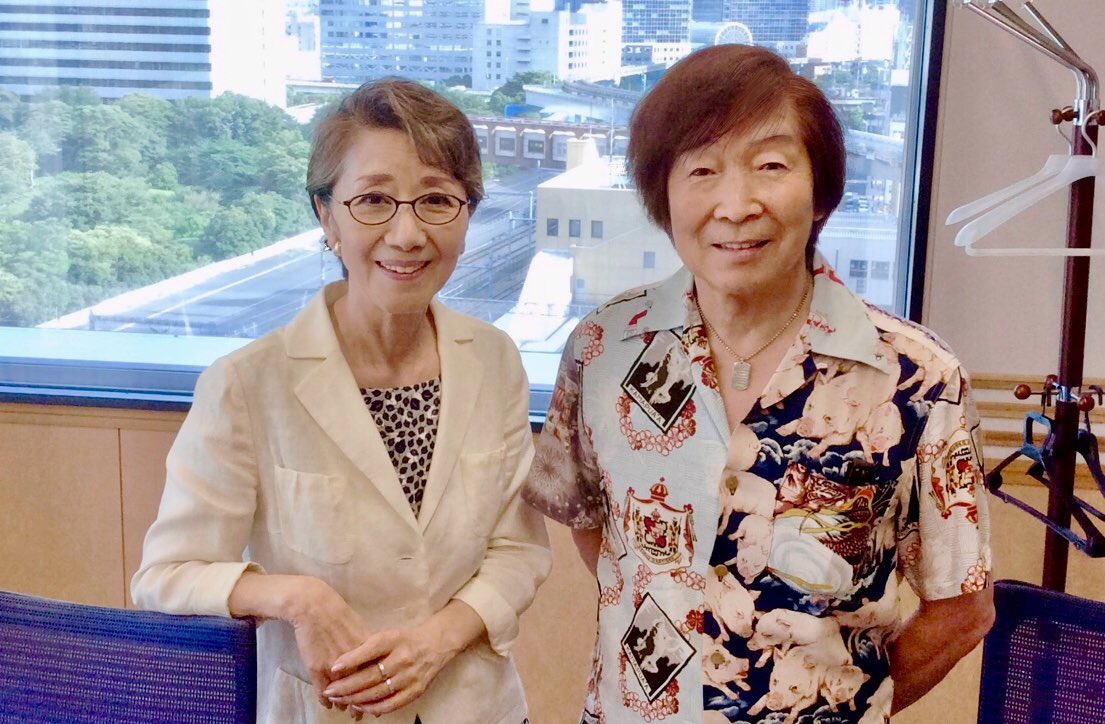 Toshio Furukawa
- Nene's dad in Digimon Xros Wars: The Young Hunters Who Leapt Through Time, Piccolo in Dragon Ball, Ataru in Urusei Yatsura
As I thought... A notice I didn't want to see--the official announcement from Aoni. "Announcement of Fujita Toshiko-san's passing". Isn't it going to be New Years?! We did dramas together, worked together and I made so many memories with you.

Photo: A snapshot of us I received from the executive of the cultural program "Aoyama Ni-chome Theatre"
Chiaki Matsuzawa (
Post 1
,
Post 2
)- News Reporter/Announcer, MCed DigiFes and cameoed in Digimon Adventure tri.
I will always love Fujita Toshiko-san's song "I'll Turn My Courage Into Wings ~ Yagami Taichi's Theme~". When I would be feeling down, I would listen to that song. Now is no different. Thank you so much.
My feelings about Fujita-san will never change, but I feel somewhat sad because, if we were able to meet someplace, I would've wanted to tell you that that voice could always energize me no matter how many times I heard it. The amazing part of this song which plays during the showdown against VenomVamdemon, is where I was supporting Taichi (as well as us), believing in you, the story's protagonist.
Digimon Adventure 20th Anniversary Staff
To Fujita Toshiko-san, who played the role of Yagami Taichi in Digimon Adventure and Digimon Adventure 02. Thank you for all the Courage.
From the bottom of our hearts, may you rest in peace.
Hiroyuki Kakudou (
Post 1
,
Post 2
)- Director of Adventure, 02, X-Evolution, along with various other positions in the franchise.
Fujita Toshiko-san... I have no words…
Fujita Toshiko-san. We first met during my first job with Toei Films for the Patalliro! Movie. You were Maraich. After I became a producer, you then helped with Shin-Bikkuriman, Dragon Quest: The Adventures of Dai, Hell Teacher Nūbē -- there was nobody but you whom I could think of for the role of Taichi in Digimon. Thank you so much. I truly feel this is the end of (an era for) Digimon.
Shigeru Chiba
- Sagomon in Digimon Xros Wars: The Young Hunters Who Leapt Through Time, Kuwabara in Yu Yu Hakusho, Buggy in One Piece, Pilaf and Raditz in Dragon Ball
Fujita Toshiko-san... You always brought cheerfulness through your laughter to the studio… Did you know how much that smile of yours could heal those young actors and actresses --- the power of your shoulders to relieve them of their anxiety?
Thank you so very much.

From the bottom of my heart I pray that your soul rest in peace.
Fumi Hirano
- Lum in Urusei Yatsura
The voice of Ikkyuu-san in the Ikkyuu-san anime, Fuijta Toshiko, was known more as "Toko-san" wasn't she…
Toko-san... I... won't forget you! I'll never forget you ok!
Hisao Egawa
- Mugendramon and Ogremon in Digimon Adventure, Killer Bee in Naruto
"Don't become that kind of actor!" "Stop expressing yourself in that way."
I always received these kind of pointed suggestions from her back when I was a newcomer.
I listened to all kinds of stories while we drank a lot together.
You praised me when you came to see me on stage.
There's still so much more I wanted to do together with you.
Fujita Toshiko-san
You have my gratitude.
From the bottom of my heart, may you rest in peace.
Summer Friends Staff
Her role as Yagami Taichi in Digimon Adventure was one of many characters she breathed life into.
Voice actress Fujita Toshiko passed away from an invasive form of breast cancer on December 28th, 2018.

From the bottom of our hearts we pray that she may rest in peace.
Kenji Watanabe
- Longtime Digimon Designer
Fujita-san…
May you rest in peace.
Chiba Isshin
- Jin Kazama in Tekken and Chiba in Detective Conan
Fujita Toshiko-san….

When I was a child I enjoyed Ikkyuu-san and your other roles. I entered this world as a newcomer during "Dragon Quest: Dai's Adventure" and I was able to experience the greatness of a professional and such an amazing senpai. From the bottom of my heart, may you rest in peace
Ryotaro Okiayu
- Devimon in the Digimon Adventure PSP game, Rhodonitemon in Digimon Frontier and X-Evolution, Grademon in Digimon Xros Wars, Byakuya in Bleach, Yuu in Marmalade Boy, Nube in Hell Teacher Nube, and is also married to AiM.
In light of the news of Fujita Toshiko's passing, from the bottom of my heart I would like to offer my sincere condolences.

To me you were a great senpai, irreplaceable as one of my students, Tateno Hiroshi (Hell Teacher Nube), a kid who was not well organized, but…

Without looking aside, I was able to perform of Nueno Meisuke because Toko-san there at the studio.

I wanted to see you again.

Thank you so much for all your work.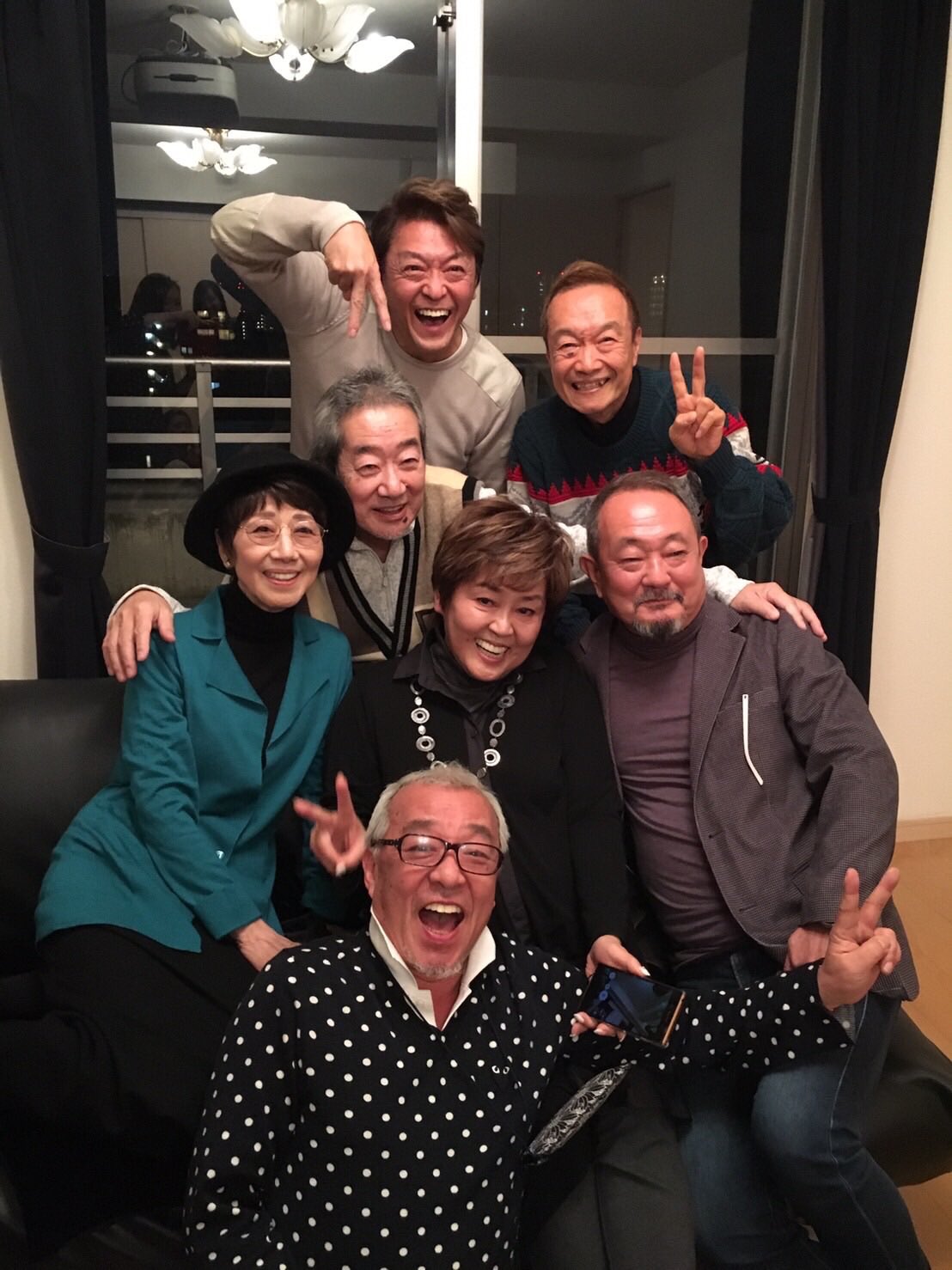 Akira Kamiya
- Ryo in City Hunter, Kenshiro in Fist of the North Star
I received the notice some time ago that Fujita Toshiko-san had passed away. She was a beautiful friend and senpai whom I respected. I pray that your soul may rest in peace. I tried to hold it in, but it was so trying that I'm now crying in the Shinkansen. This is my last photo with her.
Hiro Masaki (
Post 1
,
Post 2
)- Writer for Digimon Adventure, 02, Tamers, and Frontier
As the Digimon series was the first anime I worked on, I oftentimes let myself in to the recording studios. There, I would watch the voice actors' performance in the booth and think about things like: "If I were to have this voice actor do this sort of play next time, I wonder how it would it go" and such, and back then it influenced the script considerably. I personally recognized them as the "Gekidan Digimon" (Digimon Troupe or Theatrical Company).

At its center of this were Fujita Toshiko-san and Sakamoto Chika-san. To have Fujita-san pass away is a considerable shock to me. The "Digimon Adventure Character Songs + Mini Drama (1)" even had lines like "Taichi Digivolves to--! Ikkyuu-san!" and other silly lines she delivered.
Thank you so very much, Fujita-san.
Noriko Hidaka
- Akane in Ranma 1/2, Near in Death Note, Norika in Gunbuster, Kikyo in Inuyasha
Fujita Noriko-san…
Toko-san's left on a journey.
I'm incredibly sad.
Always so elegant, and yet so refreshed
Candidly sharing stories --
That was the Toko-san I looked up to
I would've loved to see you again in the studio…

From the bottom of my heart, may you rest in peace.
Atori Shigematsu
- Piyomon in Digimon Adventure, 02, and tri., and Taichi's mom in tri. (replacing Yuko Mizutani, Sora's actress, in the role due to illness prior to Mizutani's passing.)
Why does one receive news of someone's death by fax? I had a feeling it would come some time or another, but I was unprepared.

She was someone whom I aspired to be like.

Back when I was a newcomer when I was able to listen to you sing songs from Ikkyuu-san at the karaoke I was so moved, I remember that I cried so much.

I'm so happy I was able to work together with you. Using past tense makes me sad.
Yuto Kazama
- Yamato in Digimon Adventure and 02, MetalSeadramon in Adventure
Whenever I felt lost or hurt, Toko-san's words always saved me. There was a time when Toko-san complimented me, and even now I treasure that moment. She was such a beautiful, kind, and refined person, and knowing that someone as wonderful as her is gone from this world just leaves me with so much pain. May Toshiko Fujita-san rest in peace.