Show User Social Media
Hide User Social Media
Joined

Sep 8, 2006
Messages

12,047
We found out awhile ago that the pop-up shop would be back again...
We now have info and images for the items they plan to stock in the shop!
The "Digimon tri. shop Part 3" will be held February 24 thru March 15. The primary theme and key art this time is winter!
Like the previous two shops, the Limited Base store on the third floor of the Ikebukuro P'Parco will be transformed into a store for Digimon fans!
Lots of items to go through this time.
First, let's go through the one item that will be sold early at the shop, but be available elsewhere later.
We've known about these rubber straps for awhile and they've been throwing them around online so much at this point it isn't worth trying to spoiler tag them anymore...
except... we now know the what the 8th strap is. Just linking it due to spoilers (last chance to avoid seeing it...)-
this image
has all 8 straps in it very clearly.
These will be 300 yen each in gashapon vending machines in the store.
Next we will look at the items that they will carry that they list as being available elsewhere.
We first saw this iPhone 7 case with the art of the tri. part 4 theater poster on it back at Jump Festa. It costs 2,800 yen.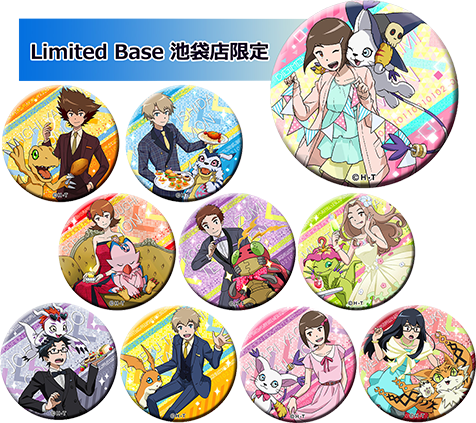 More can badges! We got a preview of these awhile back, but now we have clear images, along with an image of the Limited Base exclusive badge! These will be blind packed for 400 yen each.
Now we have stuff that will be at the pop-up shop, and should be available to buy at theaters that are showing tri. part 4.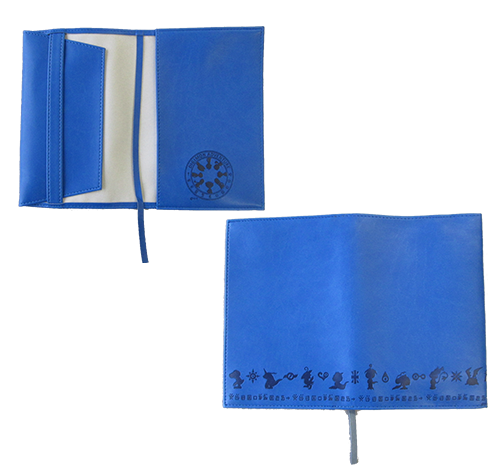 It's a Digimon themed book cover! Certainly nicer than the ones most of us would have put on our books back in school. This is 1,500 yen.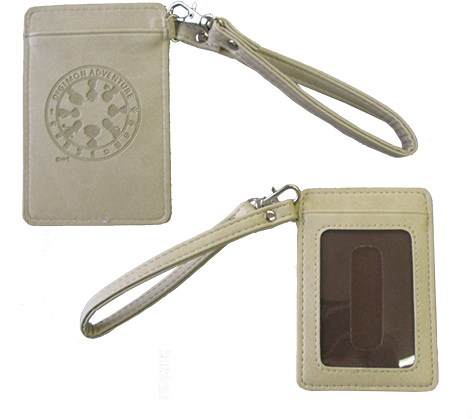 This is a case to carry around a train pass (or various other passes) in. It's 1,200 yen.
This is a combination device stylus and pen that features the various crests on it. It costs 800 yen.
A Digimon themed security stamp? That's getting a bit eclectic. You stamp this on documents before you trash them to make them harder to read. The stamp says Dejimoji on it and features the digital world language characters on it. It costs 850 yen.
Square can badges! These appear to be based on the art from one of the Line sticker packs! They are 350 yen each.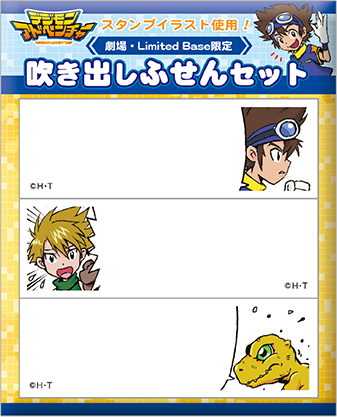 These are post it notes that, again, appear to feature art from the Line sticker packs. You peel off the sticker you want and write a message on it, making it appear that the character is saying it and stick it somewhere. The set is 650 yen.
The next section features resale items. These are items that were previously sold at the Limited Base store and are making a return with no alternations.
Crest keychains with digivice charms on them. These are nice keychains made out of metal. Each one is 980 yen.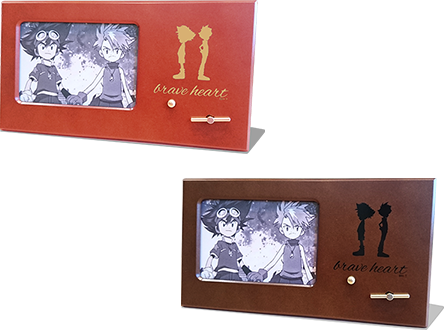 These music boxes play an arrangement of Brave Heart. Each one is 22,000 yen.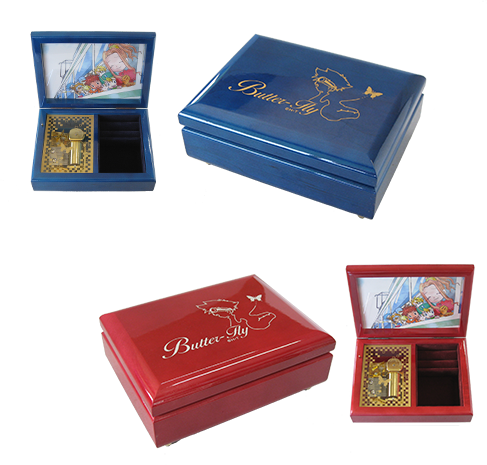 These music boxes are the second wave of Butter-Fly music boxes. Each one is 28,000 yen.
This mug changes design as it gets warm. When it's cool it features Agumon and Gabumon, but when it warms up... Omegamon! It's 1,800 yen.
And now we come to the items that most people want to see, the new and exclusive stuff at the Limited Base store!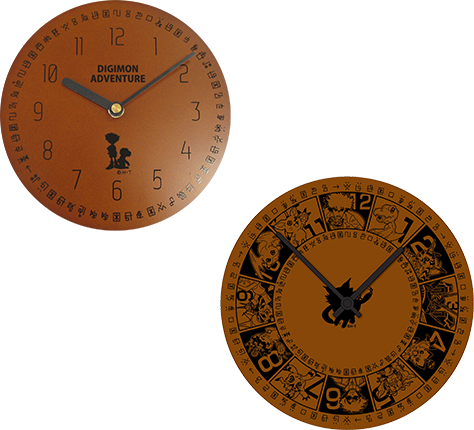 First up is this fancy wooden clock with a tri. design on it. The previous Adventure design with Taichi and Agumon will also be available. Each is 4,800 yen.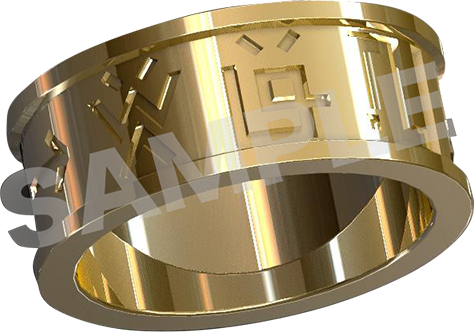 Digimon fans who like jewelry might want this holy ring. Bit pricey at 14,000 yen though.
Update- Info about what the ring is made of have shown up. It's 925 Silver that is gold plated. This means (based on research) that underneath the gold plating the ring is 92.5% sterling silver with 7.5% filler metals. The formal name for an item made in this manner appears to be "gold vermeil."
Update- Another update. The ring comes with a silver chain so you can wear it around your neck. Thanks to shin and garm for the translated detail.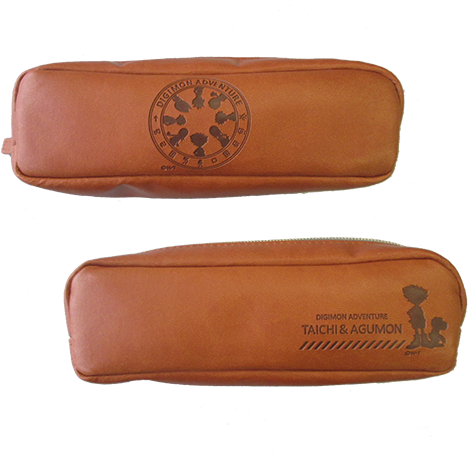 A very nice looking Adventure pen/pencil case featuring Agumon and Taichi. It costs 1,500 yen.
This small pouch can be used to carry any number of things. It's 1,800 yen.
This clear file features the winter key art from the pop-up shop. It costs 350 yen.
This portable battery also features the key art from the shop. It feels overpriced at 4,800 yen.
More phone stuff! These are pretty basic AC adapters featuring the Baby 2 (In-training) form of the partner Digimon (and Plotmon.) Each one is 1,350 yen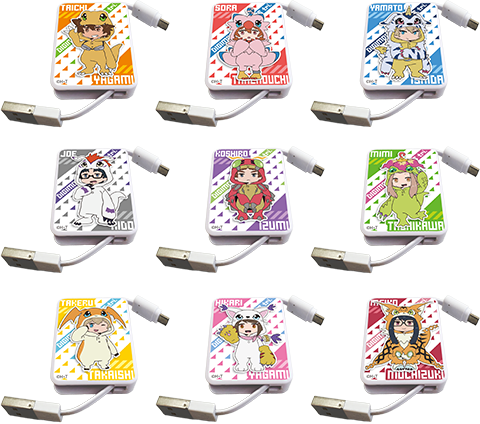 We continue phone stuff with USB cables. The cables retract into the body, which features the recently shown off 'kids cosplaying as Digimon art.' Each one is 1,350 yen.
The last phone item is a cable wrap. You use the suction cup to stick it on the back of your phone, and wrap your headphones around it so that it stays with your phone, and hopefully untangled. This is 1,000 yen.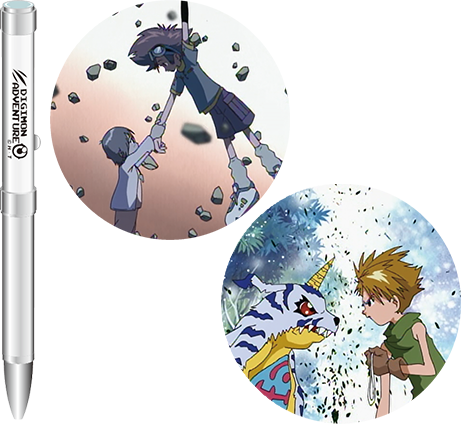 A pen projector! If you haven't seen one of these before, you press down on a button or clip, and it projects a static image (it will also act as a standard pen.) There will be two of these, one with a well known Taichi and Hikari image and the other with a good shot of Yamato and Gabumon. Each of these is 900 yen.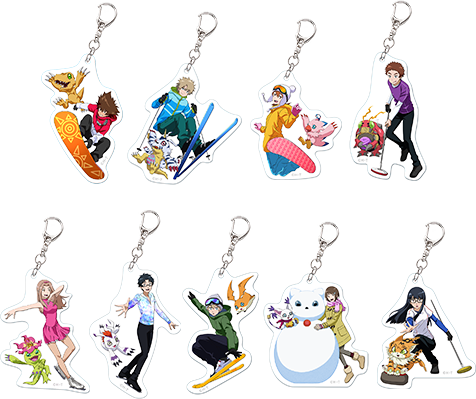 These acrylic keychains feature all the kids and their Digimon from the key art from the pop-up shop! Each one is 900 yen.
Another temperature changing mug! When it's cold you get digi-eggs. When it's warm you get Baby 2 Digimon (and Plotmon!) This is 1,800 yen.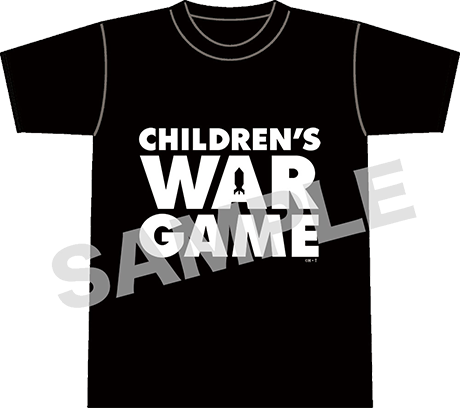 A Children's War Game shirt! This will be available in medium and large and costs 2,800 yen.
And to finish the exclusive products...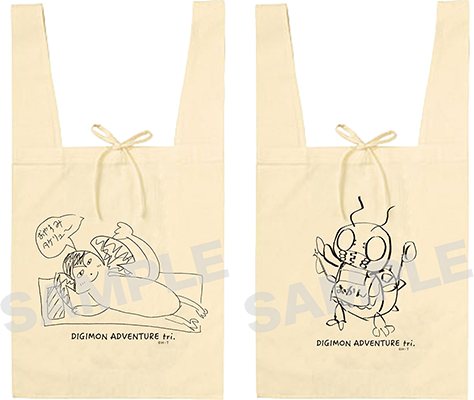 The art of Patamon by Junya Enoki and the art of Tentomon by Mutsumi Tamura from one of the Tokubans!
There are eco bags and shirts with each design.
Each eco bag is 1,200 yen and each shirt is 2,800 yen (no size is given for these shirts.)
That's it for the list of products. In the past they've added more items to the online list, and also stocked other mass market Digimon items in the shops, to ehre may be surprises to come.
They will be continuing the promotional gifts that they've done before.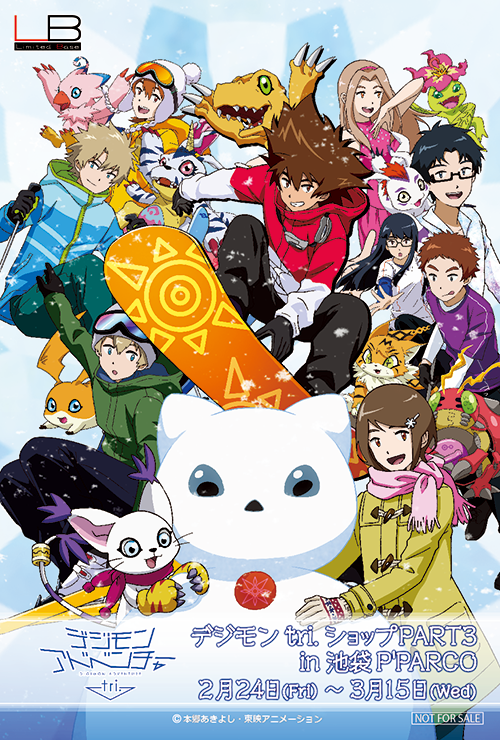 The first postcard features the winter key art and will be given to anyone who spends 3,000 yen or more in the shop. They will continue to give these out as long as stock lasts.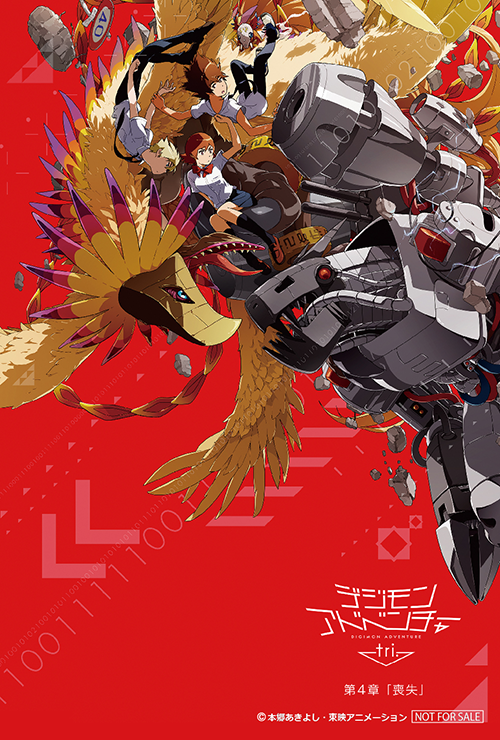 This tri. 4 themed postcard will be given to anyone who brings in their tri. part 4 ticketstub. The shop opens one day before tri. part 4 opens, and these will only be available after tri. part 4 is running in theaters.
Update- A second pop-up show with the winter theme has been
announced for Nagoya
in March with a handful of extra products.
A ton of stuff this time around that Digimon fans will likely really want.
Thanks to garm for some confirmations on the translations.
You'll want to contact an intermediary to get these items sent to you. WtW is not affiliated with any, but here are a selection of intermediaries that have worked well for various WtWers and their friends in the past:
From Japan
Rider Proxy
Nippon-Yasan
Japan Hero
Be aware many intermediaries do not carry items from pop-up shops since they can't be ordered online. You will need to ask them and explain what you want very carefully (perhaps with a photo.)
Some of the intermediaries have a full store front and may have the item listed, so you may want to check that first.
They will likely need a link to information about
the pop-up shop which can be found here.
Some prior threads with news for the
third pop-up shop
can be
found here
.
Limited Base put up a decent sized version of the promotional poster, which is very close to the postcard, so I thought I'd toss that up also.
Update- A small handful of new items have been shown off.
These are items that will be sold elsewhere later, but are at the pop-up shop early. This product series began last year with various other characters and also included some other products, so seeing those later (even if not at the pop-up shop) is likely.
More acrylic keychains/holders. Adventure thru Frontier character themed: Monzaemon, Gotsumon, Minomon, Gigimon, Culumon, and Pandamon. Each of these is 780 yen.
And...
More pass holders featuring the same characters as above. Each is 1,380 yen.
Prior items from this line are also being sold at the pop-up shop, along with a few other items.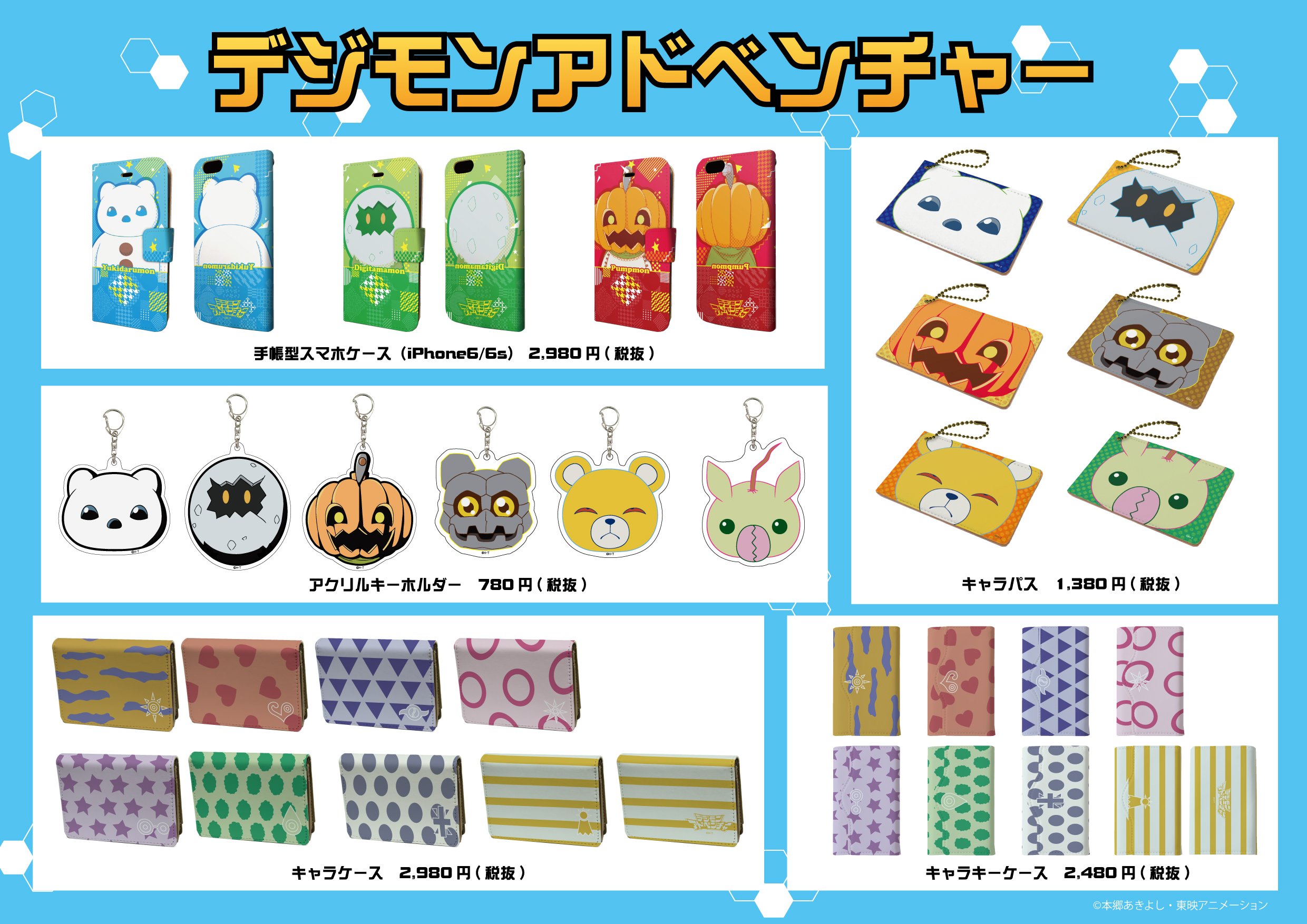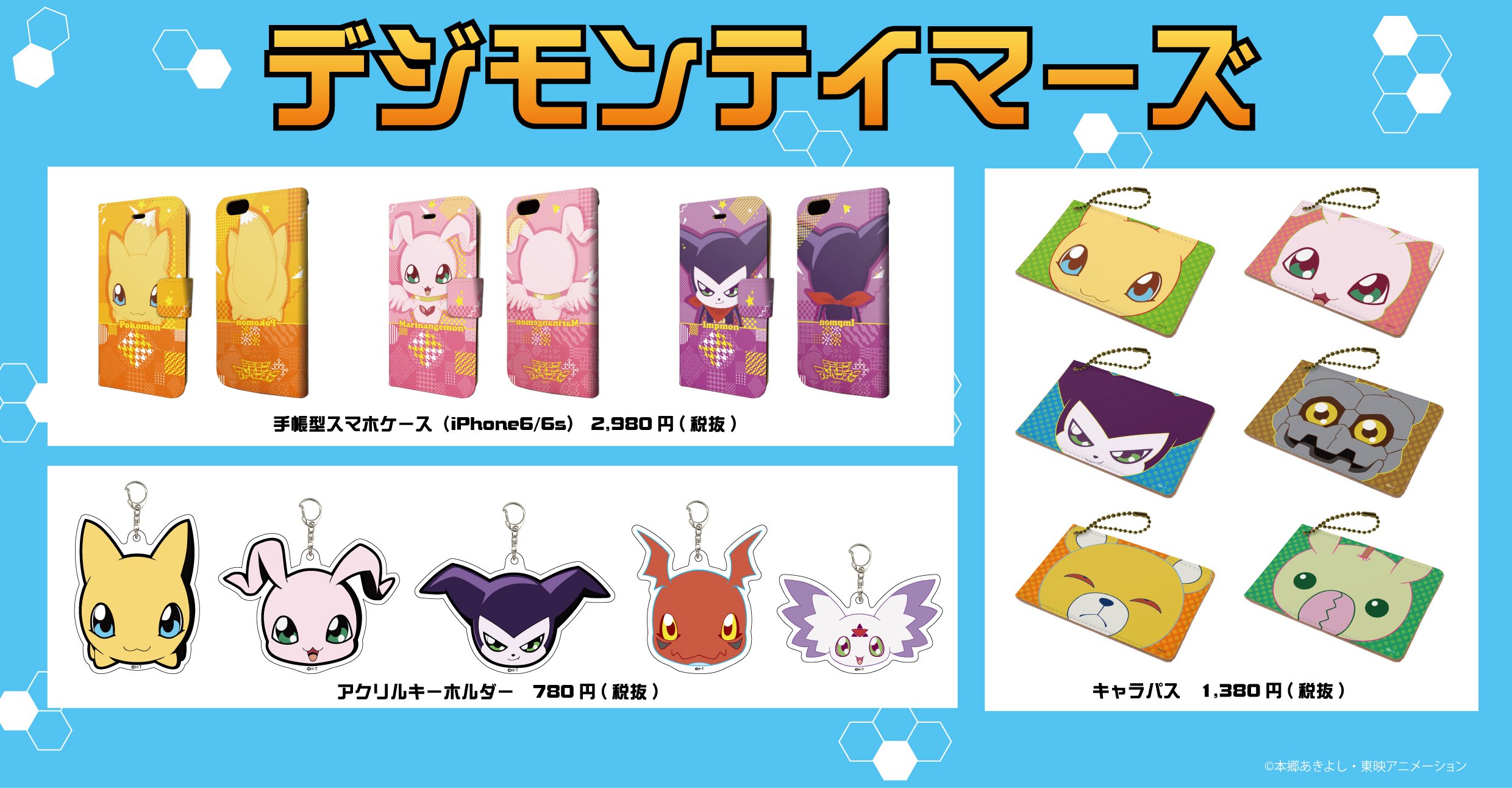 Not sure why Minomon and Monzaemon are shown with both Adventure and Tamers stuff... perhaps to fill out the listings?
In addition to the prior pass hodlers and keychains (1,380 for the pass holders, 780 for the keychains/holders) they will also have...
Phone cases (iPhone 6/6s) for 2,980 yen each.
And also returning... themed after the Adventure Digimon eggs and crests...
Character cases for 2,980 yen each.
Key caes for 2,480 yen each.