Show User Social Media
Hide User Social Media
Joined

Sep 8, 2006
Messages

15,787
Registration and Accounts
Multiple Accounts-
Do not make multiple accounts for yourself. If you have someone who lives at the same location, let us know before (or as soon as possible after registering.)
Sharing Accounts-
We recommend you don't share accounts. Any attempt to say 'someone else did it on my account' as an excuse will not fly. Your account is your responsibility. If someone else has access to your equipment... log out.
Deleting Accounts-
We don't delete accounts on request. If you want to leave, just log out and leave.
Avatars and Signatures
Avatars-
150x150 is the maximum avatar size. Keep files under 500k.

Signatures-
Signatures should be kept 500w x 150h or under. This can be a combination of images and text. Text will bound to the size of the signature box and doesn't have a resolution, but should be reasonably sized to be able to fit into 500w x 150w. Keep files under 500k
These samples for signatures and avatars are provided as an example, or if you wish, as a size template you can use: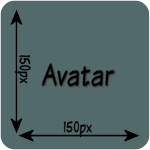 Behavior
Staff-
Respect and listen to staff. If you believe there is an issue, bring it up politely, or PM a mod or admin with the potential issue. If you believe an issue has come up that isn't being dealt with, also feel free to PM staff.
Attitude-
Horsing around and joking is expected to some degree. Be respectful of others. Basically... treat others how you want to be treated. Playing the victim will not be tolerated. Realize that someone giving an opinion other than yours is not an attack on you. Also be aware that Digimon has been adapted in different ways in different countries, but this forum being based in America will tend to focus on the American adaption and the original Japanese version.
Cursing and foul language is allowed, but don't use it to make personal attacks.
Advertising-
Don't post just to advertise your site or forum. Don't randomly spam people via PM with this information either. If someone PMs you to ask, feel free to respond, and feel free to link if there is relevant information to the topic being discussed in a topic. Feel free to use your signature space to link to your stuff.
Posting Style and Content
Please think about your post before making it. If it's a one word response, think harder before posting. If you think you need to post, don't just post 'Yes', post your reason and explain it.
The forum is primarily an English forum. Please write in legible English. We understand not all members speak English as their primary language and may struggle, and we appreciate your effort.
Please don't use chat speak or l33t. It isn't banned (it can often be used to add humorously to a topic) but don't just write entire posts in l33t. It looks bad and can be hard for people to read.
Topic and Message Information
Think about the title you are posting for a topic. Is it possible to know what the topic is about based on the title you've chosen? If not, please come up with a different title.
Multiple Threads-
Multiple threads aren't needed except in rare cases. Please search before posting to see if there is already a thread.
Double Posting-
Don't double post unless it's to post relevant information to the topic. In RP, story, or art threads, double posting may be necessary on a normal basis. In that case it is fine. We will look at normal topics on a case by case basis, but use your judgement.
Necroposting is allowed if you have something relevant to say on the topic. If it's just to say 'I agree', the post probably isn't necessary. Otherwise, feel free. If you aren't sure, please post in
http://withthewill.net/threads/9154-Topic-Revival-Request-Thread
and ask staff who will advise you.
Adult Material-
Some degree of sexuality or adult situations may be mentioned (especially in writing or art threads), but don't post porn. This is a Digimon board, and the franchise is aimed at children. There are younger members on the board, and please respect that they are here.

Bumping-
Don't bump. Either say something worth posting or don't.
Etc.
The sales section has ratings that can be given to sellers/buyers, but be aware you are doing this at your own risk. We provide the section to use, but outside of banning people who are obvious scammers/thieves (when possible) it's your business, not ours. The sales section has it's own rules
http://withthewill.net/threads/7301-Sales-and-Trading-Rules-*Please-Read-before-Posting*
, read them before using the sales section.
The RP section has it's own rules
http://withthewill.net/threads/6364-RPG-Rules
read them before using the RP section.
The forum has an experience/award/achievement system for fun. Please do not try to game the system. If you do points/achievements/awards can and will be manually removed by staff, and if it hits that point, the system will be removed.
No bootlegging- Don't post links to full episodes, movies, manga, etc. Clips on websites are fine, and there is an embedding system on the forum to list it on the forum itself. We recognize that there may be unreleased material, or material that is no longer in production and we will look at items on a case by case basis (as an example- scans of a rare art book that has been unpublished for years.)
These are the rules. Helpful and friendly reminders to new members are appreciated and welcomed, but please don't enforce them on your own. Leave it to the staff. We are all here to have fun. These rules can be changed, added to, deleted, etc. at any time. The rules are not meant to be taken literally each and every step and will always be up for interpretation by
the staff.
By signing up and posting/interacting on this forum, you agree to these rules.