Show User Social Media
Hide User Social Media
Joined

Sep 8, 2006
Messages

14,494
Almost 8 years ago we shut down the site temporarily to rebuild it, and when it came back I said welcome back.

We did it again, but the welcome back is a bit different since most of it was done in secret. And it took far, far... far longer than it was meant to.
There is a lot to go over... so first up...
We moved to vBulletin back in 2012 when it became obvious we had outgrown SMF. Our upgrade at the time was when they were prototyping a new version of vBulletin, and the registration for the old one could have been moved to the newer version. Our old version of vBulletin was familiar and worked well, but we held off despite a number of issues waiting for the new version to grow into where we thought we'd want it to be. The old version was basically retired, and in testing the new version, it simply didn't feel like it was worth the effort. Our old software felt fine in 2012, but in 2020 it was out of date in many ways, and the new version, while upgraded, sort of felt like it was just spiffied up a bit... but it felt like it'd be sliding sideways.
And that honestly just wasn't worth doing, even if it was going to be easy (and in our tests it suggested there would still be issues.)
So the answer was rebuild it. And that went insanely off the rails. We had it done 90% almost immediately and small problems didn't get fixed due to lack of time...
But here we are on XenForo. The new software has many, many differences from what we had. Many good, some bad, most bad related to change which hopefully we all get used to as things go on. And big thanks to lost for making the new software, and all the ideas, actually work.
We've built a new default theme with our colors, and I think it looks really nice. The new software is easier to deal with themes than vBulletin was, so part of the plan is to have 'more' themes. It isn't quite as easy as it was on SMF, which allowed us to introduce themes whenever we wanted quite easily, so themes will have more thought and customization put into them.
The default theme is a customized XenForo theme that we are calling WtW Xen. An identical theme using the standard XenForo colors called 'Default' is also available, which uses brighter colors for those who don't want a darker theme.
As mentioned, we do plan to have more...
Some current theme plans...
A version of WtW Xen optimized for OLED screens to help maximize battery life.
Hopefully commissioning banner artwork for new themes, and if the commissioned artist is willing, have them pick colors for the theme.
Speaking of the banner,
Zesh
, who did the updated version of our banner last time has updated it with Meicoomon and Globemon. The Digimon choices on the banner have 'occassionally' confused people, these 2 new ones should make it more clear once you are sure why they are chosen. Zesh also takes commissions.
The new logo was a late addition. We had made a number of them, but they always either felt 'off' or like they didn't have enough Digimon inspiration in them, or they would feel like we were skewing in ways that visually would match Digimon, but as a logo for us felt off. We had long since used a logo that 'looked' Digimon, with our own colors, and often italicizing or using some odd curves in it (based on where the logo was used.)
The new logo is inspired from the logo from Digimon Adventure:, but with our own colors and style. We also did our own version of the sigil. It curves a bit less on the inside, has a design that could potentially be seen as a few different Digimon (although inspiration was heavy off one or two), and the inside curves are a bit different.
I think the banner and the logo work really well for what we wanted, and we plan to update the imagery in all the places you'd expect it.
Under the banner are new and easier to see social media and platform buttons for WtW.
As for some of the under the hood changes...
We've added a bunch more social media platforms that you can add to your profile, including a few game related ones that have been requested in the past like Digimon ReArise, Pokemon Go, Nintendo Switch accounts, etc. Ones that don't allow access at least pops up the information so people can add it, if you want to share.
The new portal allows more flexibility, and it'll be easier to change in the future based on how everyone finds it. Instead of 2 columns on the left and right with site stuff, for now we are doing one on the right, but can add a second later based on feedback.
Also, instead of the most recent 5 news articles, it'll show the 20 most recent. On top of that the news box at the top will rotate between the 5 most recent stories we've marked as 'important'.
Our old portal software was actually retired/abandoned by the developer years ago, and keeping it working... didn't always work (a good number of fixes were made to make broken elements work 'good enough' that most people would never notice.)
The new flexibility of the portal will hopefully mean that we can make changes based on how it works. For example, we are doing the news in little boxes, but we can go back to something more like the old site, or even thinner horizontal boxes like you might see on news site for games or other content.
Speaking of the portal news boxes, if you've played with your browser, you might notice the formation of them changes, and is different on mobile.
The mobile themes that worked in 2012 were something that long since sort of didn't work. The new theme reforms itself to the size and resolution of your device. And this will work on both themes that currently are up, and will apply to any future themes.
We are still working through some of the kinks on this (figuring out what sizes to set for various changes, where to move certain elements to on mobile, etc.)
As for the forum data itself. It's all here. All the threads, posts, avatars, etc. have been imported to the new forum.
PMs have all been imported under the new 'Conversation' system, which allows PMs to be threaded, basically private forum threads. The imports are all 1 by 1 since there was no data it could import to built the threads, but hopefully the new system makes responding to your messages easier.
The new forum is a bit more particular about avatar sizes, so we are going with a smaller size for now (it doesn't like the size we had on the old forum), but may make it larger later. All avatars should have converted over to work properly.
The heavy focus on news and archiving elements meant that the old URLs dying like when we went to vBulletin simply wasn't an option. While the new forum has its own url scheme, old links will 'shortly' work (we just sort of hit the point of needing sleep soon before we got it working. The thread 'numbers' are the same, you can just plug them into the new URL scheme until we get that working shortly.)
All the old tags and embed codes have also been converted to the new forum so everything should look correct.
Various new elements, such as new tags:
You can embed various social media posts rather than linking to them if you want.
Video embeds should work much better.
Large quote boxes will be forcibly shrunk. An expand button on the bottom will allow a reader to expand if they wish.
We now have 2 spoiler tags:
The first 'Spoiler' replaces your content, whatever it is, with a spoiler button. If the button is clicked, it will appear underneath in a box.
The second is 'Inline spoiler'. This allows you to just spoiler out a small portion of text, and have the rest appear normal. (This is more similar to the spoiler tag on the old forum.)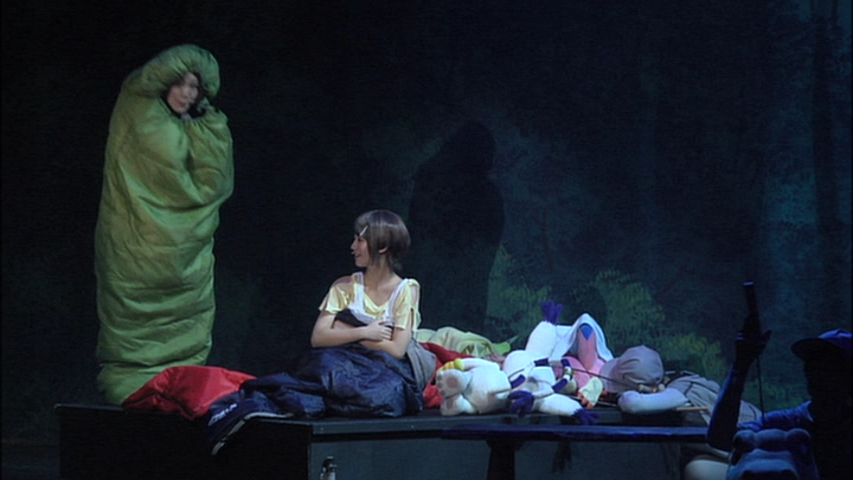 HIDDEN STAGE PLAY!
That's the 'bigger' spoiler one. I expect most people will want to use inline spoiler
because
it works more like this.
Your old passwords work. They're encrypted as always, the new forum just offers the old encryption scheme behind the scenes, allowing them to work. If you change your password it will be automatically moved to a better encryption scheme. In addition if you have an authentication app, you can further secure your account by setting up 2 factor security.
Really everything is new... since it is a brand new With the Will of course.
For now we think the reveal of everything new is enough change, so more will come soon(ish) such as newer streamlined rules, possibly going over forum sections to see what might be worth adding and/or combining.
I'm sure I've forgot a lot so feel free to post suggestions, ideas, thoughts, questions, etc. or if you notice anything unthemed or any issues we need to look into. Bear with us and other members as we all try and figure out the new software.
I'm sure something somewhere is broken... (Probably a number of somethings)
We will see how the new site holds up on hosting 'as it was' from the prior version of the forum before we decide if things need to be upgraded.
Hopefully everyone enjoys the new site, it should work far better, and hopefully we are able to improve it as time goes on.
At the top you can see links to donate via
Paypal
or to join our
Patreon
. A big thanks to our Patreon members. The funds allowed us to be flexible enough to simply 'do' this instead of seeing if people wanted to feed money into it for a new site like we did last time. If you are willing to help support the site, it's appreciated.
If you had been donating via the system internal to the old forum, those should be (or are in the process) of being transferred over to the new forum. At the moment I don't believe it's setup to add new people that way, and we may fix that, or we may sunset it to stick with just Paypal and Patreon.
Feel free to join us in our
Discord
if you want to chat about Digimon.