Show User Social Media
Hide User Social Media
Joined

Sep 8, 2006
Messages

13,210
After a couple of movies with
Harlock and City Hunter last time
, with Harlock being quite serious, something more comedic seemed like a good call.
Lucky Star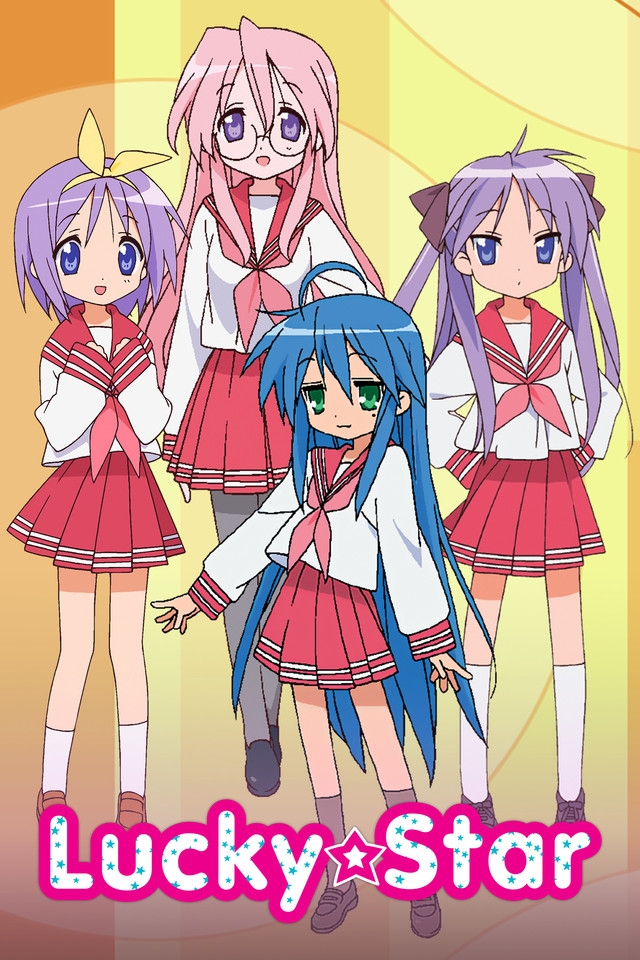 No real warnings, super mild fanservice, wordplay, and language maybe?
The show can be watched on the following officially:
Subbed and dubbed on Funimation
Lets say half the series, 12 episodes. There isn't quite a story this time, so
Lucky Star is a slow paced character comedy. Most of it's comedy comes from wacky and sometimes surreal observations, talking, nostalgia for anime and games, and throwing in references, often with actors involved from the references.
It's the type of show you get more out of if you understand the references, but overall, it still ends up funny and entertaining no matter what (although a few specific references tend to be used much stronger.)
It has a fun art style, and it's just an enjoyable show to watch. It tends to speak for itself in just the first few minutes to be honest.
As for Digimon connections... Lucky Star has a lot. Especially on the English side, where you will hear Digimon voices you recognize probably more often than not.
Just gonna list 'one' this time, as trying to even pare down the list of who to list in English would take a long time.
Wendee Lee leads the English cast of Lucky Star as Konata. For Digimon she directed early episodes of Adventure, and most notable voiced TK in Adventure, but also played Minomon & Leafmon in 02, Mako & MarineAngemon in Tamers, Bearmon in the Frontier movie, and a ton more throughout the early years of the anime.
I've embedded a show opening as a preview:
Feel free to post as you wish in this thread. You can post as you are watching, episode by episode, when you finish. Whatever you want. Try and give it a couple days for later spoilers so people have time to try and view stuff without spoilers, while still interacting in the thread (especially if you decide to keep watching past the episode listed as the last one for the leadup.) If you watch one episode and it isn't for you, pop in to explain why. Have fun with it!
A new show/movie will go up each Sunday night (or early on Monday), but feel free to keep talking about older shows in their threads, or even watching past the listed episode.
If you want to
chat in the Discord you can
.
Hopefully you enjoy. Feel free to make any suggestions or ask an questions regarding the threads or the shows also.
Week 1- NG Knight Lamune & 40
Week 2- Street Fighter 2 the Animated Movie
Week 3- City Hunter
Week 4- Little Nemo
Week 5- Project A-ko
Week 6- Space Pirate Captain Harlock & City Hunter: Shinjuku Private Eyes
Prior Leadups
Second Leadup, To Kizuna (and Adventure:)
First Leadup, To tri.