Show User Social Media
Hide User Social Media
Joined

Sep 8, 2006
Messages

13,210
Back in the saddle for a few more weeks I guess.
Since Adventure: is on hiatus and people have more free time (and I got asked jokingly once or twice), I decided to bring back the leadup temporarily until Adventure: is back... as always, just some suggestions for shows to watch while waiting for Digimon, along with a suggsted amount that might fit into a week.
The first new one I decided to pick something that skews hard to the formula & general audience construction that Digimon has.
NG Knight Lamune & 40!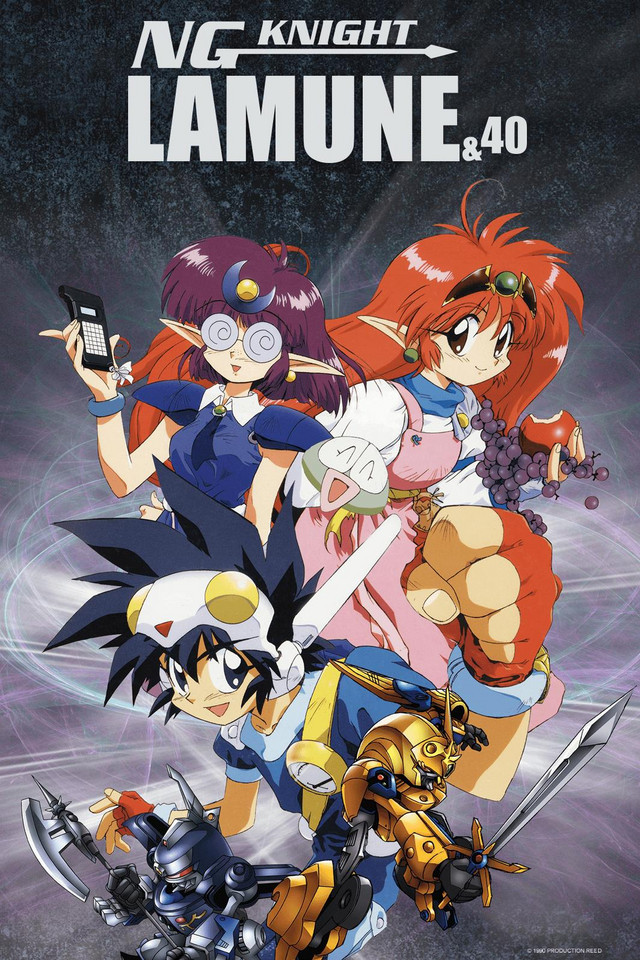 Relatively mild fanservice and not much else.
The series can be watched on the following officially:
Subbed on Crunchyroll
We'll do the first 13 episodes of the show, which is roughly 1/3rd of the original show. Crunchyroll also has both sequel OVAs, and the later sequel TV series.
Also, general disclosure that I worked on this one quite a bit. I don't believe my work is on the streaming version, but is on the Blu-ray, which will be out soon: (affiliate link)
NG Knight Lamune & 40 Blu-ray
Lamune fits the mold of what you expect for this type of show, but it does it very well. Baba Lamune loves video games, and when a young girl offers a game dirt cheap, he happily buys a copy (and makes sure she's able to sell the rest.) After mastering the game, he finds himself sucked into another world. The game was used to test people to find out who was the reincarnation of the legendary hero Lamuness.
Lamune has to battle the forces of evil alongside Princesses Milk and Cocoa using the mech King Squasher, while searching for more mechs to aid in the battle and stop Don Harmage, who sends Lesqua & Da Cider after them endlessly. And if the mechs and monsters don't get them, the terrible puns from Da Cider might.
Lamune is honestly one of those shows that feels like it was constructed wholesale from pieces, but it has the benefit of having been made 'before' that specific setup was 100% formed and locked in (which to a degree Lamune helped with), and the show comes across as quite endearing.
Lamune was followed up by 2 sets of OVAs, a second TV series later that was quite a bit different, and an OVA 'sequel' to the second show, which ended promising a third (and yet again different) series was coming, which never did.
The most unique and odd part overall may be that, up until recently, the only Lamune ever released in the west was the 'last' set of OVAs, which was released in the US back in 1999.
The show has a number of Digimon connections (a good number of actors who would do Digimon later had various roles), so just doing a few larger ones:
Takeshi Kusao plays Lamune himself in NG Knight Lamune & 40. In Digimon he was Revolmon in 02, in Xros Wars he was Kiriha, Ballistamon, Greymon, Cyberdramon, and Bagramon, along with the Watchmaker in Hunters. In Adventure: we heard his first few lines as Jou in the episode right before the hiatus.
Kazuki Yao plays Da Cider in Lamune. In 02 he played Igamon, and in Xros Wars he was Zamielmon.
Chie Koujiro plays Tama Q, the mighty ally of Lamune. In Savers she played Falcomon and his evolutions.
I've embedded the intro to the show as a preview:
Feel free to post as you wish in this thread. You can post as you are watching, episode by episode, when you finish. Whatever you want. Try and give it a couple days for later spoilers so people have time to try and view stuff without spoilers, while still interacting in the thread (especially if you decide to keep watching past the episode listed as the last one for the leadup.) If you watch one episode and it isn't for you, pop in to explain why. Have fun with it!
A new show/movie will go up each Sunday night (or early on Monday), but feel free to keep talking about older shows in their threads, or even watching past the listed episode.
If you want to
chat in the Discord you can
.
Hopefully you enjoy. Feel free to make any suggestions or ask an questions regarding the threads or the shows also.
Prior Leadups
Second Leadup, To Kizuna (and Adventure:)
First Leadup, To tri.