Show User Social Media
Hide User Social Media
Joined

Sep 8, 2006
Messages

16,155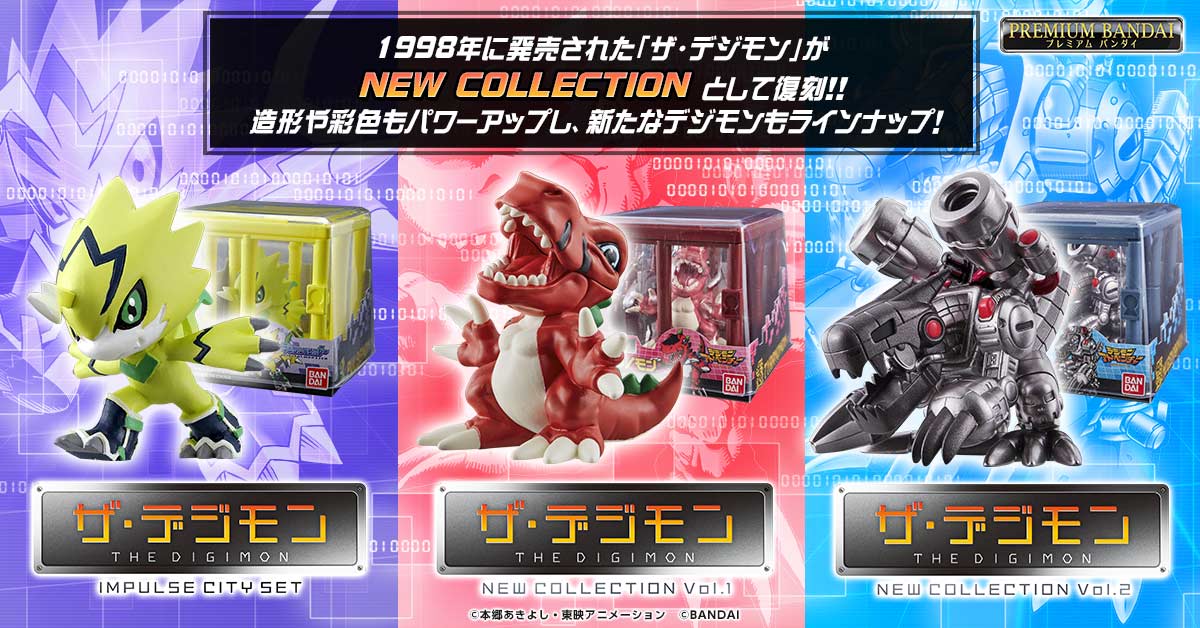 We knew we'd be getting new 'The Digimon' figures after 20+ years, but we didn't know quite how grand the plans were...
So first up, we are getting 3 sets of figures, a combination of new figures and revival figures.
Revival figures are modern 'arrangements' of the classic figures. They are respecting the model designs of hte era, but updating them with a higher level of detail, quality, and posing.
They have also upgraded the crate design for much better quality display and stacking, along with easier opening of the cages to take the figures out.
Onto the figures!
Impulse City includes new figures of Pulsemon, Bulkmon, and Boutmon.
New Collection Volume 1 includes revival figures of Tyranomon, Agumon/Betamon, Greymon, MetalGreymon (Virus), along with new figures of V-mon and Pailmon.
New Collection Volume 2 includes revival figures of Monzaemon/Numemon, Meramon, Devimon, along with new figures of Mugendramon, Guilmon, and Dukemon.
A more detailed look at the packaging and figures from Impulse City...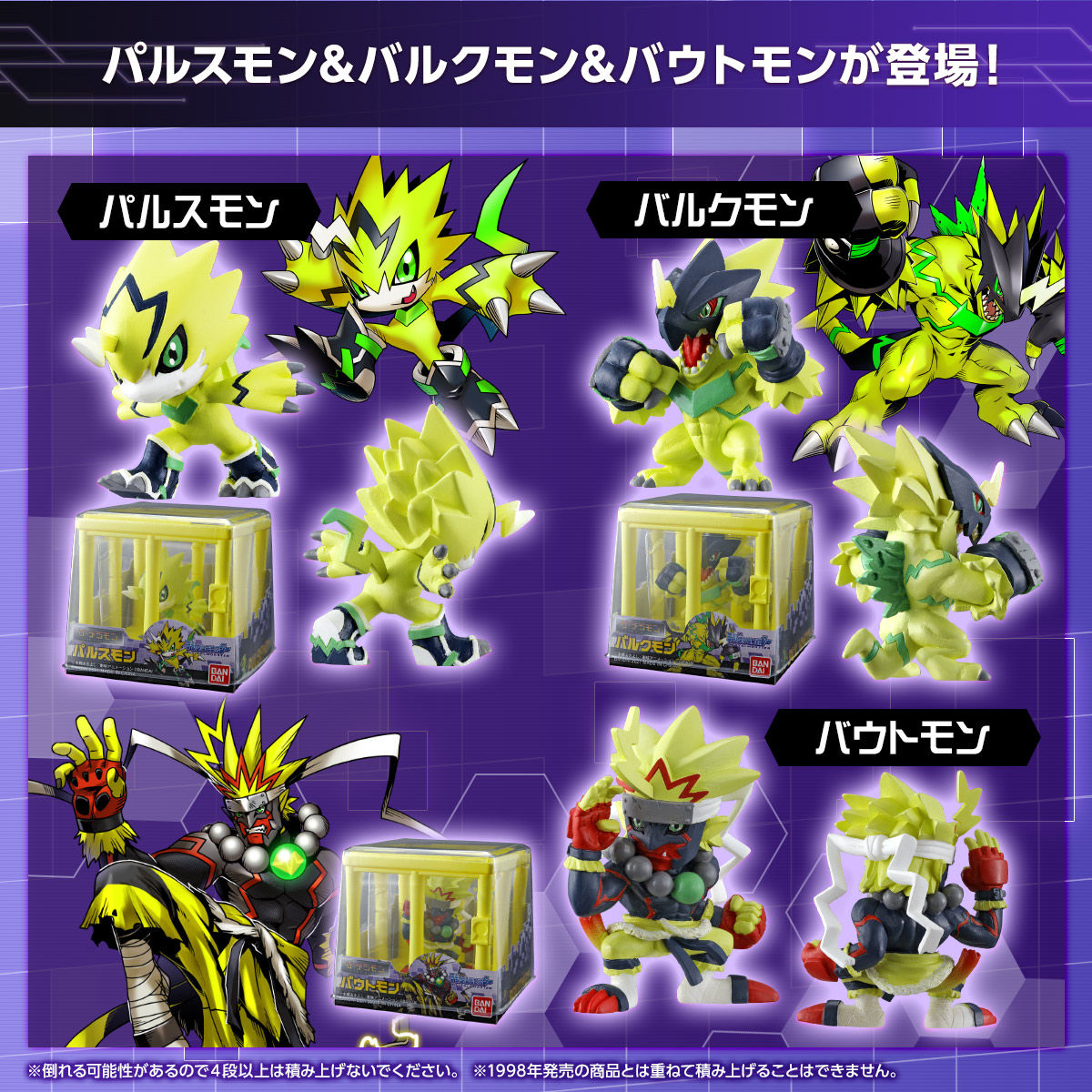 The packaging design is in the style of the original The Digimon releases, with the cage being in Pulsemon's neon yellowy color. The logo given is the classic Digital monster logo.
Then a quick look at the lineup and packaging for Volumes 1 and 2...
​
Really nice packaging that looks like the original, along with Adventure, 02, and Tamers logos where appropriate.
For Volumes 1 and 2, a closer look at the new figures...
​
Some really impressive work on these. They fit the style of the originals, but take the level of detailing up quite a bit (Mugendramon and Paildramon especially look impressive.)
​
Pre-orders for all 3 sets are open. Pre-orders for all close on August 16th. They ship in November.
The Digimon Impulse City can be pre-ordered on Premium Bandai
for 2,970 yen.
The Digimon New Collection Volume 1 can be pre-ordered on Premium Bandai
for 5,970 yen.
The Digimon New Collection Volume 2 can be pre-ordered on Premium Bandai
for 5,970 yen.
Update- Pre-orders are open.
And they also end with a tease for volumes 3 and 4...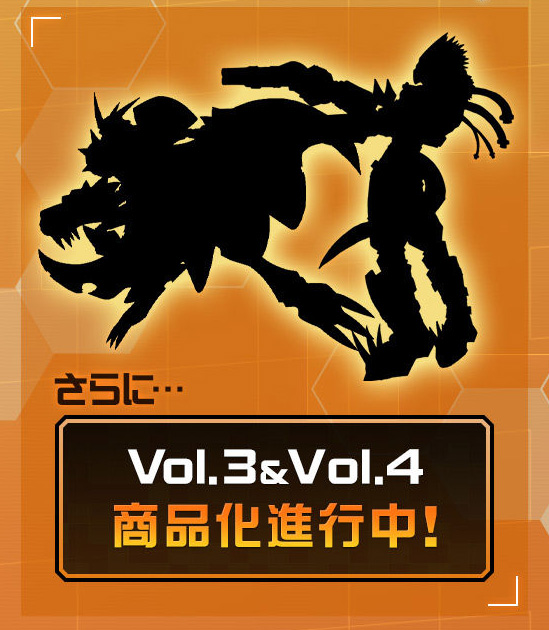 Omegamon and Beelzebumon are coming up next!
Really nice lineup of figures here. The combination of 'revival' updated figures, plus new ones, plus a set dedicated to Pulsemon leads to a really nice lineup of classic figures, characters who 'would' have gotten figures if the toyline had lasted a bit longer, plus a series of brand new characters.
Probably will end up being very popular imports...
Hopefully these show up at Premium Bandai USA, but...
If you want to import them...
We've currently pared down the list of intermediaries we list due to some places closing and others becoming iffy in their communication, calling into question their reliability. If you have any stories, positive or negative, about any intermediaries, DM me with them so we can figure out who might be worth adding (or re-adding), since these aren't affiliate links or anything, simply suggested ways to make it easier for fans to nab stuff.
You'll want to contact an intermediary to get these items sent to you. WtW is not affiliated with any, but here are a selection of intermediaries that have worked well for various WtWers and their friends in the past:
From Japan
Rider Proxy
You'll want to provide your chosen intermediary with the link to the item. Just copy paste the link to the product pages for what you want and send them a message about it and they'll take care of it after they discuss pricing and their policies with you. The links embedded in the news article for the products are exactly what you'll need to send them.
Some of the intermediaries have a full storefront and may have the item listed, so you may want to check that first.
Last edited: