Show User Social Media
Hide User Social Media
Joined

Sep 8, 2006
Messages

17,389
A few different card previews!
The Digimon Card Game Twitter
has updated with card previews from Booster Set 5 Battle of Omega. This time we get Terriermon Joshu & Fake Agumon Hakase!
Booster Set 1 got us Agumon Hakase (Expert), and Booster Set 5 brings his assistant, Terriermon Joshu! Joshu has great art of him tripping, with papers flying everywhere, as Agumon Hakase looks on in disappointment. We also get Agumon Hakase's rival, Fake Agumon Hakase! The art for Fake is an interesting reference, as it's actually a callback to Hakase's card from BT1. (Although it feels like the art of Fake looks nicer than Hakase got to be honest.)
And a bit more...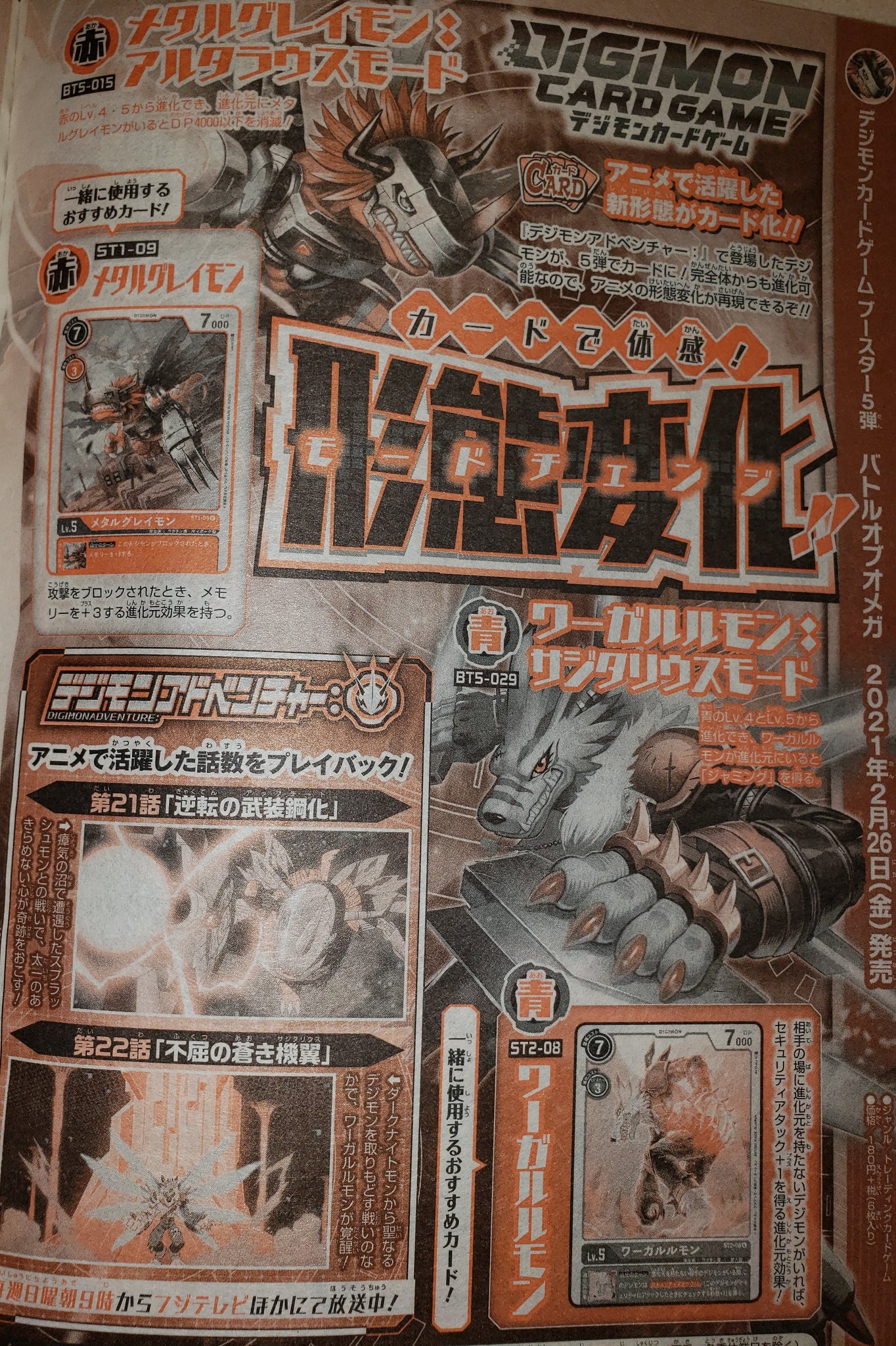 Via an unnamed (Saikyo Jump we think) image of a magazine from
igustside
, we get a few art previews for the new booster set. We didn't previously know they were getting cards, but we have our first look at art for MetalGreymon: Alterous Mode (BT5-015) & WereGarurumon: Sagittarius Mode (BT5-029). The page also shows previous standard cards for MetalGreymon and WereGarurumon, along with showing off bits from when they were introduced in the anime.
Both look pretty nice, but we'll wait to comment further until we get them in full color and see how they are framed with backgrounds, etc.
Digimon Card Game Booster Set 5 Battle of Omega is scheduled to release on February 26th.
Previous card previews for Booster Set 5:
We have clean card images for Booster Set 4 Great Legend.
We also have begun to get
details about Booster Set 5 Battle of Omega
, including
our first look at art via DigiNavi!
And images from previous Digimon Card Game releases:
Starter Decks 1, 2, and 3, and first 10 promo cards
Booster Set 1 New Evolution
Booster Set 2 Ultimate Power
V-Tamer Promo Cards
Purple/Black Promo Set
Tamer Battle Pack 1 and Tamer Battle Winner's Card
Booster Set 3 Union Impact
Starter Decks 4, 5, & 6, plus Tamer Battle Pack 2 & winner's Card 2, & 1st 2 scene vote cards