Show User Social Media
Hide User Social Media
Joined

Sep 8, 2006
Messages

17,404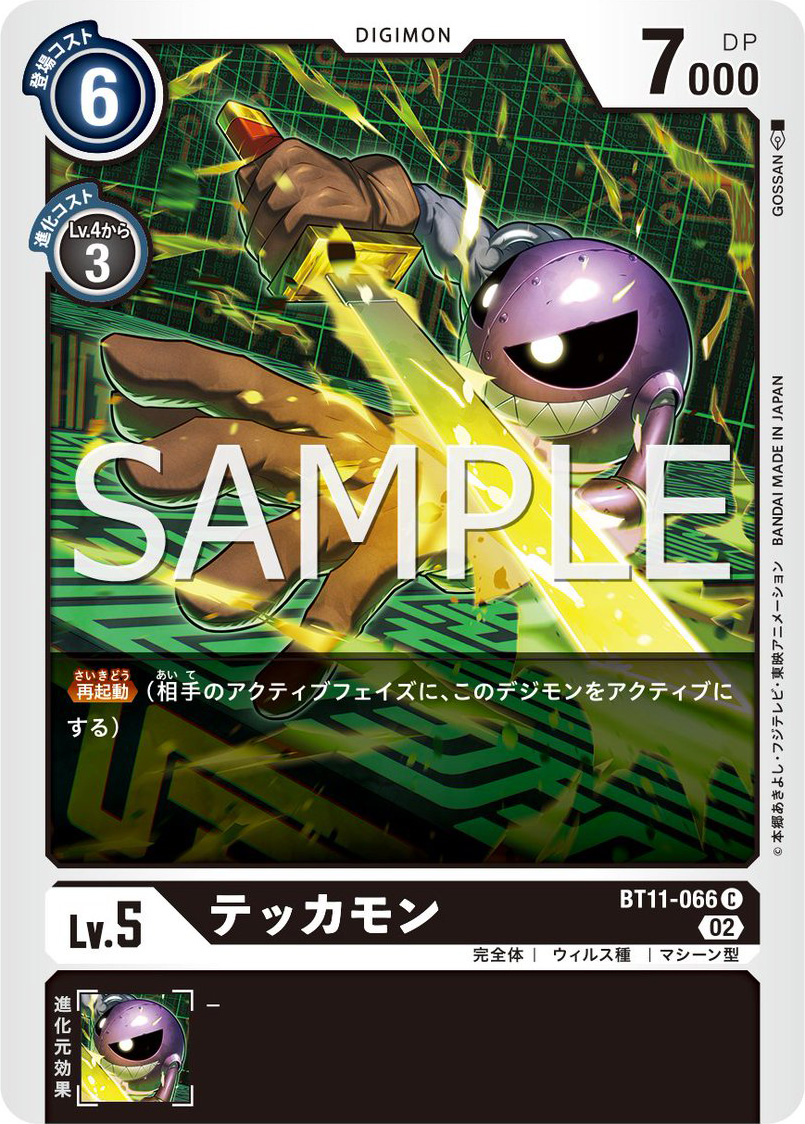 The Digimon Card Game Twitter
has updated with a card preview from Booster Set 11 Dimensional Phase. This time it's Tekkamon.
Tekkamon features him sharpening his blade on his leather glove.
Previous previews for Booster Set 11 Dimensional Phase:
Packaging Piyomon, Agumon, Gaomon & Jijimon V-Jump Previews- Shoutmon x7, Bagramon, Lilithmon, & Reprint Mugendramon Kotemon & Koemon OmegaShoutmon & Shoutmon DX Shoutmon x7 Lilithmon Bagramon Astral Snatcher V-Jump Pages SnowGoburimon & Hyougamon Penmon, WaruSeadramon, & Maelstrom Tyranomon & Buster Dive MetalTyranomon & RustTyranomon Taiga Chumon & Sukamon Great King Sukamon & Engacho Kick Tuwarmon & MusouKnightmon Cutemon & Iguneetmon Mervamon Tanemon & Vegimon Palmon & Poison Powder Tokomon & ClearAgumon Centalmon Wanyamon & Nicolai Gaogamon & MachGaogamon MirageGaogamon ModokiBetamon & Igamon Panjyamon Bearmon & Gryzmon GrapLeomon Marsmon Analog Man Gigadramon & DG Dimension Mugendramon Birdramon & Garudamon Pyocomon & Akiho Hououmon & Crimson Flame Dracomon & MetalGreymon + CyberLauncher ZekeGreymon Tunomon & Dokunemon Soulmon & DarkLizamon Koromon & MetalGreymon X (Virus) Agumon X (Black) & Greymon X (Blue) BlackWarGreymon X Yuuya & Hades Force HerculesKabuterimon X & High Mega Blaster ClavisAngemon LadyDevimon Devimon & Evil Squall Angemon, Holy Sunshine, Angewomon, & Mirei BlueMeramon & Magma Bomb Justimon: Accel Arm V-mon & V-dramon AeroV-dramon Ice Statue Rina & ULForceV-dramon Etemon & MetalEtemon Geremon & Megalo Spark
Booster Set 11 Dimensional Phase is out September 30th, 2022.
We have
early details for Booster Set 11 Dimensional Phase
.
We have early details for
Starter Deck 14 Advanced Deck Beelzebumon
.
We have early details for
Booster Set 12 Across Time
.
We have clean card images from
Booster Set EX-03 Dragon's Roar and Survive, DC-1, Memorial, Battle Pack 13, Illustration, & Espimon Promo Cards
.
And images from previous Digimon Card Game releases:
Starter Decks 1, 2, and 3, and first 10 promo cards
Booster Set 1 New Evolution
Booster Set 2 Ultimate Power
V-Tamer Promo Cards
Purple/Black Promo Set
Tamer Battle Pack 1 and Tamer Battle Winner's Card
Booster Set 3 Union Impact
Starter Decks 4, 5, & 6, plus Tamer Battle Pack 2 & winner's Card 2, & 1st 2 scene vote cards
Booster Set 4 Great Legend, Tamer Battle Pack 3, 3rd Scene Vote, Dark Digimon Promo Pack, & Apparel Cards
Booster Set 5 Battle of Omega, plus Tamer Battle Pack 4, 4th Scene Vote, & Vital Bracelet Pack-In Cards
Starter Decks 7 & 8, plus Delay Promos, Tamers Battle Pack 5, 1st Anniversary Promos, & Pulsemon
Booster Set 6 Double Diamond Cards, the 1st Anniversary Adventure Pack, and more
Booster Set EX-01 Classic Collection, plus Tamer Battle Pack 6 & 7, Tyranomon & dual Zeromaru Promo Cards
Booster Set 7 Next Adventure, Campaign Cards, & Tamers 20th Promo Cards
Starter Decks 9 & 10, plus Tamers Battle Pack 8, Ghost Game Promos, Online Promos, Tamers Evolution Box 1, & Amazon Starter Promos
Booster Set 8 New Hero, Starter Deck 11, plus Tamer Battle Pack 9 & Event Cards
Booster Set 9 X Record, plus Battle Pack 10, Special Promo Pack 2022, Update Pack, & Evolution Box 2
Starter Decks 12 & 13, Luxury Finished Tamers, plus Battle Pack 11
Booster Set 10 Xros Encounter, plus Battle Pack 12, Special Promo Pack 2022 v2, & Evolution Cup Cards