Show User Social Media
Hide User Social Media
Joined

Sep 8, 2006
Messages

15,581
Time for another Tamers BD-Box preview!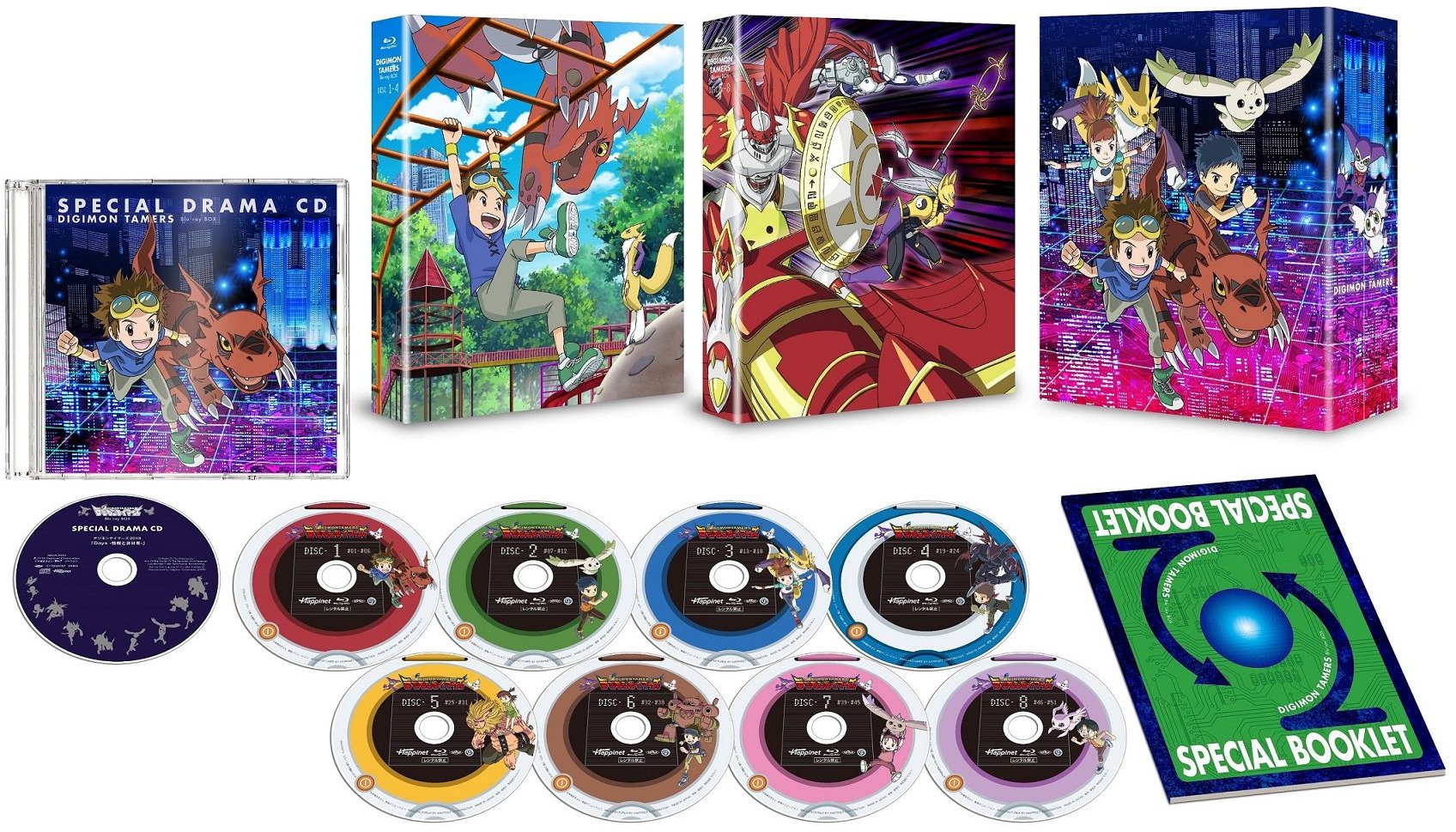 Just a little over a month to go until the release of the Digimon Tamers Blu-ray Box!
This time we get a preview of the entire Blu-ray box package. We get to see more finalized versions of a number of things we've seen before, but a handful of new things are here also.
The outer and inner boxes we've detailed a
number
of
times
in the past, so we'll gloss over them here, but Tamers character design Katsuyoshi Nakatsuru did a fantastic job on them.
The new stuff includes a better look at the Blu-ray discs themselves, which
we had a photo of
, but the color reproduction in the photo wasn't the best, so it's nice to see them a bit better.
The booklet included with the Blu-ray box has a fun design based on the back of the cards from the old card game, which featured heavily in Tamers. The booklet won't contain new content, but will be material from the 2007 DVD-Box booklets: Memories of Our Digimon Tamers and Digimon Tamers- Card Evolution.
We also get our first look at the packaging for the
new Tamers audio drama
, Digimon Tamers 2018: Days -Information and the Non-Ordinary-, along with an image of the CD itself (which uses the new character artwork from the outer box in silhouette.) The booklet that comes with the CD includes about 4,000 characters of liner notes by writer Chiaka Konaka (Konaka has previously joked that he blew past the number of liner notes they told him he could make.)
It looks like a pretty good package for Tamers fans. I think it's rather neat how it follows certain themes set by the Adventure and 02 boxes, but puts it's own spin on them.
Pre-orders are available for the Digimon Tamers Blu-ray box. It will be available April 3rd, 2018 for 53,800 yen. Early versions of the box will include the new Tamers audio drama.
The first link is a CDJapan affiliate link that helps the site.
Digimon Tamers BD-Box
Digimon Tamers BD-Box Amazon Edition (includes F4 size (8.27 x 12.99 inches) fine board.)
We hope to do a breakdown of this release like we do for many media releases. If you are able to,
donating
or joining our
Patreon
can be a big help.