Show User Social Media
Hide User Social Media
Joined

Sep 8, 2006
Messages

17,382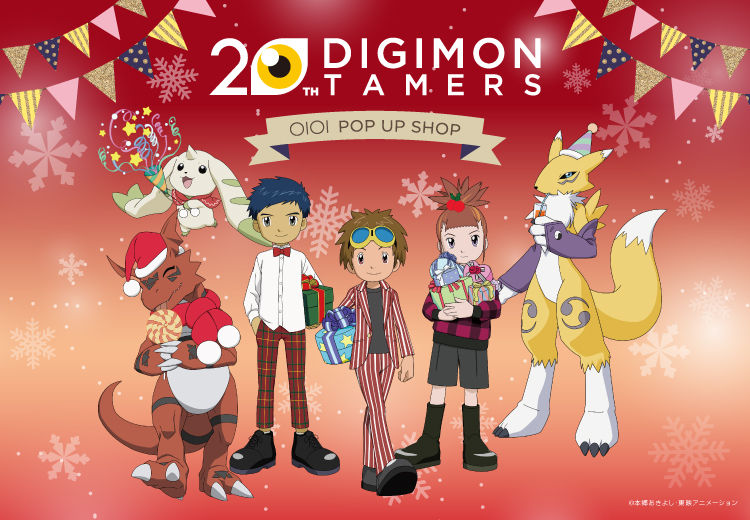 We found out about
the Digimon Tamers 20th Anniversary OiOi Pop-Up Shop last week
, but nothing about the products at the time. We have those now thanks to a few
places
. (
2
) (
3
)
The new key art features the 3 main Tamers and Digimon from the series at a Christmas party.
First up, locations and dates for the shop:
Namba Marui- 7F Event Space
November 6-14
Shinjuku Marui Annex- 6F Space ONE
November 20-28
Morella Gifu- 1F
December 3-5
ELM Aomori- 2F
December 10-12
Marui City Yokohama- 7F Event Space
December 17-January 10
Then the products! All the products use the new Christmas art. The random packed ones don't seem to be clearly labeled on the website, and the images are oddly low quality.
Acrylic stands. There are 3 types of these, and each is 1,430 yen.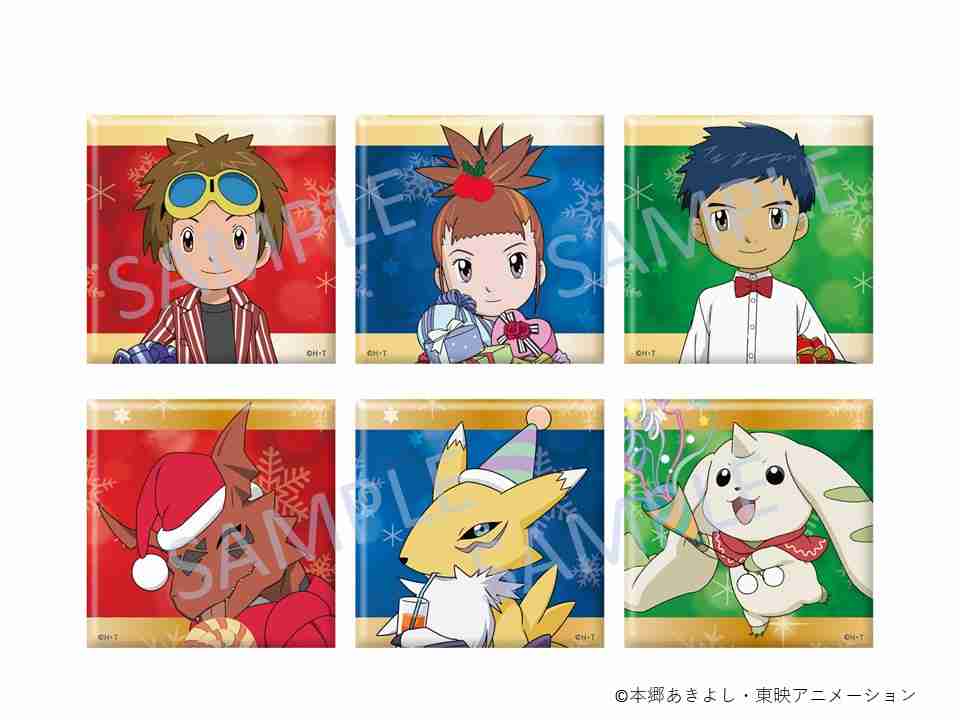 Square can badges. There are 6 types. 440 yen each.
Tote bag. 2,200 yen.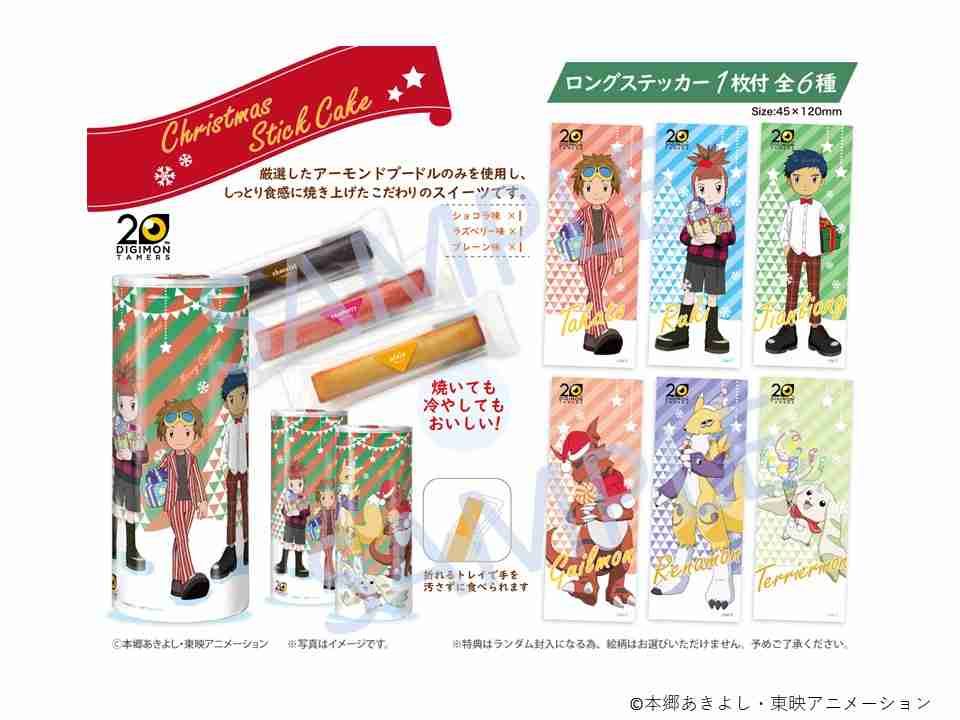 Christmas Stick Cakes. This stick shaped cakes come in nice packaging and come in chocolate, strawberry, and plain flavors (all 3 to a tube it appears.)
They note they can be served chilled or warm, and the packaging lets you eat them without getting your hands dirty.
1 of 6 long character stickers is included. It's 1,250 yen.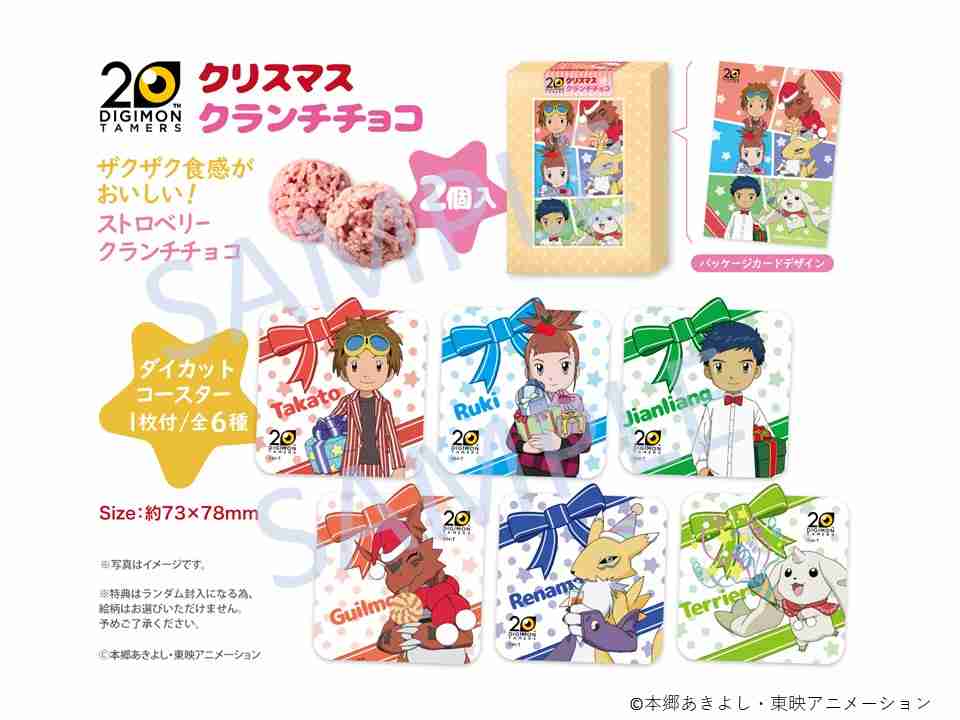 Christmas Crunchy Chocolates. These are strawberry flavored chocolat candy balls. 2 come to a package.
They include a die cut sticker out of 6. The card on the front of the packaging can also be removed as a collectible.
It's 5,50 yen.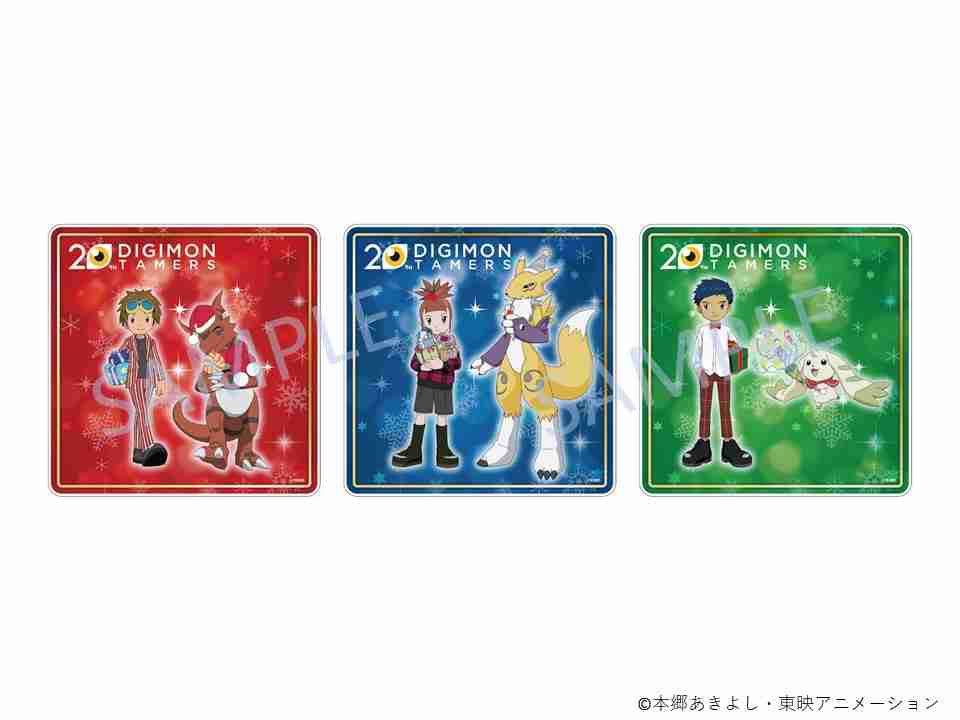 Then we have mini towels. There are 3 types and each is 880 yen. This item will show up at the shop after it begins.
Also, no photo, but there will also be a pouch for 2,200 yen. This item will show up at the shop after it begins.
Then some bonus for Epos card holders:
Epos Card members who purchase 3000 yen or more in goods will be entered in a lottery to win:
Prize A- Cushion
Prize B- Paper Coasters, Full Set of 6
Prize C- Paper Coaster, 1 random of 6
Those who enroll for an Epos Card at an event venue will get a random coaster as a bonus while supplies last.
The products are pretty standard but nice looking for this one, with the snacks being a few oddities. It would be nice to get some better quality images of everything.
We've currently pared down the list of intermediaries we list due to some places closing and others becoming iffy in their communication, calling into question their reliability. If you have any stories, positive or negative, about any intermediaries, DM me with them so we can figure out who might be worth adding (or re-adding), since these aren't affiliate links or anything, simply suggested ways to make it easier for fans to nab stuff.
You'll want to contact an intermediary to get these items sent to you. WtW is not affiliated with any, but here are a selection of intermediaries that have worked well for various WtWers and their friends in the past:
From Japan
Rider Proxy
Be aware many intermediaries do not carry items from specialty shops since they can't be ordered online. You will need to ask them and explain what you want very carefully (perhaps with a photo.) Some intermediaries will potentially still not be willing to get the item (or may only be willing to at great cost.) Realistically to get anything from the pop-up shop at a reasonable cost you'll have to find someone who is actually going and ask them to pick you up something.
Some of the intermediaries have a full store front and may have the item listed, so you may want to check that first.