Show User Social Media
Hide User Social Media
Joined

Sep 8, 2006
Messages

17,385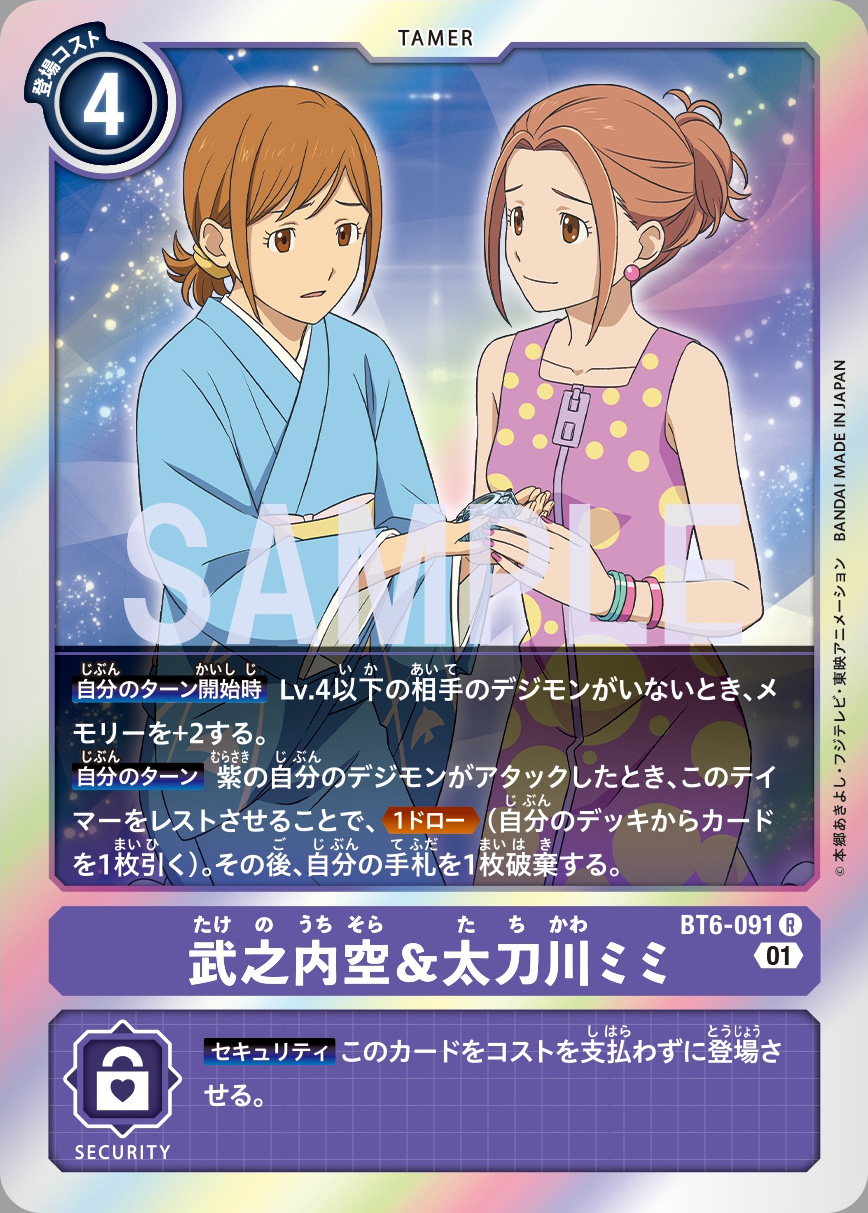 The Digimon Card Game Twitter
has updated with a card preview from Booster Set 6 Double Diamond. This time it's a tamer card for Sora & Mimi (from Kizuna!)
Sora and Mimi are both drawn in the style of Kizuna, with the image appearing to hint at the events of it, with Sora seeming to look worried about her Digivice. Sora is in the outfit she wore for most of 'To Sora', the prequel short to the film while Mimi wore her main outfit for the movie. A really bit of art on this one.
Plus a bit more!
​
From Lucky Magazine in Hong Kong, we have a few more previews from Booster Set 6.
Bibimon makes an appearance, and looks to be charging up electricity for his tackle move. And a just hatched Dokimon appears with him.
Plus we get parallel cards for Agumon Bonds of Courage & Gabumon Bonds of Friendship. These feature the first art we saw for Booster Set 6, from a sales sheet.
Thanks to
digicaplayer
(
2
) for the magazine images.
Booster Set 6 Double Diamond is scheduled for release on May 28th.
Previous Card previews for Booster Set 6:
Sistermon Blanc & Sistermon Noir Titamon Dynasmon Kizuna Character Cards from V-Jump Gankoomon Pulsemon Packaging Preview, plus box topper Chaosmon: Valdur Arm Parallel Card Mojyamon, Shoutmon, Mamemon, Arbormon, Babmon, SkullGreymon, Grave Memory Booster, & Takeru and Hikari Flamon & Strabimon Machmon Bulkmon Kinkakumon & Ginkakumon ModokiBetamon Hackmon, plus Higher Resolution Packaging & Updated Looks at Agumon, Gabumon, Pulsemon, & Sistermon Noir and Blanc Jesmon Petaldramon Gundramon Reinforce Memory Boost
We have clean card images for Starter Decks 7 & 8, plus Delay Promos, Tamers Battle Pack 5, 1st Anniversary Promos, & Pulsemon.
We've also begun to get previews for Booster Set 6 Double Diamond
, which will feature characters from Kizuna!
We've also gotten our
first details for Booster EX-01 Classic Collection
!
Plus we have the first details
for the 1 year anniversary of the card game, including a number of fun things!
And images from previous Digimon Card Game releases:
Starter Decks 1, 2, and 3, and first 10 promo cards
Booster Set 1 New Evolution
Booster Set 2 Ultimate Power
V-Tamer Promo Cards
Purple/Black Promo Set
Tamer Battle Pack 1 and Tamer Battle Winner's Card
Booster Set 3 Union Impact
Starter Decks 4, 5, & 6, plus Tamer Battle Pack 2 & winner's Card 2, & 1st 2 scene vote cards
Booster Set 4 Great Legend, Tamer Battle Pack 3, 3rd Scene Vote, Dark Digimon Promo Pack, & Apparel Cards
Booster Set 5 Battle of Omega, plus Tamer Battle Pack 4, 4th Scene Vote, & Vital Bracelet Pack-In Cards